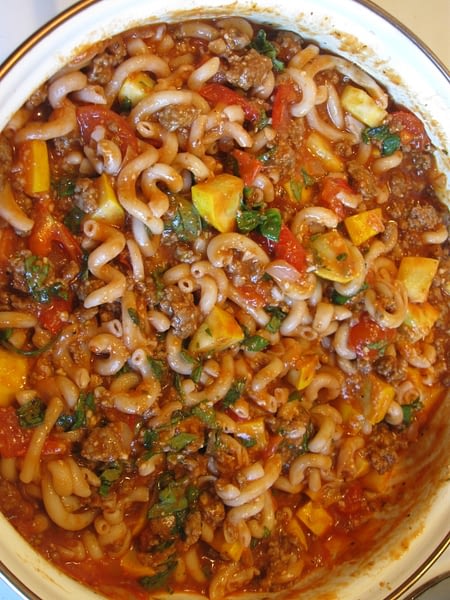 This is a quick, and easy summer pasta dish, served with a fresh green salad and in 30 minutes or so, dinner is done!   Fresh Basil is so wonderful when you have waited all year for it's return.
With this dish, I used Tinkyada Gluten Free Fusilli pasta.  The directions say to cook 10-12 minutes, mine took 8 minutes which was plenty.  We don't often see this kind of pasta at our stores here, so it was a nice treat.
2 cups of Tinkyada Gluten Free Pasta (cooked, then drain and set aside)
Olive Oil
1 lb. Anti-biotic/Hormone free Lean Ground Beef
12 cherry tomatoes, quartered
14 oz. can of tomato sauce
1 medium onion, chopped
5 minced garlic cloves
2 rounded tsp. Italian Seasoning
salt and pepper
1 small yellow zucchini, quartered
1/2 cup Parmesan cheese
a handful of minced fresh basil
grated Asiago Cheese
Cook the pasta, drain and set aside.
Heat up a saute pan on low medium heat with a drizzle of olive oil.  Brown the ground beef, and drain some of the excess liquid off.  Add in the chopped onion, minced garlic, Italian Seasoning, salt and pepper.  Saute about 5 minutes.
Cut the tomatoes into quarters, adding to the pan, with the tomato sauce, stirring to combine.  Simmer, stirring occasionally for about 8 minutes.  Then add in the chopped zucchini and simmer, stirring occasionally for another 5-8 minutes.
Add in the cooked pasta, and Parmesan Cheese, keeping on a low heat, stirring to combine.  Check for seasonings, and keep on low heat for another 5 minutes.  Remove from the heat and stir in the fresh basil.  Serve with a generous topping of grated Asiago cheese.