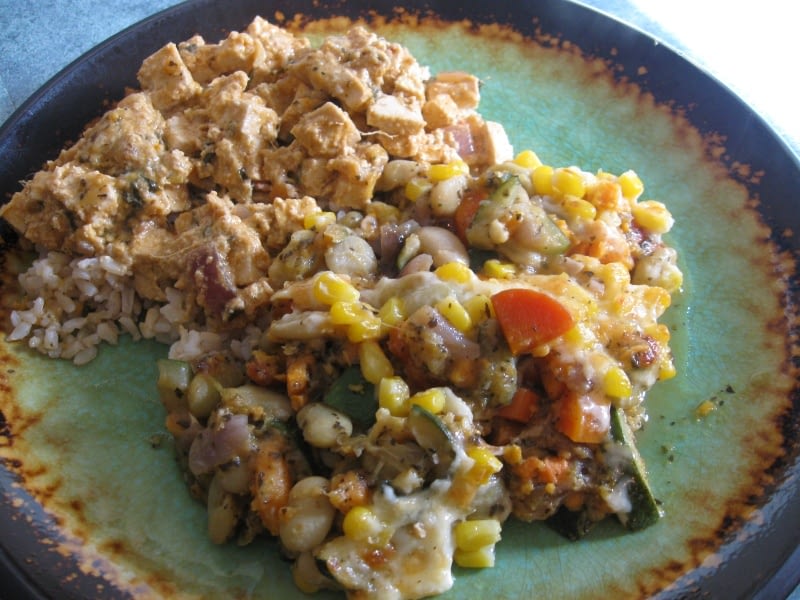 We have had the lovely pleasure of a visit from our son Jarrod and his wife Anook visiting from Montreal.  We have been visiting, beach walking, and most happily feasting!  The first night we had my Vegetarian Lasagna with a garden salad.  Then the next day we pulled out the BBQ for Organic Cheese Burgers accompanied with A Festive Sprouted Three Bean Salad.
Then day three.  Wooooohoooo......our loved ones did the cooking!  I love to watch Jarrod and Anook cooking in my kitchen.  I sipped some wine, took pictures, inhaled the most delicious smells coming from the kitchen - it was heaven.
This was on the Menu tonight:
Anook's Vegetarian Succotash - made by Jarrod.
Followed by Jarrod's Tahini Ginger Tofu Sauce and steamed rice.
Then for dessert:  Anook's Ginger Raspberry Strawberry Crumble, recipe pending.
Was I in heaven?  Oh yes indeed!    These are dishes I absolutely will be making - plus the leftovers taste even better the next day.  Thank you Jarrod and Anook for a most lovely meal!
So for this lovely Vegetarian dish I give you Jarrod to continue the post:
This recipe has been adapted from the recipe which is used in the Quebec Vipasanna meditation center. The center serves only simple vegetarian cuisine.....simple, but delicious! We enjoy this dish each time we sit or serve at the meditation center, and it has become a regular back at home as well.
Vegetarian Succotash:
4 Tblsp.  Grape Seed Oil
3 small Yams - chopped
4 carrots - chopped
2 medium zucchini
1 large red onion diced
4 minced garlic cloves
2 14 oz. cans Lima Beans, drained
3/4 cup frozen corn
Grated Aged Cheddar Cheese - to cover the casserole evenly
1 Tblsp. Basil
1 Tsp. Italian Seasoning
1/2 tsp. Oregano
1 tsp. Thyme
salt and pepper to taste
Heat up a saute pan on low medium heat with the grape seed oil.  Add in the chopped onion sauteing until soft.
Then add in the garlic and seasonings sauteing until fragrant.  Add in the yams, and carrots, sauteing for 10 minutes.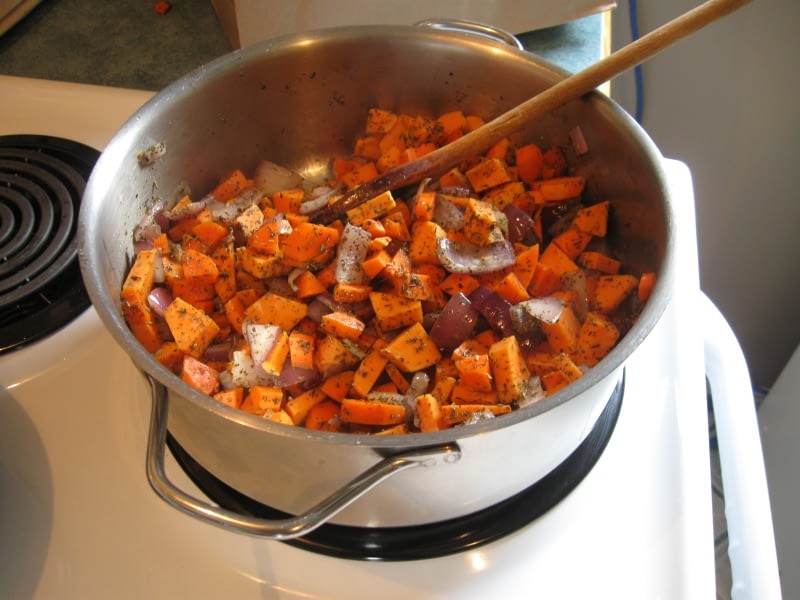 Then add in the zucchini lid on turn down to simmer for another 10 minutes.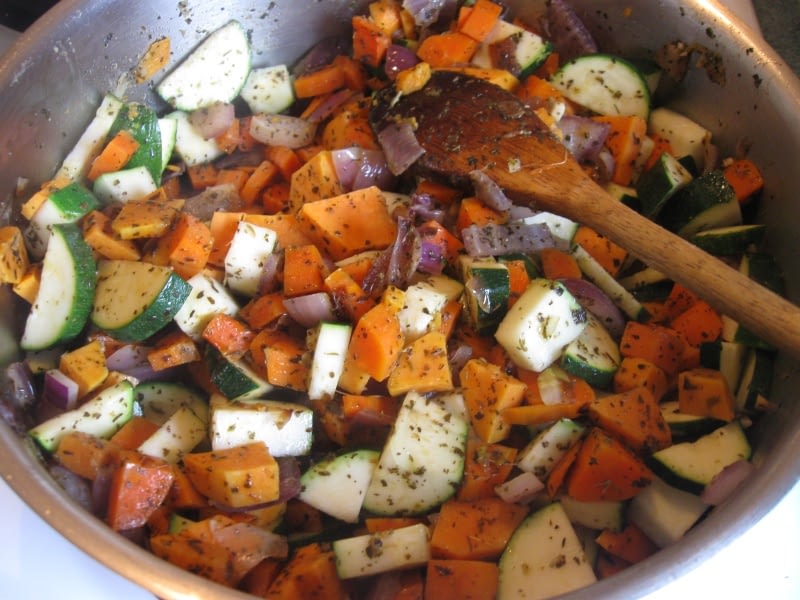 Add the lima beans, and season with salt and pepper, lid cracked.
Preheat the oven to 350 degrees.  Pour the vegetable succotash into a 9x13 inch casserole dish, then add the corn on top and the grated aged cheddar cheese.  Bake for 20 minutes.


Tahini Ginger Tofu Sauce:
This was a bit of an experiment.......with a favorable and flavourable result!
1 Tblsp. Grape Seed Oil
3 minced garlic cloves
3 Tblsp. grated fresh ginger
1 small red onion, chopped
4 cups cubed firm organic Tofu
1 Tblsp. Apple Cider Vinegar
200-250 grams tahini
2 Tblsp. Chili Paste
1 cup water divided
3 Tblsp. Tamari Soy Sauce
1 Tblsp. Peanut Butter
Heat up a pan on low medium heat with the grape seed oil.  To the pan add in the onions, ginger, chili paste and garlic cloves, sauteing until the onions are soft.

This is a Chili Paste with Sweet Basil Leaves - Gluten Free and MSG Free - found in our local Asian Market: (if you can not find this, Thai Kitchen Red Curry Paste is a great alternative that is gluten free)


Add in the Tofu and 2 Tblsp. of Tamari Sauce, sauteing about 10 minutes.
Then add in 1/2 cup water, apple cider vinegar, Tahini butter and continue to saute another five minutes.

Pour in the other 1/2 cup of water, 1 Tblsp. Tamari Soy Sauce, and 1 Tblsp. Peanut butter.  Stir to combine, and if needed, add in 1/3 cup more water and 1 more Tblsp. Tamari Soy Sauce.  Saute until a thick consistency is achieved. Serve over steamed brown rice, with the Succotash on the side.