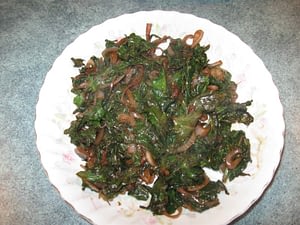 We had to use up the last of our fall planted Russian Red Kale.   Such a wonderful green….but you know…this would work with any green you have on hand…Swiss Chard, Spinach, Mustard Greens, or Collard Greens.  Love them all!!
Loaded in calcium….and many more nutrients,   plus it is Dang Darn Good!!
Huge bunch of Kale greens…I used a lot…because all greens cook down to next to nothing.  I had maybe 5-6 cups shredded packed kale.
1 sliced shallot (mine was quite large, so use 2 if small)
2 Tblsp. Toasted Sesame Seed Oil
2 Tblsp. Gluten Free Soy Sauce
juice of half a lime or lemon
Toasted Sesame seeds
Heat a non-stick frying pan on low heat with the Toasted Sesame Seed Oil.  Add in shallots, sautéing until lightly golden.  Then add in the greens, turning to coat all of the leaves.  Add in the lime or lemon juice and GF Soy sauce, again turning to coat.  When the leaves have wilted, add in the toasted sesame seeds ….  (which I forgot!) Serve hot.  Great as a side dish to any main meal.