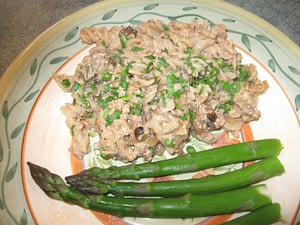 This was yet another yummy pasta dinner….without the heaviness of cream….but the lightness of organic yogurt.  After having the  Chicken Basil Pasta dish….I wanted to try a similar dish with beef….oh so good.
Olive oil
1 lb. Hormone Free Beef strips
2 cups yogurt cheese, (or dripped yogurt)
1 medium onion, diced
4 minced garlic cloves
8-10 diced crimini mushrooms
2/3 cup frozen peas
2 Tblsp. Tomato paste
1 ½ tsp. Anchovie paste
1 tsp. Dried or fresh thyme
2/3 cup fresh parsley (yeahhh, this was from my garden!)
Salt and pepper to taste
Parmesan Cheese
Heat up a non-stick pan medium heat with a drizzle of olive oil.  Pan sear the beef strips, when nicely browned, (mine were thin so took 2-3 minutes) remove and place in a bowl.  Turn the heat down to low medium and add in another drizzle of olive oil, then add the mushrooms, sautéing to lightly golden.  Now add in the diced onions, sautéing until light and translucent, season with salt, pepper, thyme, and the garlic, stirring until fragrant.
Add in the anchovie paste, stirring to dissolve. Then add in the yogurt cheese, and tomato paste, stirring to incorporate.  Meanwhile, cook the pasta as per directions.  Half way through cooking the pasta, I found my sauce getting thick, so I added in 2-3 ladle fulls of pasta water.  Gage on the thickness of your sauce.
Drain the pasta when done, and add ½ the parsley to the beef sauce as well as 2-3 handfuls of Parmesan Cheese, then remove from heat.
Add the pasta to the beef sauce, toss to combine.  Serve on a platter, adding a sprinkling of Parmesan, and the rest of the diced parsley. Sooo tasty!