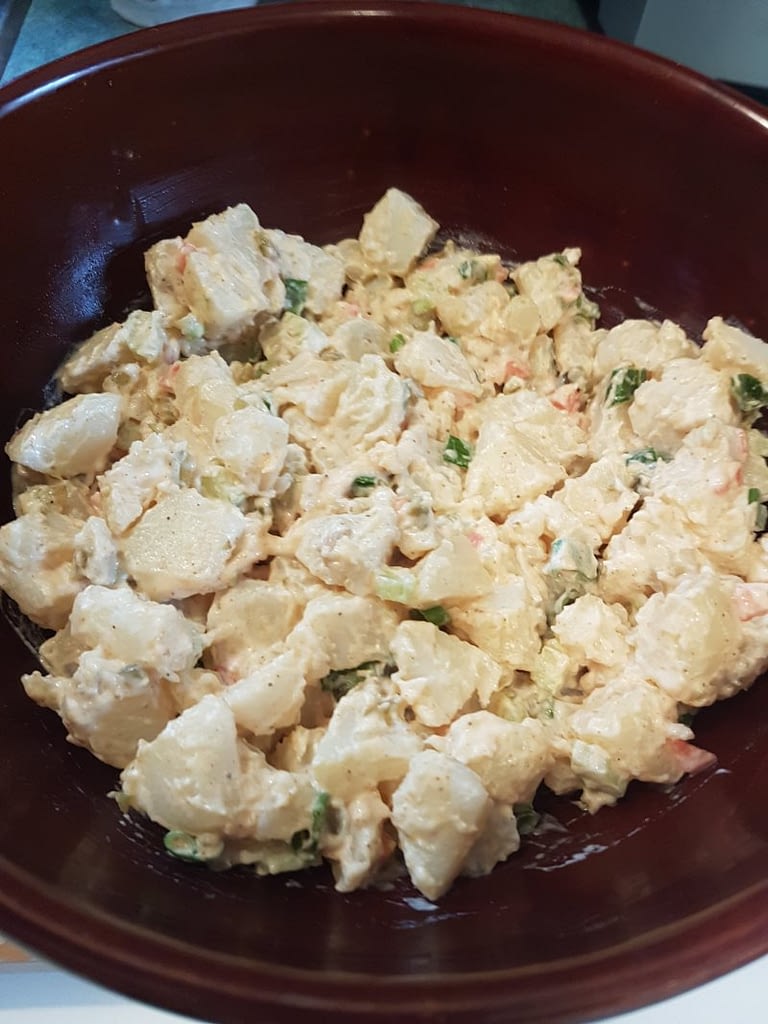 Yes - an all Vegan Potato Salad that was surprisingly delicious!  We had tried this at a local deli and I thought I would give it a try at home, never believing potato salad could taste this good with Vegan mayonnaise.  Simple to make and with a creamy texture just like the potato salad with eggs.
1.5 lb. summer new potatoes
1/4 cup green onion, chopped
1/4 cup diced celery
3 Tblsp. finely diced red pepper
1 small finely diced sweet gherkin pickle
Dressing:
1/2 - 2/3 cup Vegan Mayonnaise (based on taste)
2 tsp. Dijon Mustard
1-2 tsp. fresh lemon juice
1 tsp. garlic powder
1 tsp. paprika
salt and fresh cracked pepper to taste
Cook the potatoes in salted water until fork tender.  Drain and allow to cool.  Once cooled, take off any extra peel, and cut into chunks.  Add to a bowl with the green onions, gherkin pickle, celery, and red pepper - season with salt and pepper.
Mix up the dressing and add to the potato mixture, gently stirring to combine.  Check for seasonings and adjust if necessary.  A great summer side dish.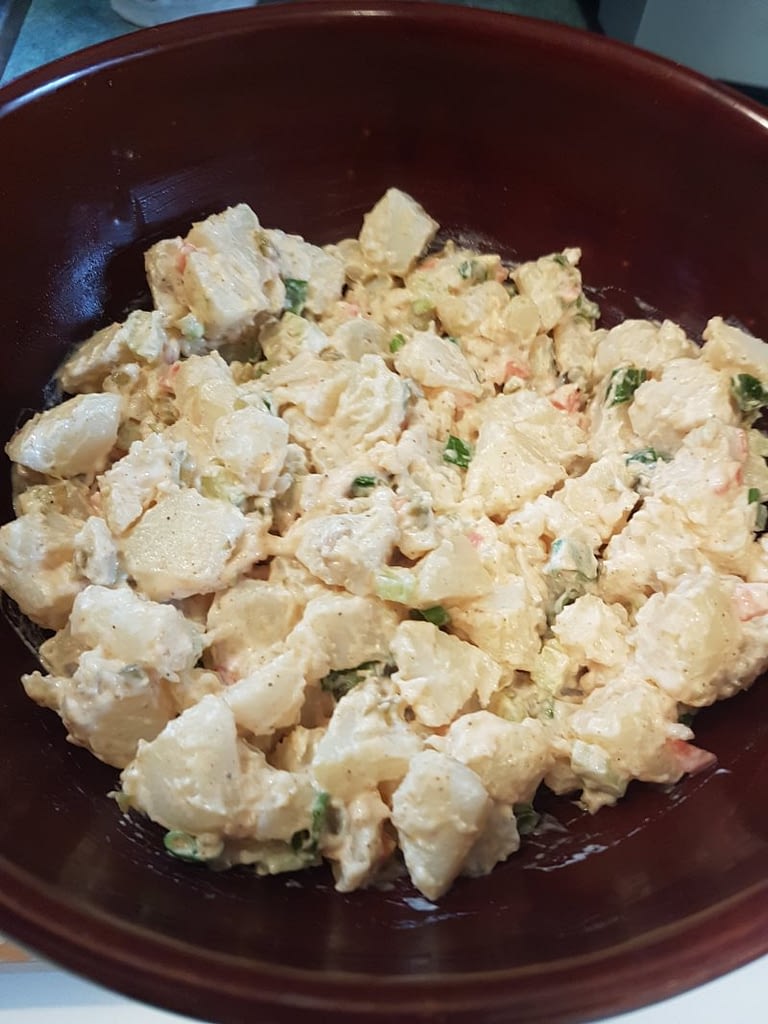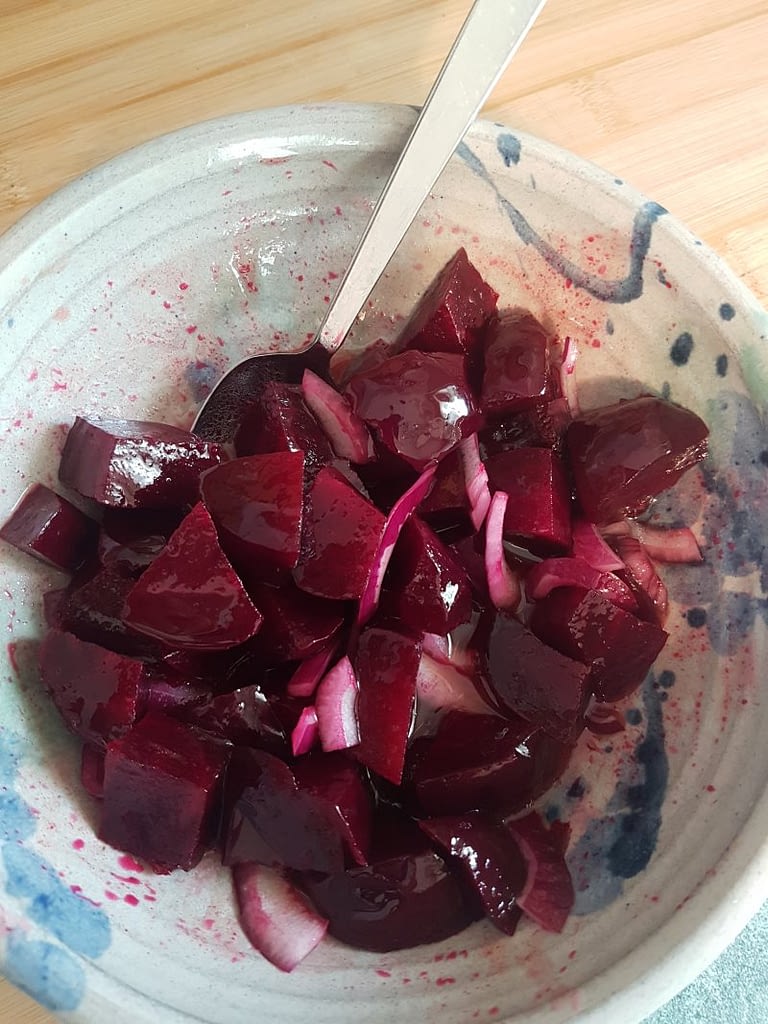 This was a quick and easy marinated beet salad - cooking was the only lengthy process.  Rather than steaming up beets for a side dish,  I thought I would make this simple marinade and turn it into a salad.  This is also delicious on top of a garden salad.
In this dish I used 3 medium sized beets - but you could certainly increase all the amounts here to have the next day or to serve a crowd.  This is best made early in the day and refrigerated 4-6 hours so the flavors develop.
3 medium sized beets, red stocks trimmed off, then wash well leaving the skin on and the beets whole
2 sliced "rounds" of red onion, rinse well in cold water, then slice to 1 1/2 inch pieces
1 Tblsp. Apple Cider Vinegar
3 Tblsp. Extra Virgin Olive Oil
2 Tblsp. reserved beet water
salt to taste.
Add the clean beets to a pot and cover well with water.  Bring to a boil, then turn down to medium, lid cracked slightly.  Cook 45 min. or longer until tender.  Reserve 2 Tblsp. of the beet water and place into a bowl.  Once the beets have cooled, take off the peels, and cut into even sized chunks.
Rinse the red onion well under cold water, then slice into 1 1/2 inch slices.  Add the beets and onions to a bowl.
In the bowl with the beet water, add the EVOO, Apple Cider vinegar and salt whisking well.  Pour over the beets and red onion mixing well.
Refrigerate 4-6 hours before serving as a side dish or on top of a garden salad.  After this post a new VEGAN POTATO SALAD THAT IS YUMMY!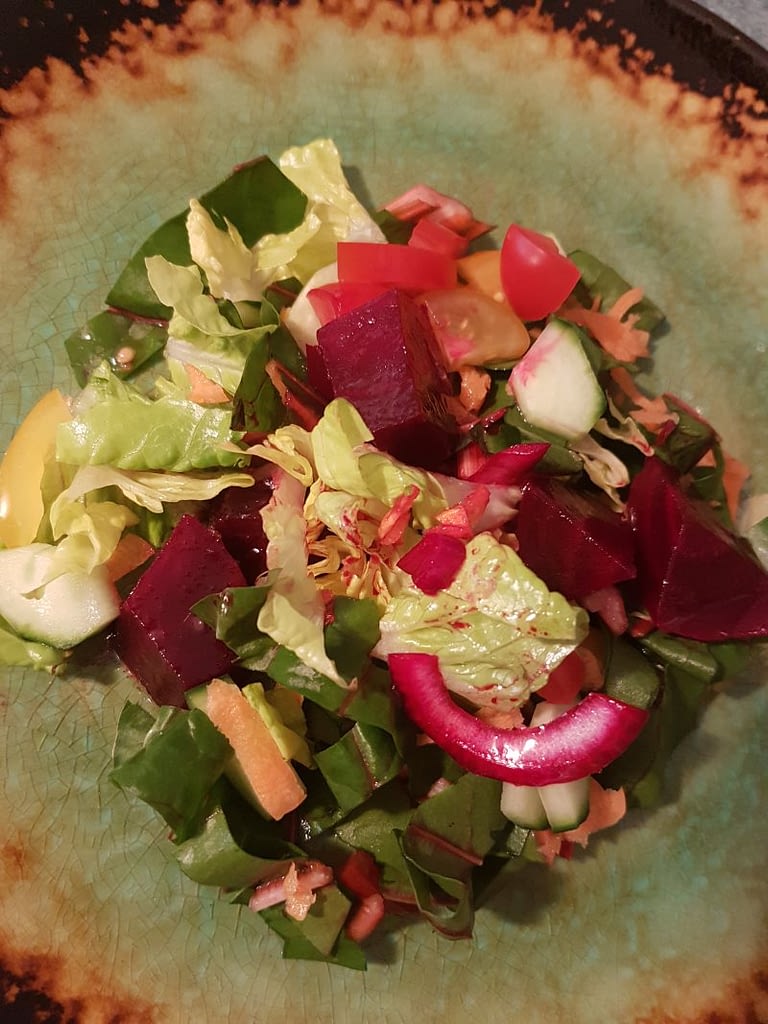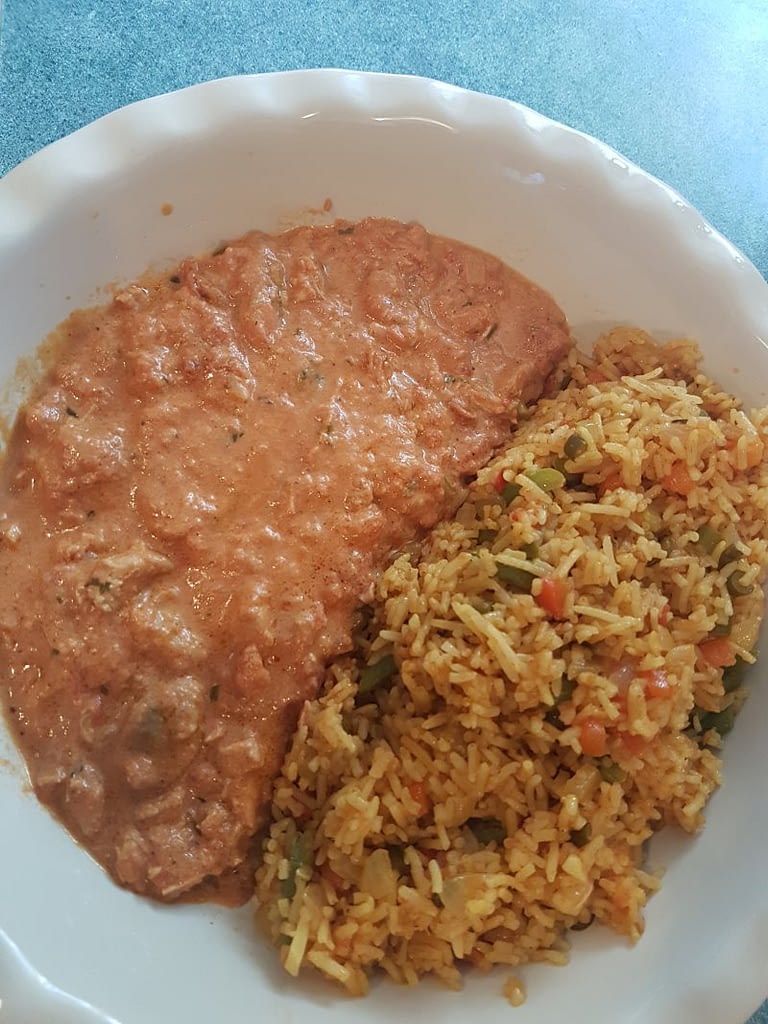 This recipe might hands down be one of the best curry dishes I have ever made!  Recently, my daughter and I went to a restaurant that is farm sourced, organic, with African roots - it was the first time we have ever had Jollaf Rice.  Wow, wow, wow, it was so good.  I found a recipe here which is divine.  That said, I did make a few modifications based on my own diet/restrictions.
I halved the recipe, omitted the black pepper, chili powder and sugar. If you read my blog you know we are serious wimps when it comes to heat.  For the red pepper I used a quarter of a large red pepper - peeled.  While I do love peppers, my body does not, and lessening the amount, and peeling them is a great help!
I also added 2 fresh chopped garlic scapes only because I had them on hand - they have such a short window and they were a lovely addition to this dish.  Then I used 1 red and 1 yellow roma tomatoes.  See how pretty?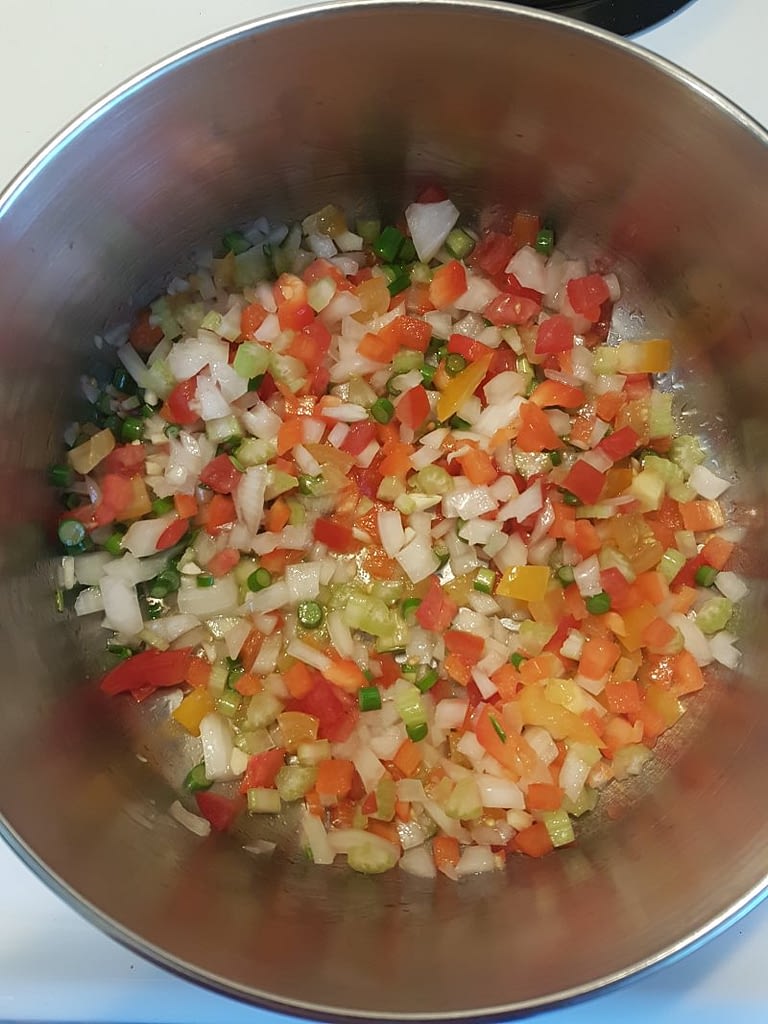 The original recipe did say to add more stock/liquid if necessary - and yes I did add extra chicken stock near the end.
I can not say enough about this lovely Jollaf Rice Recipe - thank you Chef Valentine Moyo - this was amazing food!
Then we paired this amazing Jollaf Rice with a simple Crock Pot Curry Chicken dish - recipe below.  Easy delicious food worth making again and again.  Next time I will double the recipes!
1 lb. boneless, skinless chicken thighs cut into 1 inch pieces
14 oz. can diced tomatoes drained, but keep about 1/4 cup liquid to add to the crock pot
1 Tblsp. tomato paste
2/3 cup Greek yogurt
1 Tblsp. Madras curry powder
1 tsp. salt
1/2 a large onion, diced
1 minced garlic clove
1 tsp. Garam Masala
2 Tblsp. Avocado Oil
Salt to taste
fresh minced cilantro
1/4 - 1/2 cup Lactose free cream
In a bowl, add the cut up chicken yogurt, salt, and curry powder mixing to combine and set aside.  Heat up a frying pan on low medium heat with the Avocado oil and add the onion, minced garlic clove, and Garam Masala.  Saute until fragrant then add in the drained tomatoes and tomato paste stirring well and cook about 4- 5 minutes, then remove from heat.
Add the chicken mixture to a 4 quart crock pot, then add the onion tomato mixture - mix well, set on high and cook for 4 hrs. total time.  At the 2 hour mark, give the chicken curry a good stir, crack the lid and turn the crock pot to low lid slightly cracked.  At the 4 hour mark, turn off the crock pot, stir in the lactose free cream.  Serve with fresh minced cilantro, and the Jollaf Rice.  We ended up mixing the two dishes together - absolute heaven!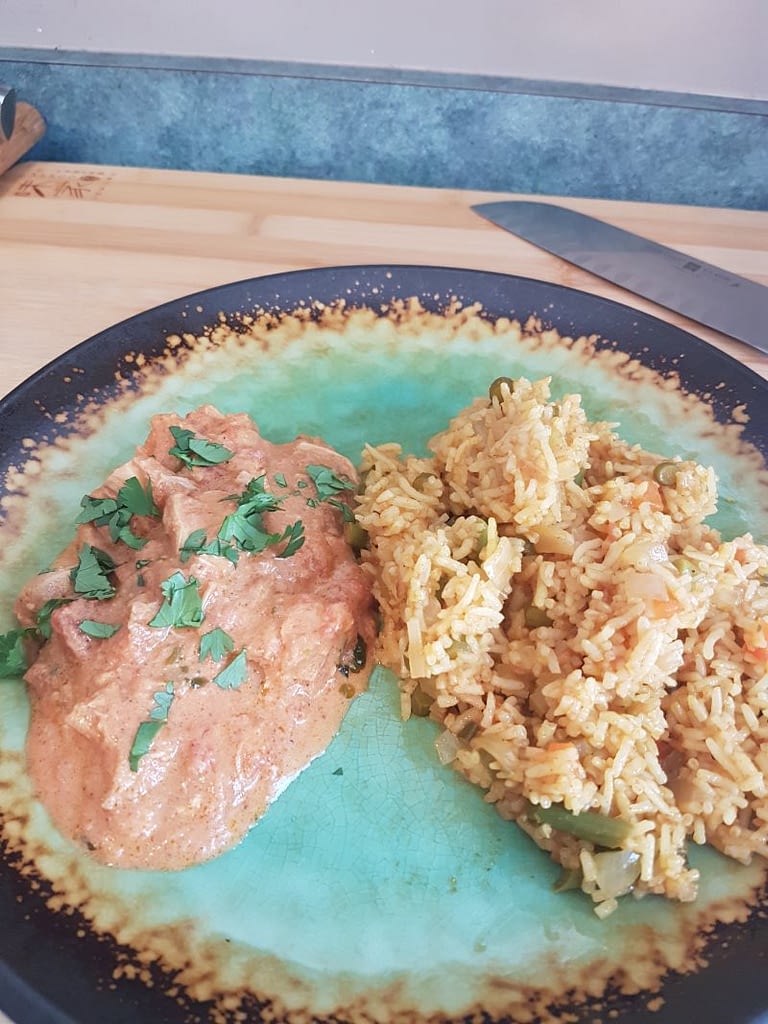 We have been in a heat wave...very unusual for our area.  We ended up the first day BBQ'ing chicken and hence the above salad to accompany it.  To nite we will thankfully be having cold leftovers.  So, this all dressed potato salad is yummy served warm or cold.
1 1/2 - 2 lbs. new potatoes (scrub well, chop, and cook till fork tender)
2 large green onions, finely chopped
1 tsp. dried dill
1 tsp. garlic powder
salt and pepper to taste
1 1/2 tsp mustard Dijon is best but here I used regular which was good too
2 Tblsp. Wine Vinegar (mine looks more rose colored so white or red should be fine)
3 Tblsp. Extra Virgin Olive Oil
handful of minced Italian flat leaf parsley
good sprinkling of Parmesan cheese
paprika to sprinkle over top
Once the potatoes are cooked, drain well and set aside.  Chop the green onions and parsley and set aside.  Mix the dill, garlic powder, salt and pepper, wine vinegar, mustard and EVOO in a small bowl whisking well to combine.  Pour over the potatoes and toss, then add the green onions, parsley, and Parmesan cheese mix gently to combine, then sprinkle the top with a bit of extra flat leaf Italian parsley and top with a good sprinkle of paprika.  Serve along side any other dishes.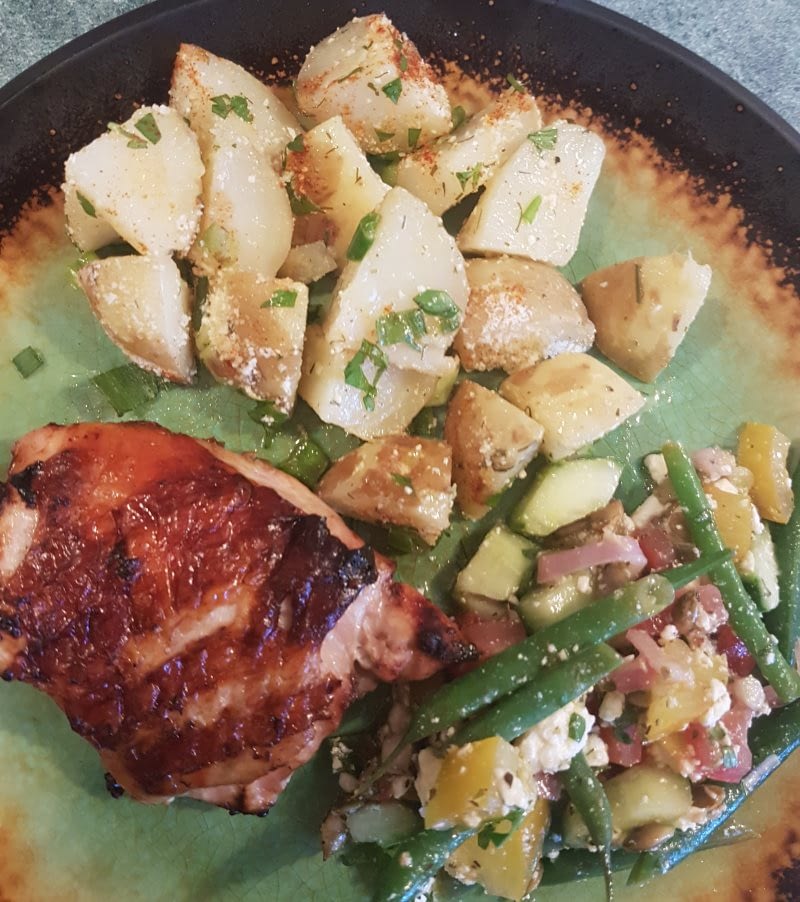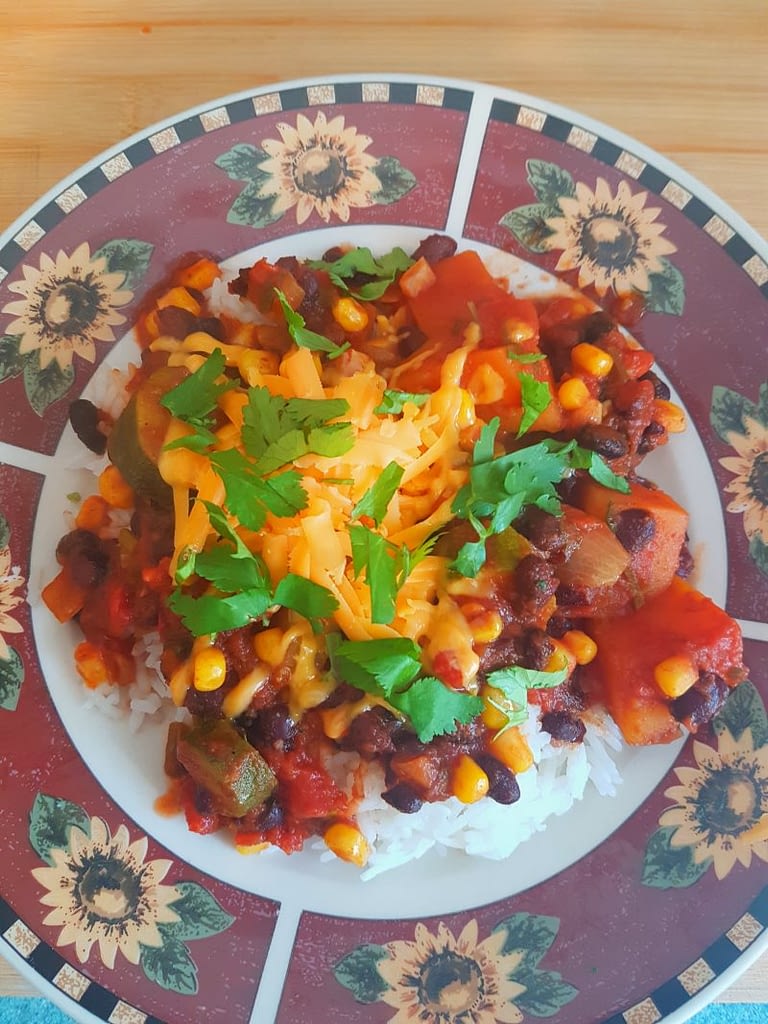 With this easy dish we originally had the black bean chili over rice for dinner one nite.  Then the next day we turned it into a wrap style or quesadilla - even tastier!  The chili recipe with rice made plenty with leftovers to have wraps or quesadilla's for a few lunches - a quick easy meal that turned into two recipes.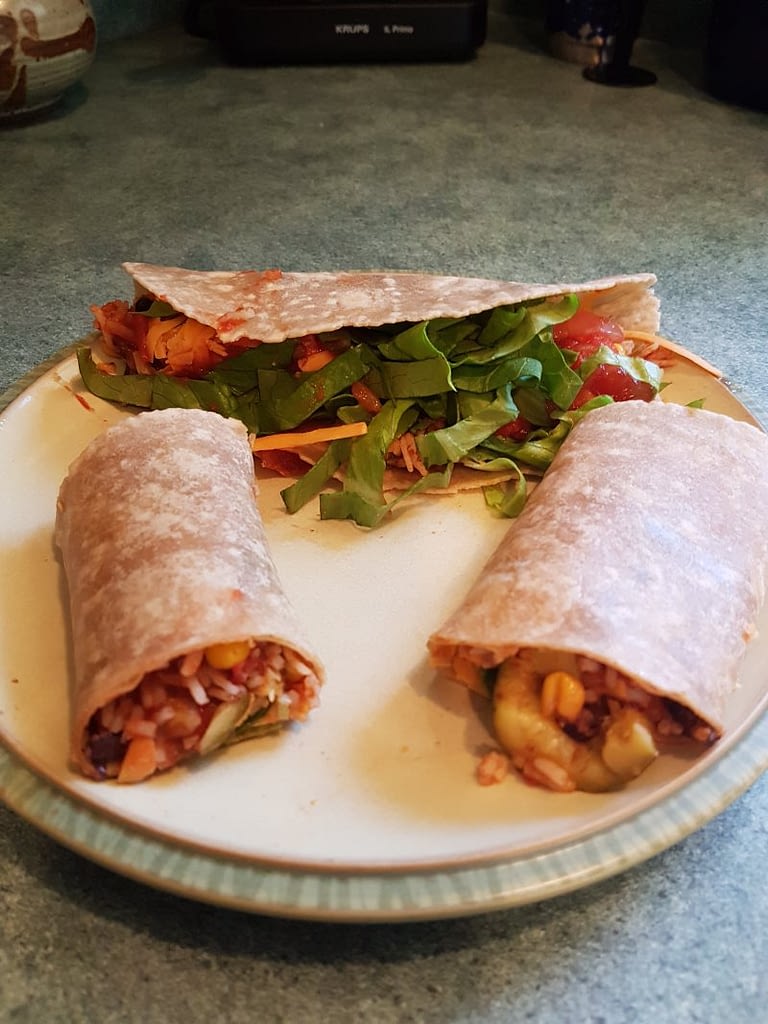 RECIPE:
2 Tblsp. Extra Virgin Olive Oil
1 small onion, diced
3 minced garlic cloves
1/2 a celery stalk, diced
1 cup chopped butternut squash (I used frozen but fresh works too)
1/2 cup frozen corn
1 cup chopped fresh zucchini
14 oz. can diced tomatoes with juice plus 1/2 can water
14 oz. can drained and rinsed black beans
1/4 cup minced fresh cilantro
salt to taste
3/4 Tblsp. chili powder
1 tsp cumin
1/2 tsp. smoked paprika
grated extra old cheddar cheese
Heat up a pot on low medium heat with the EVOO.  Add the onion, garlic, and celery, saute about 5 min.  Add in the seasonings and butternut squash sauteing for 5 minutes, then pour in the tomatoes and water stirring well.  Simmer for 15 min. lid off on low heat.  Then add in the zucchini, corn and cilantro - taste to adjust any seasonings, lid on and simmer another 15 min.  Serve over rice with grated cheddar cheese.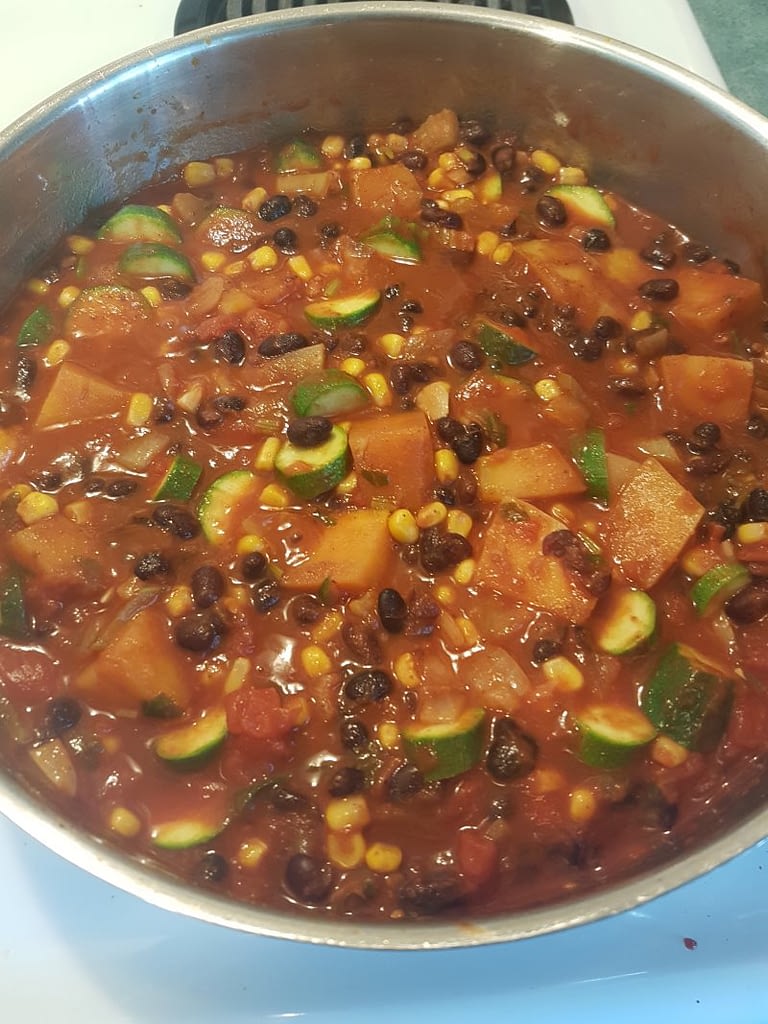 For the wraps/quesadillas we found these gluten free wraps (sorry for the poor picture quality!) and they are delicious.
I heated the chili and rice on low heat in a pot on the stove to reheat.  Then using a cast iron frying pan on medium heat add the tortilla then turn over about 25 seconds, and cook another 25 seconds on the other side.
Place on a plate, add the black bean chili and rice, followed by grated cheddar cheese, salsa, chopped lettuce.  Roll up and cut into a wrap or fold over half as a quesadilla.  It is always great to have 1 recipe with leftovers to make another recipe/meal the next day especially a super easy one!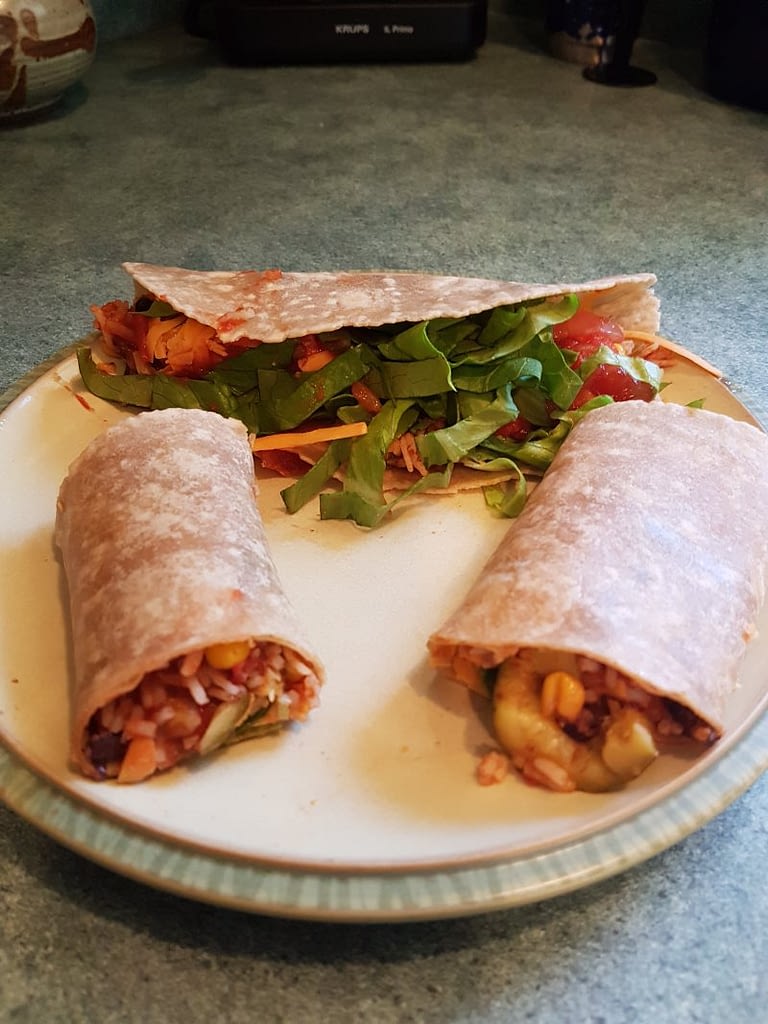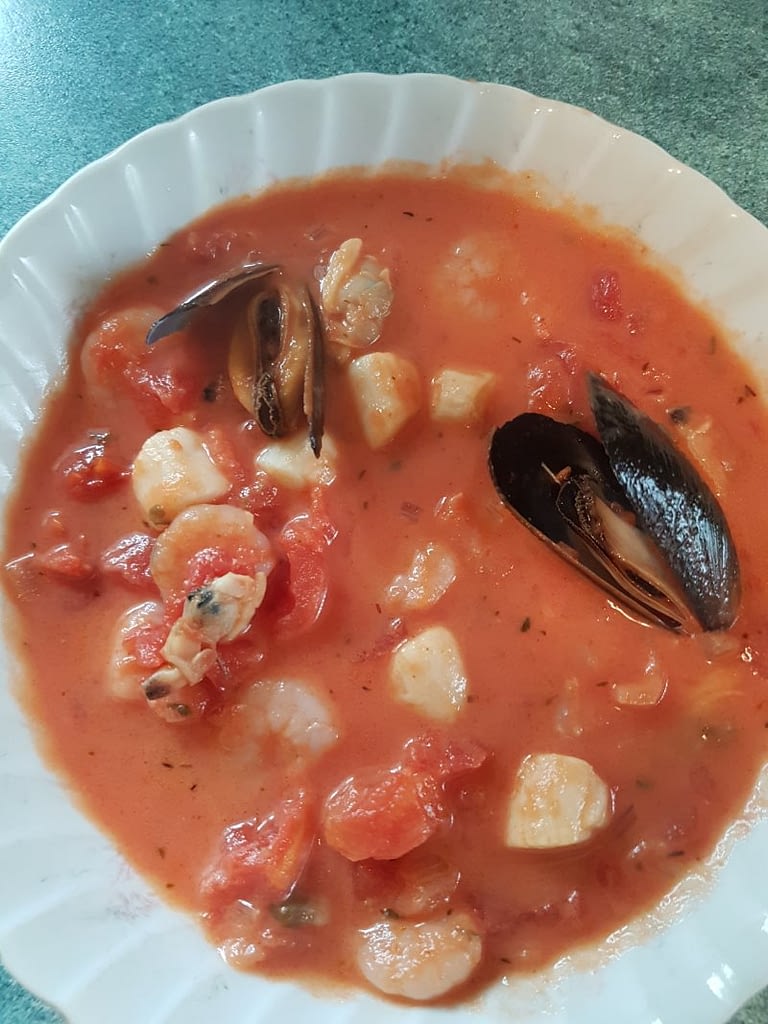 This yummy seafood bisque is not a traditional bisque as it was not pureed , and it is also not a chowder, as it was not thickened nor were there any potatoes in the soup. It is more of a tasty seafood soup somewhat like a bisque.
In the freezer section at our grocery store we discovered packages of frozen seafood medleys - a combination of shrimp, scallops, clams and muscles - a very tasty combination.  The directions said to remove the package from the outer package - add the pack of seafood to boiling water, and boil 8 minutes turning over the pack of seafood half way through.  This gave a lovely seafood broth inside the package which I then added to the tomato cream base.  A lovely, and easy dinner or lunch.
300 grams frozen seafood medley
14 ounce can of diced tomatoes
2 Tblsp. Extra Virgin Olive Oil
1/2 of a celery stalk finely diced
1 shallot finely diced
1 minced garlic clove
1 tsp. dried Thyme, and Parsley
1 large bay leaf
salt and fresh cracked pepper to taste
a good splash of Lactose free cream
Heat up a pot on low heat with the EVOO.  Add the shallot, celery, and garlic sauteing about 5-7 minutes until the shallot and celery are translucent.  Season with salt, fresh pepper, thyme and parsley and saute another minute.  Pour in the tomatoes and add the bay leaf.  Keep on a low simmer, and meanwhile cook the seafood medley as per directions.  Once cooked, cut the package open and pour into the tomato mixture giving it a good stir.  Remove from the heat and add in a good splash of cream, stirring to incorporate.  Serve hot with some nice gluten free bread or buns.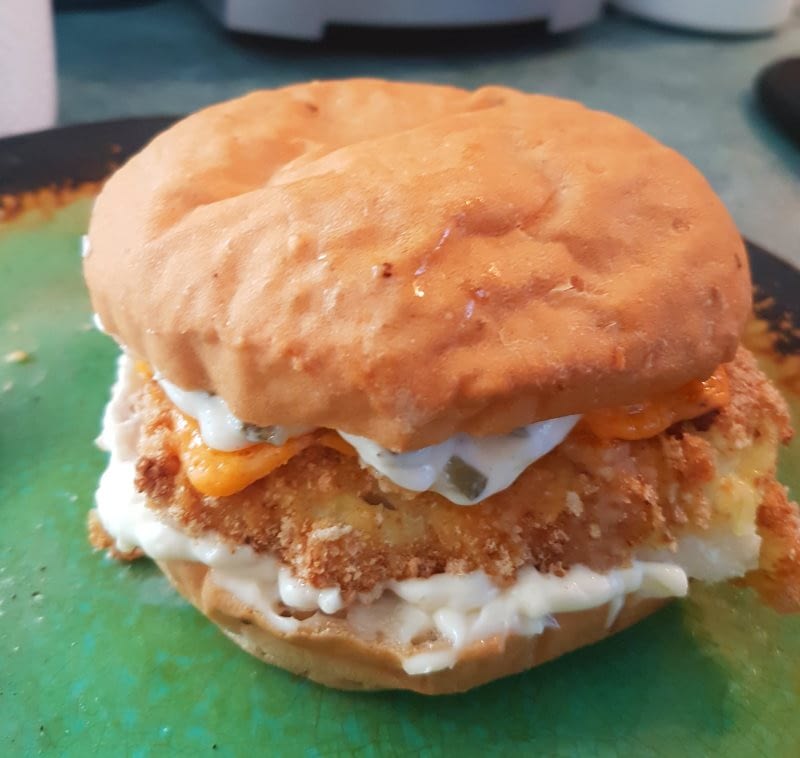 If you love a Filet of Fish Burger this is a recipe for you.  The original recipe can be found on this site and it is a winner.  Thank you for sharing Nagi!
With our household being gluten free, we used only gluten free ingredients for our Filet of Fish Burger and we used Atlantic Cod which holds up nicely for a fish burger.  A couple of key notes if you are wanting to make this dish using Gluten Free Bread Crumbs in place of Panko Bread Crumbs:
My gluten free bread crumbs are fairly course in size, so after lightly toasting them in the oven, I ran them through a mini blender to make them more fine in texture.
I did not add extra sugar to the tartar sauce as we used Gherkin pickles which were sweet enough, and we used thinly sliced aged cheddar cheese in place of process cheese.
This said, it is the "dredging recipe" combined with the toasted bread crumbs that made this recipe stand out.  The coating on the fish was crisp and flavorful.  I also baked the fish on a wire rack over a baking sheet which also encourages a crispier coating.
Hands down this is the best Filet of Fish Burger I have ever had and a recipe we will definitely be having again.  Sharing the love - so tasty!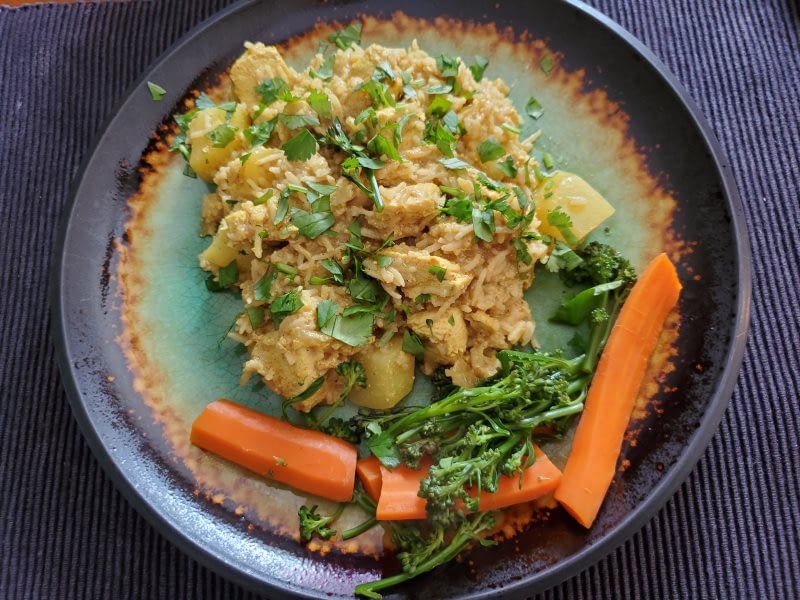 Here is yet another chicken dish...such an easy protein to work with and healthy too.  Do you love a good curry?  When it is done properly, to me there is nothing better in the whole wide wide world.  Chicken Biryani is a dish I used to make years ago and somehow forgot along the way?  How that happened I will never know.  The lovely thing about curries is the layering...the layering of spices, textures and flavors - that is what makes a great curry.  The other thing I have learned about curries - if you are feeling a bit under the weather, all of the spices here give you a boost - a boost to the immune system as well as to your overall energy.  Yup, curries are the answer!
Now with this dish it was not your typical Biryani.  Yes I did use a Biryani spice blend you can find here.  That said, I also included a Madras Curry spice blend I adore.  Any good quality Madras Curry blend will work nicely - a great compliment to the Biryani spice blend.  Again, another layer of flavor.  The saffron is an absolute must in this dish, it will not be the same without it.  Such a beautiful spice!
Typically, a Biryani is made with yogurt, meat, and your seasoning blend.  Here I used skinless, boneless chicken breasts, but chicken thighs would be lovely as would a good cut of beef.  In terms of salt, use at your discretion - salt to suite your taste.
Chicken:
2 skinless, boneless chicken breasts, cut into 1 inch pieces
1 tsp. Biryani Spice Blend
2 tsp. Madras Curry Spice
1/4 juice of a fresh lemon
1 heaping Tblsp. finely chopped ginger
salt
3/4 cup Lactose Free/full fat Greek Yogurt
Combine all of the ingredients in a bowl mixing well to coat and marinate in the fridge 4-12 hours.
Rice:
1 cup basmati rice - well rinsed under cold water in a sieve
2 Tblsp. Avocado oil
2 cups water
1/2 tsp. ground cloves
2 bay leaves
1/2 tsp. cinnamon
pinch of saffron
salt
Remaining ingredients:
1/2 a large onion sliced into 2 inch pieces
1 large organic Yukon gold potato, cut into 1 inch pieces
1 tsp. garam masala
1/2 tsp. madras curry powder
1 tsp. tumeric
1/2 cup Lactose free full fat Greek yogurt
pinch of saffron
3/4 cup chicken stock
salt
2 Tblsp. Ghee or butter
fresh chopped cilantro
To the potatoes, add the spices - garam masala, madras curry powder, tumeric and saffron , and yogurt, mix well and set aside.  Begin by heating a dutch oven with the butter or Ghee on low/medium heat.  Add in the chopped onion and saute until golden - about 12 minutes, season with salt.  Add the chicken stock, marinated potatoes, and chicken with the yogurt marinade.  Bring to a lite simmer lid off, stirring occasionally.  Cook about 20-25 min. until the potatoes and chicken are cooked through...check for salt and adjust if necessary.  While this is beginning to cook, start on the rice.
Rice:
Add the Avocado oil to a pot on medium heat.  Add the spices and bay leaves, then the rice and saute about 2-3 minutes until nice and fragrant.  Pour in the water and bring to a simmer.  Turn down to minimum heat, lid on and cook about 20 min.
Once the rice is cooked, remove the bay leaves, and stir with a fork to combine.  Transfer to a baking dish and top with the chicken/potato curry, mixing to blend.  Serve with a fresh helping of cilantro.