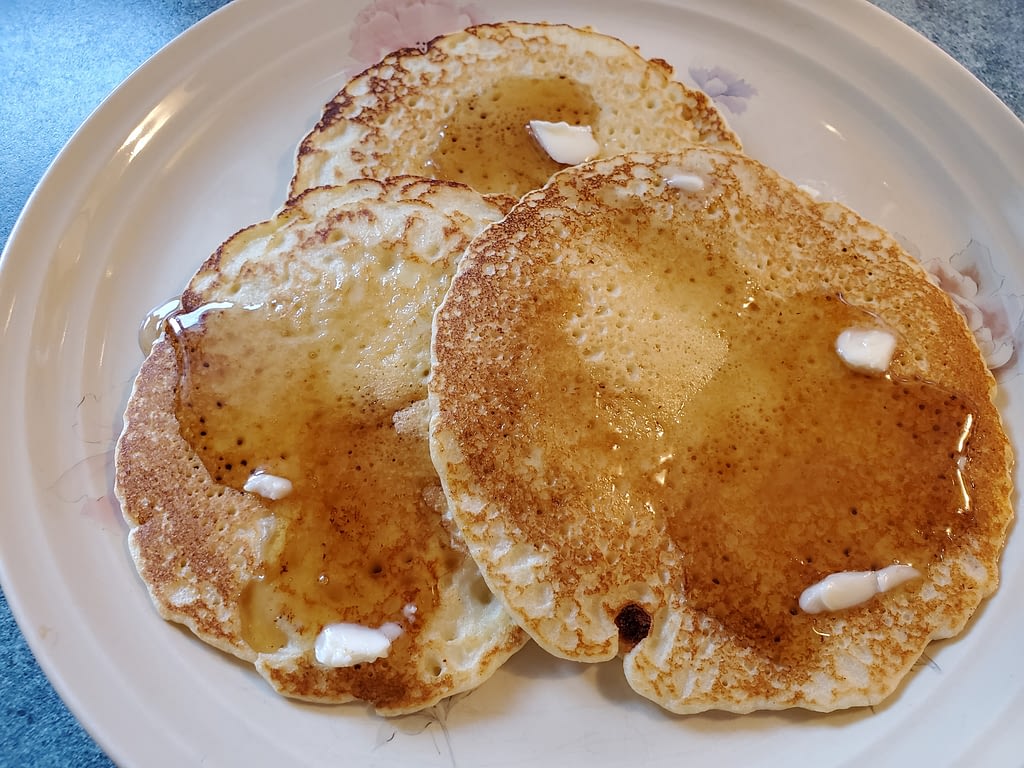 Lately, I have been using more Almond Flour in various recipes, and this new pancake recipe has turned out to be our new favorite.  I have found when using Almond flour in baking, it helps to add in another starch such as Tapioca Starch or Potato Starch.  This gives the end result a much better consistency and texture.  We have also been using Natural Avocado Oil in a number of recipes as well.  It has a high heat point and is a nutritious, healthy oil, plus it is great in baked goods.
1 1/2 cups Blanched Almond Flour
1/2 cup of Potato Starch or Tapioca Starch
1 rounded tsp. gluten free Baking Powder
3/4 cup Almond Milk or milk of choice
1 Tblsp. Maple Syrup
2 Tblsp. Avocado Oil
2 large eggs - whisk well
Heat up a cast iron skillet on medium heat with a Tblsp. or 2 of Avocado Oil.
In a bowl combine almond flour, potato or tapioca starch, and the baking powder whisking well to combine.  In another bowl whisk the eggs till lite, add in the maple syrup, avocado oil, and milk mixing well.  Add the wet ingredients to the dry and whisk well.  Pour desired amount into the heated skillet and let cook on the first side till you see a good amount of "bubbling" in the batter, then flip and cook the other side till done.  Serve with preserves or maple syrup.
This is a quick and easy dinner/lunch to make.  What helps make it quick and easy is, we used canned gluten free re fried beans, frozen butternut squash and fresh spinach. (you could certainly use fresh chopped butternut squash in this dish) By the way, I recently learned you can easily freeze fresh butternut squash.  Just peel, chop into pieces place on a sheet pan and pop into the freezer.  When frozen remove and place in a freezer bag to use in any recipe.
Also, you can use any gluten free Taco Seasoning mix you like, but I have included my recipe here, and corn tortillas should work nicely too, although I would put one on top of the other to cook, then flip to the other side to finish cooking in the pan.   The amounts given here make 3 large Quesadillas - plenty for 2 people.
2 Tblsp. Extra Virgin Olive Oil - divided
3 large gluten free tortilla rice flour wraps
1 cup chopped frozen butternut squash
4 cups packed fresh spinach
3/4 cup re fried beans
1-2 cups grated sharp cheddar cheese
1-2 tsp. taco seasoning - to personal taste
Taco Seasoning blend:
2 Tblsp. chili powder
2 tsp. cumin
1 Tblsp. garlic powder
2 tsp. onion powder
guacamole - optional
salsa
Heat up a skillet or cast iron pan on medium high heat with 1 Tblsp. Extra Virgin Olive Oil.  Add the frozen butternut squash to the pan and saute about 8 minutes.  Add in the taco seasoning and continue to saute 2-3 minutes then remove to a bowl and set aside.  Add in the fresh spinach and saute until wilted, then return the butternut squash to the pan mixing to incorporate.  Then remove to a bowl and set aside.
Using a large wooden chopping board or work surface, place down the tortilla wrap with a good spread of the re fried beans.  Add a good helping of the vegetable mixture, then top with the grated cheddar cheese and fold the tortilla wrap in half.
Add the extra 1 Tblsp of EVOO to the pan and place in the tortilla wrap.  Cook about 3 minutes then flip to the other side and cook another 3 minutes.  Serve sliced in half with Salsa, and guacamole if using.
This is not your typical traditional Goulash.  When we were kids/teenagers, our brother-in-law used to make his version of Hamburger Goulash for us which we loved.  His was made with canned vegetable and tomato soups.
In trying to recreate this dish without the canned soups, I think it is very close in flavor to his and a great comfort food meal.  While traditionally served with pasta we always serve ours over rice or mashed potatoes.  All of these are great choices - whatever is your preference.  In terms of seasonings I have given measurements here, but again you can adjust amounts/seasonings to your personal tastes.  We always look forward to the leftovers the next day!
1 lb. extra lean ground beef
1/2 of a large onion, roughly chopped
1 shallot, diced
1 large garlic clove, minced
4 button mushrooms chopped small
1/4 of a green pepper, diced
2 carrots, chopped small
1 celery stalk, chopped small
2/3 cup fresh or frozen green beans
2/3 cup frozen corn
14 oz. can of diced tomatoes
1 1/2 cups beef stock
salt and fresh cracked pepper to taste
1 bay leaf
1 tsp. each:  Cumin, Thyme, Sage, Paprika
1 1/2 tsp. Garlic powder
Corn starch slurry
Heat up a dutch oven on medium heat, and brown the ground beef.  Add in the onion, shallot, garlic, green pepper and mushrooms.  Saute another 5 minutes.  Then add in the seasonings and bay leaf continuing to saute about 5 minutes.  Add in the remaining vegetables again sauteing 5 minutes.  Pour in the tomatoes and beef stock stirring well.  Lid on and bring to a good simmer.  Then turn down to a low simmer and cook for 45 min. to 1 hour.
Make a cornstarch slurry - enough to thicken the sauce/gravy and pour in stirring well until thickened.  Adjust for any seasonings and serve over your choice of mashed potatoes, pasta, or rice.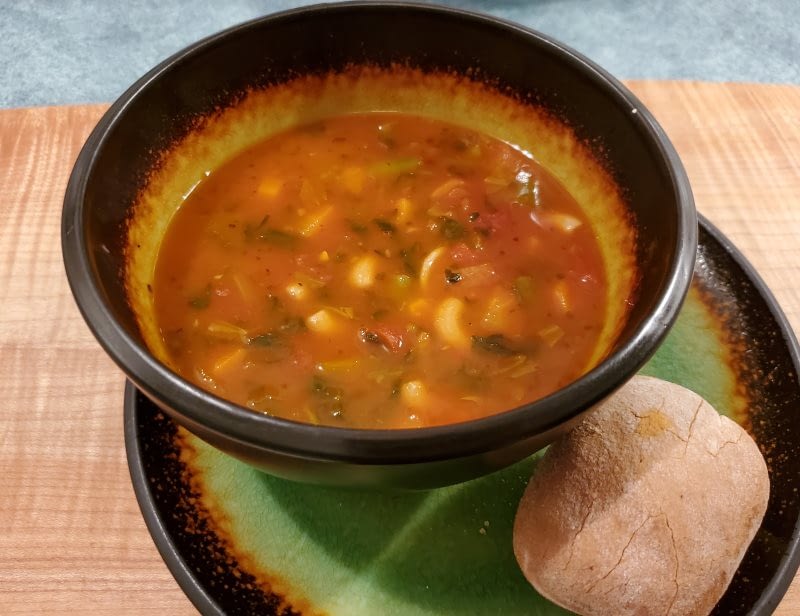 If you read my blog, you know I am a lover of all kinds of soups!  I could eat soup every day for sure.  This soup was so quick and easy, great for lunch or dinner served with grilled cheese, gluten free buns, or a simple salad.  When in a rush, or you don't feel like cooking, store bought tomato basil marinara and chicken bone broth work great in a pinch for time, plus, it is a good way to use up what is in the pantry/fridge/freezer.  This meal came together in about  35-40 min....these days that works for me.  If you wanted Vegan or Vegetarian, simply use Vegetable broth in place of Chicken Stock/Bone broth.
2 chopped carrots
1/2 an onion roughly sliced
1 chopped leek
1 chopped large celery stalk with leaves
1 Tblsp. Extra Virgin Olive Oil
3/4 c frozen organic spinach
2/3 cup frozen organic corn
2/3 cup frozen organic green beans
salt and fresh cracked pepper to taste
2 1/2 cups Tomato Basil Marinara Sauce (store bought or homemade)
5 cups chicken bone broth (store bought or homemade) (Vegetable stock for Vegan/Vegetarian)
1 rounded cup gluten free elbow macaroni pasta - cooked separately
Heat up a dutch oven with the EVOO on low heat.  Add in the carrots, onion, leek, celery, and season with salt and fresh cracked pepper.  Saute 5 min.
Pour in the Marinara sauce and bone broth stirring to combine.  Bring to a simmer, and cook 15 min.  Then add in all of the frozen vegetables. Continue to simmer for 10 minutes.  Meanwhile cook the elbow macaroni pasta separately according to directions, drain and add to the soup giving a good stir.  A warming soup for the soul.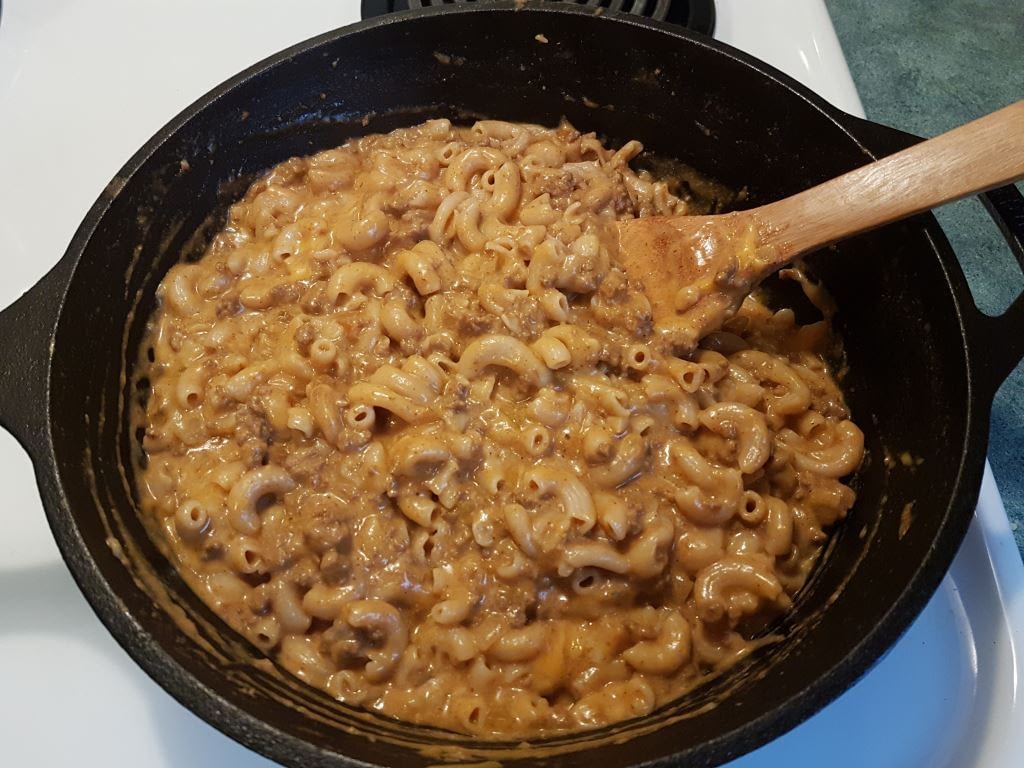 What is not to love about Mac N Cheese?  Add in some extra lean ground beef, some tasty seasonings, and best of all....everything goes into 1 pot.  A quick and easy meal in one go.  With this dish, I used a 3 1/2 quart dutch oven so you will want something at least that size.
Speaking of Dutch ovens....my dear husband recently gifted me with this Lodge pre seasoned dutch oven that I had been coveting.  The lid is also a separate  frying pan.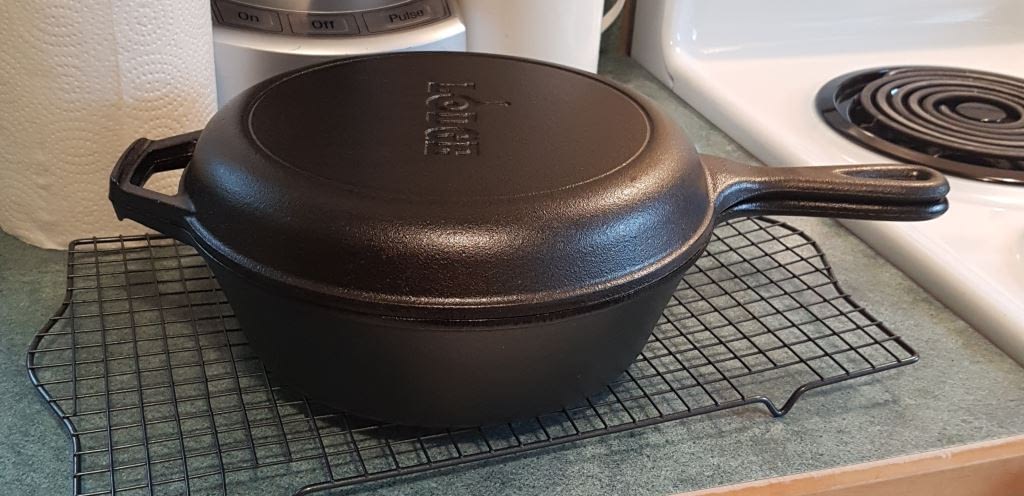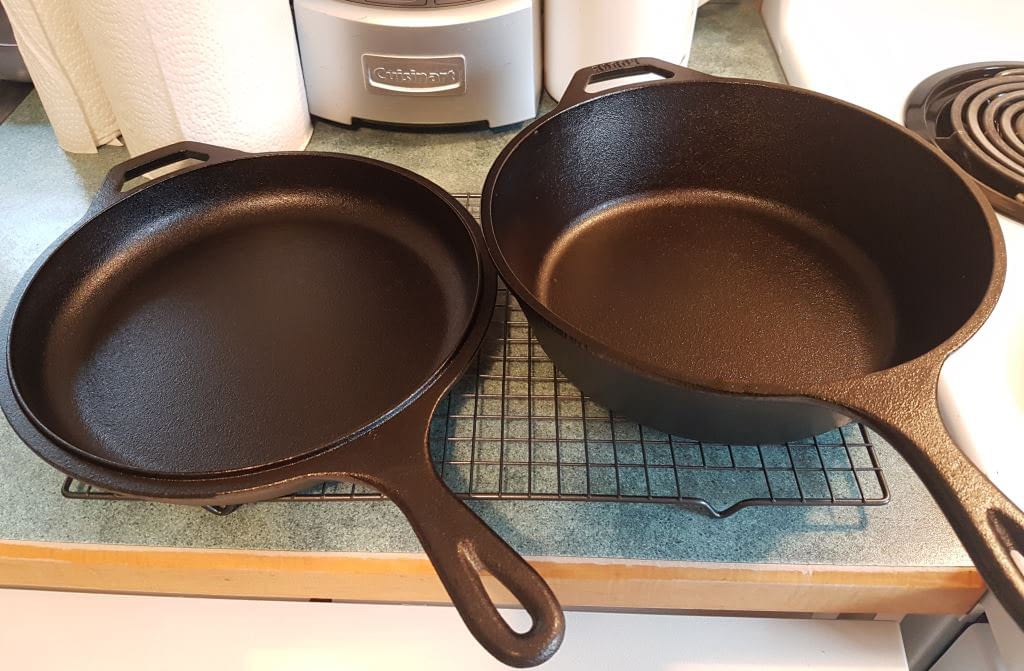 For this recipe you could include a 14 oz. well drained can of diced tomatoes which would be a lovely addition too.
1 lb. extra lean ground beef
1 large shallot, minced
1 large garlic clove, minced
1/4 cup chopped small red or green pepper
2 Tblsp. chili powder
1/2 tsp. garlic powder
salt and pepper to taste
2 Tblsp. tomato paste
2 cups stock - can easily use:  chicken, beef, or vegetable stock whatever you have on hand
2 cups milk - we use Lactose free 2 %
1 pack of Tinkyada Brown Rice Elbow Pasta (340 grams)
1 1/2 cups aged cheddar cheese - we used 1/2 white, 1/2 orange cheddar
Heat up the dutch oven on low medium heat with the extra lean ground beef.  (no need for added oil)  Break apart the beef well with a spoon.  Brown about 5 minutes, then add in the shallot, garlic, red or green pepper and continue to saute 8-10 min.  Add in the seasonings, and tomato paste mixing well to incorporate, continue to saute for 5 minutes.
Add in the stock and milk, and pasta - mixing well.  Cover with the lid cracked and turn down the heat to a low simmer, stirring occasionally.  Cook for 12-14 min. until the pasta is cooked el dente.   Add the cheddar cheeses mixing well, serve hot....will be even yummier with leftovers tomorrow.
Have you ever cooked a lovely roast chicken, turkey, or roast beef with plenty of leftovers but no leftover gravy?  This happened with our Thanksgiving Turkey dinner - lots of leftovers except no gravy!  Normally we have tons leftover, but not this time.  Since I could heat everything up in the oven, there was time to make a gravy that would be tasty to have with the turkey and mashed potatoes - and I discovered a simple way to do that.
This recipe/method will work for leftover roast chicken, turkey, and roast beef.  Total time to make - about 45 min.  Plenty of time to heat up the leftovers in the oven.
1 Tblsp. butter
1 large shallot, roughly sliced
1 large garlic, roughly sliced
1/2 a celery stalk, roughly chopped
sprigs of fresh sage, about 1/8th a cup
2 small bay leaves
Dash of garlic powder
For chicken/turkey:  dash of poultry seasoning  For Beef dash of dried Thyme or to taste
salt and pepper to taste
For chicken/turkey:  2/3 cup roughly chopped dark meat, For beef, same amount and you can use the end pieces or any of the tougher over cooked pieces on the roast to equal 2/3 cup
a good splash of Balsamic Vinegar
1 1/2 cup Chicken Bone Broth or Beef (I used store bought)
cornstarch for a slurry
Heat up a saute pan on low medium heat melting the butter.  Add shallot, garlic, celery and sage leaves, seasonings and if using for Beef, dried Thyme.  Saute a good 5-8 minutes. Then add in the meat, continue to saute another 5-8 minutes.  Season with salt and pepper.  By now there will be some nice caramelizing on the bottom of the pan.  Add a good splash of Balsamic Vinegar scraping up any brown bits.   Then add in the bone broth, stirring and keep on a low and simmer for a good 45 min.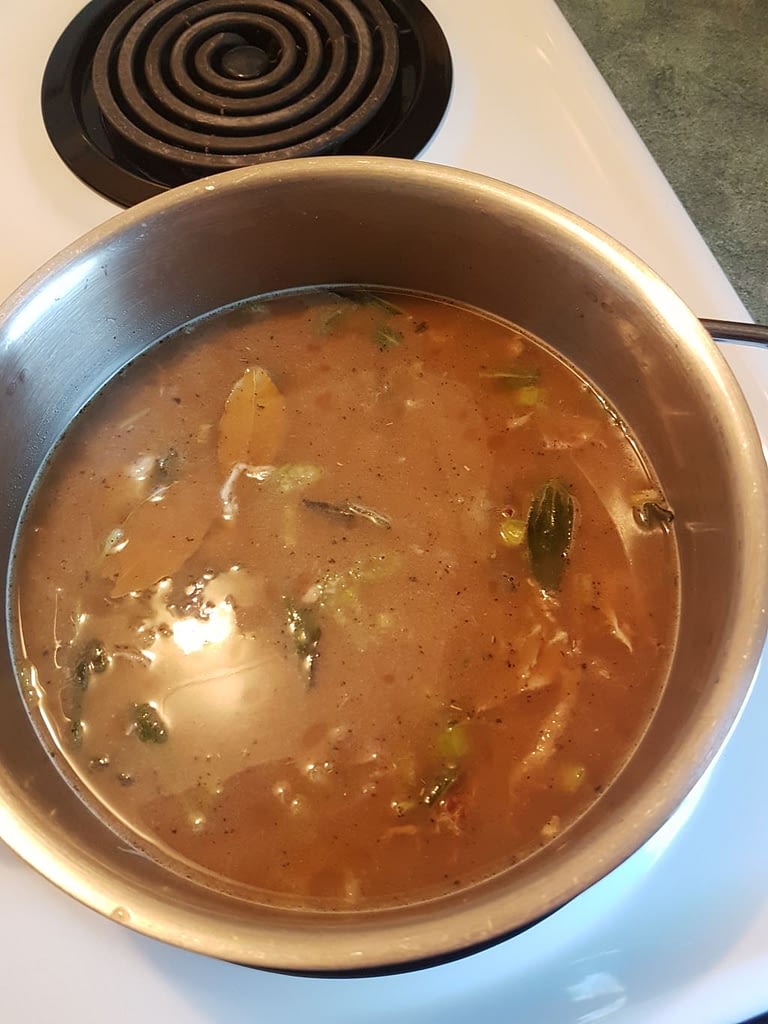 This will reduce a bit.  At the 45 min. mark, remove from the heat and pour into a strainer so you just have the liquid and discard the other ingredients.  Return the liquid to the pan and bring back to a lite simmer, then add in the cornstarch slurry, whisking well to thicken.  Check for any extra seasoning and adjust.  Lovely gravy for any leftovers you might have.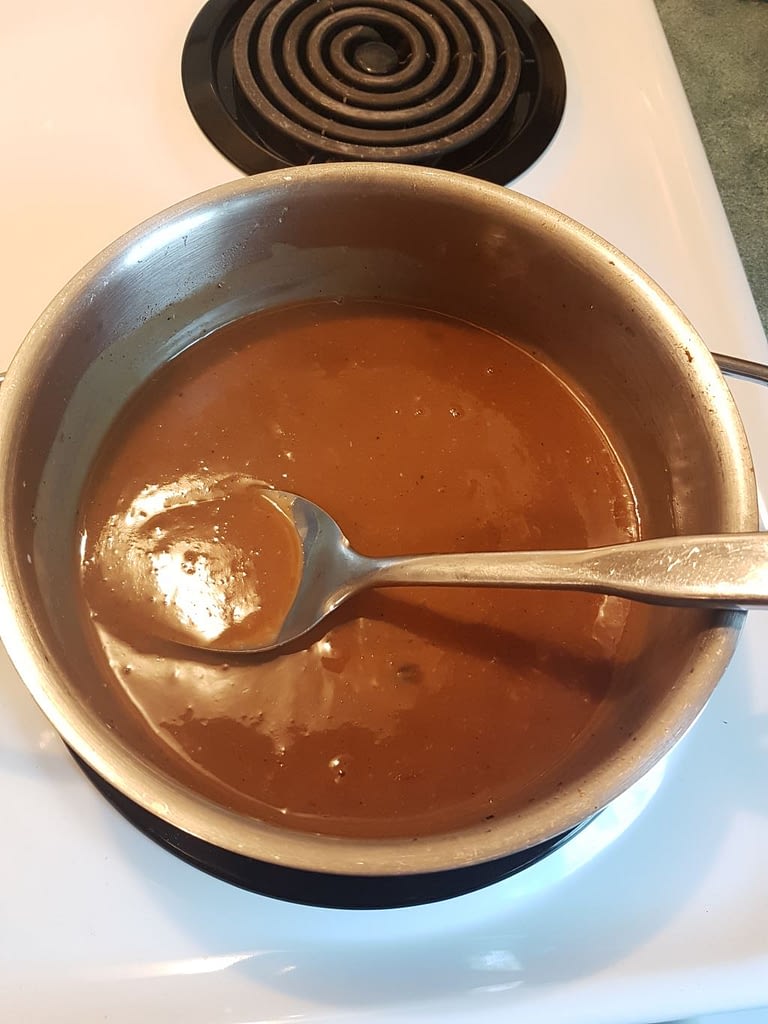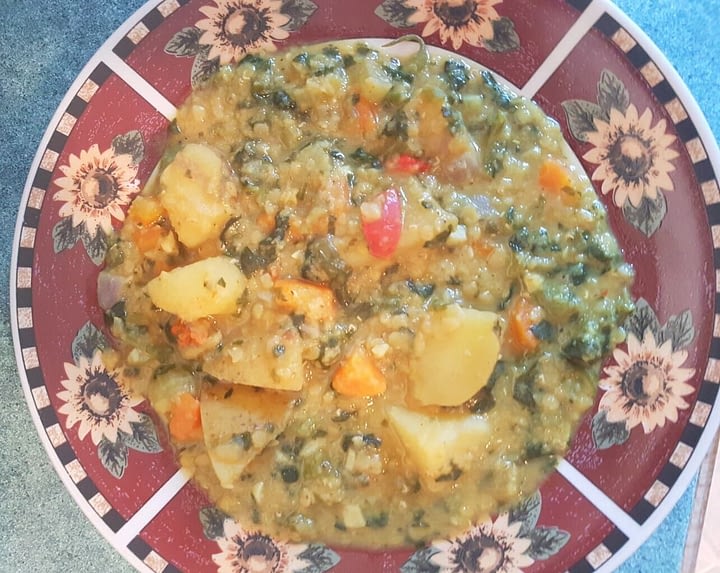 Hello everyone!
Long long time no write no hear.  These last few years have been quite a ride...working full on 5-6 days a week, keeping a business going in the past 8 years has been a labor of luv for sure.  Then fast forward to March 2020 and Covid hit.  During the past 8 years of extreme "business" I have posted very few recipes but do hope to post more down the road.
Now with the reality of Covid... sadly, but also not so sadly, I have shut down my business.  When push came to shove, I realized a few things.
First, I could not adequately meet our health guidelines for returning to work in a safe manner for everyone.  Secondly, I am only a few years away from retirement, and while I would have liked to have had a few more years in the work force, it was not meant to be and after some adjustment it suites me totally fine.  That said, here we are today in a most strange, strange world.  A world that no one could have even dreamed about!
It is with much gratitude and hope that everyone I know out there in our worlds are well and safe.
With all going on in this incredible world of ours....I look to comfort food....always comfort food, plus this is an easy healthy meal to make.
Now, while this is technically not Vegetarian, it so could be.  I used Chicken stock, but using Vegetable stock would make this Vegan/Vegetarian so use what suits you best!
2 Tblsp. Extra Virgin Olive Oil
1/4 of a small red pepper - roughly chopped
1/2 of a red onion - chopped
2 large garlic cloves, minced
1 carrot, chopped into 1/4 inch pieces
1/2 of a celery stalk, chopped into 1/4 inch pieces
3/4 cup red lentils - rinse well in a sieve
3 potatoes or roughly 2  1/2 cups chopped potatoes cut into 1  1/2 inch size - I used German Butter Potatoes (use potatoes that will not turn mushy)
1/2 cup chopped fresh green beans - or frozen will work
3/4 cup chopped frozen spinach
1  1/2 cups chicken stock - add more if necessary *
salt to taste
2 tsp. curry powder - I used a Madra style curry, but any curry powder of your choice will work here
1 tsp. garlic powder
1 tsp. onion powder *
*NOTES:  If needed add more chicken or vegetable stock - the potatoes need to be just covered, but depending on the potatoes used you might need to add more liquid.
Onion Powder.  For whatever reason, I can not find onion powder in my neck of the woods.  So, here I have taken dried onion flakes and run them through a coffee grinder to reach a fine powder - onion powder - and it works great!
Method:
Heat up a good sized pot on low medium heat with the EVOO.  Add the onion, garlic, red pepper sauteing a good 3 min.  Then add in the celery, carrot, green beans, season with salt and continue to saute another 3 min. or so.  Add in the curry powder, garlic, and onion powder, stirring to blend and continue to saute for 5 min.
Add in the rinsed red lentils, veggie or chicken stock, frozen chopped spinach, potatoes, and stir to combine.  Bring to a lite simmer, lid on for 15 min. stirring occasionally.  After 15 min, take the lid off, and continue to simmer another 5 min. or so (to help reduce if there is too much liquid) and to cook until the lentils and potatoes are cooked through.  Check for salt/seasonings, and serve hot.  A nice gluten free bread tops this meal off.  This recipe serves 2-3 portions, and can certainly be doubled.  The next day leftovers will be even better!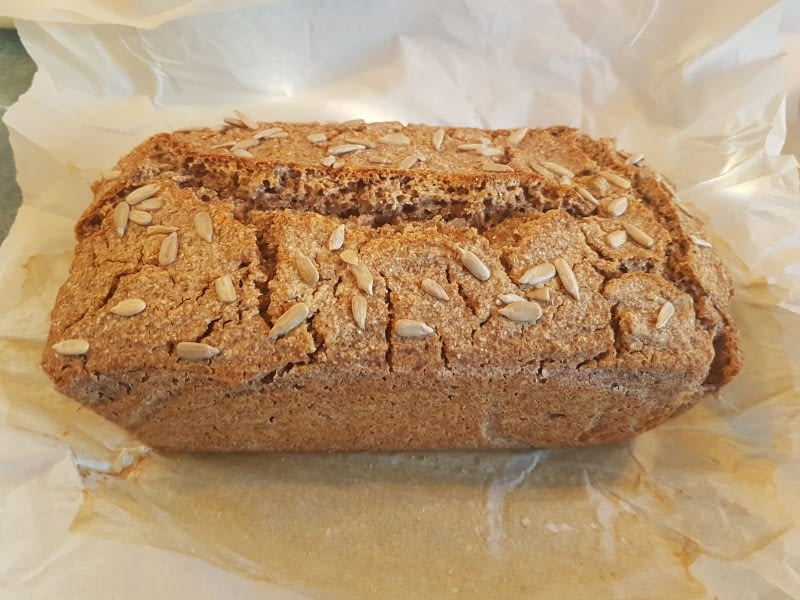 This recipe was so easy with just a few ingredients too!  The buckwheat flavor comes through, but not in an overpowering way.  As well, the sweet lite tang of the ferment in this bread is delicious.  Plus it has great texture, a lovely bread - perfect for breakfast, lunch or with dinner.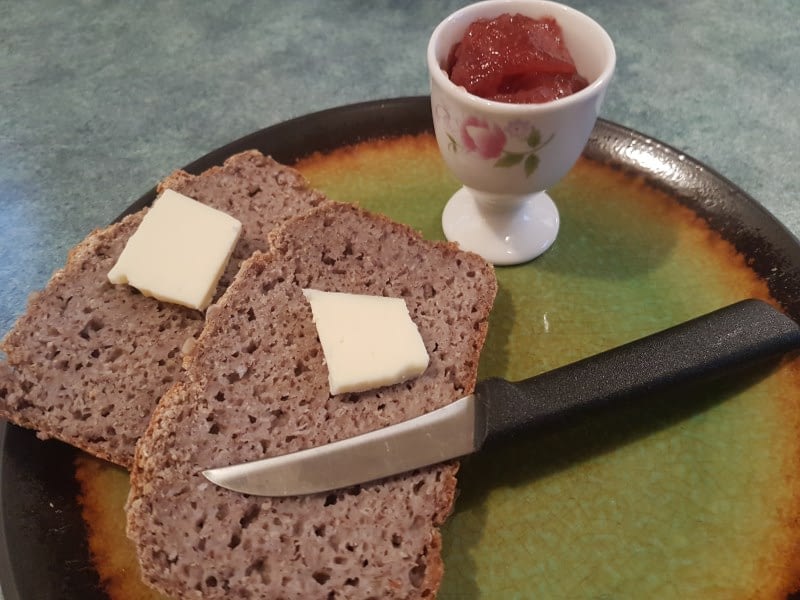 I found the recipe for Fermented Buck Wheat Bread here.  On that note, for some reason there is difficulty in my posts maintaining links so I will extend a huge thank you to Melissa Johnson of Bread Topia for this recipe and do a recap here.
2 1/2 cups organic buckwheat groats
3 1/2 cups water
Recipe:
1 1/3 cups water
1 tsp. salt
3 Tblsp. ground flax seed - optional
sun flower seeds for top of bread - or any seed of your choice - optional
In a large glass bowl, combine the buckwheat with 3 1/2 cups water, cover with a clean towel, soaking for 6 hours.  Drain well in a colander - the runoff will be gooey but do not rinse.
Add the buckwheat to a food processor with the 1 1/3 cups water and blend until completely smooth.  Pour into a large glass bowl, cover with a clean towel, to ferment for 24 hrs.
Line a glass loaf pan with parchment paper.  At the 24 hours of time, gently stir in the salt and ground flax seed (if using).  Transfer the mix to the lined loaf pan and scatter he sunflower seeds on top (if using).  Place in a cold oven with the light on for another 30-60 min.  Mine had fermented and raised quite nicely by the 30 min. mark.
Turn on the oven to 350 degrees.  When the bell goes off on the stove once it has reached 350 degrees temperature - time to bake will be approximated 80 minutes, or until the internal temperature of the bread is 200 degrees.
Once baked, remove from the oven, lift the bread out with the parchment paper, placing onto a wire rack.  Gently remove the parchment paper - allow to cool.
This lovely bread is one I will be making again and again.  Just a few ingredients, some time, and deliciousness awaits. 🙂