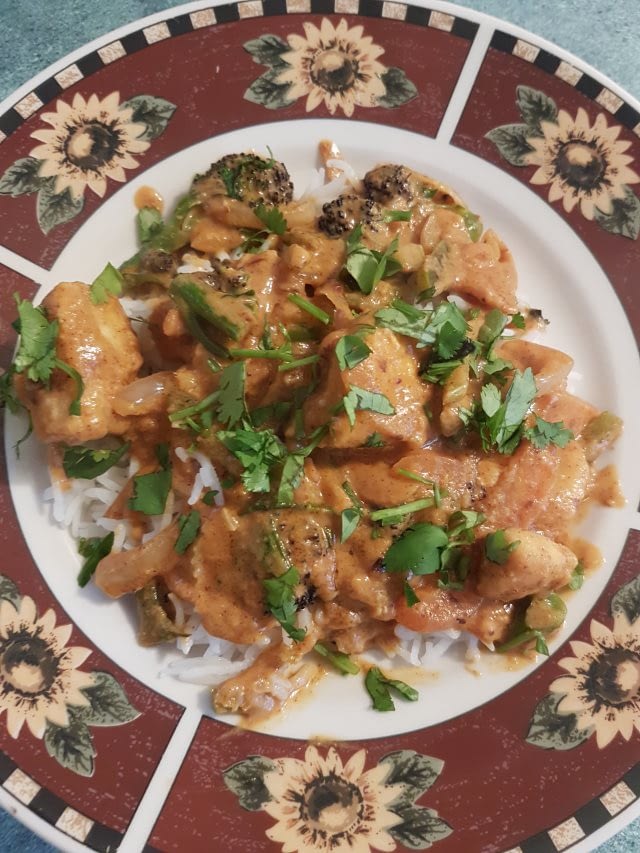 Each week we try to change things up with our dinner meals for added variety, and also based on what we have on hand.  With this recipe, I scouted out a few other Thai chicken recipes to come up with this one.
This recipe far far exceeded my expectations...it was quick to make, came together easily and it was super delicious.  Instead of peanut butter for the peanut sauce, I had some chunky almond butter that needed using up, and in keeping with the almond theme, used finely ground almond flour to dredge the chicken before cooking.  That said, I would not add any substitutions to this recipe other than to say full fat coconut milk would work nicely here in place of the water at the end of the cooking time.  The chunky almond butter and the almond flour are key ingredients here.
1 lb. chicken breasts, cut into one inch chunks
3 Tblsp. Extra Virgin Olive Oil
For the flour dredge:
1 tsp. garlic powder
1 rounded tsp. ground coriander
1/2 cup finely ground almond flour - mix these spices with the almond flour on a plate
3/4 cup Jasmine rice - cooked
1/2 and onion roughly sliced
2 finely minced garlic cloves
1 1/2 Tblsp. finely minced fresh ginger
1/4 of a green pepper, thinly sliced into 2 inch pieces
1/2 a large carrot, cut in half then thinly sliced on a diagonal
1/2 celery stalk, thinly sliced on a diagonal
3/4 to 1 cup purple sprouted broccoli - chop the stalks, but leave the tops as they are small
handful of chopped fresh cilantro (Thai basil would be a wonderful addition if you can get it)
Sauce:
a generous 1/2 cup chunky almond butter (up to 2/3 cup to taste)
3 Tblsp. Gluten Free Soy Sauce
1/3 cup water
1/2 juice of a fresh lime
6-8 drops of toasted sesame oil
1 Tblsp. Gluten Free Thai Kitchen Red Curry Paste
(put aside 2/3 extra cup of water or coconut milk to add to this dish near the end of cooking time)
Whisk all the sauce ingredients in a bowl until incorporated, and set aside until needed.
Heat up a saute pan with the EVOO on medium heat.  Mix the almond flour with the garlic powder and ground coriander, then lightly dredge the chicken pieces.  Add to the saute pan - saute quickly to cook through, then remove to a plate.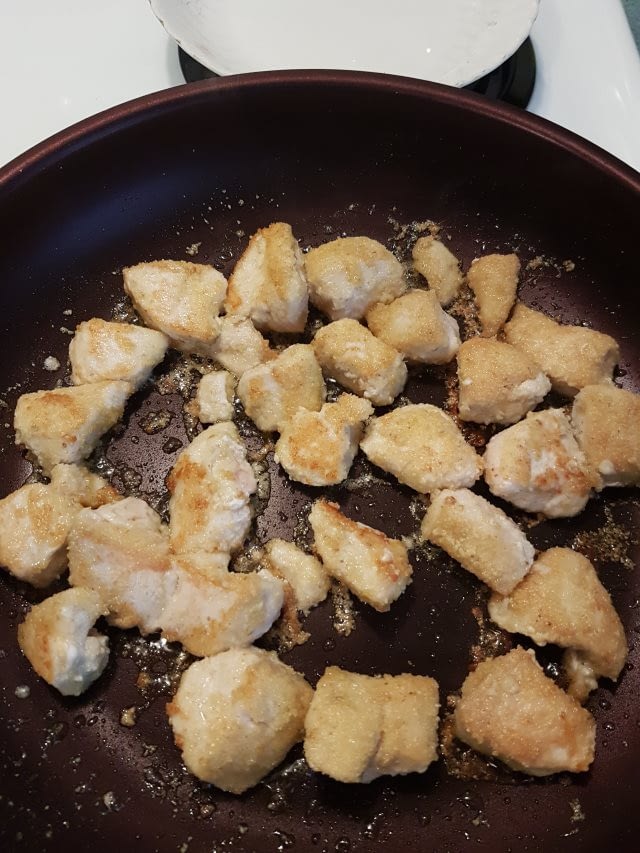 Turn down the heat to low and if necessary add a bit more EVOO.
Add the vegetables to the pan and saute 6- 7 min.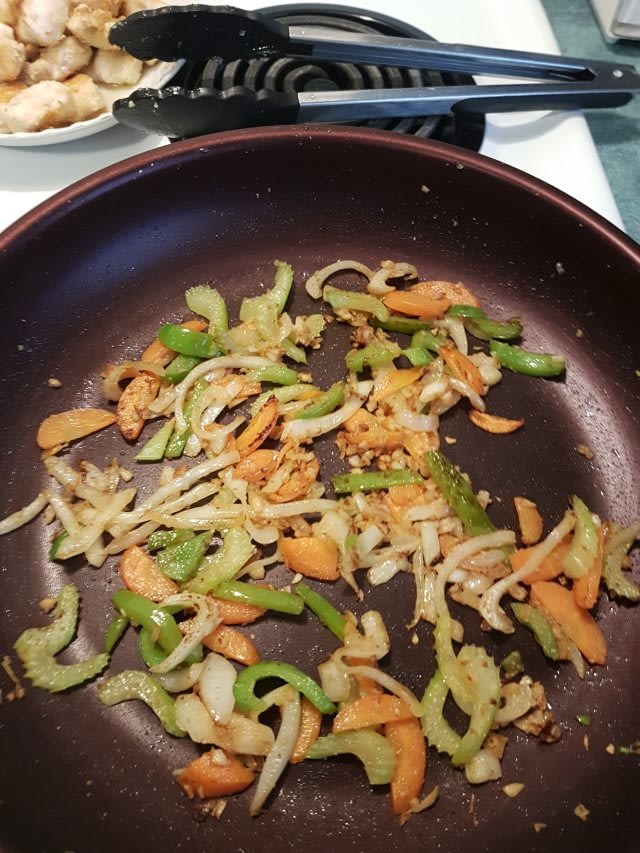 Pour in the sauce and heat with an extra 2/3 cup water (or coconut milk if using) and whisk, then heat through to a lite simmer and add in the broccoli and simmer another 4 min.  Return the chicken to the pan to reheat through.
Serve over the cooked rice and add finely chopped cilantro for the topping.  This may well be a once a week dish, we loved it that much!
This was a simple easy meal to make.  In this recipe I used canned lentils (which also freeze very nicely) and some extra vegetables in the fridge that needed using up.  An easy Vegetarian week nite meal.
2 Tblsp. Extra Virgin Olive Oil
1/2 of a large onion, diced
2 minced garlic cloves
1 medium carrot, diced
1/2 cup diced rutabaga
large handful of fresh spinach, chopped
1/3 cup diced celery
2/3 cup chopped fresh green and yellow beans
1  can (14 oz) of diced tomatoes
good splash of Balsamic Vinegar
1 tsp. garlic powder
1 tsp. dried thyme
1/2 tsp. dried tarragon
1 bay leaf
salt and fresh cracked pepper - to taste
3/4 cup cooked lentils
Heat up a large saute pan on medium/low heat with the EVOO.  Add in the onion and garlic sauteing to sweat out.  Add the fresh vegetables and spices, saute about 8 minutes.  Then pour in the tomatoes with juice, and balsamic vinegar.  Turn to a low simmer and cook about 25 minutes.  Add in the lentils and continue to cook until reduced further - about 10 minutes.
Adjust ragout for any seasonings and serve over mashed potatoes or rice.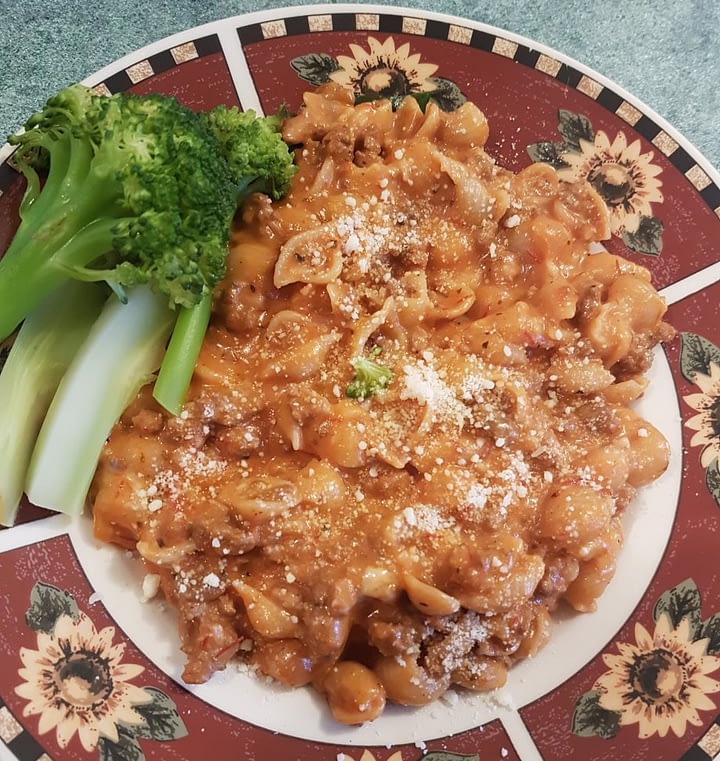 This dish was inspired by a few different recipes, but mostly for comfort food made easy...and gluten free.  Here the pasta was Tinkyada Pasta shells - something I have not seen in a very long long time, so we scooped up a couple of packages as it really is a nice pasta for many dishes - soups and salads as well.  A one pot meal and comfort awaits.
1 lb. extra lean ground beef
1 shallot, finely minced
1 large garlic clove, finely minced
1/4 cup chopped crimini mushrooms
2 tsp. garlic powder, salt and pepper to taste
1 tsp. dried basil
2 cups organic beef stock
2 cups tomato basil marinara sauce (we used jarred)
8 oz. gluten free Tinkyada pasta shells
2 cups grated aged cheddar cheese
1/2 cup Lactose free cream
Parmesan cheese
Heat up a dutch oven on low/medium heat with the ground beef added to the pot.  Break up the ground beef.  As it begins to brown, add in the shallot, mushrooms, garlic, garlic powder,basil, salt and pepper.  Cook 10 minutes stirring from time to time.  Pour in the beef stock, marinara sauce, and pasta - stirring well to combine.  Bring to a lite simmer, lid on and cook about 25 minutes or until the pasta is tender.
Remove from the heat and add in the cream and cheddar cheese - mix well.  Cover with the lid and let sit 5 minutes before serving, and sprinkle with Parmesan cheese.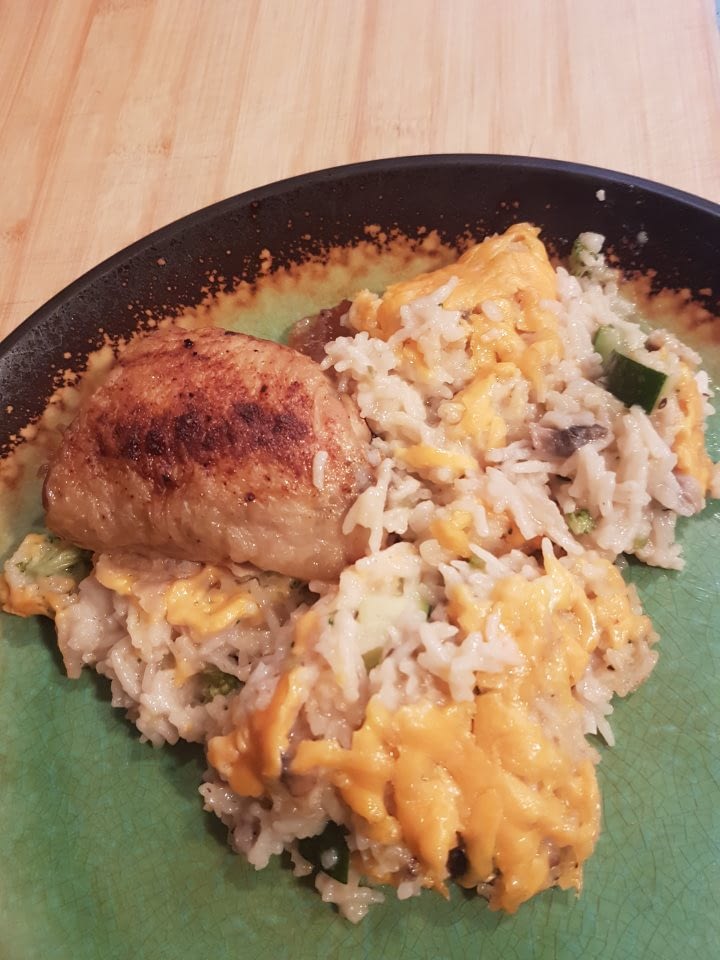 (UPDATE:)  I made a new discovery with this cream of mushroom soup recipe.  Instead of using Sweet Rice Flour for the roux, I used Potato Starch - which gave a much finer texture overall, so will use this from now on.  Also, it freezes nicer too.  Yes, once you pour it into a pan to reheat it will have separated, but no worries,  just keep on the lowest heat, whisking well until heated through - beautiful flavor and creamy consistency.  I seriously was wowed! )
With this recipe the mushroom soup was made first, the rice cooked separately, and we used leftover chicken thighs - a different version of Chicken and Rice Casserole.  This is a great go to recipe for left over chicken. It came together really well.  Many recipes call for canned cream of whatever soup - something a celiac would never use unless it was gluten free and in my case lactose free - something I have never seen in our grocery stores.  So, here I have recreated a cream of mushroom soup to easily be used in various casserole dishes. Or to have as a lovely soup on it's own.  It was pretty quick to make, and can easily be made ahead of time for any dish you require.  To make it packed full of flavor just take a bit of extra time to cook the finely chopped mushrooms, onion, garlic and seasoning till there is a golden appearance and fragrance. Note:  this soup will thin somewhat when refrigerated but did not need to be any thicker for this recipe.
These days we try to stretch our meals and use up any and all ingredients.  In these unusual times, it is interesting what the stores have available and what they do not.  Each week seems different.  However, on that note it certainly allows for some creative dishes based on what you have.
Any style of mushroom can be used in this recipe, or you could use a combination of mushrooms.  We used a Lactose Free 2% milk in this recipe, but a touch of lactose free cream would also be tasty.  Versatility is always an option, use what suites you best, or what you have on hand.  A great way to use up leftovers in the fridge.
Cream of Mushroom Soup:
3 Tblsp. butter
1/2 a small onion, finely diced (shallot or leeks would be lovely too)
1 large garlic clove, finely minced
1/2 a celery stalk, finely minced
8 white or brown mushrooms, finely chopped
1/2 tsp. dried mustard, 1/2  tsp. dried thyme, fresh cracked pepper
3 1/2 Tblsp. Potato Starch
3 Tblsp. Gluten Free Soy Sauce - or more to taste
1 1/2 cups Chicken Stock
1 cup of milk
Heat up a medium sized sauce pan with the butter on low heat.  Add in the onion, garlic, celery, and diced mushrooms sauteing about 8 minutes.  Add in the mustard, thyme, fresh cracked pepper and continue to saute another 2 minutes.  Sprinkle in the sweet rice flour stirring well with a wooden spoon for about a minute or two.  Using a whisk, pour in the milk and chicken stock whisking well the entire time to remove any lumps.  Add soy sauce to taste and bring to a lite simmer for a couple of minutes until ready to use.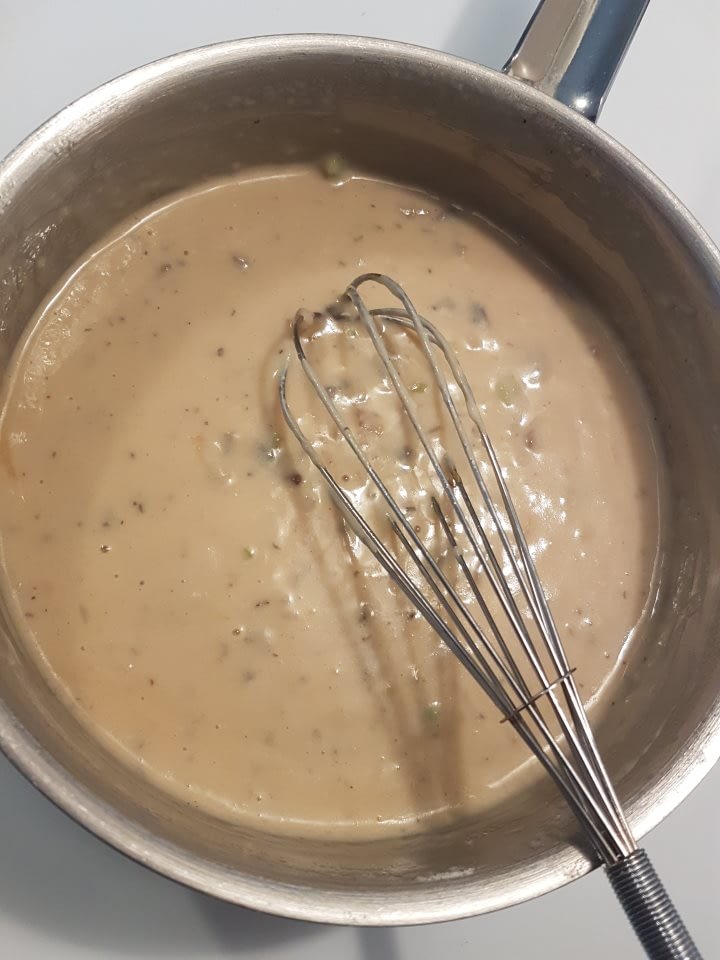 Chicken and Rice Creamy Mushroom Bake:
With this recipe any leftover chicken will work nicely as would pork chops or leftover sliced pork roast.
Preheat the oven to 350 degrees, and lightly grease an 11x8 baking dish with 1 Tblsp. Extra Virgin Olive Oil
3/4 cups Basmati Rice - cook as per directions
1/2 cup minced broccoli florets
1 small chopped zucchini - slice in half then chop into 1/2 inch pieces
Cream of Mushroom Soup - use full recipe above
1 cup shredded aged cheddar cheese
3 leftover roasted Chicken thighs or about 2-3 cups chopped cooked chicken
Method:
Cook the rice as per directions, remove from the heat and add in the minced broccoli florets and chopped zucchini, mixing well.  Put the lid on and let sit 10 minutes, then pour over the cream of mushroom soup (make sure to reheat) - mixing gently to combine and transfer to the baking dish.
Top with grated cheddar cheese then place the chicken on top.  Bake uncovered about 30 minutes to heat through, and melt the cheese.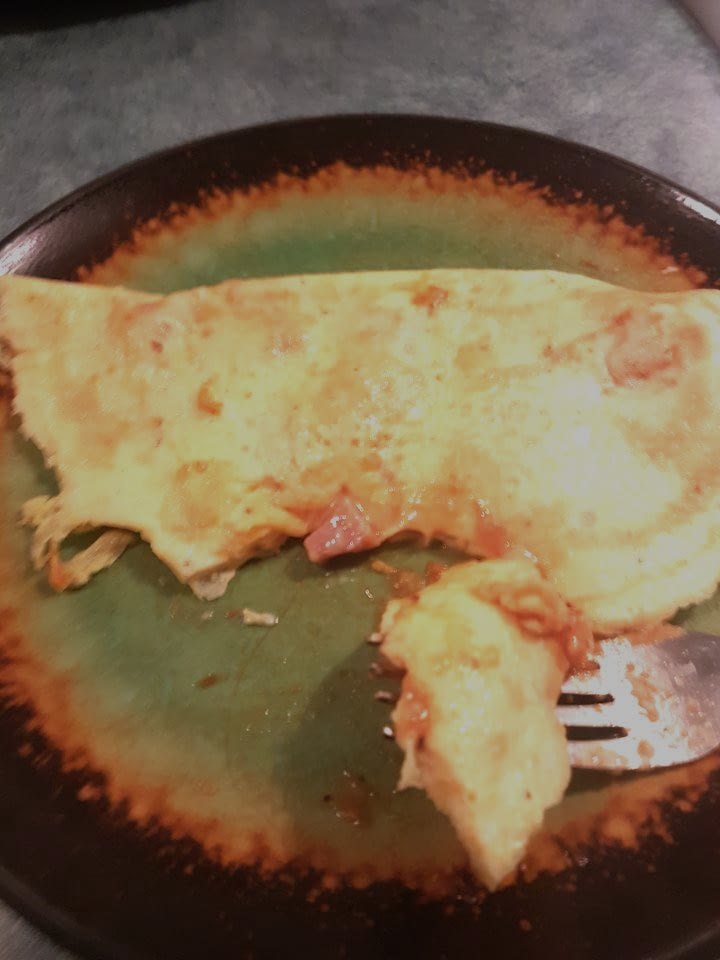 Like most people, after almost a year of staying home and cooking each nite it has started to get boring. In looking at long forgotten recipes on this blog it was time to re-visit some of them which then created a whole new idea.   What originally happened as a happy accident, has now given me some "fun" back in the kitchen.  I decided to challenge myself to use up any and all leftovers, or extra food in the fridge and pantry to come up with new ideas/combinations and recipes.  Pizza Omelette? or how about Pizza Grilled Cheese Sandwich?  Both were surprisingly delicious.  Another example of using up extra ingredients is the Chicken Schnitzel Marinara recipe.  Not only does the food taste great, there is no waste - yayyy!
These two new ideas came about as a result of re-visiting my Gluten Free Pizza Calzone Recipe.  We had extra "pizza stuffing" from the Calzone's in the fridge so this was how it was used up which turned into great flavor combinations.
For the Omelette simply whisk up two large eggs.  Heat up a non stick pan on medium heat with a bit of Extra Virgin Olive Oil.  Pour in the egg mixture, turning the pan to evenly distribute.  Once the omelette has cooked for a few minutes, dollop in desired amount of the "Pizza stuffing".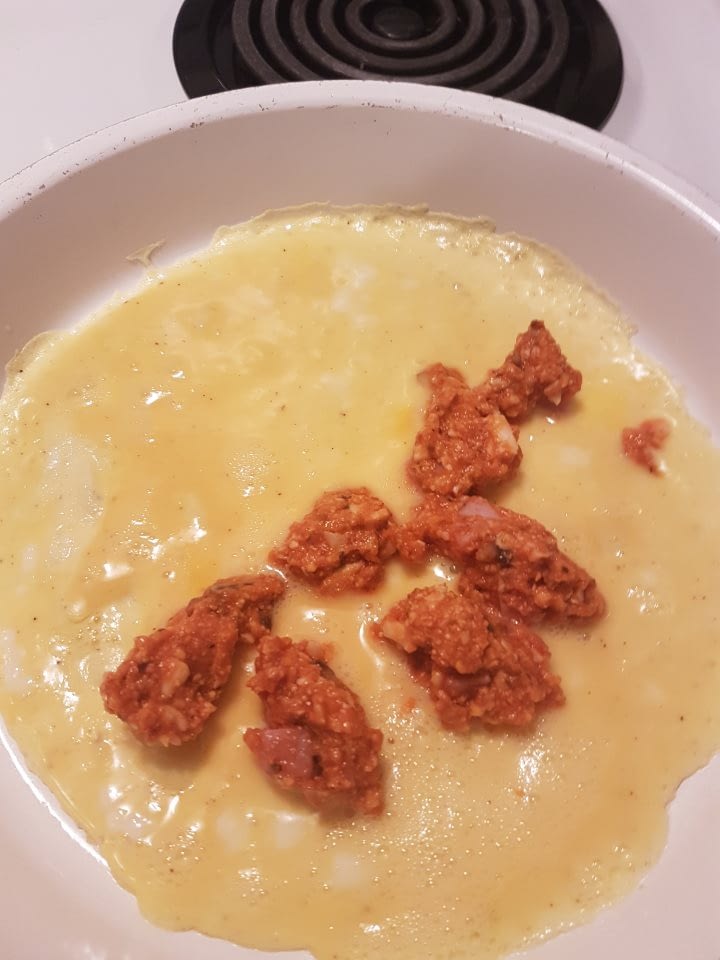 Flip 1/2 the omelette over to cover the pizza sauce and press down to spread the pizza sauce throughout the omelette.  Continue to cook a few more minutes until cooked and filling is warmed and melting.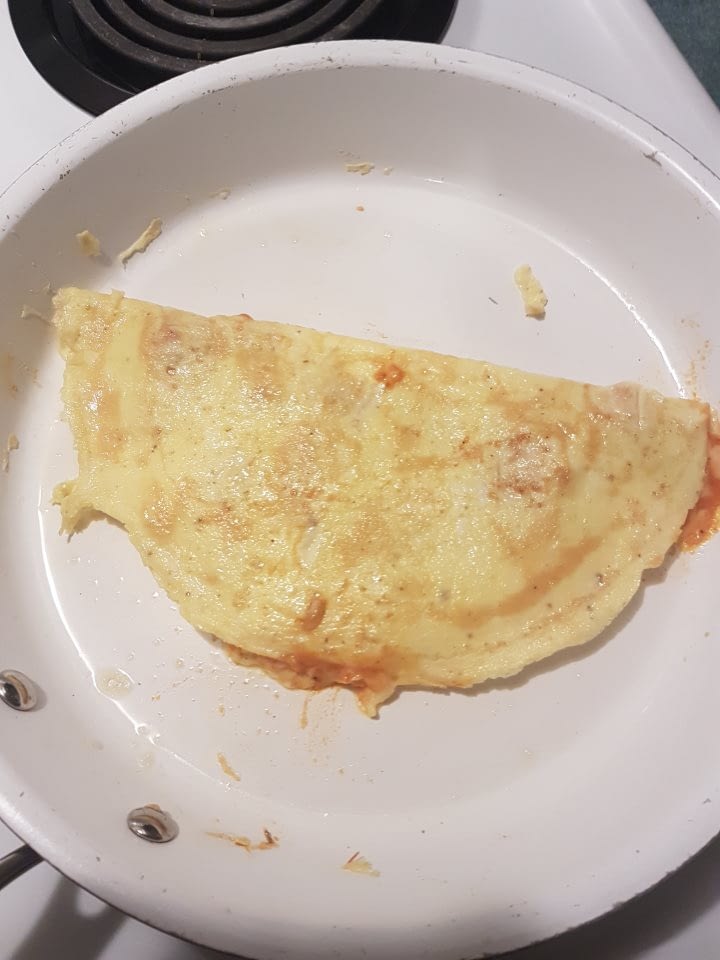 For the Pizza Grilled cheese, butter 2 slices of gluten free bread.  Dollop/spread the pizza filling on the non buttered side, top with the other piece of bread and cook as you would a regular grill cheese sandwich.  My dear husband fell in love with this one:
Two new meals using the same leftover ingredient, and how easy it is to make too!
That is a strange title yes?  Combining German and Italian?  I am here to tell you it was a match made in heaven!  How this recipe came about, was due to cleaning out the freezer and a desire to use up anything that was leftover.
A few years ago, I posted a recipe on Chicken Schnitzel.  Interestingly enough, we only had that meal once or twice and it got forgotten about.  Dang....it is too good a recipe to forget about.  There was also 1 1/2 cups to 2 cups of marinara sauce in the freezer that needed using up.  Heaven awaits.  I will do a recap here of the recipe (although I did increase the Parmesan cheese a bit here) - these two combinations are a great way to cook skinless/boneless chicken breasts and a good use of leftover marinara sauce.
2 organic skinless, boneless chicken breasts (pounded out to 1/2 inch thickness)
1 cup gluten free bread crumbs
1 tsp. dried Thyme
1 tsp. garlic powder
salt and fresh cracked pepper
1/4 cup Parmesan cheese
1 egg - whisked
1 1/2 to 2 cups Basil Tomato Marinara sauce - store bought or homemade
3 Tblsp. Extra Virgin Olive Oil
On a large plate/platter sprinkle the GF breadcrumbs.  To this add the Parmesan cheese, Thyme, garlic powder, salt and pepper and mix with a fork to combine.  In a separate bowl, whisk up 1 egg.  Pound out the chicken breasts to about 1/2 inch thickness or so.  Dredge each chicken breast in the egg then into the bread crumb mixture, pressing down to ensure the chicken is well covered.   Place onto a large plate/platter.
Heat up a large frying pan with the EVOO on medium high heat.  Once heated well, add the chicken breasts.  They will take about 4-5 minutes per side to cook depending on thickness.  Once cooked, remove from the pan.  Scrape out any leftover bits of bread crumbs from the pan and discard, turn down the heat to low medium and add the Marinara sauce stirring to a gentle simmer.  Return the Chicken Schnitzel to the pan and simmer another 4-5 minutes.  Fresh minced parsley and lemon wedges are a nice addition to the chicken schnitzel.   Serve hot along any side dishes.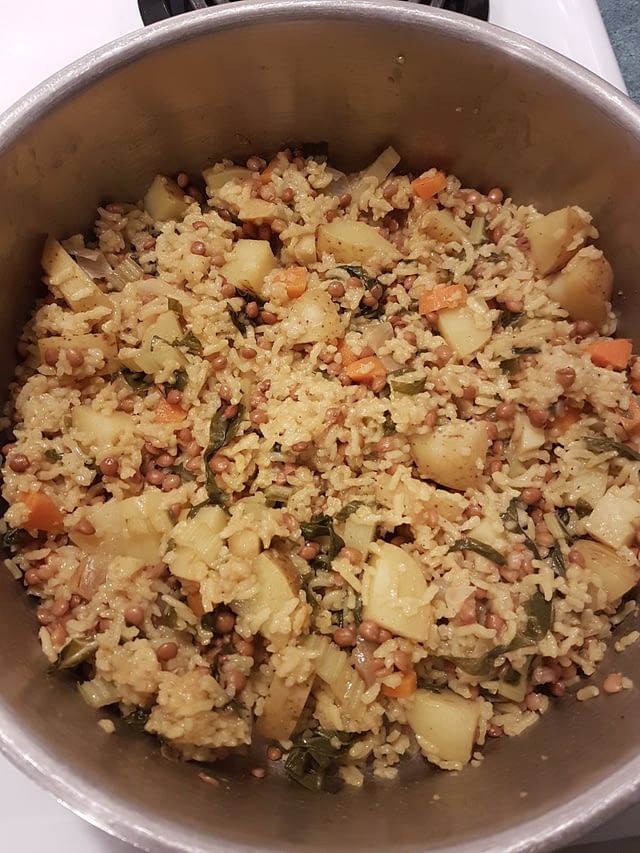 Here we have another quick easy one pot meal.  Seem to be heading in that direction these days - along with anything curry!
On that note, here is some info.  We used a Madras Curry Powder blend in this recipe which certainly carries a bit of heat.  If you like heat, then by all means add in a Tblsp. of diced ginger to the recipe for added flavor.  (I did not include ginger, as we are serious wimps when it comes to heat).  That said this is a simple plain meal that came together fairly quickly.  You could also include minced fresh coriander, and use vegetable stock to keep it Vegan/Vegetarian.  I have also recently discovered the convenience of using canned lentils - so simple but gives added protein to the dish. They also freeze beautifully.  I generally use 3/4 of a cup of lentils in most dishes - well rinsed, then place into a small glass jar and freeze until needed thawing before use.  A quick recipe for lunch or dinner.
3/4 cup canned well rinsed lentils
2/3 cup long grain white rice
2 small/medium sized German Butter or Yukon Gold potatoes cut into 1/2 inch pieces
2/3 cup long grain white rice, well rinsed
3 Tblsp. Avocado Oil
2 tsp. Madras Style Curry Powder
Salt to taste
1 shallot finely minced
1 large garlic clove finely minced
1 medium/large sized carrot diced
2 Swiss chard stalks, trim the ends off, then finely dice the stalk, and leaves
1 medium sized parsnip diced
2 cups chicken stock or vegetarian stock
fresh coriander
Heat up a dutch oven/pot on low medium heat with the added Avocado oil.  Add in the shallot and garlic, sauteing till lightly golden.  Then add in the rice and saute for 2 minutes.  Add the curry powder, salt stirring well for another minute.  Add in the Swiss Chard, carrot, parsnip, potatoes, stirring to combine, then pour in the chicken/vegetable stock and stir well.  Bring to a lite simmer, lid on, turn down to minimum and cook for 20 minutes or until potatoes, rice and vegetables are cooked through.  Sprinkle in a handful of coriander if using.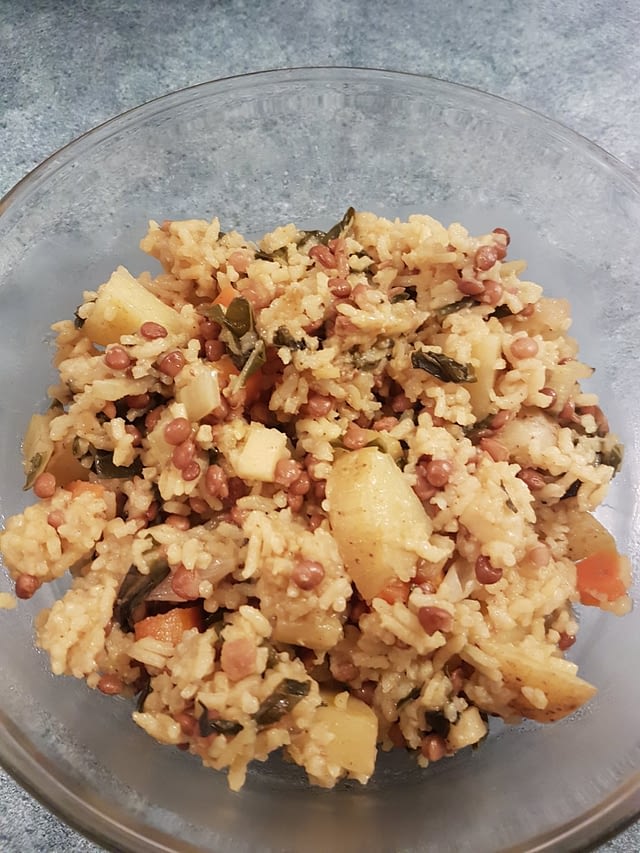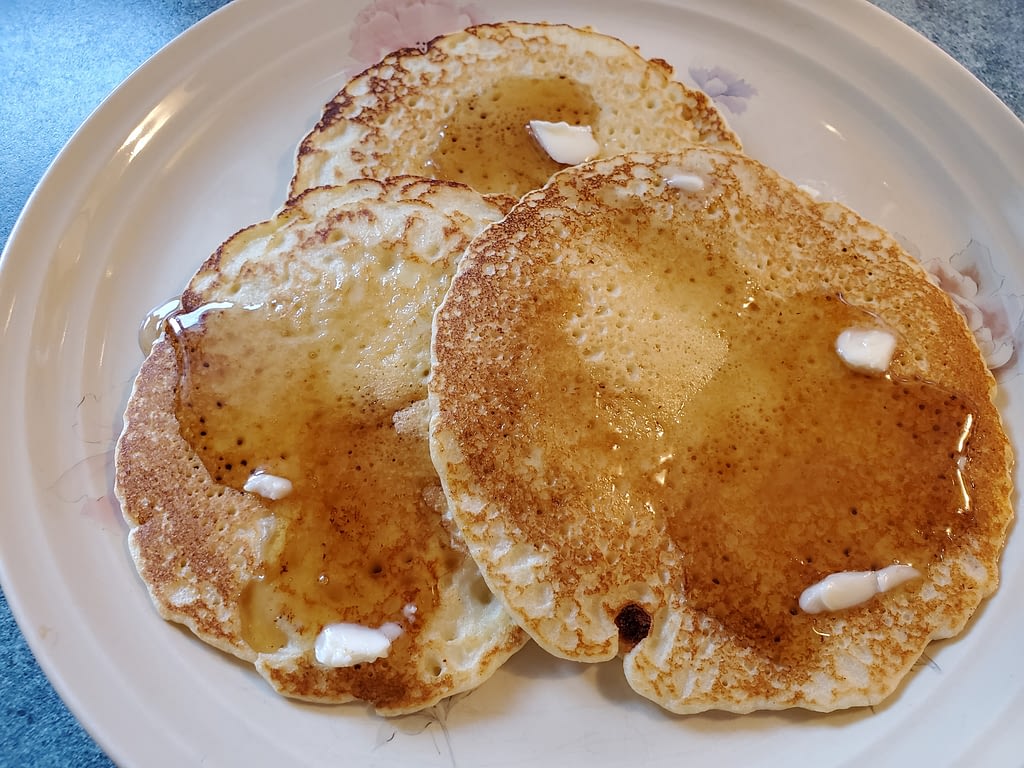 Lately, I have been using more Almond Flour in various recipes, and this new pancake recipe has turned out to be our new favorite.  I have found when using Almond flour in baking, it helps to add in another starch such as Tapioca Starch or Potato Starch.  This gives the end result a much better consistency and texture.  We have also been using Natural Avocado Oil in a number of recipes as well.  It has a high heat point and is a nutritious, healthy oil, plus it is great in baked goods.
1 1/2 cups Blanched Almond Flour
1/2 cup of Potato Starch or Tapioca Starch
1 rounded tsp. gluten free Baking Powder
3/4 cup Almond Milk or milk of choice
1 Tblsp. Maple Syrup
2 Tblsp. Avocado Oil
2 large eggs - whisk well
Heat up a cast iron skillet on medium heat with a Tblsp. or 2 of Avocado Oil.
In a bowl combine almond flour, potato or tapioca starch, and the baking powder whisking well to combine.  In another bowl whisk the eggs till lite, add in the maple syrup, avocado oil, and milk mixing well.  Add the wet ingredients to the dry and whisk well.  Pour desired amount into the heated skillet and let cook on the first side till you see a good amount of "bubbling" in the batter, then flip and cook the other side till done.  Serve with preserves or maple syrup.