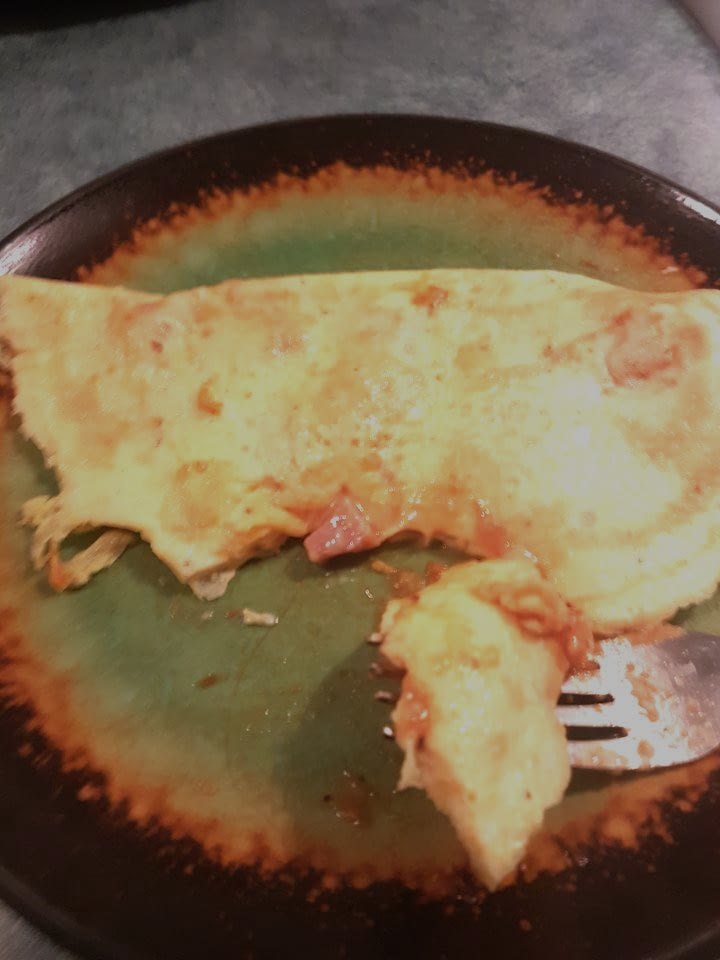 Like most people, after almost a year of staying home and cooking each nite it has started to get boring. In looking at long forgotten recipes on this blog it was time to re-visit some of them which then created a whole new idea.   What originally happened as a happy accident, has now given me some "fun" back in the kitchen.  I decided to challenge myself to use up any and all leftovers, or extra food in the fridge and pantry to come up with new ideas/combinations and recipes.  Pizza Omelette? or how about Pizza Grilled Cheese Sandwich?  Both were surprisingly delicious.  Another example of using up extra ingredients is the Chicken Schnitzel Marinara recipe.  Not only does the food taste great, there is no waste - yayyy!
These two new ideas came about as a result of re-visiting my Gluten Free Pizza Calzone Recipe.  We had extra "pizza stuffing" from the Calzone's in the fridge so this was how it was used up which turned into great flavor combinations.
For the Omelette simply whisk up two large eggs.  Heat up a non stick pan on medium heat with a bit of Extra Virgin Olive Oil.  Pour in the egg mixture, turning the pan to evenly distribute.  Once the omelette has cooked for a few minutes, dollop in desired amount of the "Pizza stuffing".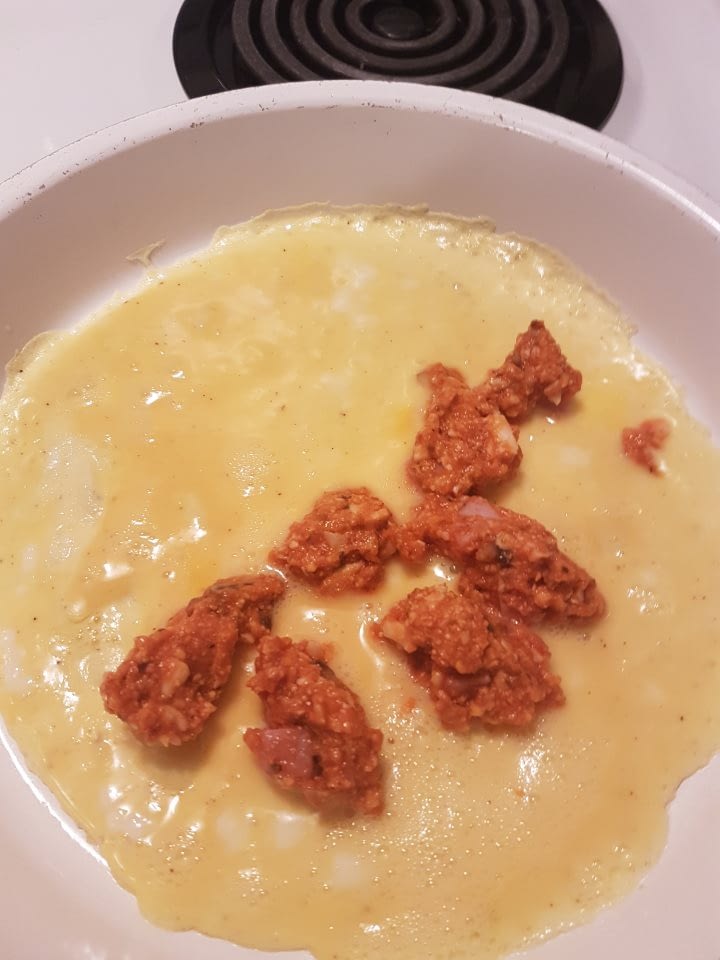 Flip 1/2 the omelette over to cover the pizza sauce and press down to spread the pizza sauce throughout the omelette.  Continue to cook a few more minutes until cooked and filling is warmed and melting.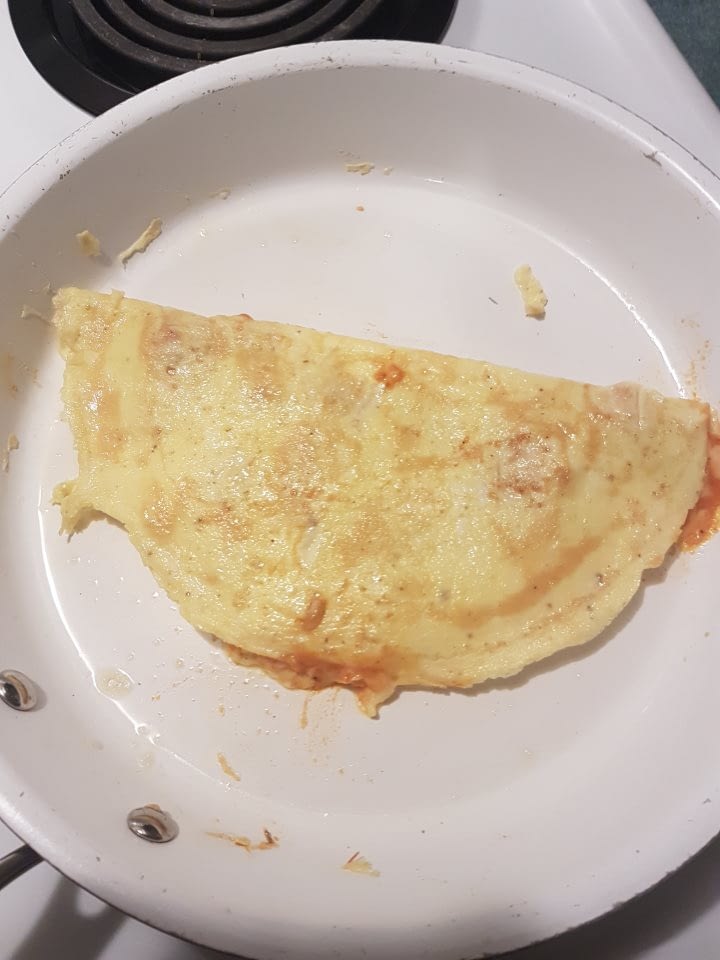 For the Pizza Grilled cheese, butter 2 slices of gluten free bread.  Dollop/spread the pizza filling on the non buttered side, top with the other piece of bread and cook as you would a regular grill cheese sandwich.  My dear husband fell in love with this one:
Two new meals using the same leftover ingredient, and how easy it is to make too!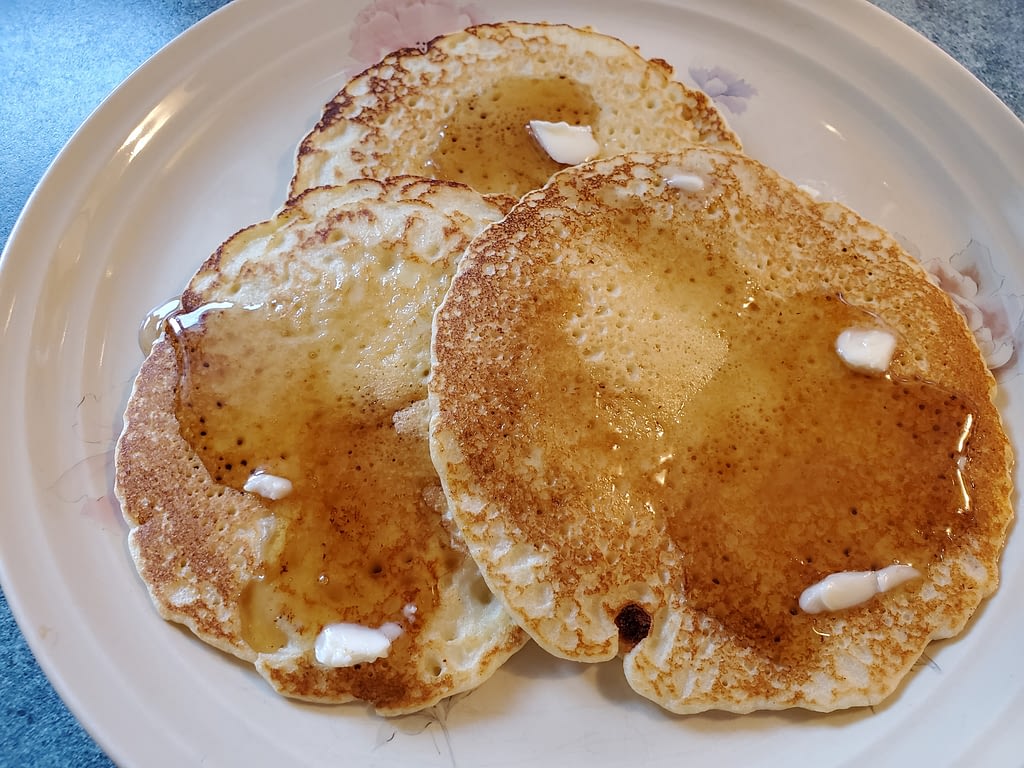 Lately, I have been using more Almond Flour in various recipes, and this new pancake recipe has turned out to be our new favorite.  I have found when using Almond flour in baking, it helps to add in another starch such as Tapioca Starch or Potato Starch.  This gives the end result a much better consistency and texture.  We have also been using Natural Avocado Oil in a number of recipes as well.  It has a high heat point and is a nutritious, healthy oil, plus it is great in baked goods.
1 1/2 cups Blanched Almond Flour
1/2 cup of Potato Starch or Tapioca Starch
1 rounded tsp. gluten free Baking Powder
3/4 cup Almond Milk or milk of choice
1 Tblsp. Maple Syrup
2 Tblsp. Avocado Oil
2 large eggs - whisk well
Heat up a cast iron skillet on medium heat with a Tblsp. or 2 of Avocado Oil.
In a bowl combine almond flour, potato or tapioca starch, and the baking powder whisking well to combine.  In another bowl whisk the eggs till lite, add in the maple syrup, avocado oil, and milk mixing well.  Add the wet ingredients to the dry and whisk well.  Pour desired amount into the heated skillet and let cook on the first side till you see a good amount of "bubbling" in the batter, then flip and cook the other side till done.  Serve with preserves or maple syrup.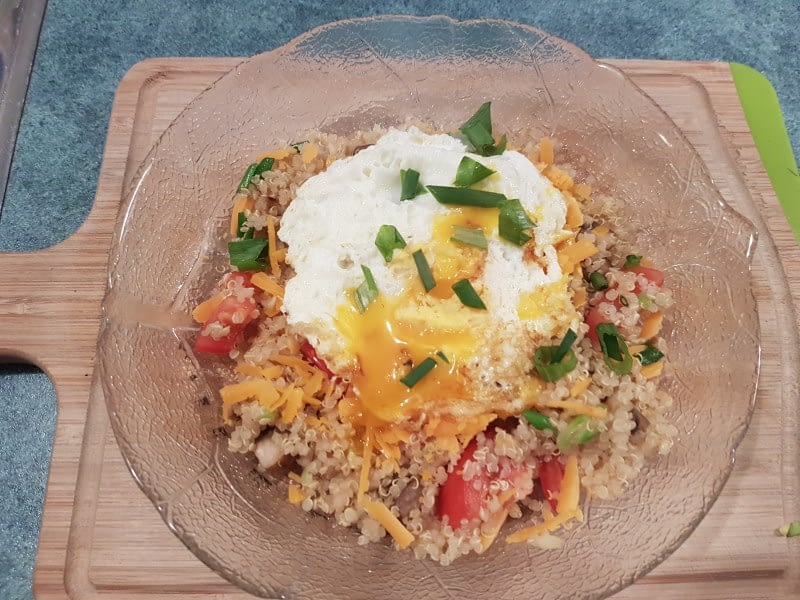 This was a hearty breakfast bowl using leftover cooked Quinoa.  There are a vast variety of recipes for Quinoa from savory to sweet, it is such a versatile healthy food.  Here are a few different recipes in this post to share with you.
This was not so much of a recipe as it is a method but will include it here:
Extra Virgin Olive Oil - to drizzle in the pan
1 chopped crimini mushroom
1/2 a large roma tomato chopped
1 green onion, diced
2/3 cup leftover cooked quinoa (cook in water)
grated sharp cheddar cheese
1 large organic egg
Heat up a pan on low medium heat with the EVOO.  Saute the mushroom until golden, then add in the tomato and green onion - saute 2 min.  Then add in the cooked quinoa to heat through.  Transfer to a bowl, sprinkle on the grated cheddar cheese and fry the egg over easy to place on top.
This breakfast bowl can be made with any vegetables, added salsa, or chopped avacado.
Or, how about using leftover quinoa to make:  Quinoa Pancakes: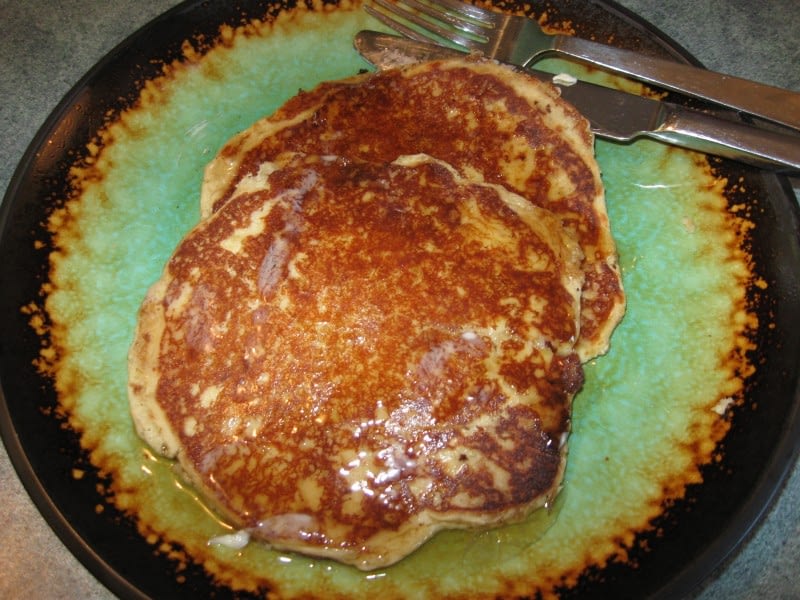 This scrumptious vegetarian Quinoa Toasted Yam Bowl makes another filing lunch or dinner: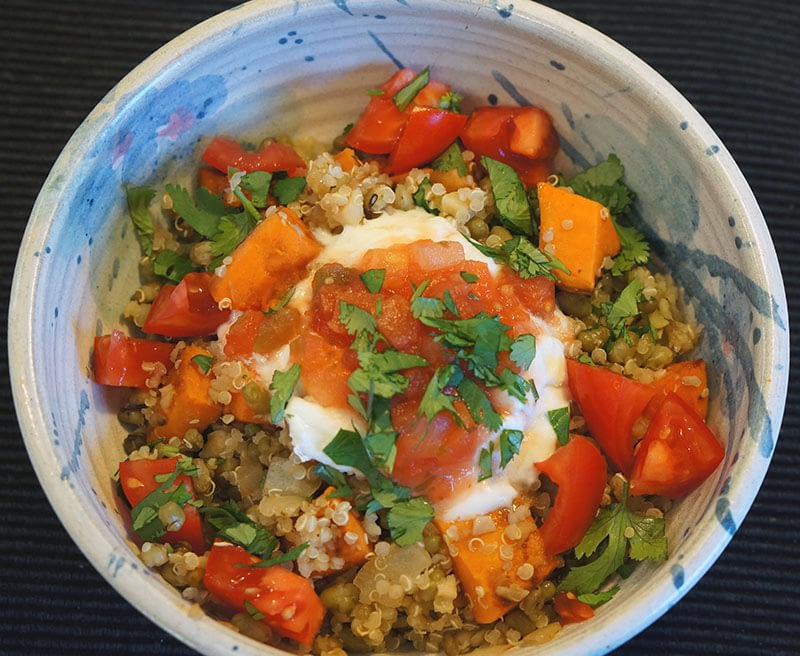 Quinoa is also a great addition to just about any salad:
It is also wonderful added to soups:

Quinoa also makes a great savory stuffing for various vegetables such as Quinoa Stuffed Tomatoes:


Quinoa makes for a hearty, healthy addition to many different meals and recipes.   Did you know that 1 cup of cooked Quiona has 5 grams of daily fiber and 8 grams of protein?  For more information on the nutrition and health benefits of Quinoa - click here for a great article.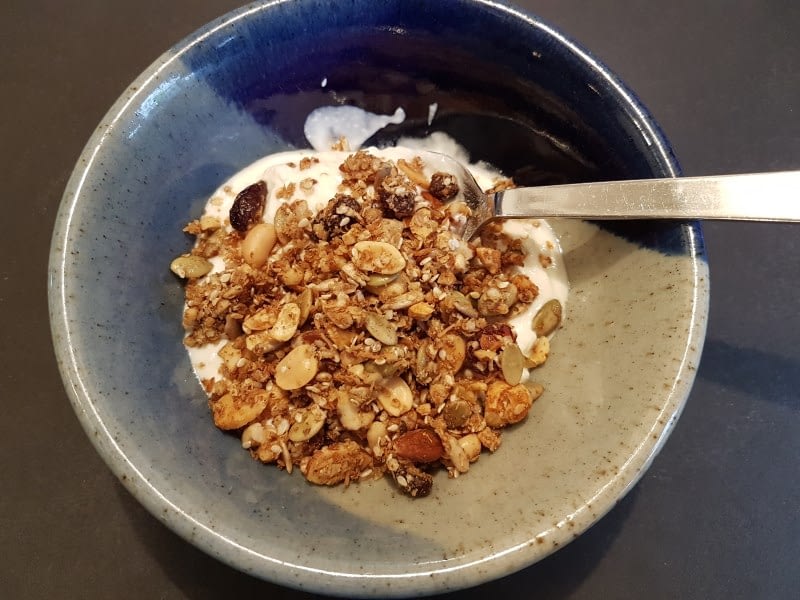 With this new granola recipe, I took a few tips from my previous gluten free granola recipe, with an emphasis on it being more nutrient dense, and grain free.  Keep in mind, Quinoa is not a grain but a seed.  Even rolled and dried to create a "quinoa flake" it still carries all the nutrients of whole Quinoa.
We have been eating this granola for a snack, but most times we serve it on top of a bowl of homemade organic yogurt.  I use this recipe here - great info and recipe on how to make organic lactose free yogurt at home.
You could certainly play around with the ingredients in this recipe - we used the ones listed below based on personal taste/preference.  Also, for a sweeter granola increase honey to 2/3 cup.  All the ingredients used in this recipe are organic.
1 cup raw cashews
1 cup raw walnuts
1/2 raw sunflower seeds
3/4 cups raw split peanuts
3/4 cup raw sliced almonds
1 cup Quinoa flakes
1/2 cup unsweetened shredded coconut
3/4 cup raw pumpkin seeds
5 Tblsp. ground flax seed
3 Tblsp. sesame seeds
1 1/2 tsp. cinnamon
1 rounded tsp. powdered ginger
1 cup raisins
1/2 cup cranberries
1/4 butter - melted
1/2 cup  honey, melted with the butter
Preheat the oven to 250 degrees.
First add the cashews and walnuts to a food processor - pulse a few times just to chop up.  Add to a large bowl.  Add the remaining ingredients except the butter and honey to the bowl, and mix well.  Melt the butter and honey on low heat in a small sauce pan.  Then pour over the granola mixing well.  Transfer to a large baking sheet spreading out evenly and bake for 1 hour tossing the granola 3-4 times for the duration of the cooking time.
Remove from oven and allow to cool, then transfer to a tightly sealed jar or bowl.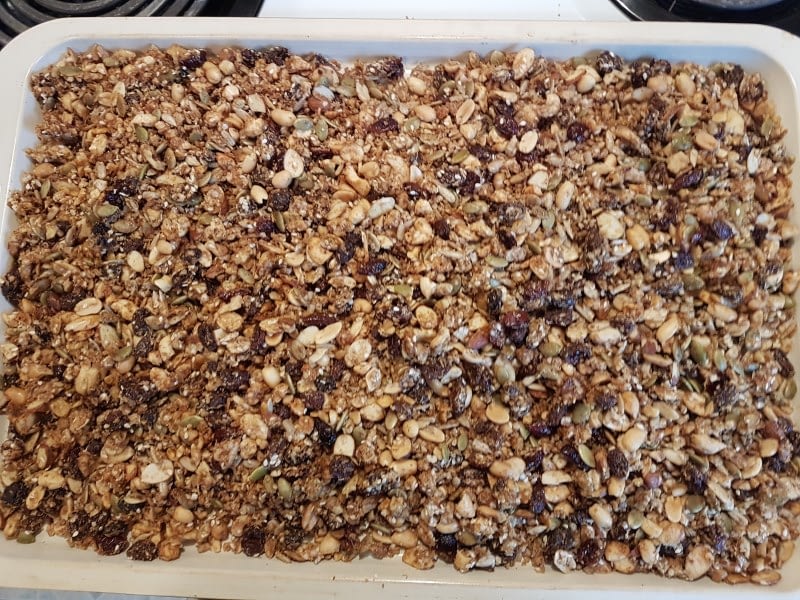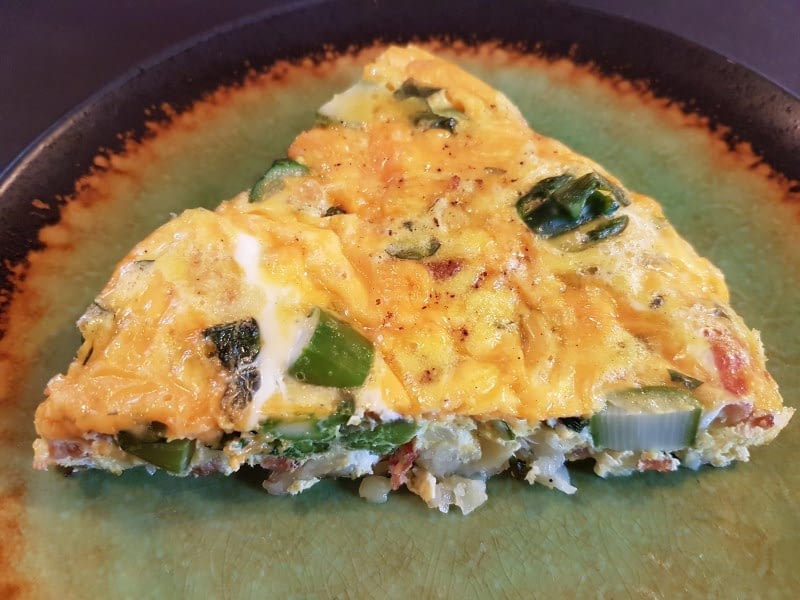 We have had an abundance of fresh organic asparagus and fresh eggs - time to make a frittata - something we all love in this household, and yet something I tend to forget to make.  Not sure why that is, but this was a lovely reminder to make a frittata more frequently.
3 cups shredded yukon gold potatoes - put in a clean towel and  squeeze out the excess moisture
1/2 cup Parmesan cheese
fresh cracked pepper
4 slices bacon, diced and cooked
4 large fresh asparagus - blanch 1 min. drain and add to cold water, once cold pat dry and slice into 1/2 inch pieces
2 large green onions diced
3 Tblsp. fresh minced basil
1 1/2 cups grated aged cheddar cheese
8 large organic eggs, season with salt and fresh cracked pepper - whisk just till combined
Heat up a cast iron skillet on low medium heat.  Add the chopped bacon and cook - then transfer to a paper towel lined bowl.  Drain off 1/2 of the renderings.  Add the shredded potato to the pan with fresh cracked pepper. Cook for  20 minutes stirring about every 3-4 min. until it starts to become golden.  Then sprinkle in the parmesan cheese mixing well.
Preheat the oven to 375 degrees.  Add the diced green onions to the potatoes - continue to cook stirring about 5 more minutes.  Then spread shredded potato evenly in the pan. Once the asparagus is cool - pat dry with paper towel and chop into 1/2 inch pieces.  Spread through out the shredded potatoes then add the minced basil and cooked bacon evenly through out.
Sprinkle with the grated cheddar cheese and pour in the eggs evenly.  Leave on the heat for another 5 minutes then transfer to the oven and cook for  12-15 more min.  Remove from the oven and let sit for 5 minutes before slicing and plating.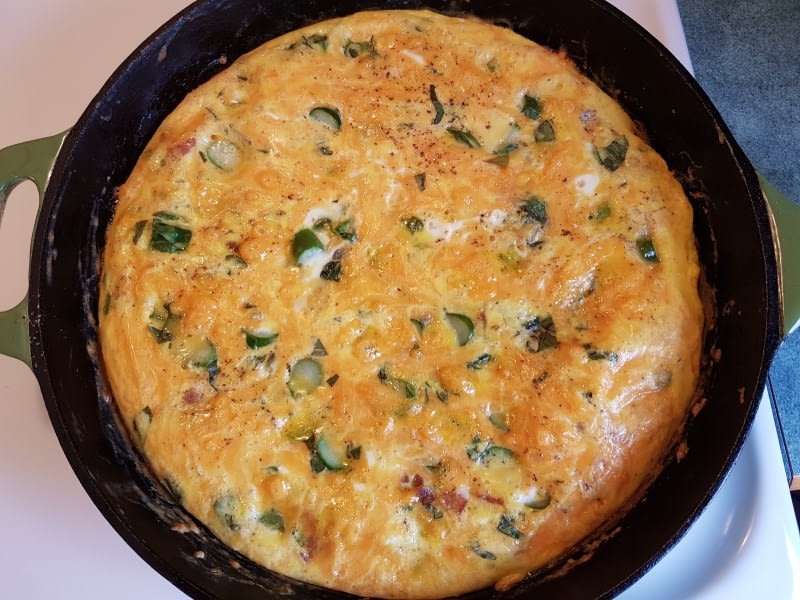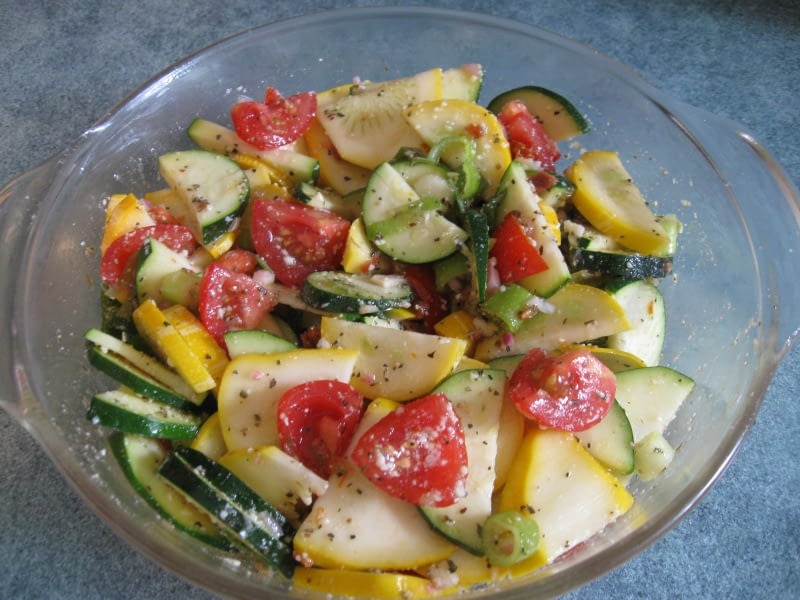 This is a post that finally came down to the result of a whole lot of frustration.  I would like to show case wonderful, delicious, food that is GLUTEN FREE.  Most of it, GLUTEN FREE NATURALLY.
There is so much negative hype/nastiness out there these days about Gluten Free this, Gluten Free that, Gluten Free being a Fad, Gluten Free Nonsense, Gluten Free to loose weight, and the list goes on and on.
Well, I have had enough of the negative hype.  Hopefully through this post, people will gain some understanding.  Being a Celiac or Gluten sensitive in today's world is so much easier than it used to be - finally!  Twenty years ago there was nothing available or virtually nothing available for a Celiac.  One could certainly never go out to a Restaurant to eat that is for sure.
When one has lived a life - 30 plus years miss-diagnosed only to discover they are in fact a Celiac - let me tell you, the world opens up once you become Gluten Free.
How does this happen?  Well here we go:
- once going gluten free, eventually your guts will heal.  Each person is different so it may take time.  My body took 3 years to fully heal.
- eventually the pain, lethargy, brain fog will disappear.  Yes you will actually be able to think clearly once again, because your brain is no longer sending signals that the body has been poisoned.
- eventually your stomach, large intestine, and small intestine will physically heal.
- you will gradually put on the many pounds you have lost, and the mall absorption will disappear and turn your body into a healthy, vital, strong body.
- and guess what?  Because there are so many people out there that are finally diagnosed correctly:  whether a Celiac or Gluten Sensitive:  Restaurants have finally learned - yes learned and their chefs and staff have been educated on serving REAL, HEALTHY GLUTEN FREE FOOD NATURALLY.
- But best of all?  There is much more information available now for people that need to eat Gluten Free.  With all this information, awareness, plus great food blogs, you will be able to find beautiful, delicious, nutritious food that once you were terrified to eat.
Here are just a few dishes that are healthy, nutritious, and delicious: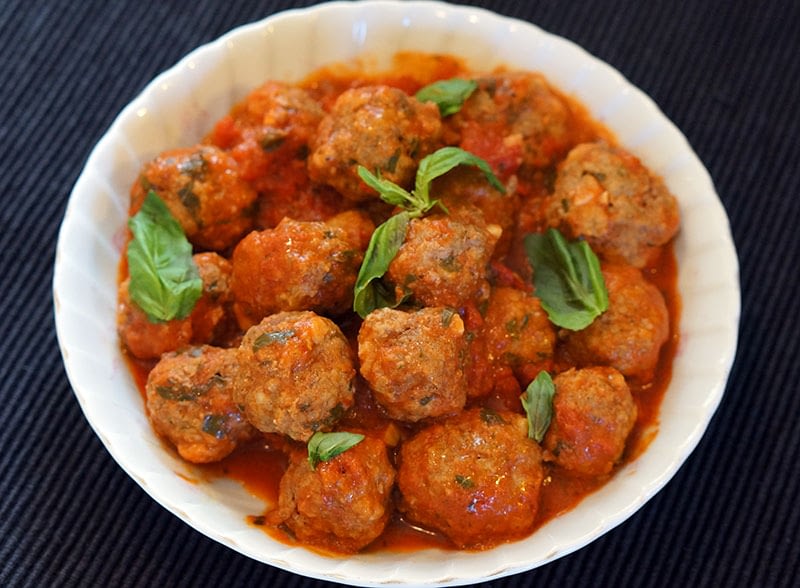 Italian Meatballs served over gluten free pasta...what is not to love.
How about fresh, wild Baked Salmon: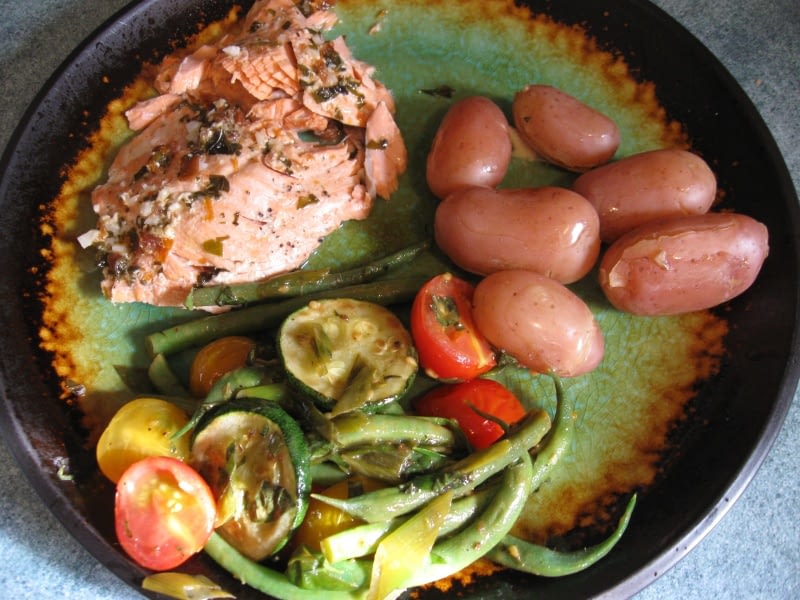 Here is a lovely Roasted Tomato Vegan/Vegetarian Soup:

Here is a good one:  Remember Rice A Roni?  Loaded in Gluten.  Well, here is a gluten free version of Rice a Roni....and it is damn tasty!

Here is a delicious Chicken dish...can't do without chicken for dinner, can we?  Chicken and Leeks recipe: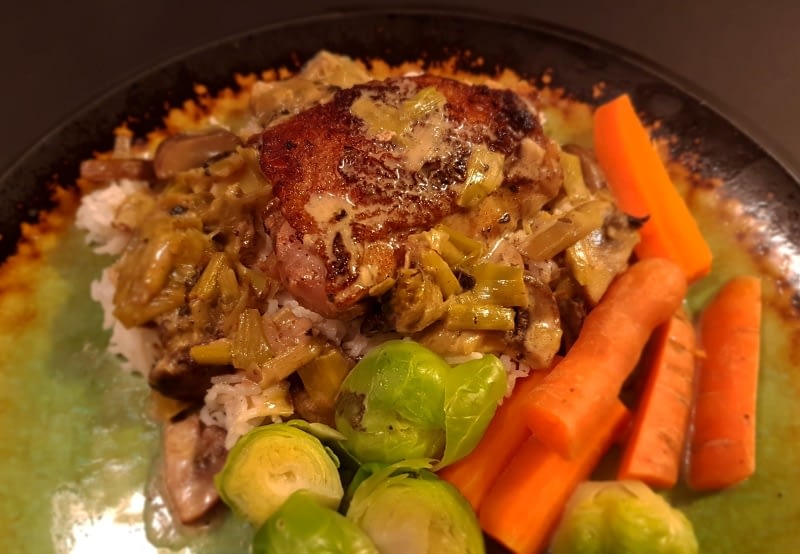 How about Gluten Free Beef Bourguignon?

Need more convincing that Gluten Free food can be delicious?
How about Gluten Free French Bread?  Yes you did read it correctly...delicious Gluten Free French Bread that tastes like the yesteryear French Bread I remember: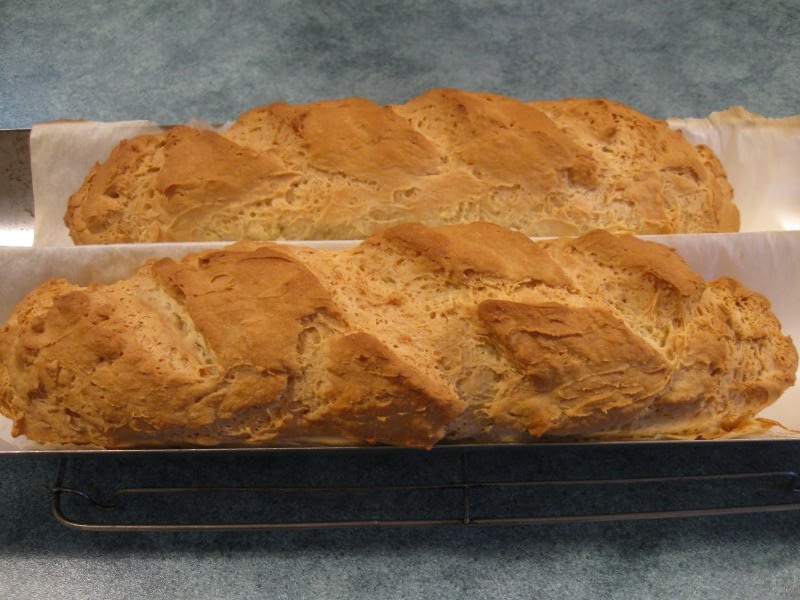 Now for a few Pasta dishes....lord have mercy we soooo can not forget gluten free pasta dishes.  Here are a few to tempt your taste buds:
Gluten Free Butternut Squash Skillet Lasagna: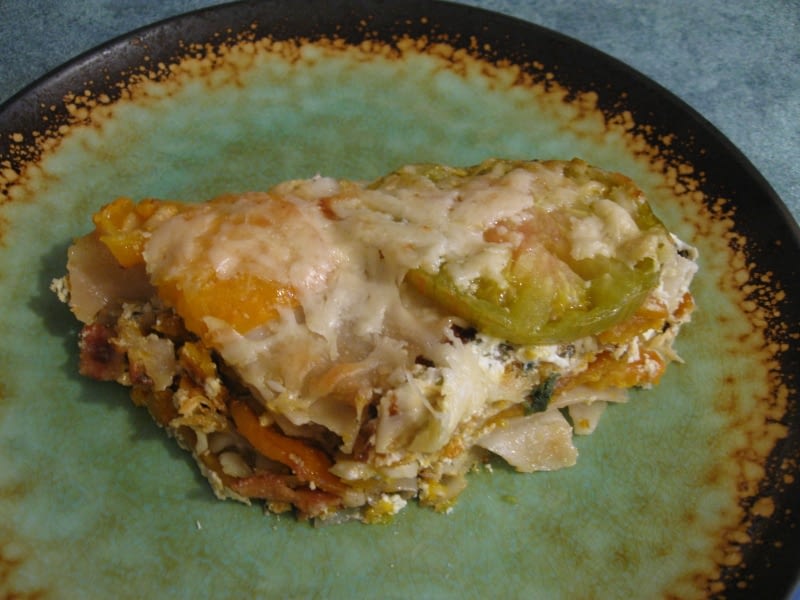 Then we have:  Shrimp and Scallop Pasta:

Can't forget about the nourishing, health giving nutrients of bone broth:  Chicken Bone Broth and Wild Rice Vegetable Soup: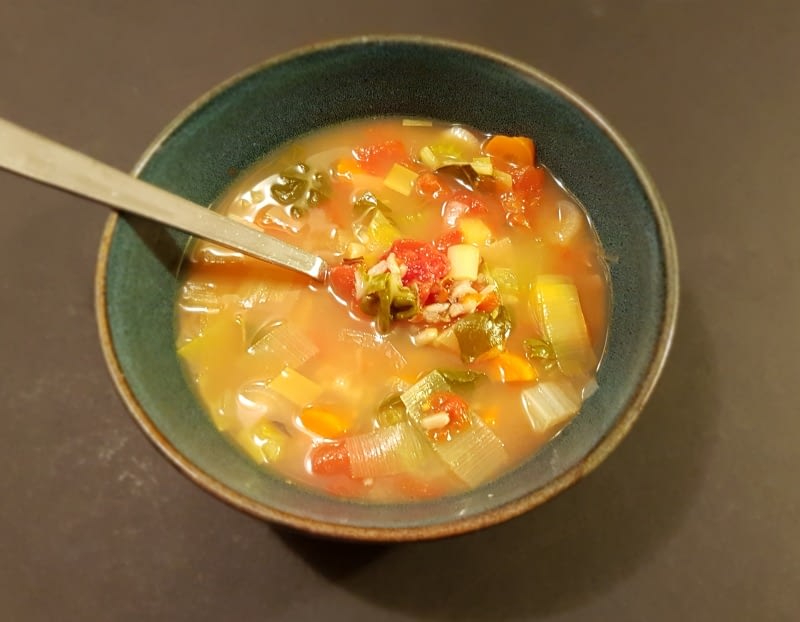 Lets move on to baking/deserts.  (By the way if you want more healthy delicious meals - check out my side bar - there are almost 600 recipes - so lots to choose from.
Here is a great breakfast muffin or snack:  Rhubarb Walnut Muffins: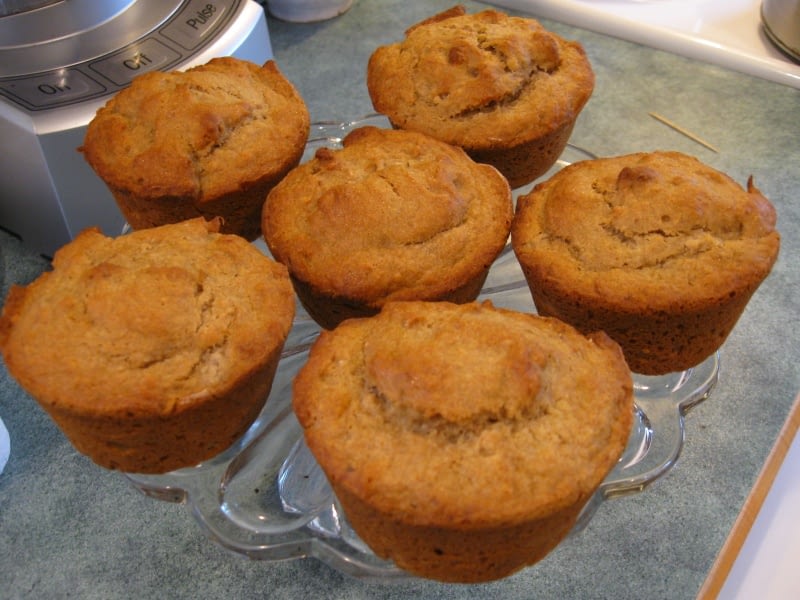 Or a delicious and nutritious cookie:  West Coast Trail Cookies - these pack a punch of wholesome goodness.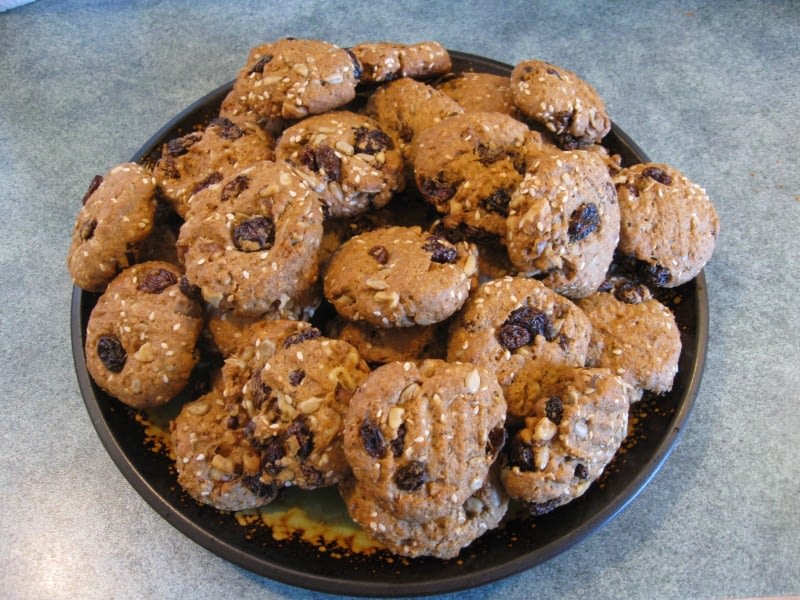 How about something decadent?  Yes, we all need a few of these recipes in our world once in a while:
Gluten Free Gingerbread Cake With Sticky Toffee Date Sauce: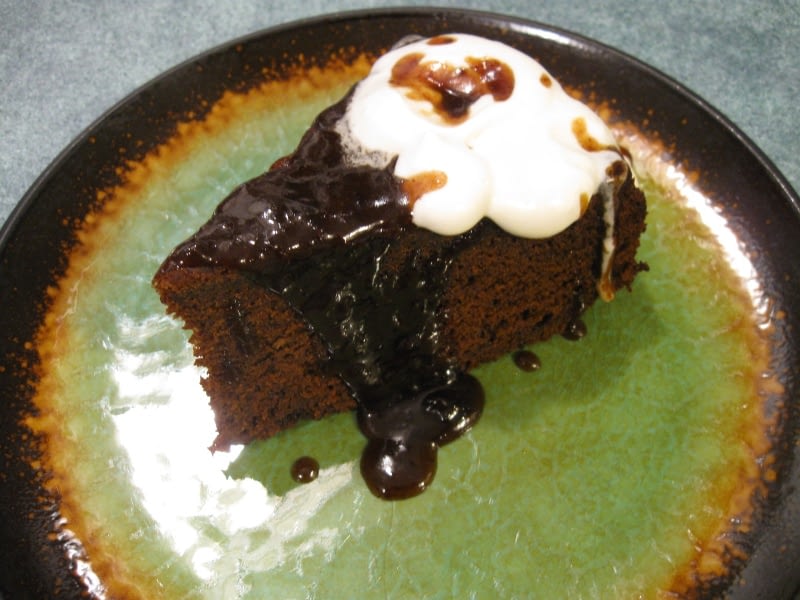 Or how about good old fashioned  great tasting Chocolate Cake - yes Gluten Free.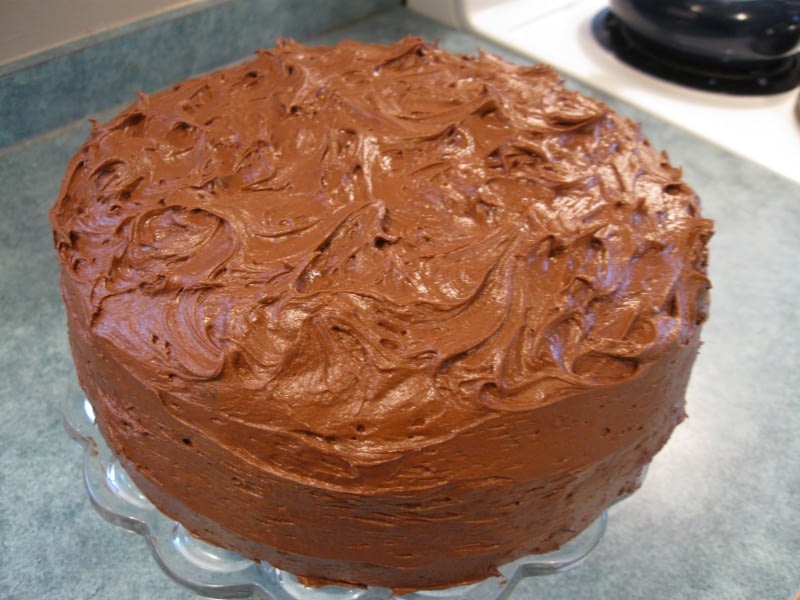 At the side bar on this blog under desserts you will see gluten free puddings, pies and more cakes and muffins - as a Celiac in today's world - the world is your oyster - please help yourselves!
And finally - people - please do not negate other people for eating gluten free....sometimes it truly is a matter of life or death.  Do your research to help support your friends and family that are dealing with Celiac Disease....they will love you for it!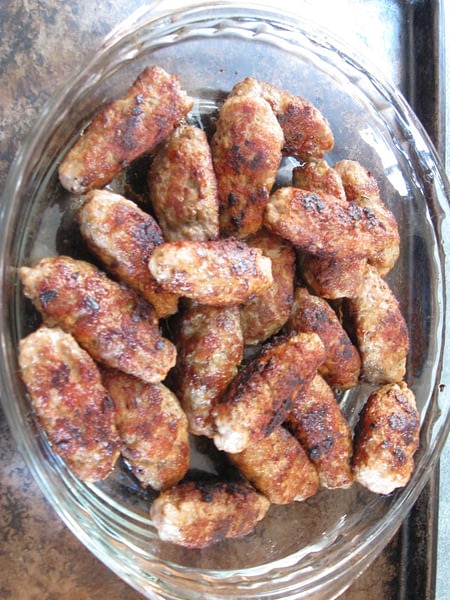 These sausages will certainly do in a pinch...when you do not have gluten free sausages on hand.   Although these were not your typical sausage in a casing, these were pretty good -  not as excellent as the place where I buy them, but darn close.
Note:  these were even better the next day.  Next time, I would make them up the day before, then refrigerate until ready to cook.
Seasonings:
1/2  Tblsp. Garlic powder
1 tsp. Fennel, Salt, Whole Savory
2 tsp. Sage
½ tsp. Basil, Oregano, Paprika
¼ tsp. Lemon pepper
pinch of allspice
Mix well, and store in an airtight glass jar.
1 Lb. Ground Turkey (beef would also work nicely here)
1 Lb. Ground Pork
2 ½ Tblsp. Of Seasoning Mix
Mix the meat and seasonings in a bowl,and scoop up some meat about the size of a meatball, then I rolled it between my hands to create a sausage shape.  This amount gave 21 sausages.  I placed them on a baking sheet and covered with plastic wrap to refrigerate for 1 hour.
Heat up a frying pan on medium heat, with a drizzle of olive oil, and place the sausages in the pan to brown.  Turn the sausages, browning all sides - in total this took about 15-17 minutes.  These sausages can be made this way, or into a pattie shape, or just cooked up crumbled for any kind of sausage dish.  It would make a great cooked crumbled filling in a quiche or a frittata, or in a pasta dish too...so many possibilities...yum!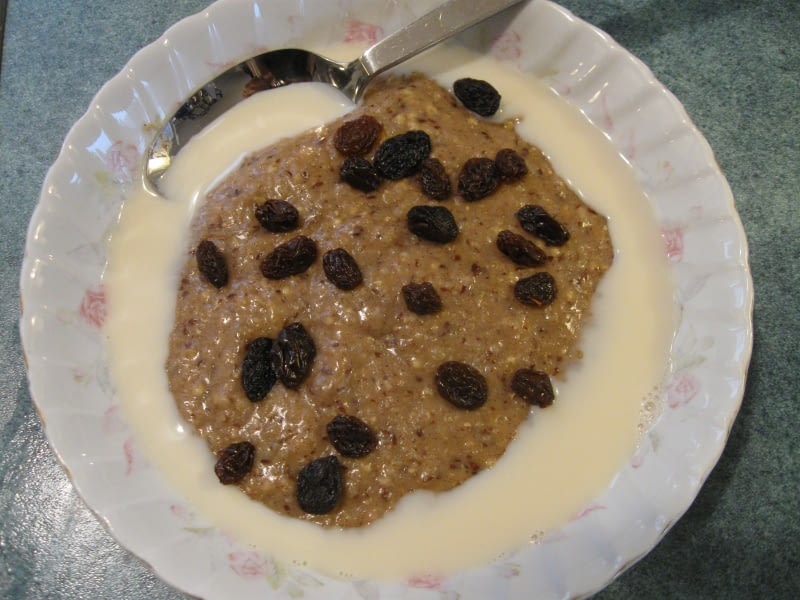 Oh how I miss oatmeal breakfast cereal.  I was never really big on breakfast cereals, but I sure loved oatmeal.  Even the gluten free oatmeal does not work for me...sigh.  I was also never a big fan of gluten free creamy rice cereal - at least not on it's own.
There used to be a good gluten free full grain breakfast cereal I could buy once in a while at our local Health Food Store - but now they no longer make it.  So, I decided to make my own.  It is delicious, full of flavor and texture.  It is somewhat like Sonny Boy cereal - but better.  Aside from being gluten free, it is sugar free, lactose free making it not only super healthy but Vegan friendly too.
This makes two quart sized jars full of cereal.  I will give the amounts first, then the recipe to make the cereal.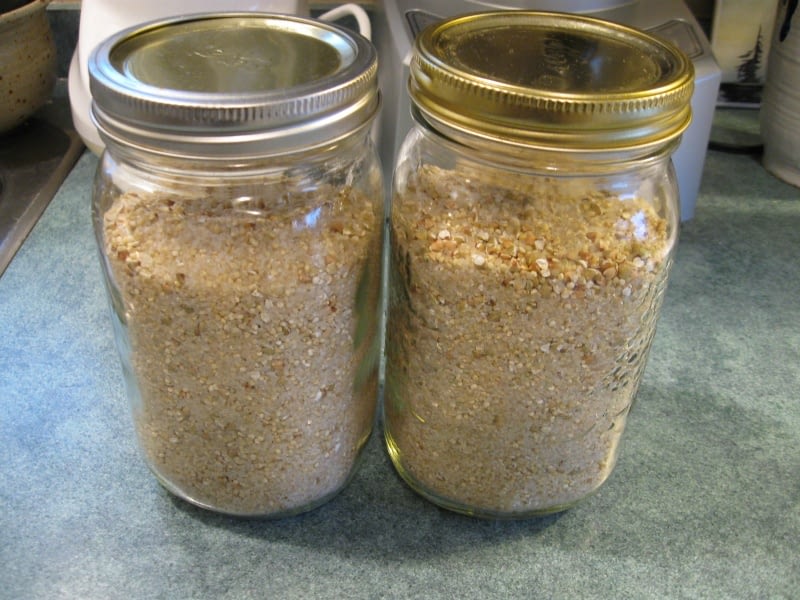 1 package (737 grams.) Bob's Red Mill Creamy Brown Rice Cereal
1 cup hulled Gluten Free Millet
3/4 cup Quinoa
2/3 cup Buckwheat Groats
Pour all the ingredients into a large bowl and mix thoroughly - then transfer to jars and keep refrigerated.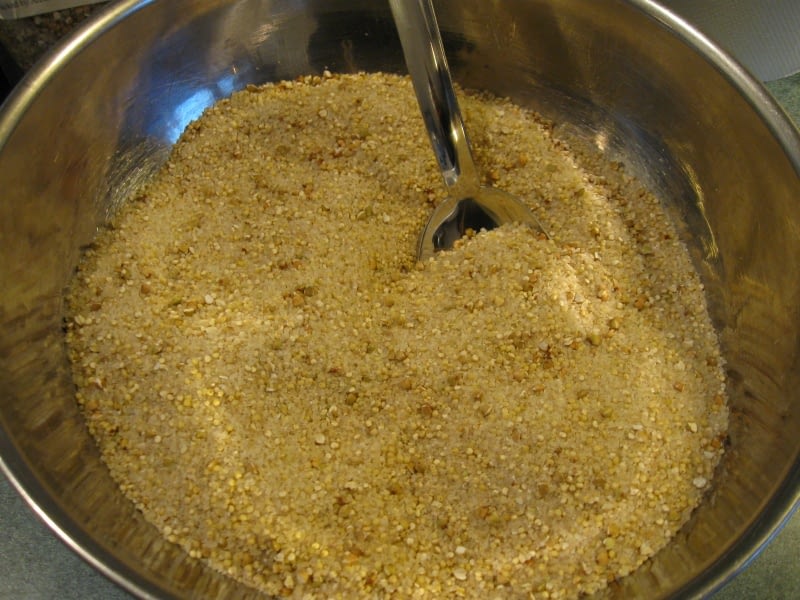 As this cereal is whole grain, it does take about 20 minutes in total time to cook.  As a result, what I do is make enough cooked cereal to give 3 servings.  (DH is not a fan of cooked cereal, so I have one for breakfast, and refrigerate the other two servings to have the next two mornings)  However you decide to make this cereal the ratio is always 1 part cereal to 4 parts liquid.  Or in this case, just slightly under 1 part cereal to 4 parts liquid.  Also, it is much tastier if made with some kind of milk - we use soy, but coconut or almond would work nicely here too.
just under 2/3 cup of cereal
4  (2/3 cups) of soy milk or milk of your choice
1 tsp. cinnamon
1 tsp. dry ginger
2 Tblsp. cracked flax seed
Add the dry ingredients to a medium sauce pan, whisking well to combine.  Pour in the milk whisking well.  Put onto medium heat.  Once it begins to bubble, stir well.  Once it is on a good simmer, turn down the heat to low, and continually stir for 15 minutes.  Remove from heat, and add in Agave Nectar to sweeten and a small handful of raisins.  Mix well, and serve with milk.