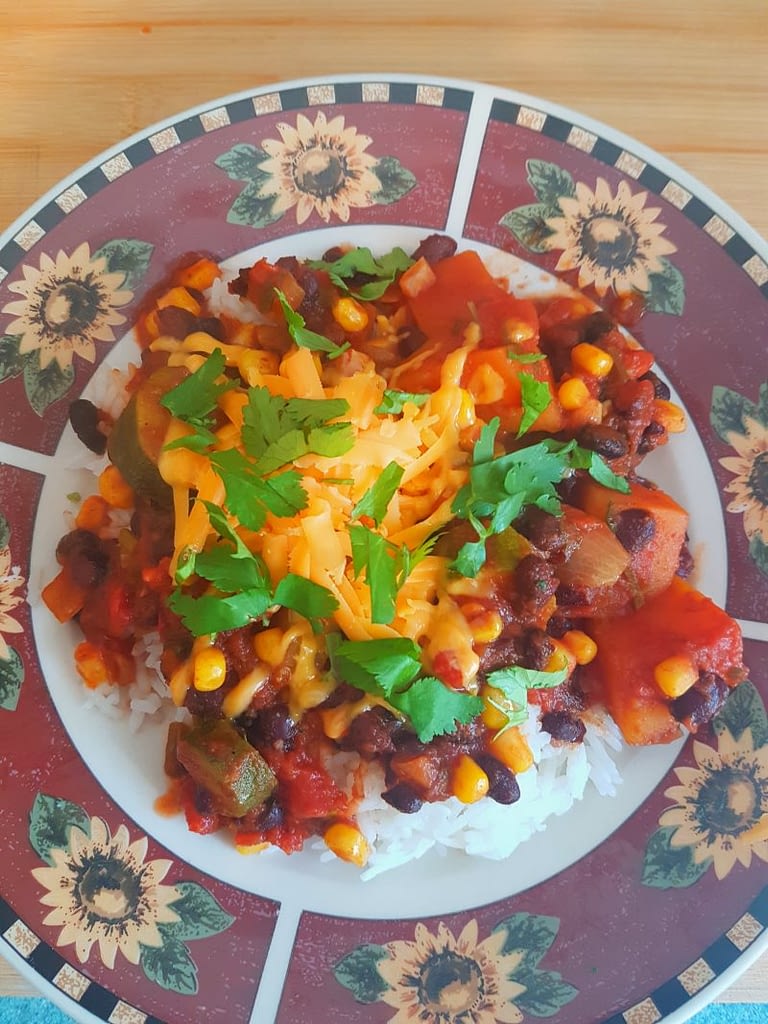 With this easy dish we originally had the black bean chili over rice for dinner one nite.  Then the next day we turned it into a wrap style or quesadilla - even tastier!  The chili recipe with rice made plenty with leftovers to have wraps or quesadilla's for a few lunches - a quick easy meal that turned into two recipes.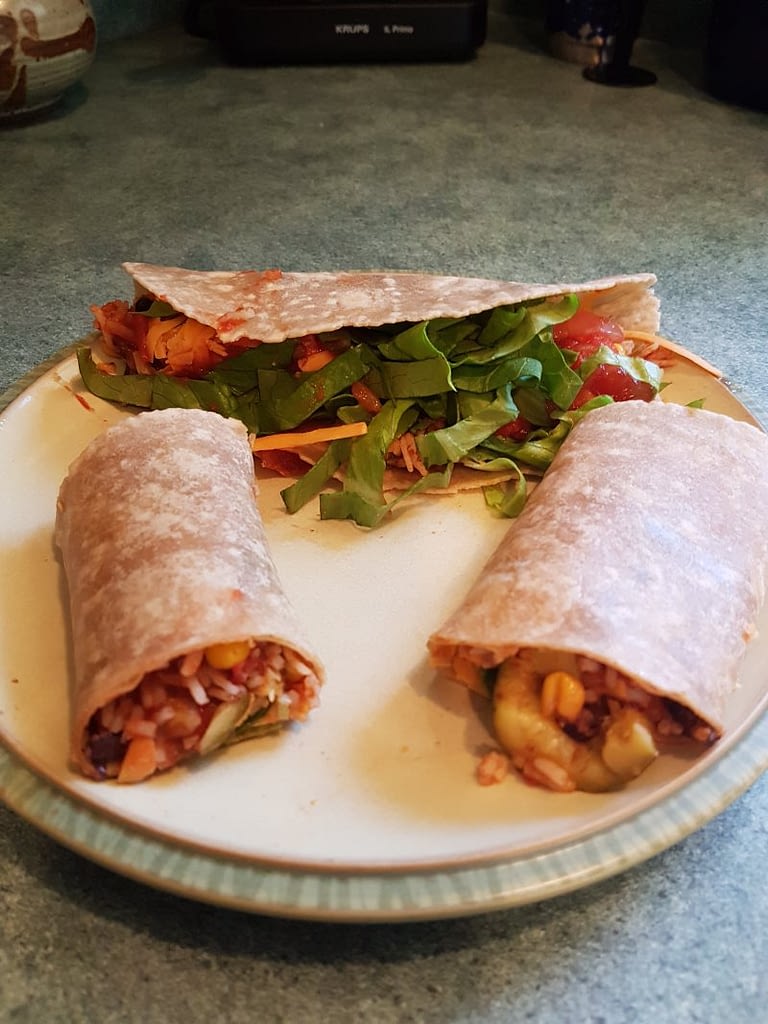 RECIPE:
2 Tblsp. Extra Virgin Olive Oil
1 small onion, diced
3 minced garlic cloves
1/2 a celery stalk, diced
1 cup chopped butternut squash (I used frozen but fresh works too)
1/2 cup frozen corn
1 cup chopped fresh zucchini
14 oz. can diced tomatoes with juice plus 1/2 can water
14 oz. can drained and rinsed black beans
1/4 cup minced fresh cilantro
salt to taste
3/4 Tblsp. chili powder
1 tsp cumin
1/2 tsp. smoked paprika
grated extra old cheddar cheese
Heat up a pot on low medium heat with the EVOO.  Add the onion, garlic, and celery, saute about 5 min.  Add in the seasonings and butternut squash sauteing for 5 minutes, then pour in the tomatoes and water stirring well.  Simmer for 15 min. lid off on low heat.  Then add in the zucchini, corn and cilantro - taste to adjust any seasonings, lid on and simmer another 15 min.  Serve over rice with grated cheddar cheese.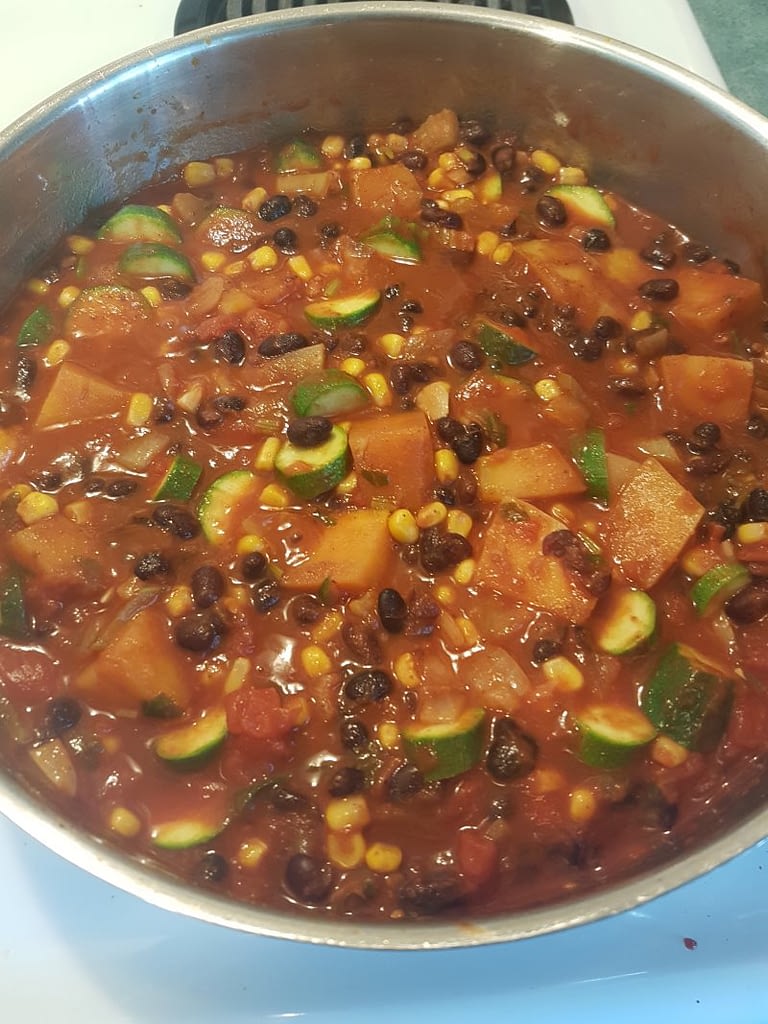 For the wraps/quesadillas we found these gluten free wraps (sorry for the poor picture quality!) and they are delicious.
I heated the chili and rice on low heat in a pot on the stove to reheat.  Then using a cast iron frying pan on medium heat add the tortilla then turn over about 25 seconds, and cook another 25 seconds on the other side.
Place on a plate, add the black bean chili and rice, followed by grated cheddar cheese, salsa, chopped lettuce.  Roll up and cut into a wrap or fold over half as a quesadilla.  It is always great to have 1 recipe with leftovers to make another recipe/meal the next day especially a super easy one!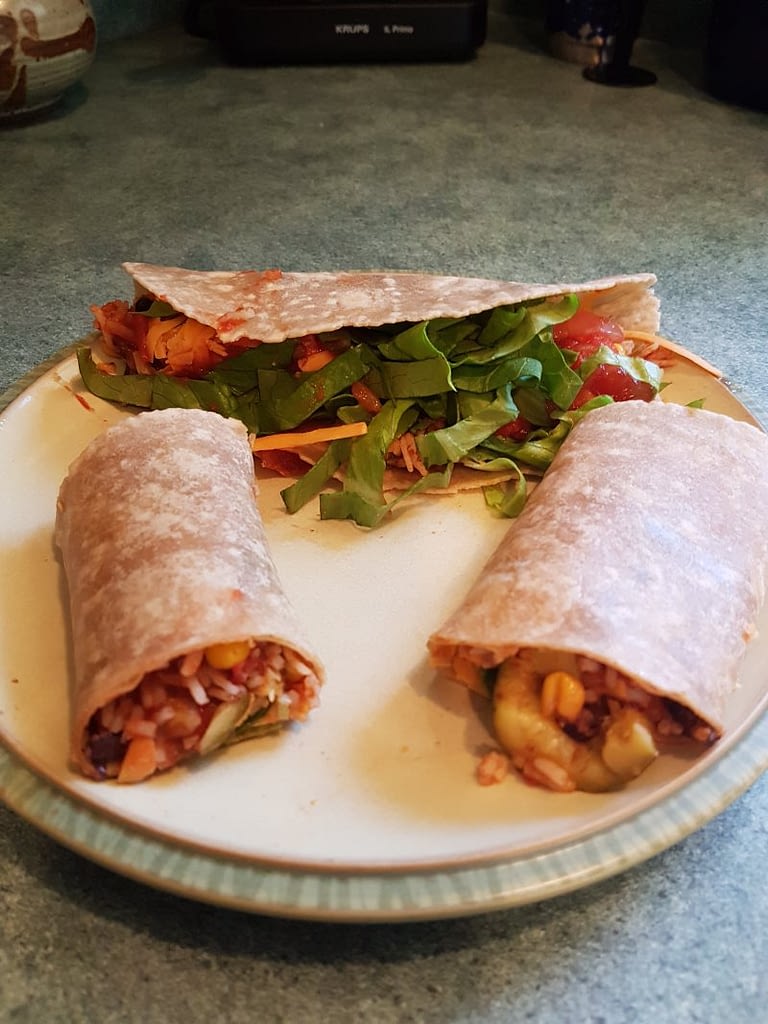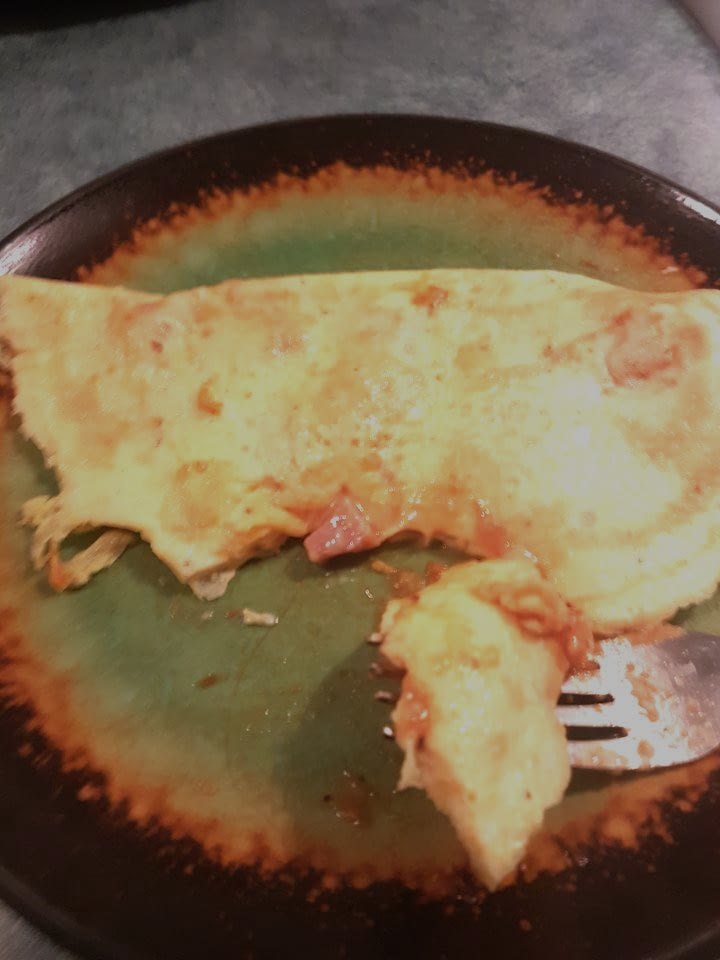 Like most people, after almost a year of staying home and cooking each nite it has started to get boring. In looking at long forgotten recipes on this blog it was time to re-visit some of them which then created a whole new idea.   What originally happened as a happy accident, has now given me some "fun" back in the kitchen.  I decided to challenge myself to use up any and all leftovers, or extra food in the fridge and pantry to come up with new ideas/combinations and recipes.  Pizza Omelette? or how about Pizza Grilled Cheese Sandwich?  Both were surprisingly delicious.  Another example of using up extra ingredients is the Chicken Schnitzel Marinara recipe.  Not only does the food taste great, there is no waste - yayyy!
These two new ideas came about as a result of re-visiting my Gluten Free Pizza Calzone Recipe.  We had extra "pizza stuffing" from the Calzone's in the fridge so this was how it was used up which turned into great flavor combinations.
For the Omelette simply whisk up two large eggs.  Heat up a non stick pan on medium heat with a bit of Extra Virgin Olive Oil.  Pour in the egg mixture, turning the pan to evenly distribute.  Once the omelette has cooked for a few minutes, dollop in desired amount of the "Pizza stuffing".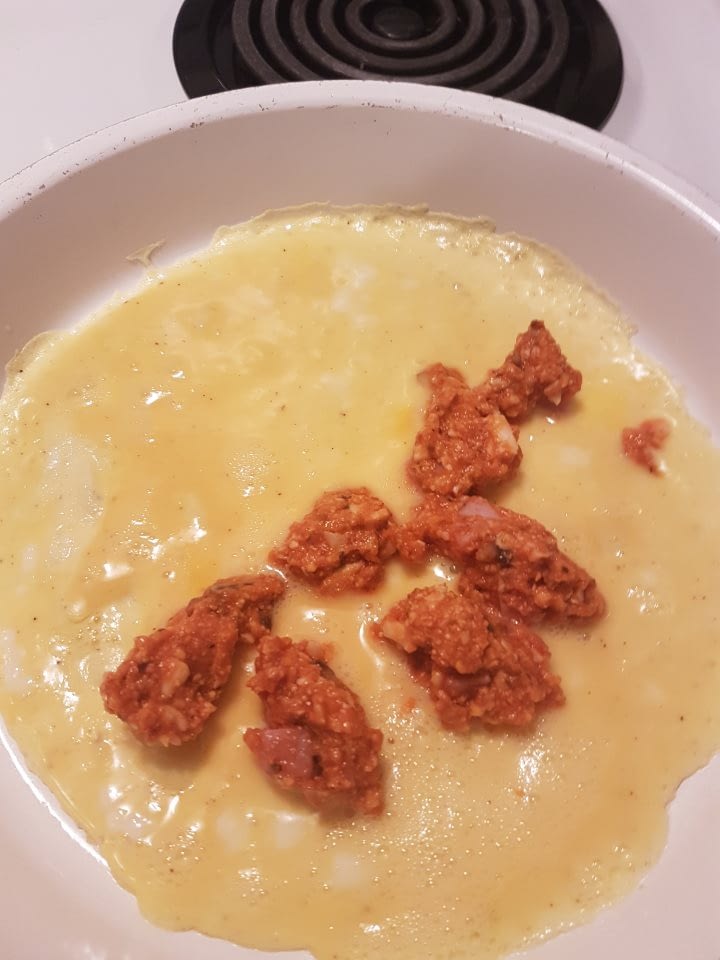 Flip 1/2 the omelette over to cover the pizza sauce and press down to spread the pizza sauce throughout the omelette.  Continue to cook a few more minutes until cooked and filling is warmed and melting.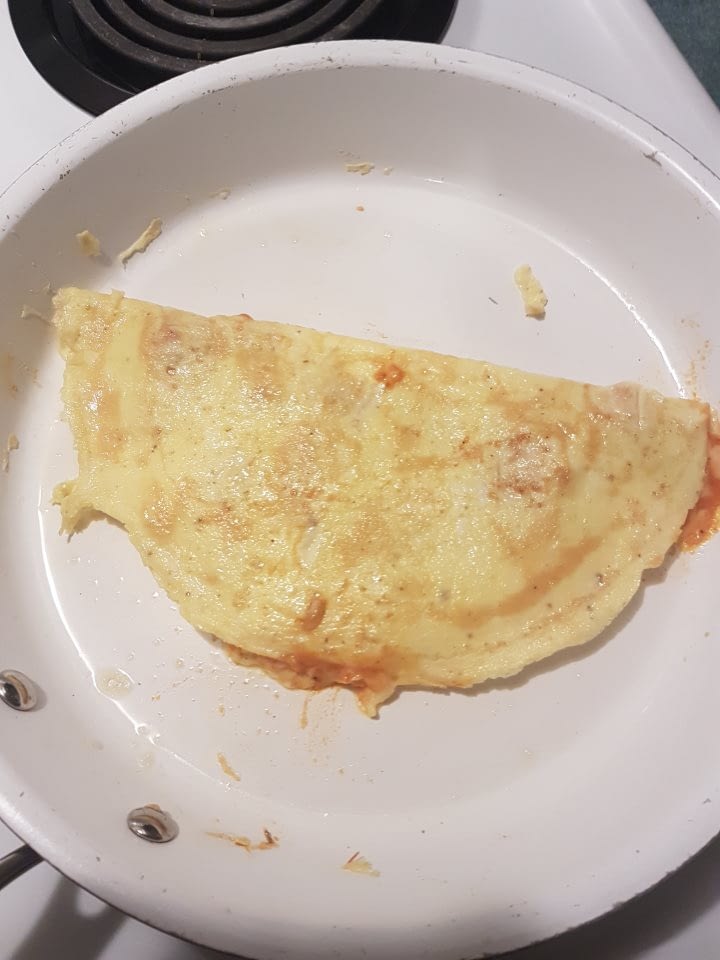 For the Pizza Grilled cheese, butter 2 slices of gluten free bread.  Dollop/spread the pizza filling on the non buttered side, top with the other piece of bread and cook as you would a regular grill cheese sandwich.  My dear husband fell in love with this one:
Two new meals using the same leftover ingredient, and how easy it is to make too!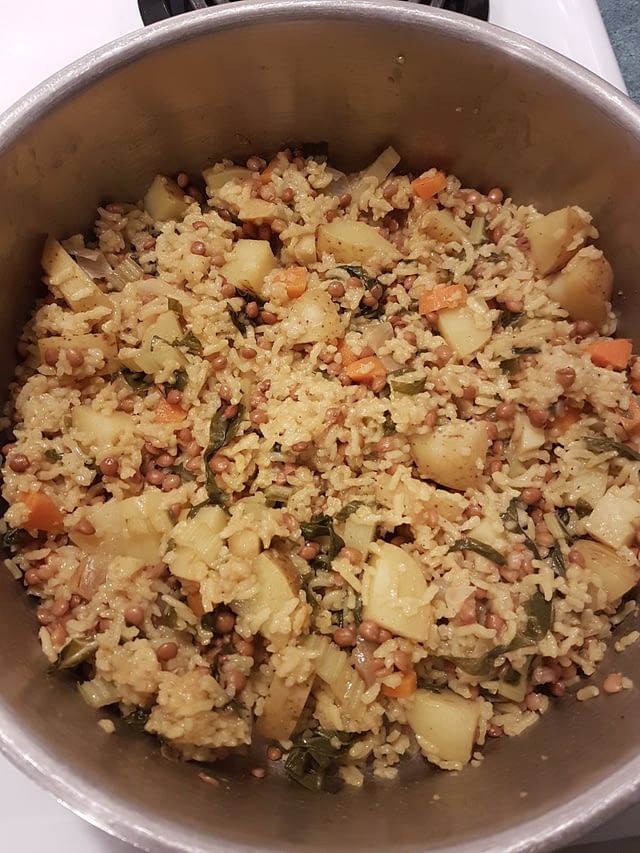 Here we have another quick easy one pot meal.  Seem to be heading in that direction these days - along with anything curry!
On that note, here is some info.  We used a Madras Curry Powder blend in this recipe which certainly carries a bit of heat.  If you like heat, then by all means add in a Tblsp. of diced ginger to the recipe for added flavor.  (I did not include ginger, as we are serious wimps when it comes to heat).  That said this is a simple plain meal that came together fairly quickly.  You could also include minced fresh coriander, and use vegetable stock to keep it Vegan/Vegetarian.  I have also recently discovered the convenience of using canned lentils - so simple but gives added protein to the dish. They also freeze beautifully.  I generally use 3/4 of a cup of lentils in most dishes - well rinsed, then place into a small glass jar and freeze until needed thawing before use.  A quick recipe for lunch or dinner.
3/4 cup canned well rinsed lentils
2/3 cup long grain white rice
2 small/medium sized German Butter or Yukon Gold potatoes cut into 1/2 inch pieces
2/3 cup long grain white rice, well rinsed
3 Tblsp. Avocado Oil
2 tsp. Madras Style Curry Powder
Salt to taste
1 shallot finely minced
1 large garlic clove finely minced
1 medium/large sized carrot diced
2 Swiss chard stalks, trim the ends off, then finely dice the stalk, and leaves
1 medium sized parsnip diced
2 cups chicken stock or vegetarian stock
fresh coriander
Heat up a dutch oven/pot on low medium heat with the added Avocado oil.  Add in the shallot and garlic, sauteing till lightly golden.  Then add in the rice and saute for 2 minutes.  Add the curry powder, salt stirring well for another minute.  Add in the Swiss Chard, carrot, parsnip, potatoes, stirring to combine, then pour in the chicken/vegetable stock and stir well.  Bring to a lite simmer, lid on, turn down to minimum and cook for 20 minutes or until potatoes, rice and vegetables are cooked through.  Sprinkle in a handful of coriander if using.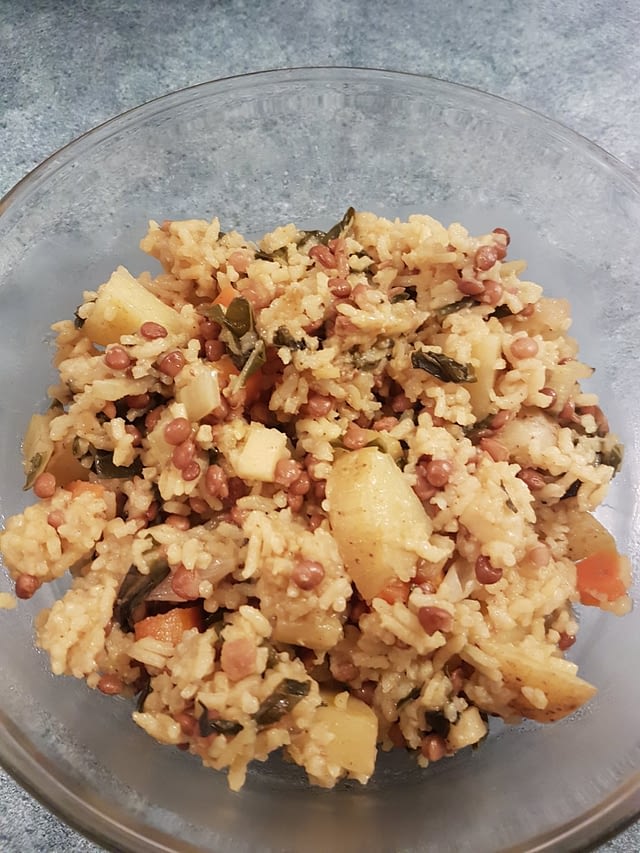 This is a quick and easy dinner/lunch to make.  What helps make it quick and easy is, we used canned gluten free re fried beans, frozen butternut squash and fresh spinach. (you could certainly use fresh chopped butternut squash in this dish) By the way, I recently learned you can easily freeze fresh butternut squash.  Just peel, chop into pieces place on a sheet pan and pop into the freezer.  When frozen remove and place in a freezer bag to use in any recipe.
Also, you can use any gluten free Taco Seasoning mix you like, but I have included my recipe here, and corn tortillas should work nicely too, although I would put one on top of the other to cook, then flip to the other side to finish cooking in the pan.   The amounts given here make 3 large Quesadillas - plenty for 2 people.
2 Tblsp. Extra Virgin Olive Oil - divided
3 large gluten free tortilla rice flour wraps
1 cup chopped frozen butternut squash
4 cups packed fresh spinach
3/4 cup re fried beans
1-2 cups grated sharp cheddar cheese
1-2 tsp. taco seasoning - to personal taste
Taco Seasoning blend:
2 Tblsp. chili powder
2 tsp. cumin
1 Tblsp. garlic powder
2 tsp. onion powder
guacamole - optional
salsa
Heat up a skillet or cast iron pan on medium high heat with 1 Tblsp. Extra Virgin Olive Oil.  Add the frozen butternut squash to the pan and saute about 8 minutes.  Add in the taco seasoning and continue to saute 2-3 minutes then remove to a bowl and set aside.  Add in the fresh spinach and saute until wilted, then return the butternut squash to the pan mixing to incorporate.  Then remove to a bowl and set aside.
Using a large wooden chopping board or work surface, place down the tortilla wrap with a good spread of the re fried beans.  Add a good helping of the vegetable mixture, then top with the grated cheddar cheese and fold the tortilla wrap in half.
Add the extra 1 Tblsp of EVOO to the pan and place in the tortilla wrap.  Cook about 3 minutes then flip to the other side and cook another 3 minutes.  Serve sliced in half with Salsa, and guacamole if using.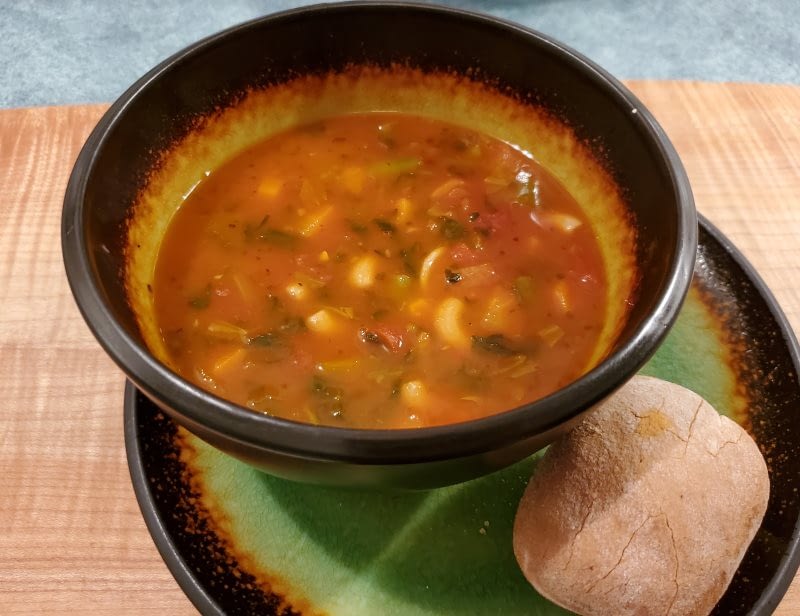 If you read my blog, you know I am a lover of all kinds of soups!  I could eat soup every day for sure.  This soup was so quick and easy, great for lunch or dinner served with grilled cheese, gluten free buns, or a simple salad.  When in a rush, or you don't feel like cooking, store bought tomato basil marinara and chicken bone broth work great in a pinch for time, plus, it is a good way to use up what is in the pantry/fridge/freezer.  This meal came together in about  35-40 min....these days that works for me.  If you wanted Vegan or Vegetarian, simply use Vegetable broth in place of Chicken Stock/Bone broth.
2 chopped carrots
1/2 an onion roughly sliced
1 chopped leek
1 chopped large celery stalk with leaves
1 Tblsp. Extra Virgin Olive Oil
3/4 c frozen organic spinach
2/3 cup frozen organic corn
2/3 cup frozen organic green beans
salt and fresh cracked pepper to taste
2 1/2 cups Tomato Basil Marinara Sauce (store bought or homemade)
5 cups chicken bone broth (store bought or homemade) (Vegetable stock for Vegan/Vegetarian)
1 rounded cup gluten free elbow macaroni pasta - cooked separately
Heat up a dutch oven with the EVOO on low heat.  Add in the carrots, onion, leek, celery, and season with salt and fresh cracked pepper.  Saute 5 min.
Pour in the Marinara sauce and bone broth stirring to combine.  Bring to a simmer, and cook 15 min.  Then add in all of the frozen vegetables. Continue to simmer for 10 minutes.  Meanwhile cook the elbow macaroni pasta separately according to directions, drain and add to the soup giving a good stir.  A warming soup for the soul.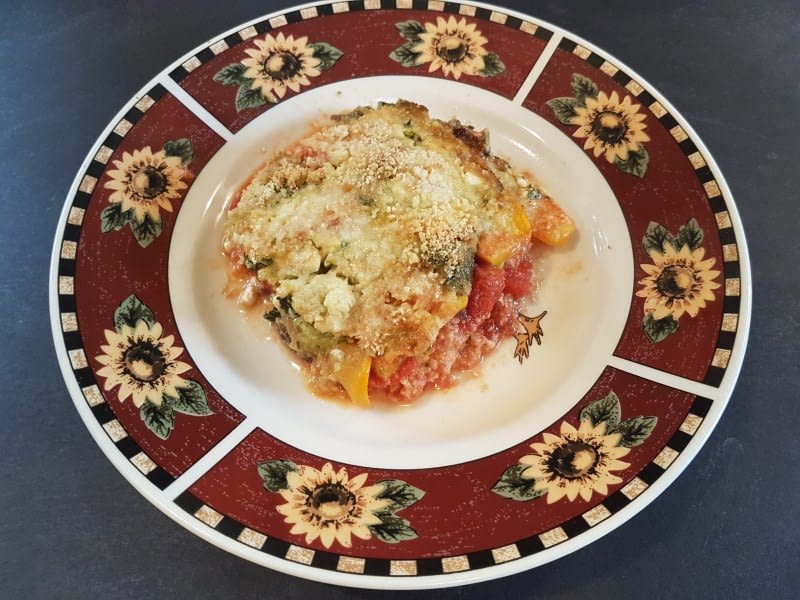 This is a quick easy dish to make if you need to use up the last of the summer zucchinis.  With this dish you could use store bought pesto and marinara sauce or you can make your own.  For the marinara sauce I used this one.  If you make homemade there will be leftover sauce that can be frozen for another use.
2 large zucchinis, sliced 1/4 inch thick- first cut the ends off to carefully slice lengthwise
Extra Virgin Olive Oil
4 cups chopped swiss chard
1 cup cottage cheese - we use lactose free
1/2 cup grated Parmesan cheese
6 big Tblsp. pesto
1 egg - whisk well
Salt and pepper to taste
marinara sauce
gluten free bread crumbs
grated Parmesan cheese
Heat up a frying pan on low medium heat with a good drizzle of EVOO.  Add the chopped swiss chard, and saute until tender, about 8 minutes, then transfer to a bowl to cool.
Add more EVOO to the pan and turn the heat to medium.  Add in batches the sliced zucchini lightly browning each side about 2 1/2 min. per side, and transfer to a plate.  While doing this heat up the marinara on a low simmer.
Then add the cottage cheese, beaten egg, pesto, 1/2 cup grated Parmesan cheese, salt and pepper to the swiss chard mixing well.  To a casserole dish, spread a layer of marinara sauce and top with a few zucchini slices.  Then add a layer of the swiss chard/cottage cheese mixture, a handful of gluten free bread crumbs, and a sprinkling of Parmesan cheese.  Repeat the layers using up all of the zucchini finishing with the bread crumbs and Parmesan cheese.
Preheat the oven to 350 degrees, bake uncovered about 30-40 min. until bubbly and golden.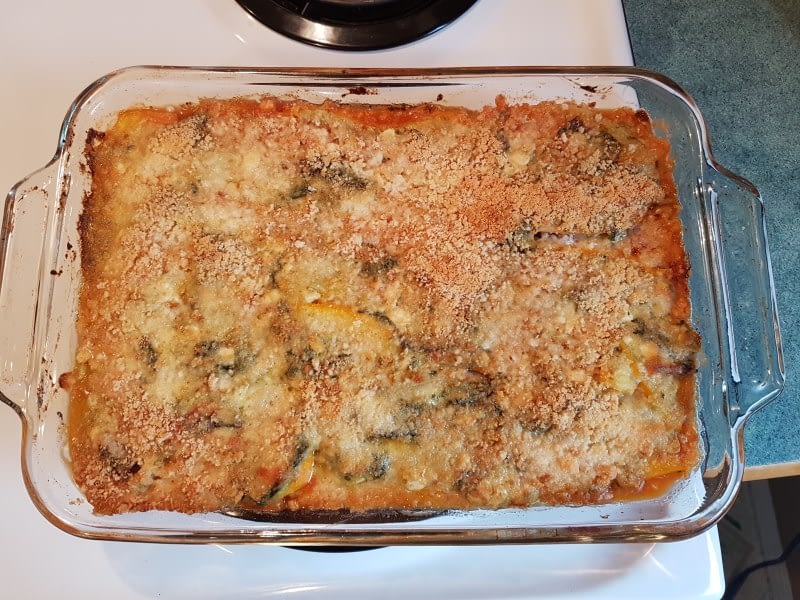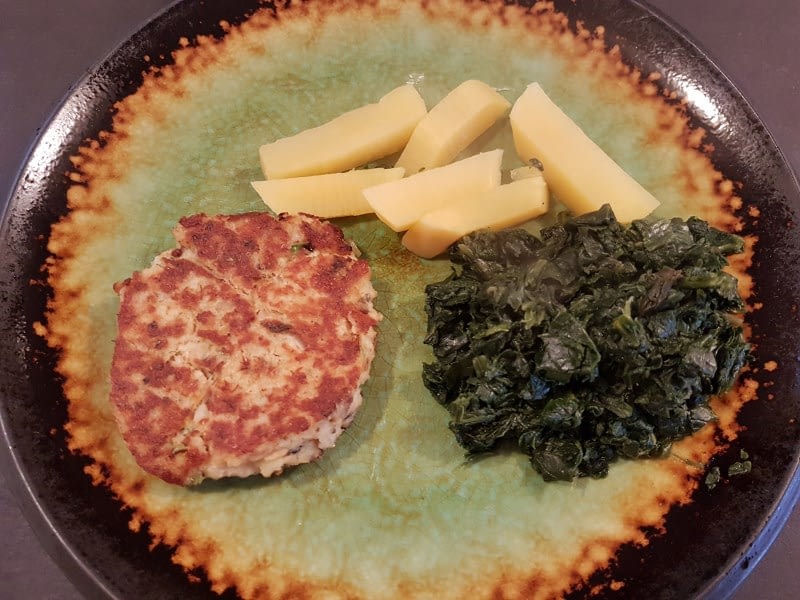 This is another salmon dish but had to share as it was such a super easy lunch/dinner to make, I can't believe not having made it before now.  Plus, it was tasty and very economical.  At some point during the week we always end up with leftover potatoes in the fridge - such a great way to use them up.  Although, not sure how mashed potatoes would work in this recipe as these were pretty delicate, so make sure the pan is good and hot and cook a good 7 minutes per side.
1 rounded cup mashed leftover large baked potato
1   213 gram can wild salmon, drained bones removed
1 egg - whisk with a fork
2 green onions, diced, or 1 large green onion
1/2 tsp. dried dill - or more to taste
1/4 tsp. Old Bay Seasoning
2 Tblsp.  mayonnaise
Extra Virgin Olive Oil - for frying
In a medium sized bowl combine the mashed potatoes and drained salmon.  Use a fork to break it all up mixing together.  Add the rest of the ingredients - mix.  Shape into patties, cover in plastic wrap and refrigerate 15-30 minutes.
Heat up a non stick pan with a good drizzle of EVOO on medium high heat.  Once good and hot, cook each side about 7 minutes. (turning the salmon cake 1/2  way around in the pan to cook evenly to a nice golden brown)  Serve hot with any other vegetable side dish or a salad.  Can also be served with tartar sauce or pesto sauce.  Super easy, super quick, and an inexpensive meal all in one!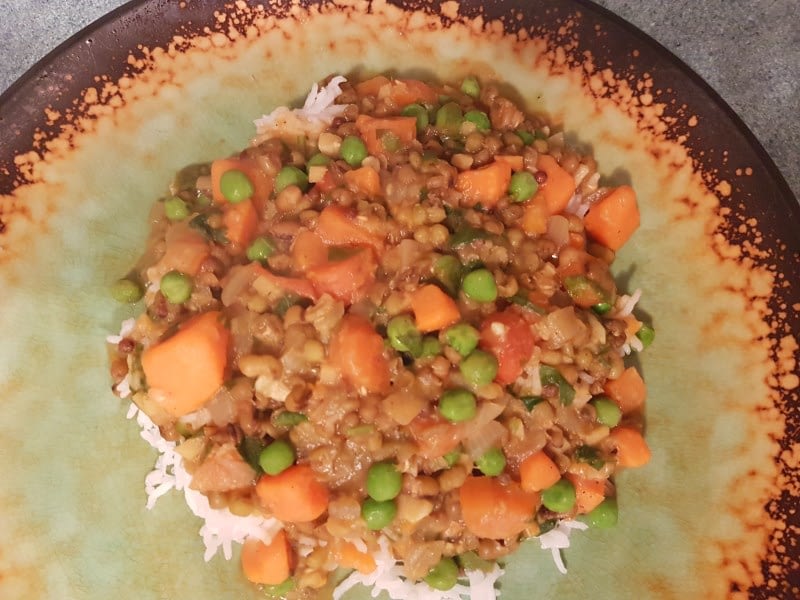 This recipe is similar to my Mung Bean Stew - with a few changes/additions.  It is said that mung beans are a legume that are heart healthy, they help to reduce cholesterol, are the least gas forming of all legumes, and they also assist in improving/balancing digestion.  It is my goal/hope for 2018 to eat this dish at least twice a week.  Eating vegetarian meals is an easy way for me to shed a few pounds - always a good thing, plus I love all lentils and curry so this should not get too boring. There is lots of flavor in this dish making it mighty tasty too.
If you soak the mung beans early in the morning or over nite (soak 8 hours) you are good to go.  In terms of preparation - it took about 40 minutes prep/saute time - then the rice was cooked separately, while the mung beans/vegetables took another 35-40 minutes to cook.  In my busy week, this should be something I can handle and with leftovers the next day that should reach my goal with a free day of cooking to make things easier.
2 Tblsp. Extra Virgin Olive Oil
1 Tblsp. cumin powder
1/2 Tblsp. mustard seeds
1/2 Tblsp. coriander seeds
2 tsp. Madras curry powder - mine was not spicy hot
1/2 tsp. garahm masala
2/3 cups mung beans - soak 8 hours, and drain
1 large tomato, diced
1 large onion, diced
4 large garlic cloves, minced
1-2 tblsp. minced ginger - to taste
1 1/2 cups chopped orange yam
1 cup chopped carrots
salt to taste
3 cups water or vegetable stock
1 large bay leaf
3/4 cup frozen peas
huge handful of chopped cilantro
cook 1 1/4 cups Basmati rice in 2 1/2 cups water
Heat up a dutch oven on low medium heat with the EVOO.  Add the mustard and coriander seeds, sauteing until the mustard seeds start to pop.  Add in the cumin, curry powder, garaham masala and saute until fragrant.  Then add in the onions, garlic, ginger, tomato continuing to saute for another 5 min.
Pour in the water, adding in the mung beans, carrots, bay leaf and yams stirring well.  Season to taste with salt.  Bring to a simmer lid on for about 35 min., then while the rice is cooking, remove lid and keep on a simmer.  When rice is almost done add in the peas, and chopped cilantro to heat through and serve over the cooked rice.  A dollop of organic yogurt is a lovely addition.  This is a dish that will taste even better the next day.