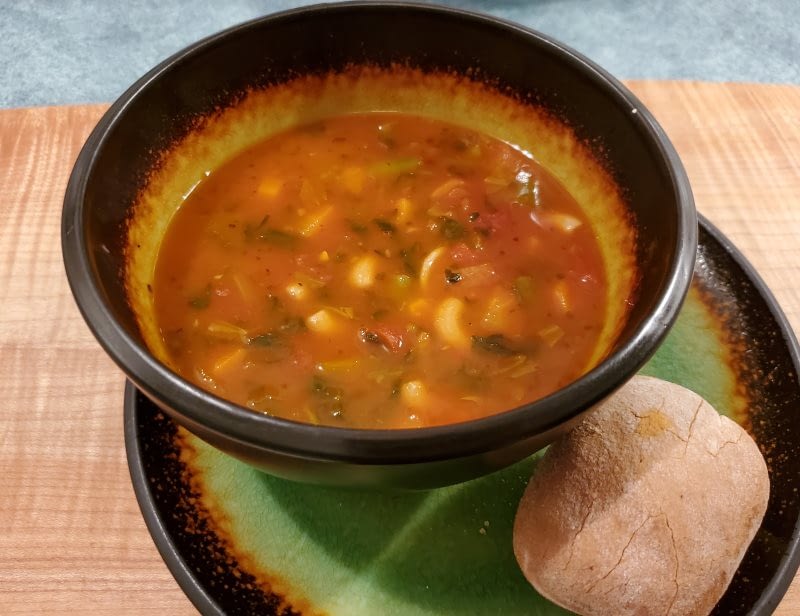 If you read my blog, you know I am a lover of all kinds of soups!  I could eat soup every day for sure.  This soup was so quick and easy, great for lunch or dinner served with grilled cheese, gluten free buns, or a simple salad.  When in a rush, or you don't feel like cooking, store bought tomato basil marinara and chicken bone broth work great in a pinch for time, plus, it is a good way to use up what is in the pantry/fridge/freezer.  This meal came together in about  35-40 min....these days that works for me.  If you wanted Vegan or Vegetarian, simply use Vegetable broth in place of Chicken Stock/Bone broth.
2 chopped carrots
1/2 an onion roughly sliced
1 chopped leek
1 chopped large celery stalk with leaves
1 Tblsp. Extra Virgin Olive Oil
3/4 c frozen organic spinach
2/3 cup frozen organic corn
2/3 cup frozen organic green beans
salt and fresh cracked pepper to taste
2 1/2 cups Tomato Basil Marinara Sauce (store bought or homemade)
5 cups chicken bone broth (store bought or homemade) (Vegetable stock for Vegan/Vegetarian)
1 rounded cup gluten free elbow macaroni pasta - cooked separately
Heat up a dutch oven with the EVOO on low heat.  Add in the carrots, onion, leek, celery, and season with salt and fresh cracked pepper.  Saute 5 min.
Pour in the Marinara sauce and bone broth stirring to combine.  Bring to a simmer, and cook 15 min.  Then add in all of the frozen vegetables. Continue to simmer for 10 minutes.  Meanwhile cook the elbow macaroni pasta separately according to directions, drain and add to the soup giving a good stir.  A warming soup for the soul.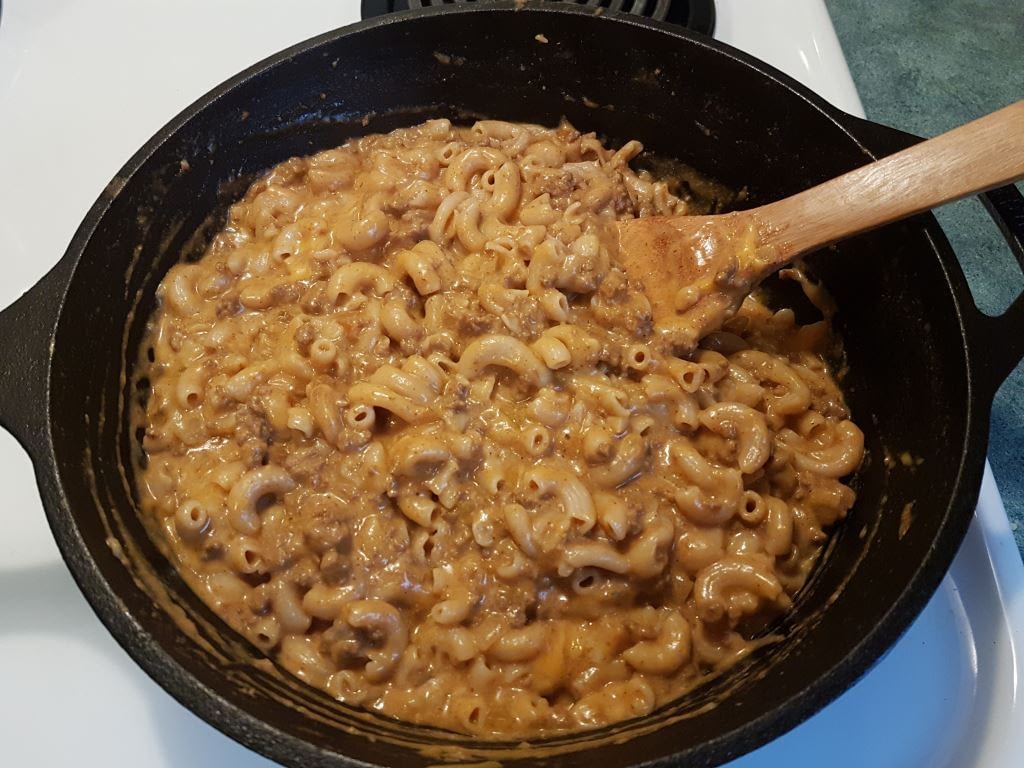 What is not to love about Mac N Cheese?  Add in some extra lean ground beef, some tasty seasonings, and best of all....everything goes into 1 pot.  A quick and easy meal in one go.  With this dish, I used a 3 1/2 quart dutch oven so you will want something at least that size.
Speaking of Dutch ovens....my dear husband recently gifted me with this Lodge pre seasoned dutch oven that I had been coveting.  The lid is also a separate  frying pan.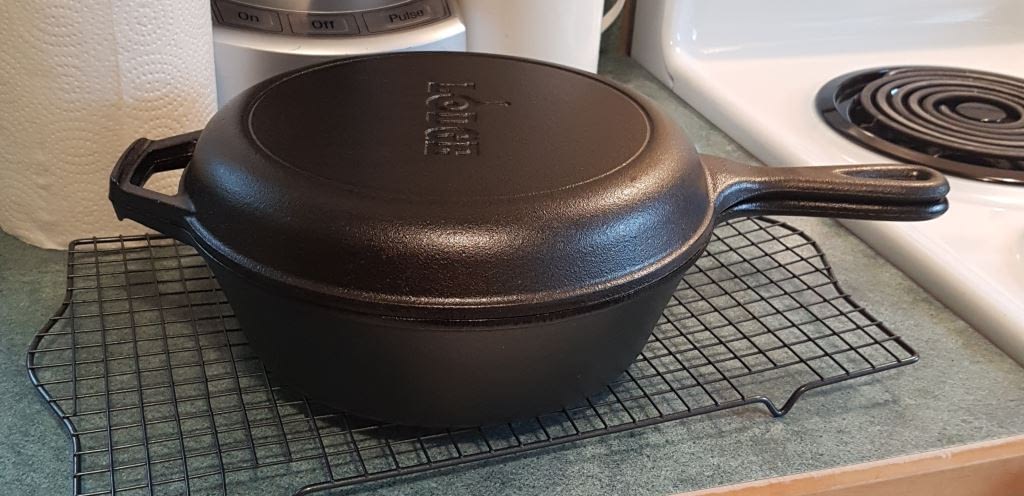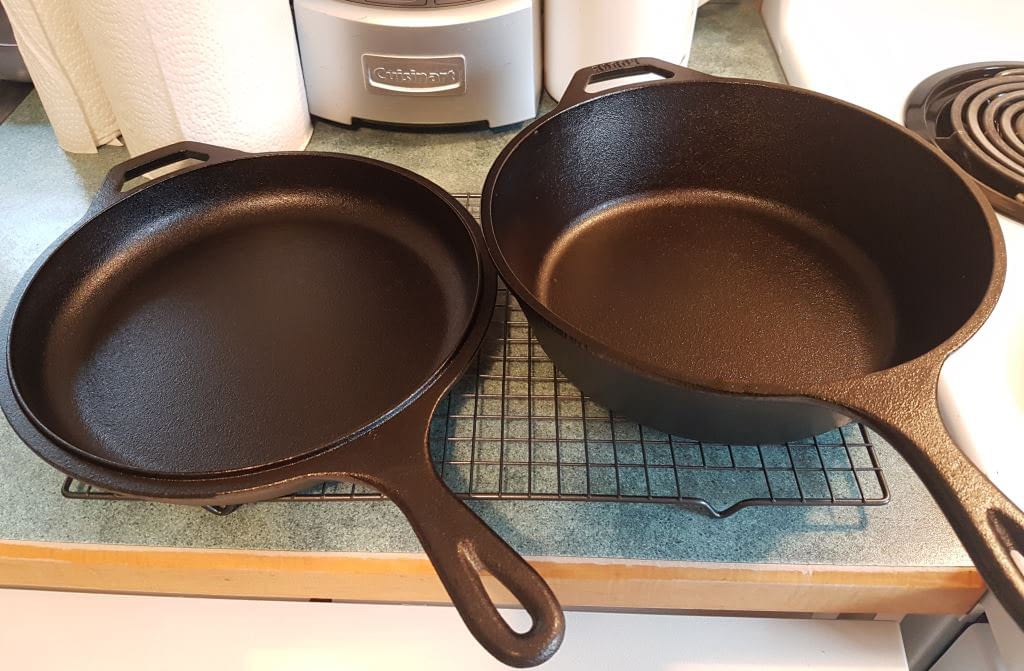 For this recipe you could include a 14 oz. well drained can of diced tomatoes which would be a lovely addition too.
1 lb. extra lean ground beef
1 large shallot, minced
1 large garlic clove, minced
1/4 cup chopped small red or green pepper
2 Tblsp. chili powder
1/2 tsp. garlic powder
salt and pepper to taste
2 Tblsp. tomato paste
2 cups stock - can easily use:  chicken, beef, or vegetable stock whatever you have on hand
2 cups milk - we use Lactose free 2 %
1 pack of Tinkyada Brown Rice Elbow Pasta (340 grams)
1 1/2 cups aged cheddar cheese - we used 1/2 white, 1/2 orange cheddar
Heat up the dutch oven on low medium heat with the extra lean ground beef.  (no need for added oil)  Break apart the beef well with a spoon.  Brown about 5 minutes, then add in the shallot, garlic, red or green pepper and continue to saute 8-10 min.  Add in the seasonings, and tomato paste mixing well to incorporate, continue to saute for 5 minutes.
Add in the stock and milk, and pasta - mixing well.  Cover with the lid cracked and turn down the heat to a low simmer, stirring occasionally.  Cook for 12-14 min. until the pasta is cooked el dente.   Add the cheddar cheeses mixing well, serve hot....will be even yummier with leftovers tomorrow.
While this recipe was a bit time consuming to make - it was worth the effort.  It has been non stop raining in our area which always makes me want comfort food - with a roaring fire in the fire place blazing away to bring in some added warmth and coziness to our dreary damp day.  Plus there will be leftovers for tomorrow - yummm, plus we are thinking this might even be better tasting than home made lasagna it was that good!
Having never seen Gluten Free Ziti Pasta I used Tinkyada Penne Pasta in this recipe which worked fine.  Although the package says to cook for 13-14 minutes, mine were done in about 10 minutes so check for doneness at the 10 min. mark.
BEEF TOMATO SAUCE:
1 1/2 lbs. extra lean ground beef
1 large onion, chopped
5 garlic cloves, finely chopped
1/4 cup diced green pepper
2   398 ml. cans of tomato sauce
1 - 2 tsp. fresh lemon juice - check for taste
1 Tblsp. Greek Oregano - or regular is fine
2 tsp.  dried Basil or more to taste
2 tsp. dried garlic powder
salt and pepper to taste
1 pkg. gluten free Tinkyada penne pasta
FOR THE BECHAMEL SAUCE:
1 1/2 Tblsp. butter
1 shallot, minced
1 1/2 cup milk (we use 2 % lactose free)
2 1/2 Tblsp. sweet rice flour
good pinch of ground nutmeg
2 tsp. garlic powder
generous 1/2 cup Parmesan cheese
salt and pepper to taste
grated aged cheddar cheese
1/2 cup finely grated feta cheese
Heat up a dutch oven on medium heat - add in the ground beef breaking up with a spoon.  Brown well, then drain off excess liquid.  Add in the onion, garlic, green pepper, and seasonings.  Turn the heat down to low - stirring occasionally for about 10 minutes.  Pour in the tomato sauce, lemon juice and stir well to combine.  Cook for 30 min. with a lid on cracked, then remove the lid and cook another 40 min. stirring occasionally.
While to sauce is cooking, heat up a medium sauce pan on low medium heat to melt the butter.  Add in the shallots, nutmeg, garlic powder, salt and pepper stirring about 5 minutes until the shallots are soft.  Sprinkle in the sweet rice flour whisking well about 2 minutes, then gradually pour in the milk, whisking well to remove any lumps.  Turn the heat up a bit continuing to whisk until sauce is thickened.  Remove from the heat and whisk in the Parmesan cheese.
Cook the pasta - drain well and add to the Bechamel Sauce stirring to combine thoroughly.  Lightly grease a 9x13 inch casserole dish with Extra Virgin Olive Oil and preheat the oven to 325 degrees.
Add the pasta/bechamel sauce to the casserole dish then another sprinkling of Parmesan cheese to cover. Then top with the beef tomato sauce, and generously cover with the grated aged cheddar cheese.  Top evenly with the grated feta cheese.  Bake in the oven about 30-40 minutes until bubbly.  Remove from the oven and let rest 10 minutes before serving.  Serve with a nice salad or vegetable of choice.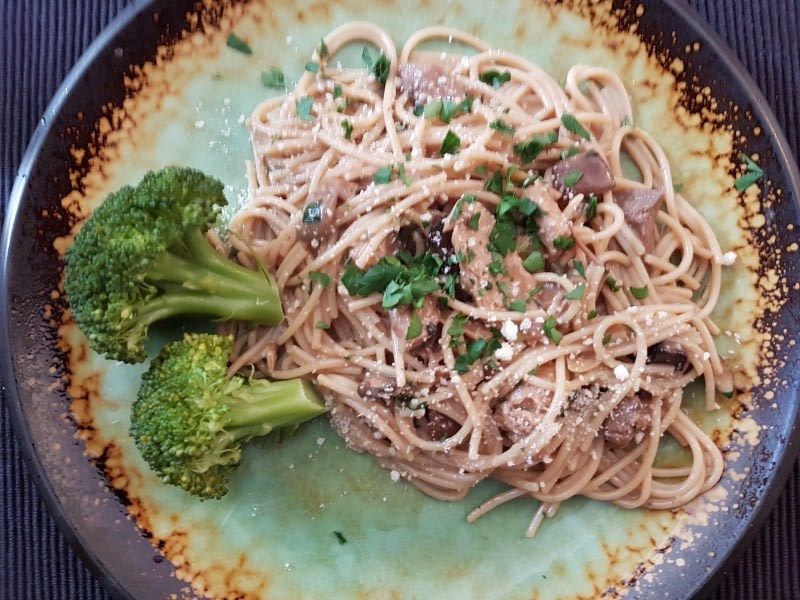 Recently we had a family reunion/gathering in our household.  We had cousins arrive from our homeland in Denmark...family we have never met before.  I fell in love with these far away cousins and it was an amazing, lovely, gathering of the clan.
Everyone brought something food wise to the table this day.  Our cousins brought Danish Cookies, Danish candies, and my all time favorite Danish Salt Licorice.  There was one kind of Danish Licorice that was gluten free and I nabbed it...stashed it.....hid it away.  Oh my goodness do I ever love Danish Salt Licorice!!
There was an abundance of food.  I roasted a 15 lb. organic turkey, made a huge bowl of potato salad, and a macaroni ham salad.  With the leftover turkey this dish was then born, plus we have made a recent new discovery in our neck of the woods: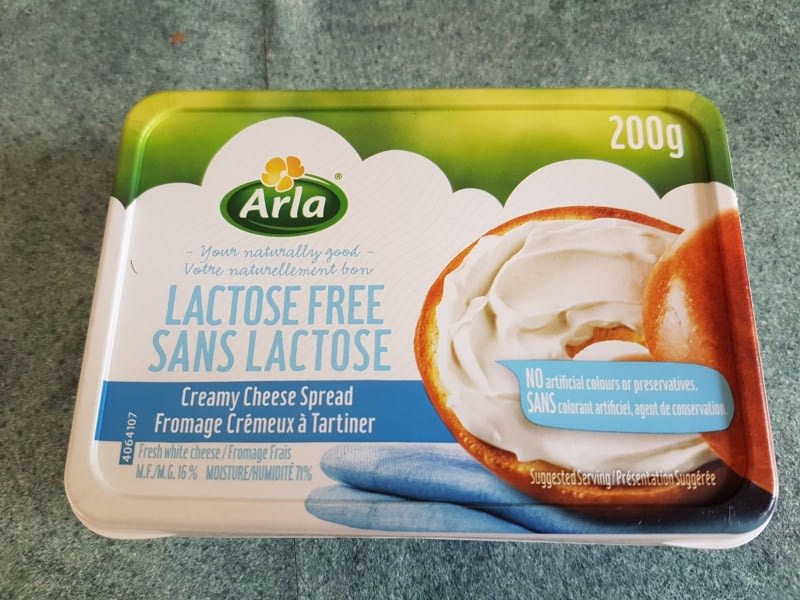 Oh my goodness!  This is actual real lactose free cream cheese...something I have been waiting for years to finally arrive in my neck of the woods.  Interestingly enough, this comes from Ontario, and is imported from Denmark.  So perfect.  And it is mighty delicious.
2 Tblsp. Extra Virgin Olive Oil
4 crimini mushrooms roughly chopped
2 large shallots, diced
2 large garlic cloves minced
2 Tblsp. Balsamic Vinegar
2  1/2 cups leftover diced turkey (or chicken)
small handful of chopped Italian Flat Leaf Parsley
gluten free spiral pasta - cook as per directions
reserve 1- 2 ladles full pasta water
salt and pepper to taste
3 tblsp. Lactose Free Cream Cheese
grated Parmesan or Asiago cheese
Cook the pasta as per directions.  While pasta is cooking heat up a dutch oven on low medium heat with the EVOO.  Add in the chopped mushrooms, saute about 3 minutes until they have a little color.  To this add the shallots and garlic sauteing another 3 minutes.  Pour in the Balsamic Vinegar and then add the cooked turkey sauteing just to heat through then add the 1 cup of the reserved pasta water mixing well.
Drain the pasta and add to the dutch oven, with the Cream Cheese, seasonings, and parsley  (look at the consistency to see if you need a bit more pasta water) - toss well and serve with Parmesan or Asiago cheese.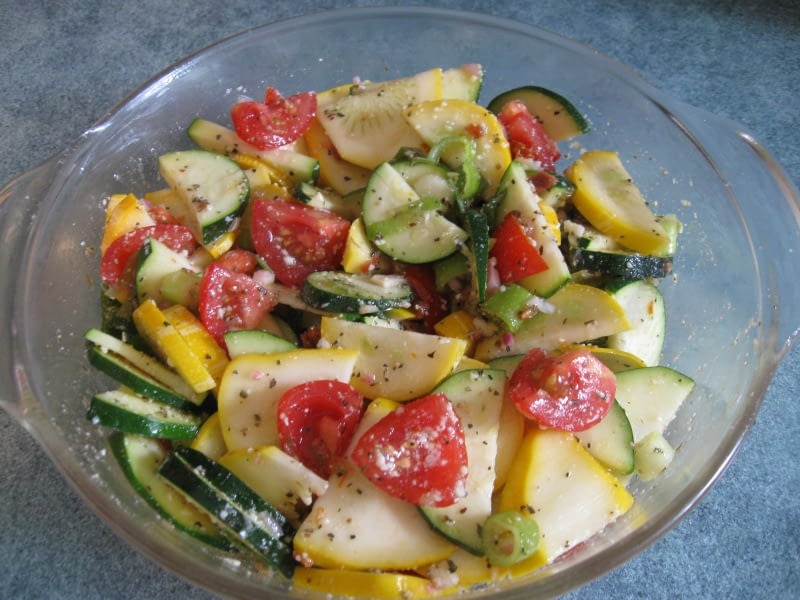 This is a post that finally came down to the result of a whole lot of frustration.  I would like to show case wonderful, delicious, food that is GLUTEN FREE.  Most of it, GLUTEN FREE NATURALLY.
There is so much negative hype/nastiness out there these days about Gluten Free this, Gluten Free that, Gluten Free being a Fad, Gluten Free Nonsense, Gluten Free to loose weight, and the list goes on and on.
Well, I have had enough of the negative hype.  Hopefully through this post, people will gain some understanding.  Being a Celiac or Gluten sensitive in today's world is so much easier than it used to be - finally!  Twenty years ago there was nothing available or virtually nothing available for a Celiac.  One could certainly never go out to a Restaurant to eat that is for sure.
When one has lived a life - 30 plus years miss-diagnosed only to discover they are in fact a Celiac - let me tell you, the world opens up once you become Gluten Free.
How does this happen?  Well here we go:
- once going gluten free, eventually your guts will heal.  Each person is different so it may take time.  My body took 3 years to fully heal.
- eventually the pain, lethargy, brain fog will disappear.  Yes you will actually be able to think clearly once again, because your brain is no longer sending signals that the body has been poisoned.
- eventually your stomach, large intestine, and small intestine will physically heal.
- you will gradually put on the many pounds you have lost, and the mall absorption will disappear and turn your body into a healthy, vital, strong body.
- and guess what?  Because there are so many people out there that are finally diagnosed correctly:  whether a Celiac or Gluten Sensitive:  Restaurants have finally learned - yes learned and their chefs and staff have been educated on serving REAL, HEALTHY GLUTEN FREE FOOD NATURALLY.
- But best of all?  There is much more information available now for people that need to eat Gluten Free.  With all this information, awareness, plus great food blogs, you will be able to find beautiful, delicious, nutritious food that once you were terrified to eat.
Here are just a few dishes that are healthy, nutritious, and delicious: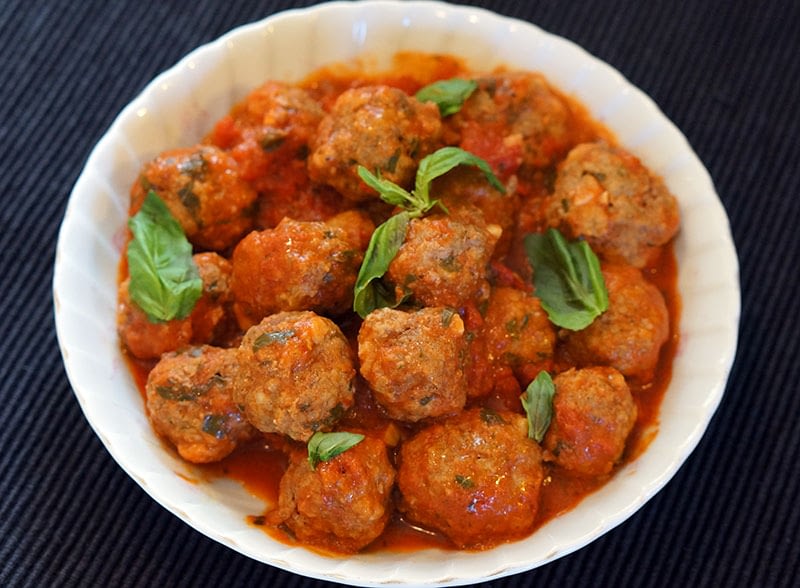 Italian Meatballs served over gluten free pasta...what is not to love.
How about fresh, wild Baked Salmon: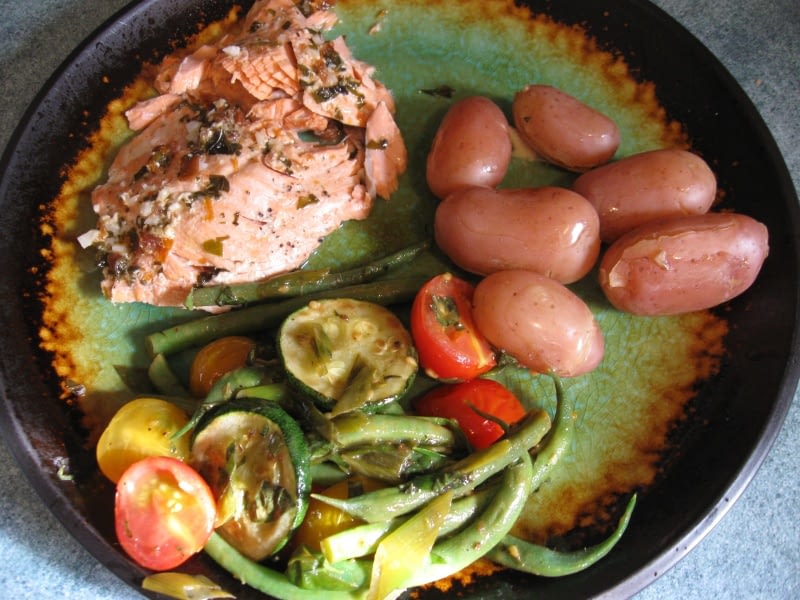 Here is a lovely Roasted Tomato Vegan/Vegetarian Soup:

Here is a good one:  Remember Rice A Roni?  Loaded in Gluten.  Well, here is a gluten free version of Rice a Roni....and it is damn tasty!

Here is a delicious Chicken dish...can't do without chicken for dinner, can we?  Chicken and Leeks recipe: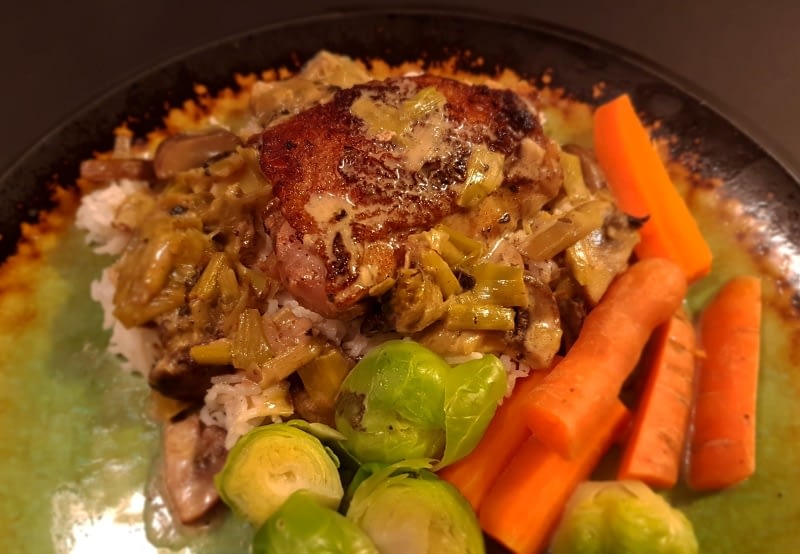 How about Gluten Free Beef Bourguignon?

Need more convincing that Gluten Free food can be delicious?
How about Gluten Free French Bread?  Yes you did read it correctly...delicious Gluten Free French Bread that tastes like the yesteryear French Bread I remember: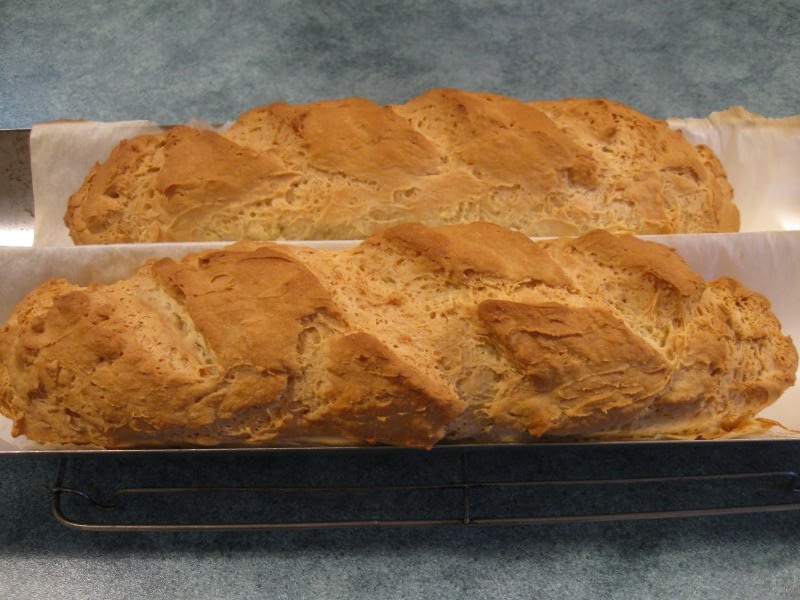 Now for a few Pasta dishes....lord have mercy we soooo can not forget gluten free pasta dishes.  Here are a few to tempt your taste buds:
Gluten Free Butternut Squash Skillet Lasagna: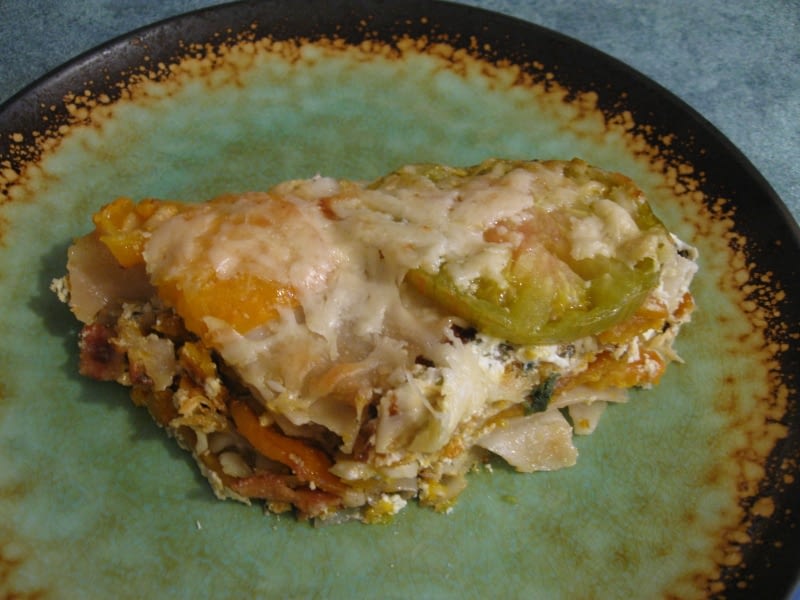 Then we have:  Shrimp and Scallop Pasta:

Can't forget about the nourishing, health giving nutrients of bone broth:  Chicken Bone Broth and Wild Rice Vegetable Soup: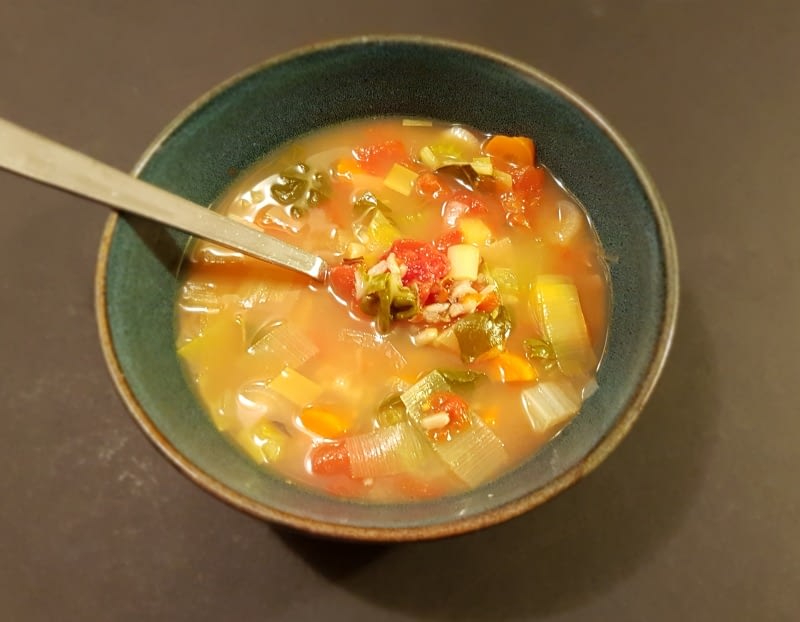 Lets move on to baking/deserts.  (By the way if you want more healthy delicious meals - check out my side bar - there are almost 600 recipes - so lots to choose from.
Here is a great breakfast muffin or snack:  Rhubarb Walnut Muffins: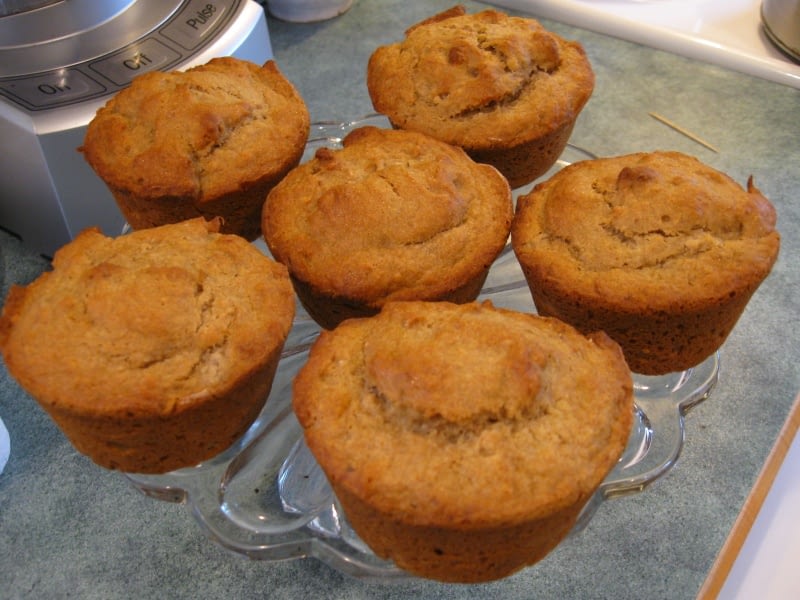 Or a delicious and nutritious cookie:  West Coast Trail Cookies - these pack a punch of wholesome goodness.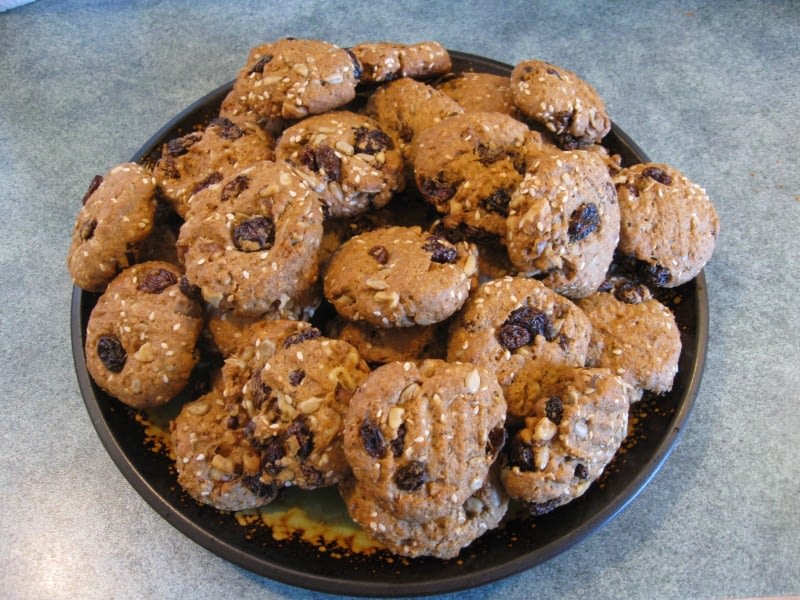 How about something decadent?  Yes, we all need a few of these recipes in our world once in a while:
Gluten Free Gingerbread Cake With Sticky Toffee Date Sauce: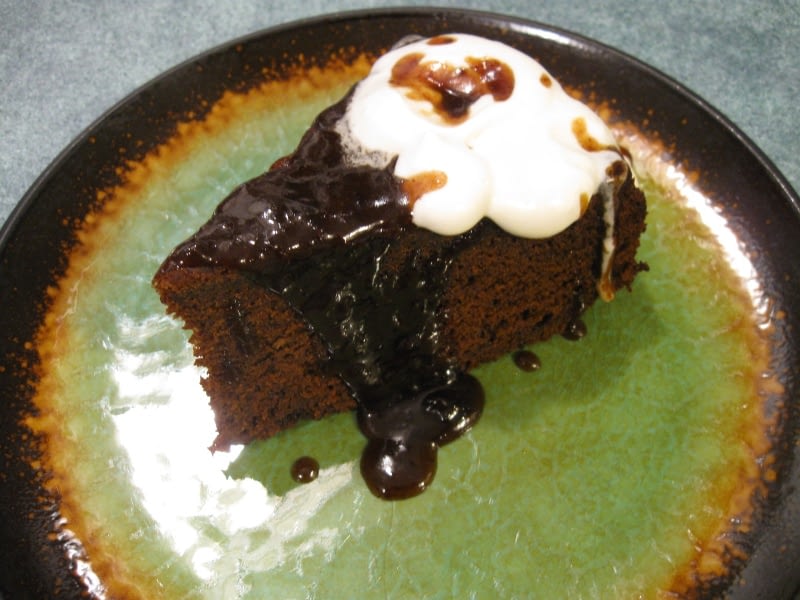 Or how about good old fashioned  great tasting Chocolate Cake - yes Gluten Free.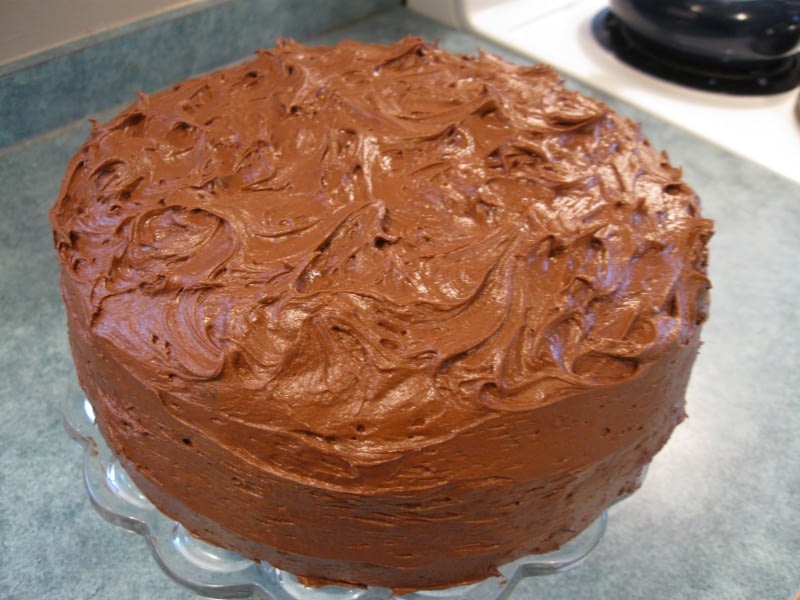 At the side bar on this blog under desserts you will see gluten free puddings, pies and more cakes and muffins - as a Celiac in today's world - the world is your oyster - please help yourselves!
And finally - people - please do not negate other people for eating gluten free....sometimes it truly is a matter of life or death.  Do your research to help support your friends and family that are dealing with Celiac Disease....they will love you for it!
We have had endless days of rain in our neck of the woods which always leads me to comfort food.  Lasagna being a family favorite.  There are a number of different lasagna recipes on my blog and while this is somewhat of a traditional lasagna there are a few new ingredients as well as a very different method.  Why I used a different method was a result of having extra sauce.  This recipe will make a lot of  tomato sauce - there was almost 3/4 of a liter left - which will freeze beautifully.  This is also the first time I have used crushed tomatoes in place of whole canned tomatoes and tomato paste.  The canned crushed tomatoes gave a brighter sweeter flavor - very tasty!
We have been getting the most beautiful Swiss chard from our local farm winter box program, hence this new lasagna recipe.  So green and gorgeous don't you think?

Normally we have this as a side dish:  saute the ends with a chopped leak, then add in the chopped leaves with a splash of fresh lemon and salt and pepper.  It got the wheels turning: adding it to the lasagna was a delicious alternative to steamed spinach.  Also, I tried a different method with the yogurt sauce - I used plain yogurt with a beaten egg mixed in instead of my standard yogurt cheese method.  Something we used to do years ago when making lasagna.  I always use uncooked gluten free lasagna noodles, making the dish in the morning to put into the oven for dinner.
TOMATO SAUCE:
2 Tblsp. Organic Extra Virgin Olive Oil
1/2 of a finely grated carrot
1 large onion, chopped
4 minced garlic cloves
1/4 of a small green pepper, diced
2  28 oz. cans of crushed tomatoes
1 1/2 tsp. Italian seasoning
1 tsp. ground fennel
salt and fresh cracked pepper
1 large bay leaf
28 gr. package of fresh chopped basil
Heat up a large dutch oven (a stock pot would work too) with the EVOO on medium low heat.  Add the grated carrot, onion, garlic, green peppers to the pot and saute to sweat out.  Season with salt and fresh cracked pepper.  Saute about 8 minutes, then add in the seasonings except for the fresh basil.  Saute for another 4 minutes.  Pour in the crushed tomatoes, bring to a simmer, then turn down to low.  Simmer for 1 hour  stirring occasionally.  Five minutes before it is finished cooking, add in the fresh chopped basil.  Remove from the heat.
YOGURT SAUCE WITH SWISS CHARD AND LEEKS:
1 bunch of fresh Swiss chard - 3/4 of a lb. stems removed, and chopped
1 large leek, sliced and chopped (rinse well)
EVOO
juice of a 1/4 fresh lemon
salt and fresh cracked pepper
1 cup of plain whole organic yogurt
2/3 cup of grated Parmesan Cheese
1 large egg
fresh cracked pepper
Heat up a cast iron pan with a drizzle of EVOO on medium heat.  Add the chopped Swiss chard ends and the chopped leek to the pan.  Season with salt and fresh cracked pepper.  Saute about 8 minutes.  Add in the chopped chard leaves and continue to saute about 8 more minutes.  Remove from the heat and squeeze in the fresh lemon juice.  Transfer to a bowl and set aside to cool.
In a medium sized bowl, whisk up the egg.  Add the yogurt, Parmesan cheese, and fresh cracked pepper mixing well.  Add the cooled chard/leek mixture and stir well then set aside.
1 package Tinkyada Lasagna Noodles - 12  in total
4 crimini mushrooms, chopped
1 lb. lean ground beef
fresh cracked pepper
Parmesan Cheese
grated Aged Cheddar Cheese
In the same cast iron pan on medium heat, add the ground beef to brown - breaking the meat up into bits.  My ground beef is very lean so no need to drain excess.  Once brown, add in the diced mushrooms and saute for another 8 minutes or so.  Season with fresh cracked pepper. Remove from heat.
ASSEMBLY:
To a large lasagna pan add a generous amount of tomato sauce to the bottom of the pan.  Add 4 lasagna noodles laid out in a row then cover with 1/2 the yogurt mixture and top with the meat/mushroom mixture and a generous topping of tomato sauce.  Repeat using all of the lasagna noodles and finish with meat/mushroom mixture covering well with tomato sauce, Parmesan cheese and grated aged Cheddar cheese.
Cover with tin foil and bake in a pre-heated oven of 350 degrees for 1 hour until bubbly.  Remove tin foil, allow to sit for 5 minutes before serving.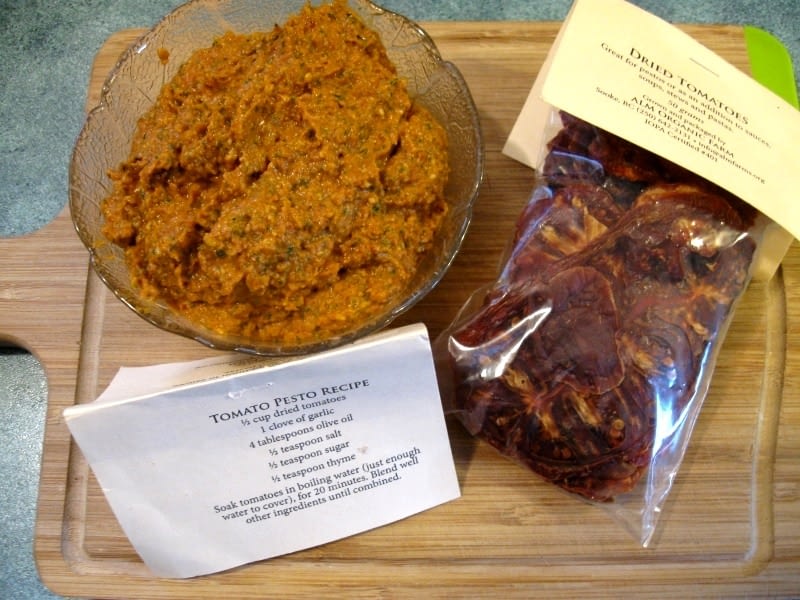 We are huge lovers of pesto in this household.  Each year I make Organic Garlic Scape Pesto which we freeze to have throughout the year.  This is the first time I have made Tomato Pesto and Oh My Goodness, do we ever love it.
As mentioned in previous posts, every year, we buy our local organic produce and eggs at our Farmer's Market (just down the street from where we live) which runs from May through to October. This year I signed up for their fall/winter program whereby I was able to go to the farm (8 minutes away) to buy winter vegetables, eggs, and these lovely dried tomatoes.  The farm is called Alm Organic Farm - founded by Mary Alice Johnson.
As I have never made tomato pesto before I used Mary Alice's recipe as a guideline as well as my own Garlic Scape Pesto recipe - to create this heavenly tomato pesto.  (pasta recipe to follow) Alm Farm tomatoes are the best I have ever had. (we were able to buy tomatoes in November!)  They are super flavorful, and amazingly sweet as was this pesto recipe.  Dinner tonight felt like a fresh breath of summer even though we are in the height of winter.
So, here is my recipe for Tomato Pesto - thank you Mary Alice & Marika for your inspiration and for your beautiful organic farm grown vegetables!
1 1/4 cups dried tomatoes - soak in boiling water, just to cover for 20 minutes (reserve drained water)
3 minced garlic cloves
1/3 cup Organic Extra Virgin Olive Oil
28 gram package of fresh Basil or 3/4 cup chopped Basil
3 Tblsp. reserved water from the tomatoes
a generous 1/3 cup freshly grated Parmesan cheese
1/4 cup sliced almonds, lightly toasted
fresh cracked pepper
Add the dried tomatoes to a 4 cup glass measuring cup.  Add boiling water just to cover.  Let sit for 20 minutes, then drain, reserving the liquid.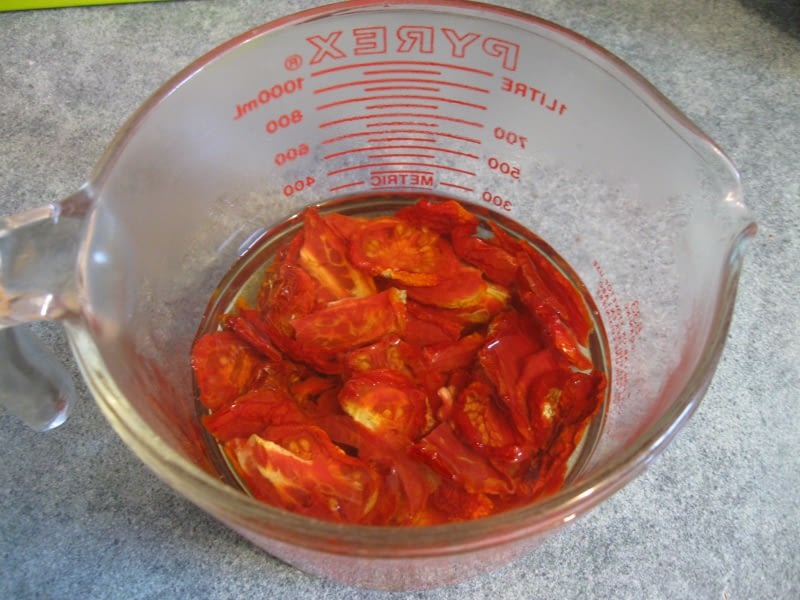 Lightly toast the sliced almonds in a dry cast iron pan on low/medium heat - about 8 minutes stirring so they do not over roast.  Then place into a food processor and process until fine.
Drain the water from the tomatoes, reserving the liquid.  Add the tomatoes to the food processor with the minced garlic and blend, scraping down the sides.  Add the Extra Virgin Olive Oil, Parmesan Cheese, Basil, and fresh cracked pepper.  Blend again then scrap down the sides.  Add the 3 Tblsp. reserved tomato water and continue to blend scraping down the sides.  If too thick, add a bit more of the reserved water.  Once combined set aside for the pasta, or refrigerate to use in another dish.  Pizza would be amazing.
TOMATO PESTO PASTA WITH ROASTED GARLIC GOAT CHEESE CHEVRAI:
1 340 gram package of Gluten Free Fusilli Pasta
1 large shallot, diced
1 large garlic clove, minced
1 Tblsp. Organic Extra Virgin Olive Oil
3 crimini mushrooms, chopped small
Tomato Pesto recipe from above
salt and fresh cracked pepper
1/2 cup of fresh chopped Basil
113 gram package of Roasted Garlic Goat Chevrai
3-4 Tblsp. reserved tomato water
freshly grated Parmesan Cheese
Bring a large pot of salted water to the boil.  Cook pasta as per directions.
Meanwhile, heat up a medium/large dutch oven on low medium heat with the 1 Tblsp. EVOO.  Add in the shallots, garlic, mushrooms, salt and pepper - saute about 5 minutes.  Add in the the reserved tomato water a Tblsp. at a time.  The mushrooms shallot mixture will absorb most of the water.  When the pasta is cooked, drain well, and add to the mushroom shallot mixture. Turn the heat down to a low minimum.  Add in the tomato pesto and 1/2 cup of fresh chopped basil, mixing well.  If needed add in 2 or 3 more Tblsp. of the reserved tomato water.  Break up the Chevrai with your hands, sprinkling throughout the pasta stirring to combine and lightly melt.  Plate and add some freshly grated Parmesan cheese on top - serve while hot.  Enjoy!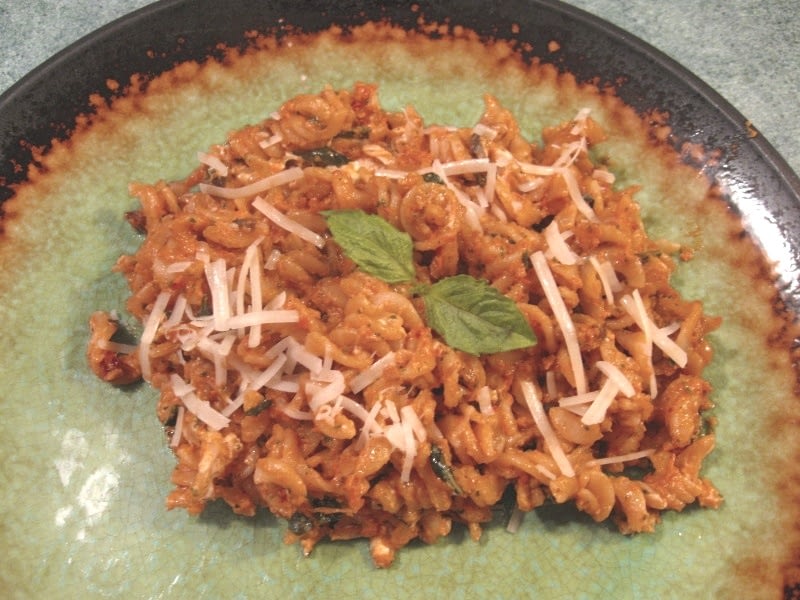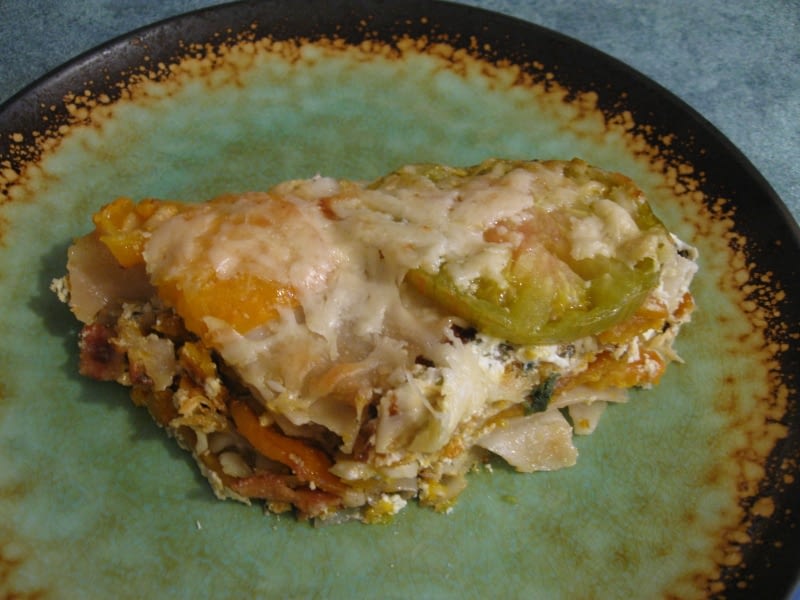 The inspiration for this recipe came from a Magazine called "TASTE MAGAZINE" that our B.C. Liquor Stores put out quarterly, I believe.
You can see a copy of the magazine here.  While the magazine's focus is on wine and spirit pairings with food, it also showcases the new releases of wines and spirits.  It is a lovely, well put together magazine with great photos.  I have picked up this magazine numerous times and I am always impressed by the quality of the writing, photos, and information.  Especially the food and recipes....hence today's post. The magazine credits are in the front of the magazine:  food writers and stylists, photographers etc.  There was not a name given of the person who created this recipe, but whoever you are, many thanks.  Oh.  My.  Goodness. This was delicious!
For this recipe you will want to use a well seasoned 10 inch cast iron pan.  If you want the very best seasoned cast iron pan - this process is a winner!
I did make a number of changes to the original recipe so I will post a step by step process of the recipe here:
2 lbs. thinly sliced butternut squash, peeled,and seeded - about 6 cups
2 medium onions, halved, then sliced
2 large minced garlic cloves
1 generous Tblsp. chopped fresh sage
2 Tblsp. Organic Extra Virgin Olive Oil
1 Tblsp. pure maple syrup
1 Tblsp. Balsamic Vinegar
salt and fresh cracked pepper to taste
Preheat oven to 425 degrees.  Thinly slice the peeled/seeded butternut squash.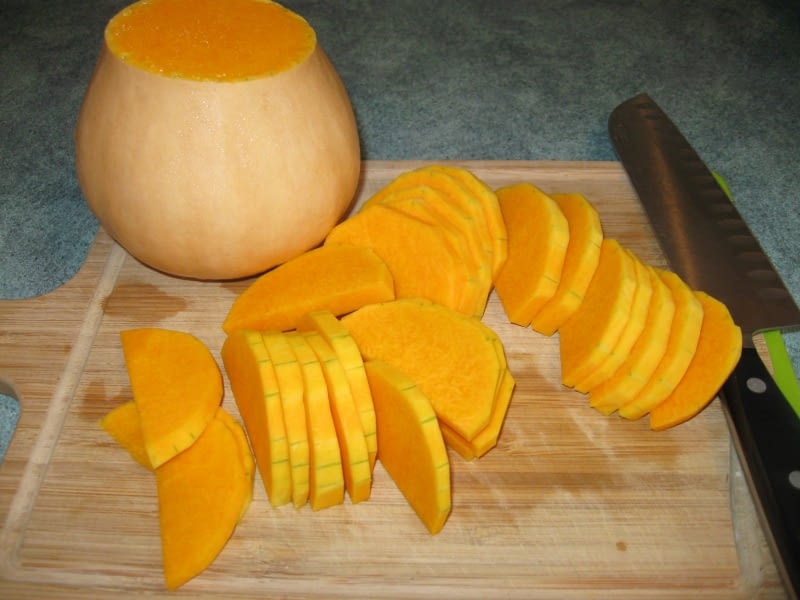 Add to a large bowl with the onions, garlic cloves, sage, EVOO, maple syrup, balsamic vinegar, salt and pepper.  Toss well to evenly coat, then spread out onto a large baking sheet.  Bake for 25 minutes, then turn down the heat to 375 degrees and cook for another 10 minutes.  Remove from oven and set aside.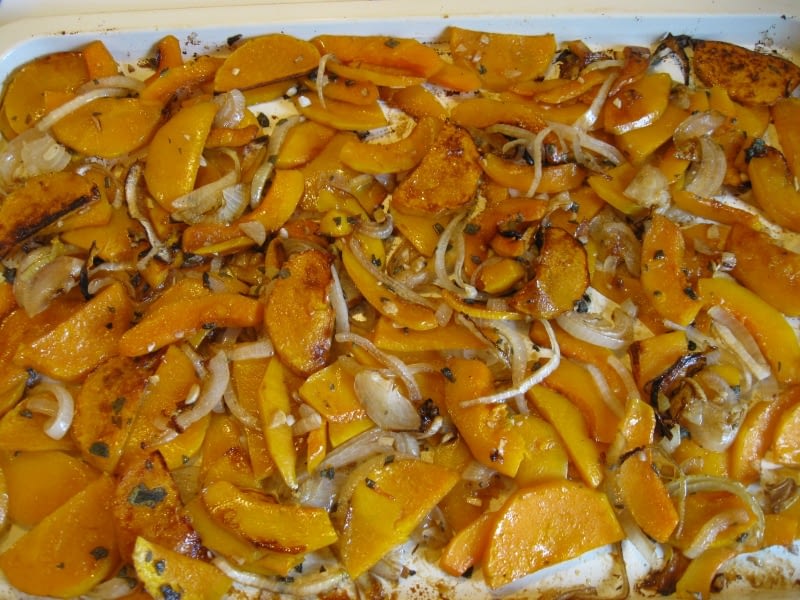 12 Gluten Free lasagna noodles (I used Tinkyada)
4 slices thick apple smoked natural bacon
10 fresh sage leaves
2 large sliced tomatoes (I used yellow and zebra heirloom tomatoes)
12 oz. roughly crumbled goat cheese or three 113 gram packages.  I used garlic herb Chevrai
1/2 cup of plain organic yogurt
1 large egg
Parmesan Cheese and grated Asiago Cheese
In a bowl, add the yogurt and the egg, mixing well, then add in the roughly crumbled goat cheese stirring to combine.  Refrigerated until ready to use.

Cook the lasagna noodles for 12 minutes, they will continue to cook in the oven.  Drain and rinse in cold water, then set aside.
Fry the bacon slices, then transfer to a plate lined with paper towel.  Turn down the heat to low and immediately add the sage leaves and cook in the bacon renderings for about 30 seconds.  Remove with a slotted spoon, and place on the plate lined with paper towel and bacon.
To Assemble:
Remove the pan from the element and allow to cool 10 minutes.  Drain the excess bacon renderings from the frying pan, but leave enough in the pan to lightly oil the whole pan.
Place 1/3 of squash mixture into bottom of the pan.  Top with 1/3 of the goat cheese mixture ,(a bit tricky, I used a spoon to dollop throughout, then use the spoon to spread somewhat throughout) and add 1 crumbled piece of bacon, and a couple of crumbled sage leaves, then 3 lasagna noodles.

Repeat layering of ingredients 2 more times ending with the noodles, sliced tomatoes, Parmesan cheese and a good layer of grated Asiago Cheese.


Return to the oven, 375 degrees, and bake for 30-35  more minutes.  Allow to rest for 10 minutes before slicing/plating.

I realized after tonight's dinner, there are at least 5-6 of the "Taste Magazine's" in my stash of "recipes to make".  It is time to go through them, and time to get busy and re-create some of the many wonderful recipes from this magazine to Gluten Free.  Yummmm can't wait!