This was such a simple delicious salad, I wanted to share...it is definitely a salad I will be making again and again.  As a matter of fact, I just requested more yellow beets in my next weekly organic veggie delivery.  We have never had yellow beets before, and being the some what purest that I am, I was a bit dubious whether or not we would like them.  YES we do.

As with my other roasted beet salad, roasting brings out such incredible flavor and sweetness to the beets.  Add roasted garlic, and you have a winning combination.
10 -12 small yellow beets, about 2-3 inch in size
1 medium sized red onion, cut in half and sliced
1 bulb of garlic
2-3 Tblsp. minced Italian Flat Leaf Parsley
Organic Extra Virgin Olive Oil
juice of 1/2 lemon
salt and pepper to taste
feta cheese
Preheat the oven to 375 degrees.  Wash and trim the ends off the beets, then peel and slice in half.  Place onto a large piece of tin foil.  Add a few drops of water - with wet hands sprinkle on the water.  Wrap up tightly and place onto a baking sheet.  With another piece of tin foil add a large garlic bulb - remove just the outer skin of the bulb.  Drizzle with EVOO and wrap tightly.  Place onto the same baking sheet.
While the beets and garlic are roasting, heat up a frying pan on low medium heat with a good drizzle of EVOO.  Add the red onion, and saute until nicely caramelized about 15 minutes, season with salt and pepper to taste, then set aside.
Roast the garlic for about 45 min. and remove.  Continue to roast the beets - about 1 hr. or until tender, then remove from the oven, open the foil and allow to cool for 10 minutes.  Slice the beets into a medium sized bowl. In a separate bowl squeeze out the garlic from it's skin and mash with a fork.  Add the juice of 1/2 a lemon mixing well.  Add to the sliced beets, with the minced parsley, and a good drizzle of EVOO seasoning with salt and fresh cracked pepper, mix well.  Taste for seasonings.

Sprinkle on a good handful of crumbled feta cheese and serve along side any main dish.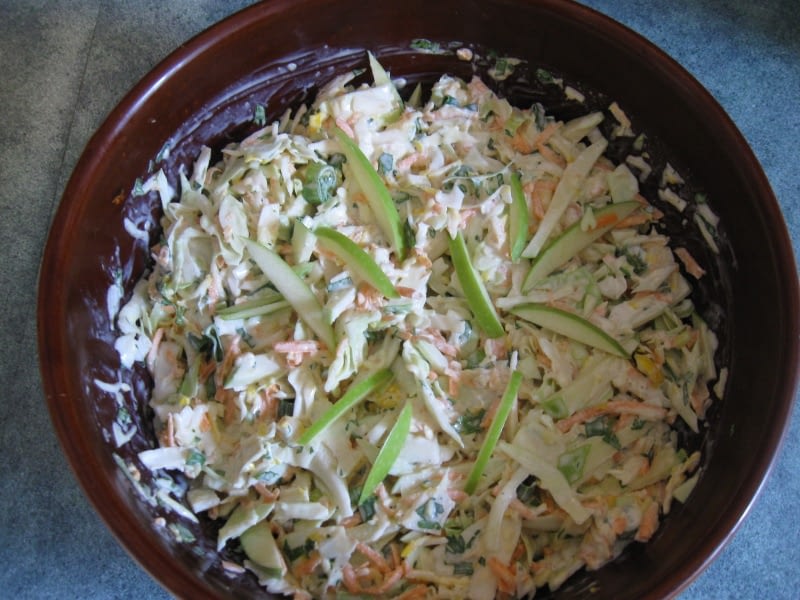 Recently, we had a very delicious, fresh coleslaw at one our local restaurants.  They used fennel which I did not have on hand, however it would be a lovely addition to this coleslaw.  A great summer salad to serve alongside any main dish.
1/2 a small - medium sized green cabbage
3 medium sized carrots
2 green onions
3 small yellow patty-pan squash
juice of 1 lime
1/2 a green apple finely sliced into 3 inch long slivers
a generous 1/4 cup minced cilantro
about 3/4 cup mayonnaise (or more if needed)
Using a food processor, shred the cabbage.  Change the attachment to finely grate the carrots and the patty-pan squash.  My cabbage and carrots were super moist, so if yours are too, use a clean towel to soak up some of the moisture.
Finely chop the green onions, then mince up the cilantro, adding to the bowl of cabbage and carrots.  Toss well to combine.
Add the finely sliced green apple, and juice of 1 lime, then season with salt and fresh cracked pepper again tossing well.  Add in the mayonnaise mixing well - adjust amount if necessary.  Add a few slices of green apple on top, serving with any main dish.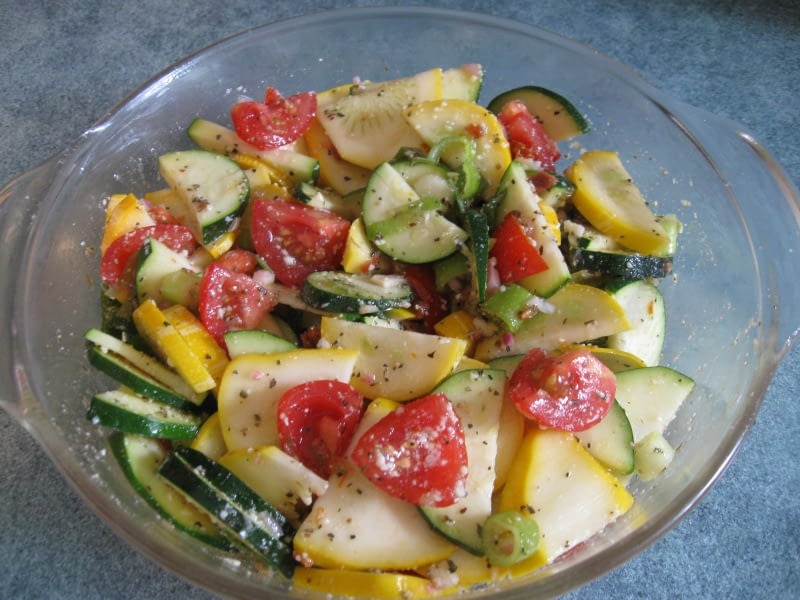 As I type this, (8:00 am in the morning)  the temperature out side is 30 degrees Celsius/about 86 degrees Fahrenheit. It will only get hotter by 4:00 pm.  In my neck of the woods that is hot, and it is not due to let up any time soon!
On a positive note, we have had the most amazing organic strawberries and blueberries - everything seems to be a month early.  Can't wait for those fresh summer tomatoes!
So to nite we are having a cold dinner:  potato salad, sliced ham, and the above quick and easy Italian Marinated Zucchini and Tomato Salad.
With this salad, you will want to make it in the morning, stirring occasionally throughout the day.
Then after dinner we are headed to our local pot holes for a refreshing swim!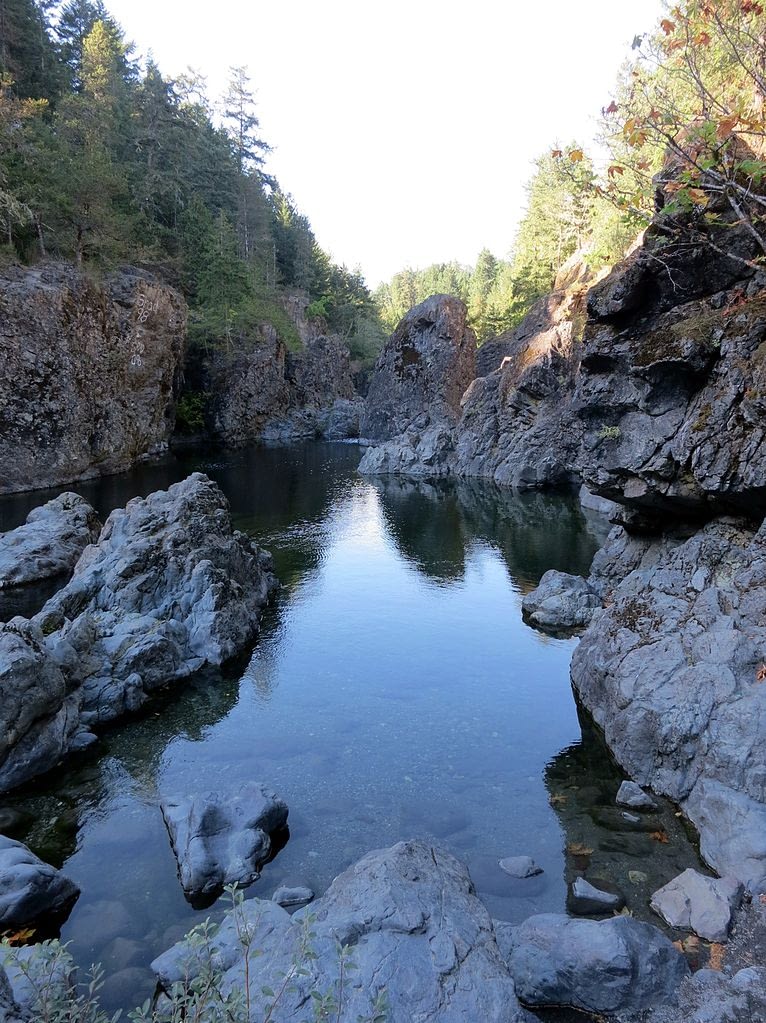 DRESSING:
1 large sun dried tomato in oil, pat off excess oil with a paper towel, and finely dice
1 large diced garlic clove
1 1/2 Tblsp. finely diced shallot
1/2 cup of Organic Extra Virgin Olive Oil
5 Tblsp. Rice Wine Vinegar
juice of half a lemon
1 tsp. dried Basil
1/2 tsp. Italian Seasoning
salt and pepper to taste
Salad:
4 cups sliced zucchini (I did a mix of green, yellow, and yellow patty pan squash)
1 large green onion largely sliced - 1/4 inch pieces
2-4 tomatoes depending on size (mine were somewhat small)
3 rounded Tblsp. Parmesan Cheese
Add all of the ingredients for the dressing into a glass jar, shaking well to combine.  In a medium sized bowl, add the vegetables, and parmesan cheese tossing to coat.
Pour over the dressing, mix well and refrigerate.  Stir the salad occasionally throughout the day so the flavors are well incorporated.
Garlic scapes are such a delicious addition to foods whether in stir frys, pesto, or salads they are bound to be tasty!  They do have a short window however, so luckily this year I was  able to get 5- 6 lbs most of which was turned into Garlic Scape Pesto - recipe can be found here.  This made 26  1/2 pint jars of pesto, (which are now in the freezer) and still there were 3 cups of garlic scapes left over.  Many thanks to my friend Jude for her beautiful organic garlic scapes...life is sooo much happier with this delicious pesto.  (By the way, this year, instead of using toasted sunflower seeds, I lightly toasted slivered almonds, and omitted the green onions - both are delicious)
On another note, we have been in an on and off  heat wave in our neck of the woods....they are predicting a scorcher of a summer for us this year, so a savory cold ham and pasta salad is just perfect for those hot days.  Thank heavens for the BBQ!
340 gram box of Gluten Free Spiral Pasta
1 cup roughly chopped garlic scapes
a generous 1/2 cup of garlic scape pesto (or any pesto would work nicely)
3/4 cup thawed baby peas
1 celery stalk, finely diced
1 cup cubed aged cheddar cheese
1 cup cubed cooked ham
1 cup mayonnaise
juice of 1/2 a small lemon
fresh cracked pepper
Cook the pasta as per directions in salted water, drain well and transfer to a large bowl.  Add the pesto, stirring well so the pasta is nicely coated.

Then add in the thawed peas, garlic scapes, celery, cheese, ham, mayonnaise, fresh cracked pepper and lemon, stirring well to combine.  Refrigerate 2-4 hours before serving.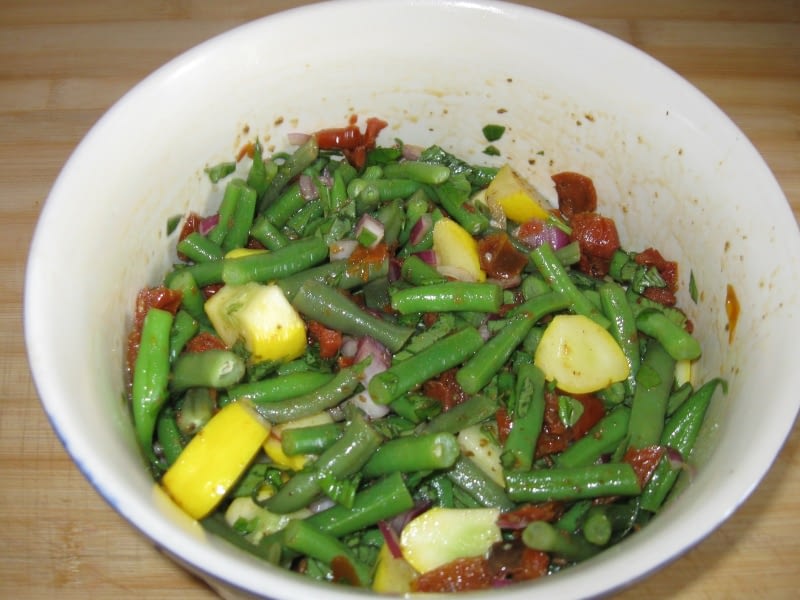 Hi all!  I have not disappeared from the face of the earth....just been super busy with work....which I love!  I still hope from time to time to offer new recipes (have a couple up my sleeve) so will keep posting when time and inspiration allows.  We have had an amazing summer weather wise.  It is probably the best summer we have had on our West Coast in 12 years!  Lots of sun shine..record temperatures in the 80-90's so any chance we have had, we head to our local fresh water pot holes for a swim.
This is an easy recipe inspired by all of the fresh produce we have been getting from our local farmers market, it has been a stellar summer season.  We had a surplus of green beans...time for salad.  This salad would be lovely with crumbled feta cheese - which I did not have - either way still yummy.
We also recently discovered:  Organic oven roasted/herb roma tomatoes at Costco - so so good.  I have been using these in pasta dishes, salads, for brushetta ...the world is your oyster with these babies.  With this recipe, sun dried tomatoes in olive oil would be tasty too.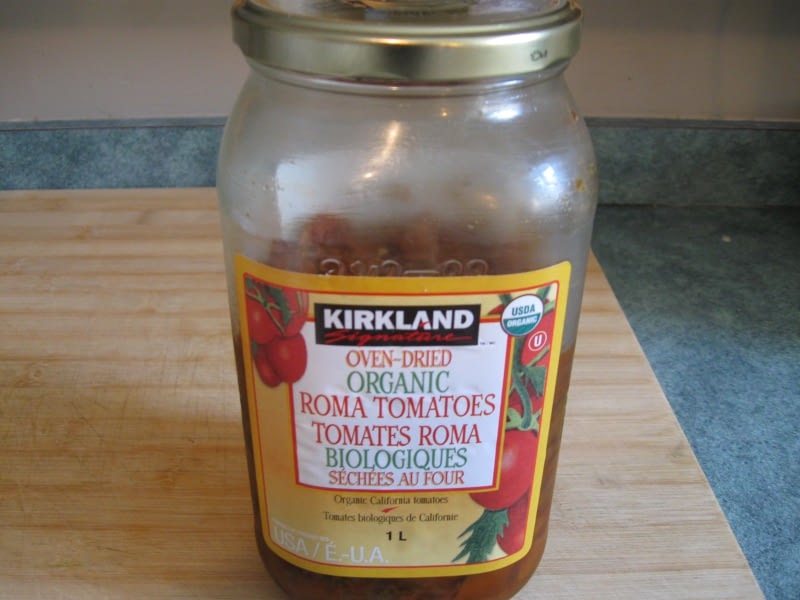 2-3 cups fresh green beans cut into 1 inch pieces - or a mix of yellow and green beans would be lovely
3 patti-pan summer squashes, halved, then cut into chunks
1/2 cup oven roasted herb roma tomatoes - or sun dried tomatoes including oil
2-3 Tblsp. chopped red onion
1 minced garlic clove
big handful of fresh minced basil
juice of 1/2 a fresh lemon
salt and pepper to taste.
Bring a medium sized pot with water to the boil. (have an ice cold water bath in a bowl on hand).  Cook the patti-pan squash for 1 minute, remove with a slotted spoon and add to the water bath.  Add the chopped green beans, and cook 1.5 minutes, drain and add to another ice cold water bath to cool.
Use a paper towel to pat dry the squash and green beans, then add to a bowl.  Add in the chopped tomatoes with oil, juice of 1/2 lemon, red onion and salt and pepper to taste.  Then mix in the minced basil.  I did not need to use any extra EVOO, but check in case you do.  Let refrigerate, 2 hours, then toss to mix and serve.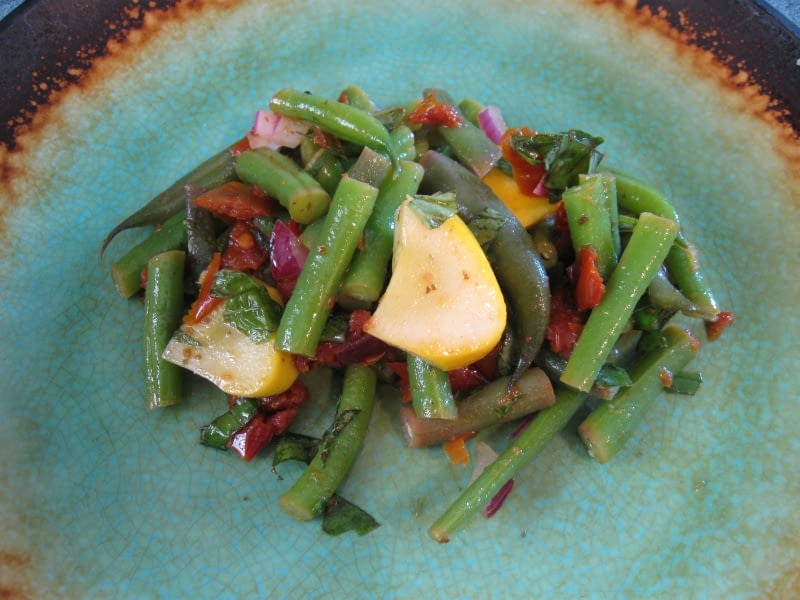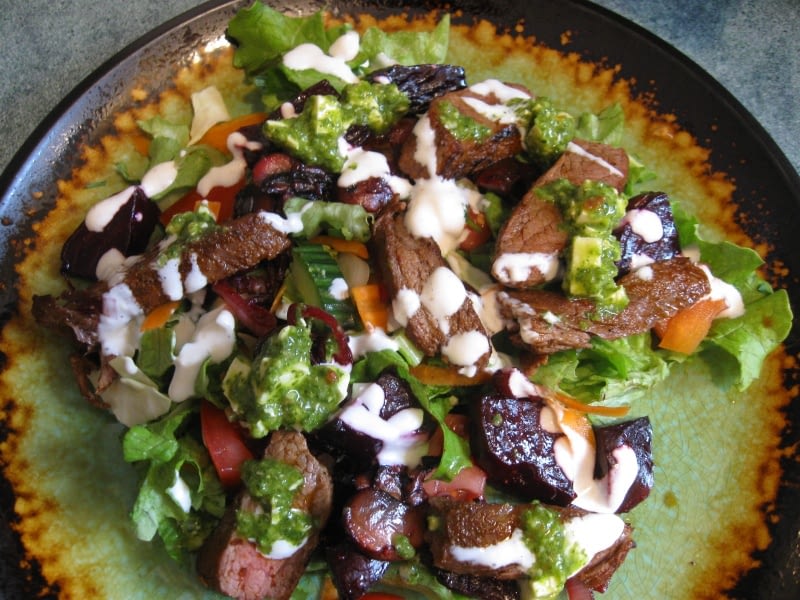 This is not a recipe.  Well, that is not quite true.  There are actually 4 different recipes in this meal - based on leftovers.  Normally I would not do a post like this but I just had to.  First, my dtr. would go out of her mind with this meal....(she actually makes all of these recipes) and second, it was too dang good not to share.  Through this blog, my daughter has really made "headway" cooking in the kitchen.  How great is that?  From someone who never even wanted to cook too!
First, we had  Joy Bauer's Spice Rubbed Flank Steak with Chimichurri Sauce for dinner the other night.  So delicious - I made a couple of changes to the spice rub, which included Smoked Paprika.  Then I added crumbled Feta Cheese to the Chimichurri Sauce.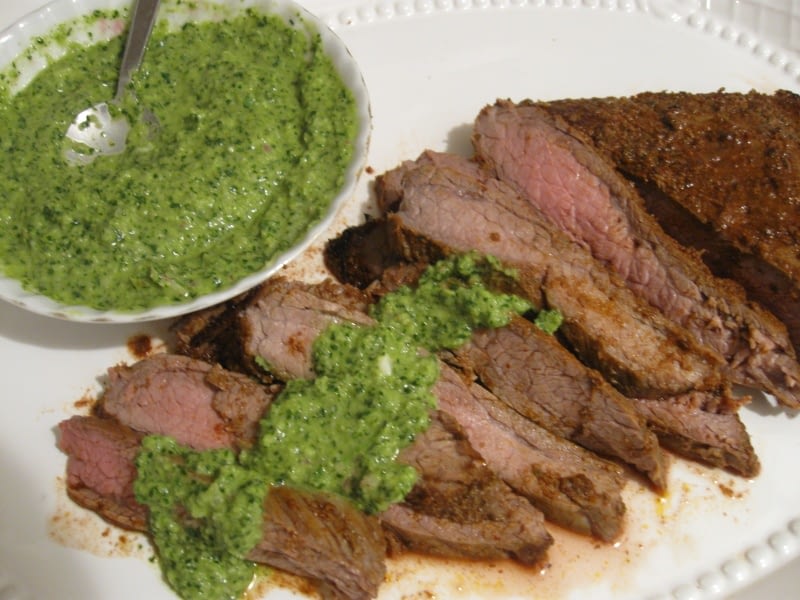 There was a lot of steak leftover as well as Chimichurri Sauce, as well as fresh salad, and my Caesar Salad Dressing.
Then I remembered my recipe for A Most Sinful Salad - so this is a take on that recipe.  With some changes - Time to make Roasted Beets.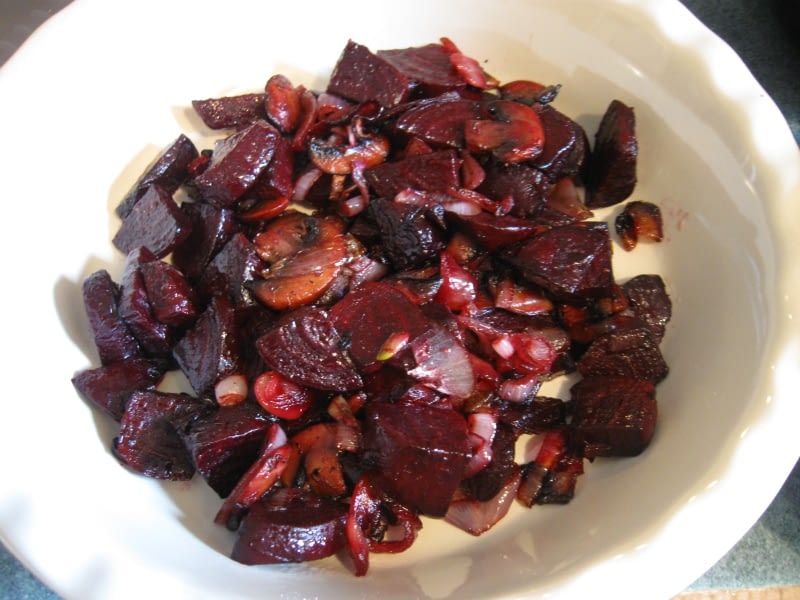 This was made in the morning, then put into the refrigerator.
For the rest of this meal here are the ingredients:
3 Tblsp. Bacon renderings
6-8 crimini mushrooms, sliced
1 sliced shallot
leftover Spice Rubbed Flank Steak (or you could grill a fresh steak)
Leftover Chimichurri Sauce
Leftover Caesar Salad Dressing
Heat up a frying pan on medium heat with the bacon renderings.  Add the mushrooms, and shallots, sauteing until golden.  Then add the roasted beets - you might need a drizzle of Olive oil.

Saute about 3 minutes - just to heat the beets through, then transfer to a bowl.
Add the steak strips to the pan, saute a minute or two until heated through, then transfer to a bowl.

Next: Freshly made Salad - we had organic leaf lettuce, organic shredded cabbage and carrot, green onions, tomatoes, celery, cucumber - whatever veggies you like best.
So here is the order of the meal:
Leftover Chimichuri Sauce and Caesar Salad Dressing:

Then sauted Roasted Beets, mushrooms and shallots:

Then leftover salad, with seared dry rubbed steak and roasted sauted beets and mushrooms:

Then drizzle on the leftover Chimichurri Sauce and the Caesar Salad dressing...heaven on a plate.  🙂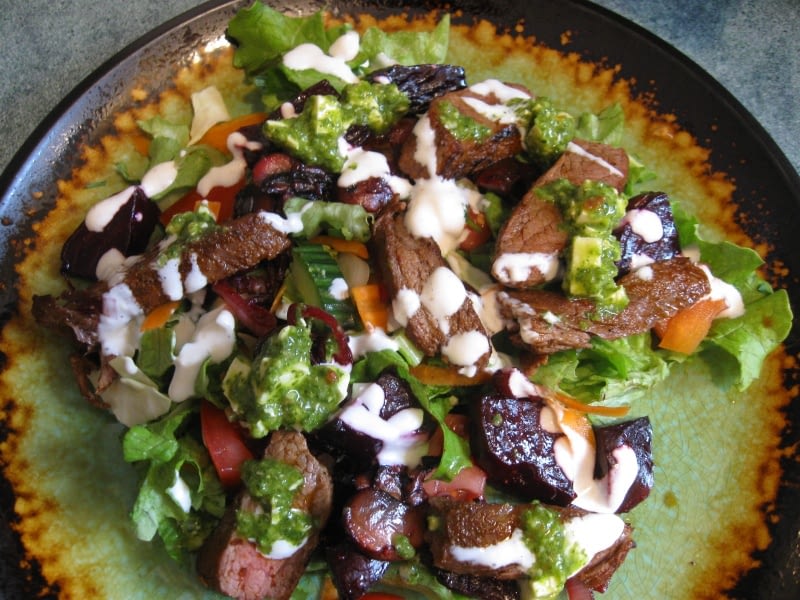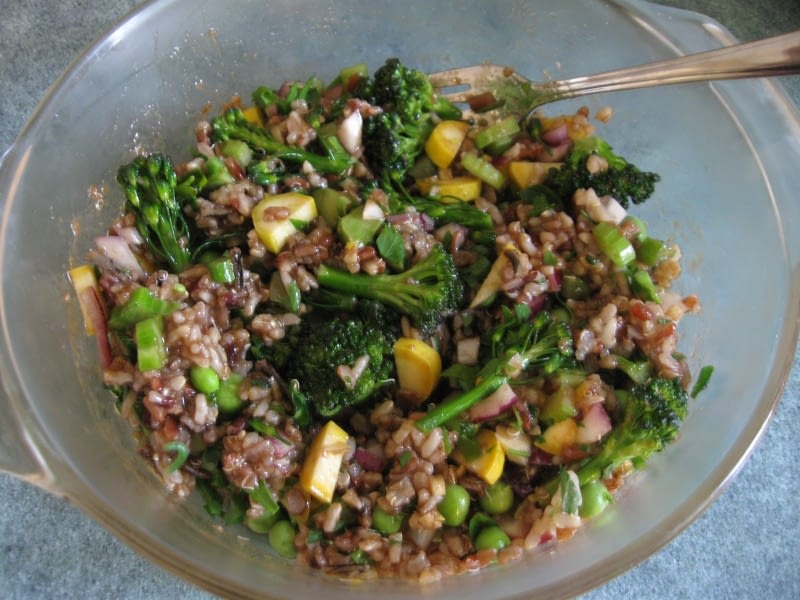 One of my favorite things about summer is all of the fresh produce available.  I have a few rice salad recipes on my blog now - they are so versatile!  With this wild rice salad you could use any fresh vegetables and herbs you like.  This salad makes a great pot luck dish - just double the amounts.  Or great on it's own for lunch.
Even with the busy work season, luckily we still have time to shop at all of our organic farmer's markets...this is what summer is all about for me.
Rice:
1/2 cup of wild rice or wild rice blend with quinoa
2 1/2 cups water
Bring the rice and water to a boil, cover and turn down to minimum heat.  Cook about 45 minutes, or until the rice is tender, drain and set aside to cool.
1/4 cup diced red onion
1 small yellow zucchini, halved and then sliced
1/2 a celery stalk
10 fresh shelling peas - peas removed from the pod
a bunch of broccoli - cut small
2 Tblsp. minced Italian flat leaf parsley and 1 Tblsp. fresh minced basil
Dressing:
1 large garlic clove, finely minced
1 Tblsp. Gluten Free Soy Sauce
1 Tblsp. Balsamic Vinegar
4 Tblsp. Extra Virgin Olive Oil
fresh cracked pepper
Chop up the vegetables and place in a bowl with the rice, tossing to combine.  Make up the dressing and pour over the rice and vegetables mixing well.  Refrigerate for a good 4 hours to allow all of the flavors to come together.  Serve with any main dish.
This was one scrumptious and nutritious salad.  The Quinoa added a nice texture and flavor to regular Greek salad.  Plus it was more filling.  For people that can eat cous cous, that would be tasty as well.
I do not ever put peppers into my Greek salad - I prefer celery, but they would certainly work well here.  The other vital ingredient in this dish is to use Kalamata olives and remove the pit yourself.  They have way more flavor this way, as well they are less "briny".   This is a great make ahead salad, so the flavors can really develop.
1 small English cucumber de-seeded  quartered and chopped
1/4 cup diced red onion
3 roma tomatoes, chopped small
2/3 cup celery, chopped small
juice of 1/2 a large lemon (or more to taste)
1 1/4 cups cooked quinoa
16 kalamata olives (remove the pits and tear into pieces)
1 Tblsp. dry rubbed Greek Oregano
1/4 cup extra Virgin Olive Oil
salt and pepper to taste
crumbled feta cheese
This salad is a good accompaniment to any main dish, and also a wonderful summer side dish.  Enjoy!