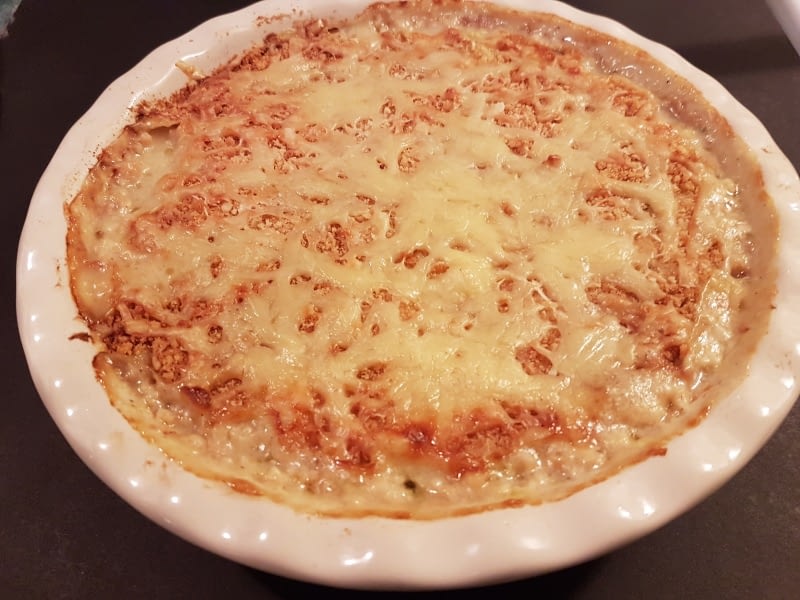 We are in full swing with rainy season in our neck of the woods.  It is hard to believe that November is already here...where do the months slip by?  Well, with fall comes pumpkins, and squashes of all kinds.  Despite the rainy season, I always look forward to creating new squash dishes of any kind.  This gratin was light and flavorful with the added fresh sage - a great side dish to serve alongside any main dish.
(please forgive the picture quality...still learning a new camera!)
1 spaghetti squash - once baked there should be 4 cups worth
2 large leeks
2 Tblsp. fresh chopped sage
1 1/2 Tblsp. butter
salt and fresh cracked pepper
Sauce:
1 cup chicken stock
1 cup milk (we use lactose free)
2 Tblsp. butter
2 minced garlic cloves
3 Tblsp. Sweet Rice flour
2 Tblsp. Parmesan cheese
salt and fresh cracked pepper
Topping:
1/2 cup gluten free bread crumbs
2  1/2 Tblsp. Parmesan cheese - mix well with the bread crumbs
grated Swiss Gruyere cheese
Preheat oven to 350 degrees.  Using a large 2 prong fork, poke the spaghetti squash all over.  Place on a roasting pan and bake for 1 hr. turning over half way through.  Remove from the oven and allow to cool.  Once cool, cut in half and using a spoon scrape out the seeds.  Then use a fork to scrape out the squash.  My squash was very moist so I lay it out onto paper towel, then covered it with paper towel pressing down to remove the excess moisture.  Then place into a casserole dish.
Heat up a frying pan on low medium heat.  Add 1 1/2 Tblsp. butter, then add in the sliced leeks and sage.  Saute about 10 minutes until tender.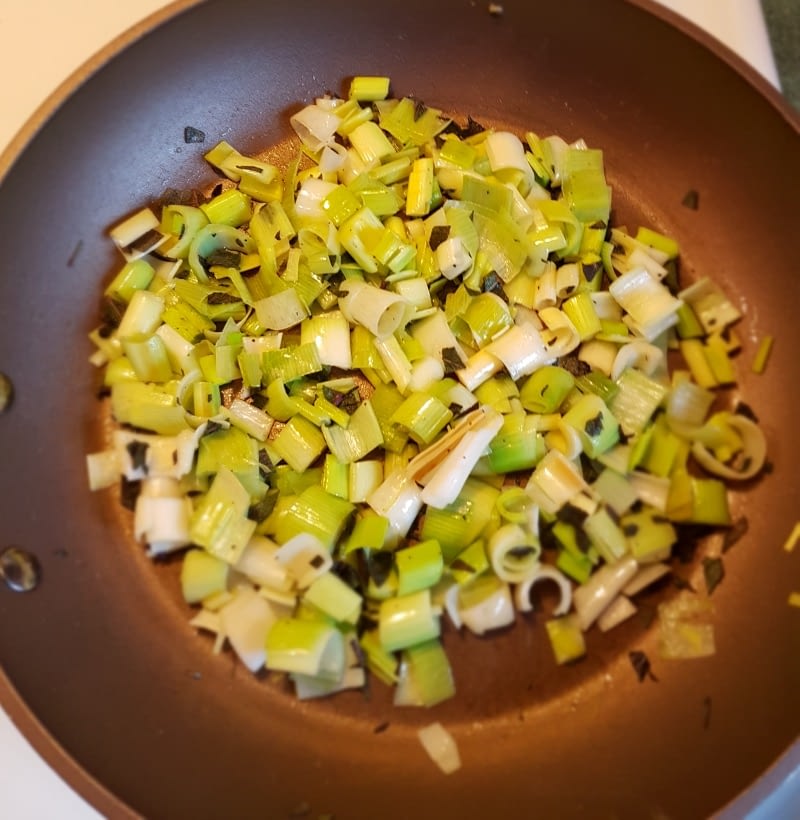 Add to the spaghetti squash and toss with a fork to combine.
Sauce:
Melt butter in a medium sauce pan on low medium heat.  Add the garlic and saute.  Once fragrant, add the sweet rice flour stirring well for a minute.  Then slowly pour in the milk & chicken stock, whisking well to remove any lumps.  Season with salt and pepper.  Whisk on medium heat quite frequently until the sauce comes to a light simmer and has thickened.  Remove from the heat and add the Parmesan cheese, whisking to incorporate.  Pour the sauce onto the squash/leeks and mix well until evenly combined.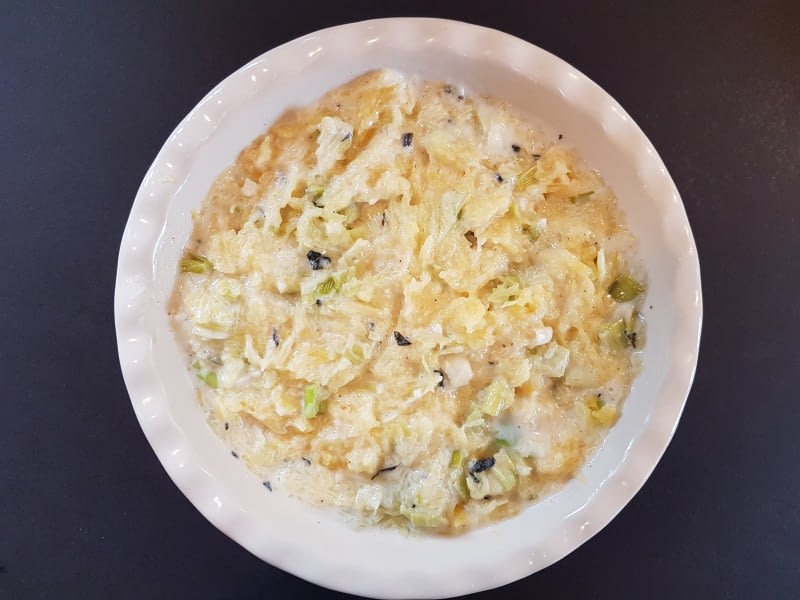 Sprinkle the breadcrumb Parmesan mixture over the top, then add the grated Swiss Gruyere cheese evenly over the breadcrumbs.

Bake for 45 min. - 1  hour and let sit for 5 minutes before serving.
Before commencing with today's recipe I thought it fitting to make mention of our recent "Royal" visit.


Our fair city has been a whirl wind of activity for the past week. We have just finished our "Royal" visit with the Duke and Duchess of Cambridge to Victoria B.C.  They spent the week touring throughout a number of areas in B.C., but their "home" base was here.

Work had no sooner slowed down then all of a sudden went crazy once again.  Although we did not see them, we sure saw the crowds and crowds of people welcoming them throughout the city.  What a lovely couple they are - truly gracious and humble.  Their visit brought huge numbers of people from all areas and internationally too.  The Royal visit is now over, although for many Victorians it is a visit that will long be remembered and cherished.  Bless their hearts for the work they do, for the humble way in which they reach out to all people.
I suppose with the Royal visit I should have created a typically English dish such as the famous "Eton Mess".  However, we are still inundated with farm fresh vegetables.
So a vegetable side dish it is.  Wow....did this ever take green beans to a whole new level.  With really bright and tasty flavors these simple ingredients really went well with green beans.  It is hard to believe we are in the first week of October and we can still get green beans at our farmers market.  It has been the start to a lovely fall in our neck of the woods.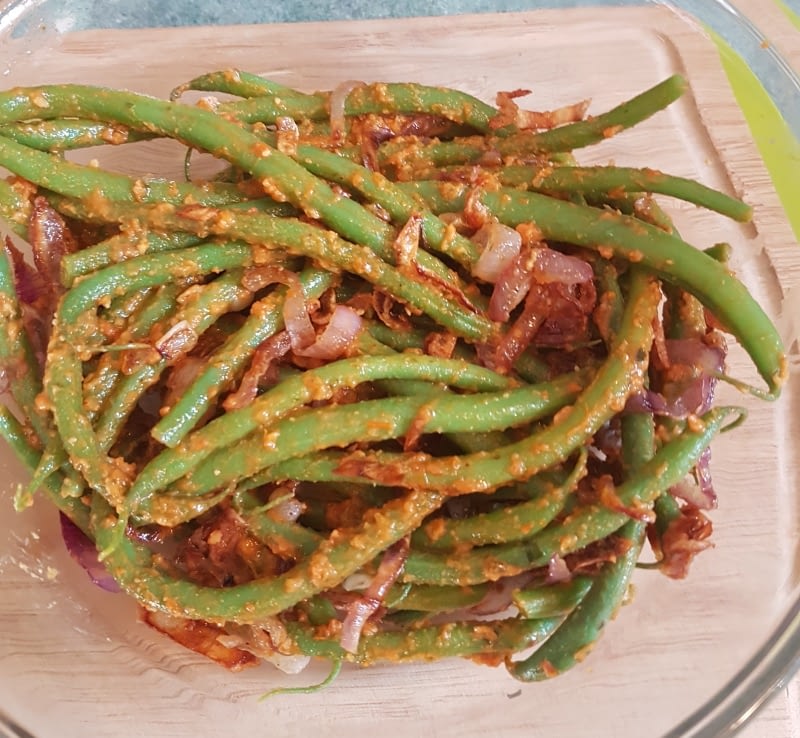 Last year I remember practically crying because I did not stock up on enough fresh organic shallots - I have done so this year - my favorite over a regular onion any day!
You can find the sun dried tomato pesto recipe here.  Or use your favorite kind - regular pesto would be delicious here too.
1/4 lb. fresh green beans, end trimmed
1 large shallot, halved then thinly sliced
2 Tblsp. sun dried tomato pesto
juice of 1/2  a small lemon or less to taste
1-2 Tblsp. of reserved green bean water from blanching
Extra Virgin Olive Oil
salt and pepper to taste
Heat up a frying pan on low medium heat with a good drizzle of EVOO.  Add the sliced shallots, season with salt and pepper and saute until lightly golden - about 8-10 min.  Meanwhile bring a pot of water to the boil, and blanch the green beans for 2 minutes.  Reserve 2 Tblsp. of green bean water.  Drain the green beans and immediately submerge in an ice bath to stop the cooking.
Remove the green beans to a clean towel and pat dry setting aside.  Once the shallots are golden, remove to a dish.  Add the pesto and green bean water, 1 Tblsp. at a time (you may only need 1 Tblsp.) to the frying pan - stirring well.  Then add the green beans, lemon juice, and check for seasonings to coat.  Toss well to evenly coat the green beans.
Serve hot alongside any main dish.
Although I do have a number of rice dishes on this blog....rice is not my favorite side dish.  Never has been. (unless it is Risotto or a lovely dessert rice pudding) However, if you make it into a pilaf, adding numerous flavorings and other ingredients, it creates a flavorful side dish indeed.

We recently discovered this wild rice blend by Lundberg.  It is a blend of long grain brown rice, sweet brown rice, wild rice, whole grain wehani rice, and whole grain black japonica rice.  Wehani and black Japonica rice? We have never heard of these types of rice before but I must say there was great flavor and texture in this rice blend.  No paid advertisement here...just wanting to share something new we all enjoyed.

I have found with these rice blends there is always the need to add more liquid and a longer cooking time than what the directions recommend...personally I do not care for crunchy rice! With the added cooking time and extra ingredients this created a lovely side dish to any main meal.
1 cup of wild rice blend
2 1/4 cups chicken stock
1 bay leaf
3 crimini mushrooms, diced
1 large shallot, diced
3 minced garlic cloves
2 big Tblsp. finely diced celery with leaves
2 Tblsp. Organic Extra Virgin Olive Oil
1 - 2 Tblsp. butter
1 Tblsp. tomato paste and 1/4 cup water, mixed well
a few splashes balsamic vinegar
season blend:  1/2 tsp. dried basil, 1/2 tsp. dried fennel, 1/2 tsp. Italian seasoning, 2 tsp. dried ground garlic, 1 Tblsp. dried parsley, salt and fresh cracked pepper to taste
Add the chicken stock, bay leaf, and rice to a medium sized sauce pan and bring to a boil.  Stir with a fork, cover with a lid, and turn down to a low simmer.  Cook for about 1 hour.
Remove from heat, toss with a fork, then lid back on and let sit for 15 minutes.
Meanwhile, heat up a large saute pan on low medium heat with the EVOO and butter.  Add the mushrooms, shallot, garlic, and finely diced celery.  Saute about 10 minutes.  Then add in the seasoning blend, tomato paste with water, and the balsamic vinegar stirring well to combine.  Continue to saute for another 5 minutes.  Add the rice, mixing well.  Keep on a low heat, stirring until heated through well.  Serve alongside any main dish.

Chanterelle mushrooms are by far my favorite mushroom - even re-hydrated they have such a distinct woodsy sweet flavor.  Although, fresh is always the best.  They do have a short window of time for harvest, and as we did not get any fresh ones this year, I was happy to be able to buy dehydrated Chanterelle's.  In this dish you could certainly use a dry white wine instead of the Balsamic Vinegar - however, we have discovered we much prefer the Balsamic Vinegar in risotto compared to white wine - but, both are delicious.
What better way to showcase Chanterelle's than in a Risotto.
1 cup of re-hydrated Chanterelle mushrooms - chopped.
2 tblsp. butter
1 tblsp. Extra Virgin Olive Oil
1 large shallot, diced
1 large garlic clove, minced
4 cups chicken stock (homemade if you have it)
1 tsp. dried basil
2 tblsp. Balsamic Vinegar
salt and fresh cracked pepper to taste
1/2 cup of freshly grated Parmesan Cheese
1 cup Arborio rice
Add the mushrooms to a bowl and cover with very hot water.  Allow to re-hydrate for 40 minutes, then drain well, and place the mushrooms onto a paper towel to absorb any extra moisture.  Then chop into small pieces and set aside.
Heat up a good sized saute pan on medium low heat adding in the butter and EVOO.  Saute the shallots and garlic about 5 minutes.  Season well with salt and fresh cracked pepper.  Meanwhile, heat up the chicken stock to a low simmer.
Add in the rice, basil, and balsamic vinegar - stirring about 3- 5 more minutes.  Add a ladle full of chicken stock to the rice - stirring well, then allow to bubble a minute or so.  Continue to cook and stir until the stock has evaporated, then add in another ladle full of stock.  Repeat until the stock is finished and the rice is cooked tender, about 40 minutes. Add in the re-hydrated Chanterelles, and freshly grated Parmesan Cheese.

Check for seasonings and serve along side any main dish.  Enjoy!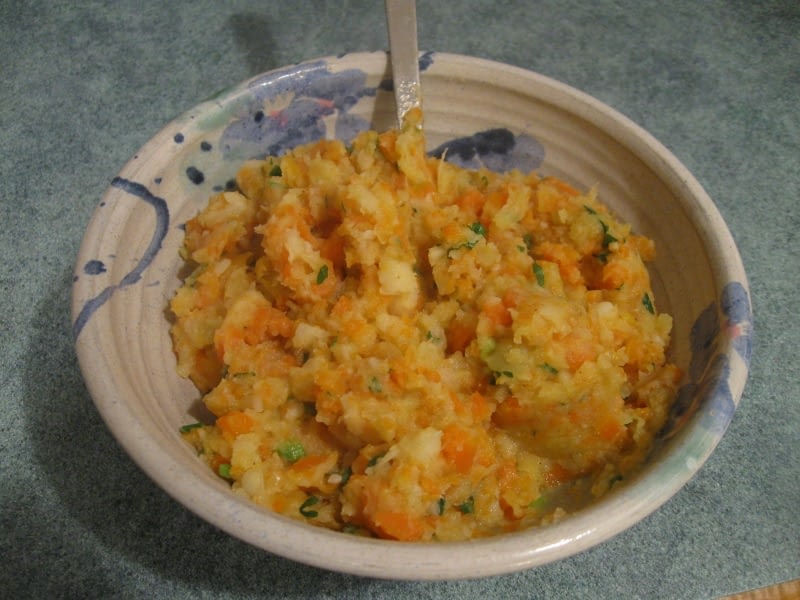 Last year, I was not aware - or more likely not on "the ball" enough to find out about a local farm that delivered fresh weekly organic vegetables - till December no less.   And the farm is only 8 minutes away from where we live.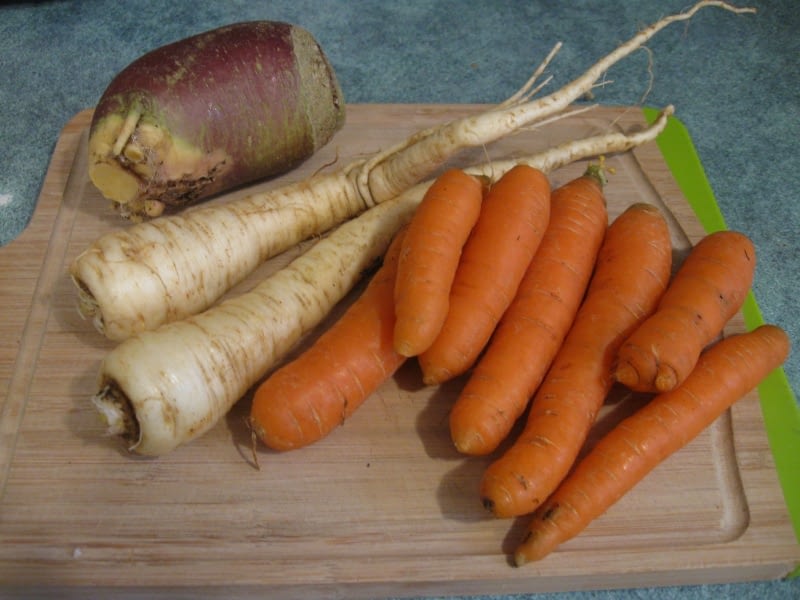 The above picture, at least to me, is pure delight, a picture of beauty, a picture that puts a smile on my face.  This is real, as farm fresh, as organic as can possibly be....and it was picked the morning of delivery.  It does not get any better than that.
Our weekly delivery of seasonal vegetables will be ending very soon, so we have been stockpiling the fridge.  Actually, make that 2 refrigerators. Hopefully, we should have enough organic winter vegetables that will see us through to March.  (even by the end of March these vegetables will still taste way better than store bought any day).  Then our weekly Farmer's Market begins again in May...something we very much look forward to.
This winter root mash was so fresh and sweet tasting....I could almost give up mashed potatoes!
WINTER ROOT MASH:
1 1/4 cup chopped rutabaga - cut into 1/2 inch pieces
1 1/2 cup chopped carrots
1 cup chopped parsnips
3 large garlic cloves
2 small green onions, finely diced
3 Tblsp. butter
1 Tblsp. fresh Italian Flat Leaf Parsley
a good pinch of nutmeg
salt and fresh cracked pepper to taste
Chop all of the vegetables to the same size - about 1/2 inch pieces.  Add the carrots, rutabaga and garlic to a pot and cover with water.  Bring to a boil, then turn down to a simmer.  Cook for 10 minutes, then add in the parsnips.  Cook for another 10 minutes or until all the vegetables are tender.  Drain well, and return to the stove on minimum heat to remove any excess moisture/water.  Add in the green onions, butter, parsley, nutmeg, salt and pepper - mash evenly - with a bit of "chunkiness" to the vegetables.  Serve hot along side any main dish.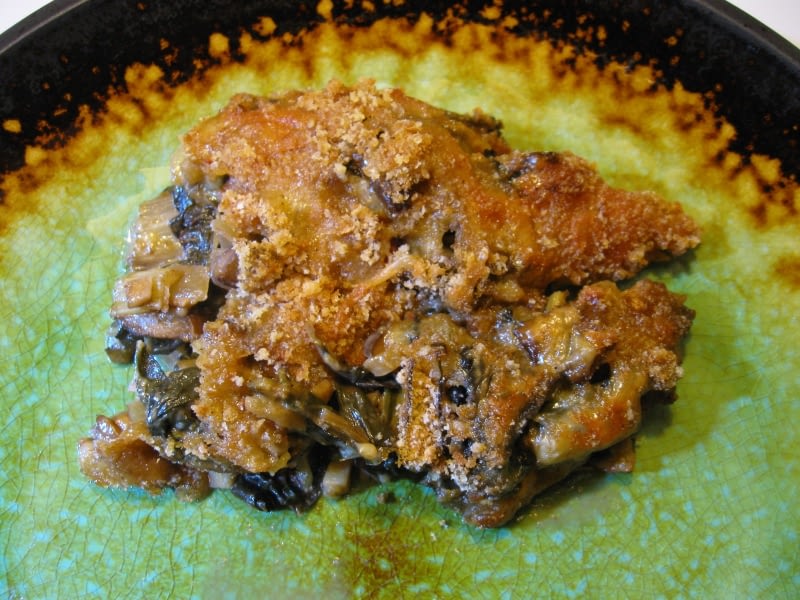 We received 2 huge bunches of fresh Swiss Chard from our Organic weekly farm delivery, so with one bunch I decided to make up a gratin.  Our temperatures are now dropping to freezing levels, so we will probably  not be seeing any more Swiss Chard until next year.
Most of the chard was green, but there were a few yellow and red chard's in the bunch - such vibrant color, full of goodness.  We also made a new discovery:  Swiss Emmental Cheese.  Normally I would use Swiss Gruyere cheese when making a gratin, but I was not able to get any....then we saw the Swiss Emmental, and I thought lets give it a try.  While I was grating it, I took a taste.  Hmmmm,  I was not too sure about this cheese.  However, in this gratin it was delicious...it gave a sweetness and a richness to the dish that would otherwise not have been there. A great cheese to use in any gratin which we will definitely be using again.
16 Swiss Chard's, remove stem, and cut into 1/2 inch sized pieces, cut the chard leaves into thirds then roughly chop
3 Tblsp. Extra Virgin Olive Oil
1 cup roughly chopped crimini mushrooms
1 large shallot, roughly chopped
2 large minced garlic cloves
2 Tblsp. Balsamic vinegar
1/2 cup chicken stock
good pinch of nutmeg
salt and fresh cracked pepper to taste
1/4 cup cream - we use lactose free
1/4 cup gluten free bread crumbs
1 cup Swiss Emmental Cheese - grated
1/4 cup fresh grated Parmesan Cheese
Heat up a large frying pan on low medium heat with the EVOO.  Add in the mushrooms, sauteing until their juices have released.  Add in the shallot and garlic, continue to saute for 5 minutes. Add in the chard stems, sauteing for five minutes.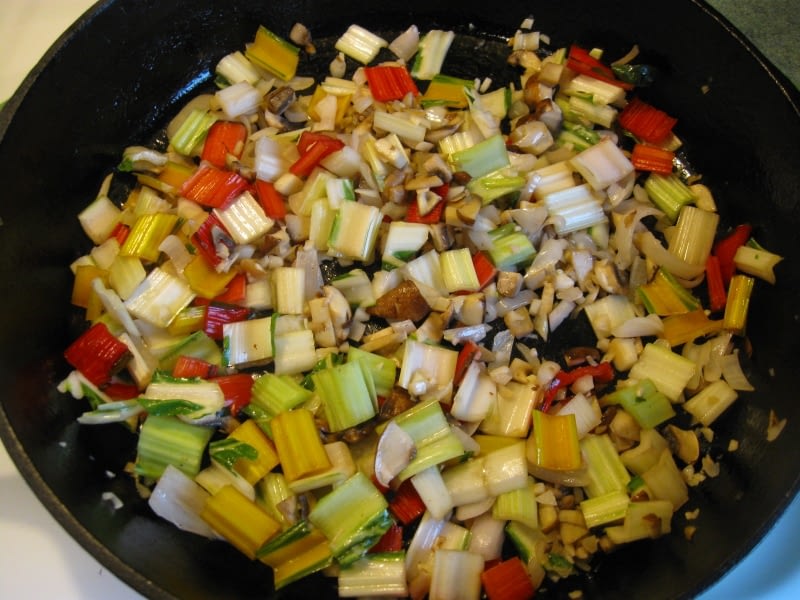 Add in the balsamic vinegar and seasonings mix well, lid on and cook for another 8 minutes stirring occasionally.
Add in the chopped chard leaves and 1/2 cup of chicken stock.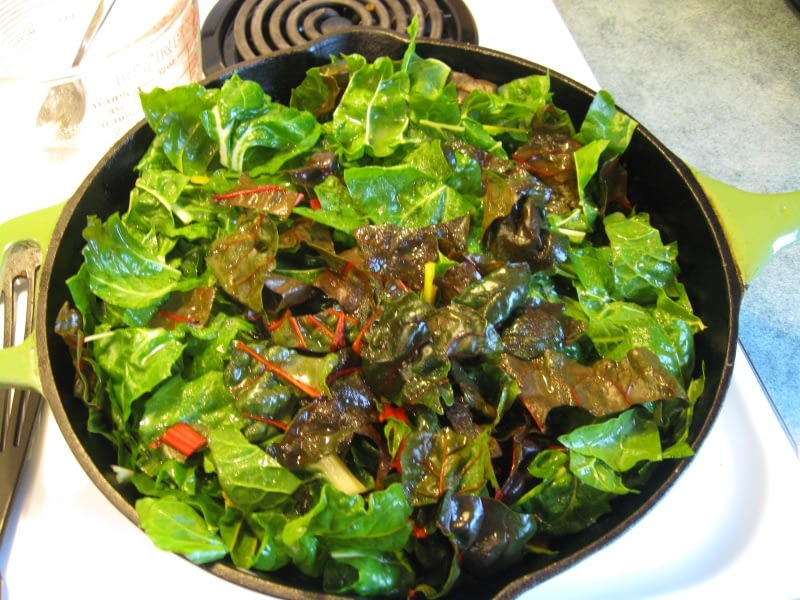 The leaves will reduce in size, keep the lid on and stir occasionally for another 8 minutes.  Remove the lid, continue to cook until the liquid is reduced by half.


Pour in the cream, stirring well.  Add in the Parmesan cheese, mixing through out and remove from the heat.  Transfer to a baking dish and preheat the oven to 350 degrees.
Cover with the grated Swiss Emmental cheese, and top with the bread crumbs.  Bake until the top is nice and golden - about 40 minutes.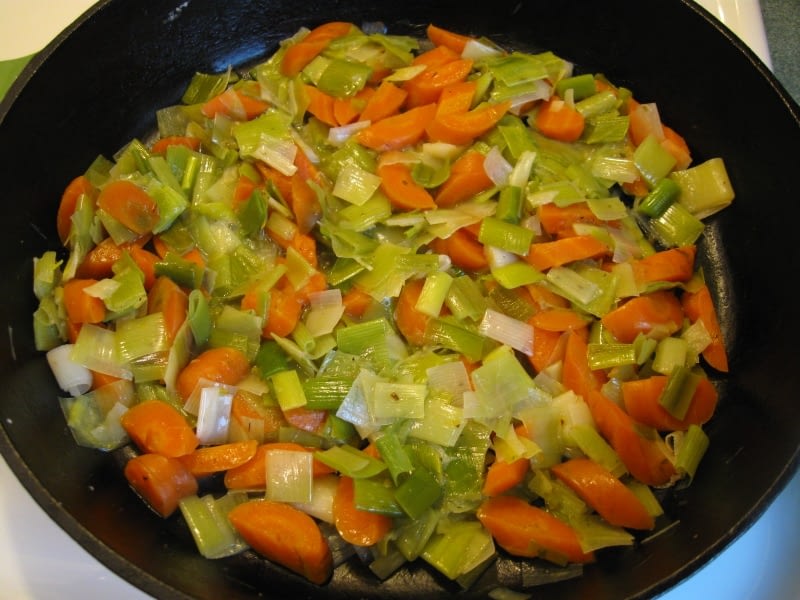 We have been getting the most lovely organic leeks and carrots from our local farmer's market as well as gorgeous fall/winter squashes.  Such a beautiful time of year when the harvest is coming in, the leaves are turning color - one of my favorite seasons.
Leeks seem to be a much underused vegetable - but one that has such great flavor.  I love using them in soups and stews or stuffing's as well.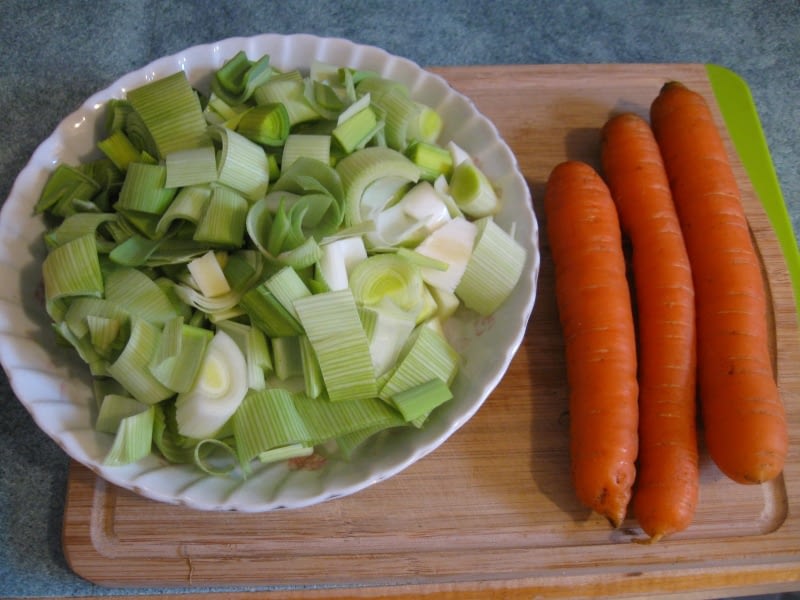 Recipe:
3 large leeks, green parts and end cut off
3 medium/large carrots
3/4 cup chicken stock
1 small bay leaf
1 Tblsp. butter
1/4 tsp. dried rubbed Thyme
salt and fresh cracked pepper to taste
cornstarch to make a slurry (you will not need much)
Cut the carrots in half, then slice on a diagonal.  Lightly steam about 5 minutes, then drain and set aside.
Cut the greens off of the leeks and the ends (you can save the green parts for soup stock) and slice in half rinse well under cold water to remove and dirt/sand.  Shake off excess water and slice into about 1/2 inch pieces.
Heat up a large skillet, with the butter on low heat.  Add in the leeks and saute about 10 minutes.  Then add in the lightly steamed carrots, chicken stock, bay leaf and seasonings.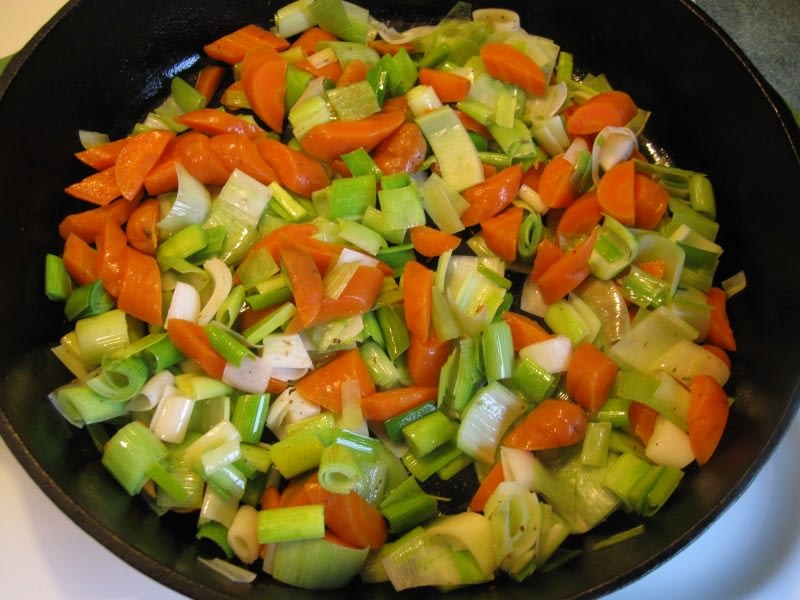 Turn down the heat to a low simmer, lid on and simmer about 15 minutes stirring occasionally.  Remove lid, (there should not be a whole lot of liquid left just a bit) remove the bay leaf and add the corn starch slurry (just a bit to slightly thicken) stirring well to incorporate.  Check for seasonings and serve hot with any main dish.

We love Chinese food inspired dishes in this household.  Having given up Chinese Food many years ago, it was such a delight to find actual Gluten Free Ramen Noodles - at Costco no less!
Millet & Brown Rice Ramen Noodles are from Lotus Foods Company - finally, a real gluten free ramen noodle - yayyy!  Perfect for chicken chow mein, or a Chinese vegetarian meal, they would also be a great addition to soups.  This evening we had teriaky marinated pork chops done on the grill - a perfect accompaniment.
I could eat this dish every day....especially since I usually cook Chinese Food only once in a long long while.  I am one of those people that loves Chinese food for breakfast....even cold! The best news?  These noodles cook in about 5 minutes.  With a quick stir fry of vegetables....dinner is served.

1  cup broccoli florets cut small with stalk - diced
1 celery stalk finely sliced
4 Tblsp. Extra Virgin Olive Oil
1 tsp. Toasted Sesame Seed Oil
1 small onion, diced
one inch piece of ginger finely diced
4 garlic cloves, minced
15 snow peas
4 crimini mushrooms, halved then sliced
3 cups fresh bean sprouts, rinsed well
1  1/2 cups chicken stock, save a small amount for a cornstarch slurry
2-3 tblsp. gluten free soy sauce - taste first
1 tblsp. rice wine vinegar
cornstarch
3 gluten free ramen cakes
Heat up a good sized cast iron frying pan on medium high heat with the EVOO and toasted Sesame Seed Oil. (by the way, my cast iron frying pan is still going strong with the last seasoning I did -  and well used in the last 4 months!)  Saute the mushrooms until golden, turn the heat down to medium low, adding in the onions, garlic and ginger.  Continue to saute - about 3 minutes.  Add in the broccoli and celery, continue to saute about 5 minutes.

Pour in the chicken stock, soy sauce, and rice wine vinegar bringing to a low simmer - lid on, about 3 minutes,  to cook the broccoli through.  Then add in the snow peas, and bean sprouts, tossing to combine, sauteing about 2 minutes.  Add in the corn starch slurry, stirring well to thicken slightly.  Check for seasonings and if necessary add in another tablespoon of soy sauce.
Meanwhile, bring a pot of 6 cups of water to the boil.  Add in the Ramen Noodles - once back to boiling, gently separate with a fork, and continue to cook on a good boil for 4 more minutes stirring from time to time with a fork.  Drain and rinse in cool water.  Then add to the vegetable stir fry mixing well to heat through.  Serve immediately with any other side and main dish.