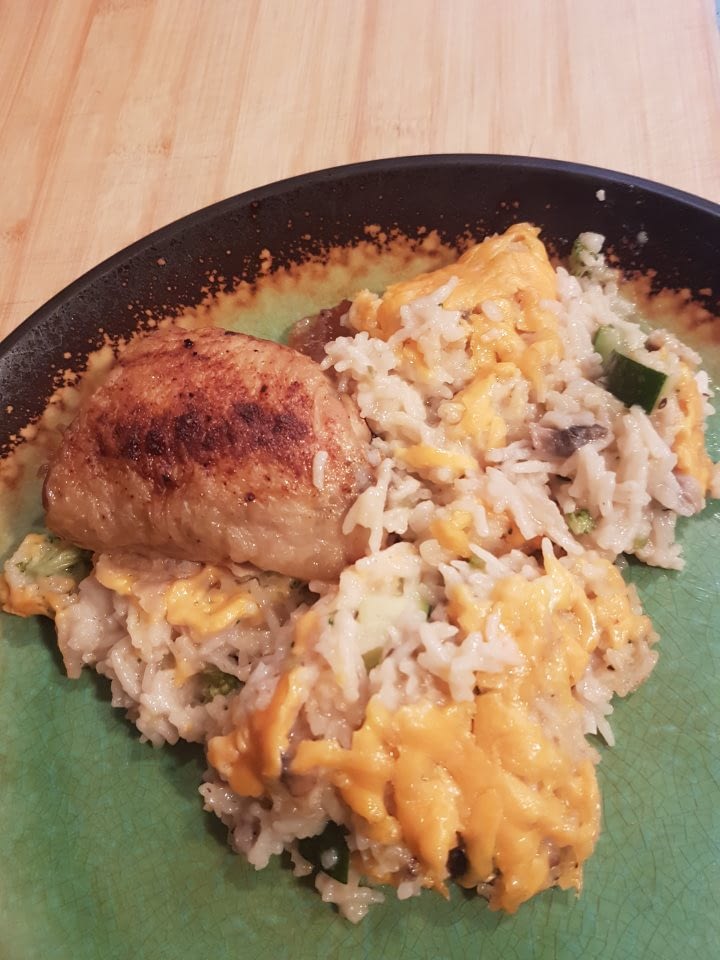 (UPDATE:)  I made a new discovery with this cream of mushroom soup recipe.  Instead of using Sweet Rice Flour for the roux, I used Potato Starch - which gave a much finer texture overall, so will use this from now on.  Also, it freezes nicer too.  Yes, once you pour it into a pan to reheat it will have separated, but no worries,  just keep on the lowest heat, whisking well until heated through - beautiful flavor and creamy consistency.  I seriously was wowed! )
With this recipe the mushroom soup was made first, the rice cooked separately, and we used leftover chicken thighs - a different version of Chicken and Rice Casserole.  This is a great go to recipe for left over chicken. It came together really well.  Many recipes call for canned cream of whatever soup - something a celiac would never use unless it was gluten free and in my case lactose free - something I have never seen in our grocery stores.  So, here I have recreated a cream of mushroom soup to easily be used in various casserole dishes. Or to have as a lovely soup on it's own.  It was pretty quick to make, and can easily be made ahead of time for any dish you require.  To make it packed full of flavor just take a bit of extra time to cook the finely chopped mushrooms, onion, garlic and seasoning till there is a golden appearance and fragrance. Note:  this soup will thin somewhat when refrigerated but did not need to be any thicker for this recipe.
These days we try to stretch our meals and use up any and all ingredients.  In these unusual times, it is interesting what the stores have available and what they do not.  Each week seems different.  However, on that note it certainly allows for some creative dishes based on what you have.
Any style of mushroom can be used in this recipe, or you could use a combination of mushrooms.  We used a Lactose Free 2% milk in this recipe, but a touch of lactose free cream would also be tasty.  Versatility is always an option, use what suites you best, or what you have on hand.  A great way to use up leftovers in the fridge.
Cream of Mushroom Soup:
3 Tblsp. butter
1/2 a small onion, finely diced (shallot or leeks would be lovely too)
1 large garlic clove, finely minced
1/2 a celery stalk, finely minced
8 white or brown mushrooms, finely chopped
1/2 tsp. dried mustard, 1/2  tsp. dried thyme, fresh cracked pepper
3 1/2 Tblsp. Potato Starch
3 Tblsp. Gluten Free Soy Sauce - or more to taste
1 1/2 cups Chicken Stock
1 cup of milk
Heat up a medium sized sauce pan with the butter on low heat.  Add in the onion, garlic, celery, and diced mushrooms sauteing about 8 minutes.  Add in the mustard, thyme, fresh cracked pepper and continue to saute another 2 minutes.  Sprinkle in the sweet rice flour stirring well with a wooden spoon for about a minute or two.  Using a whisk, pour in the milk and chicken stock whisking well the entire time to remove any lumps.  Add soy sauce to taste and bring to a lite simmer for a couple of minutes until ready to use.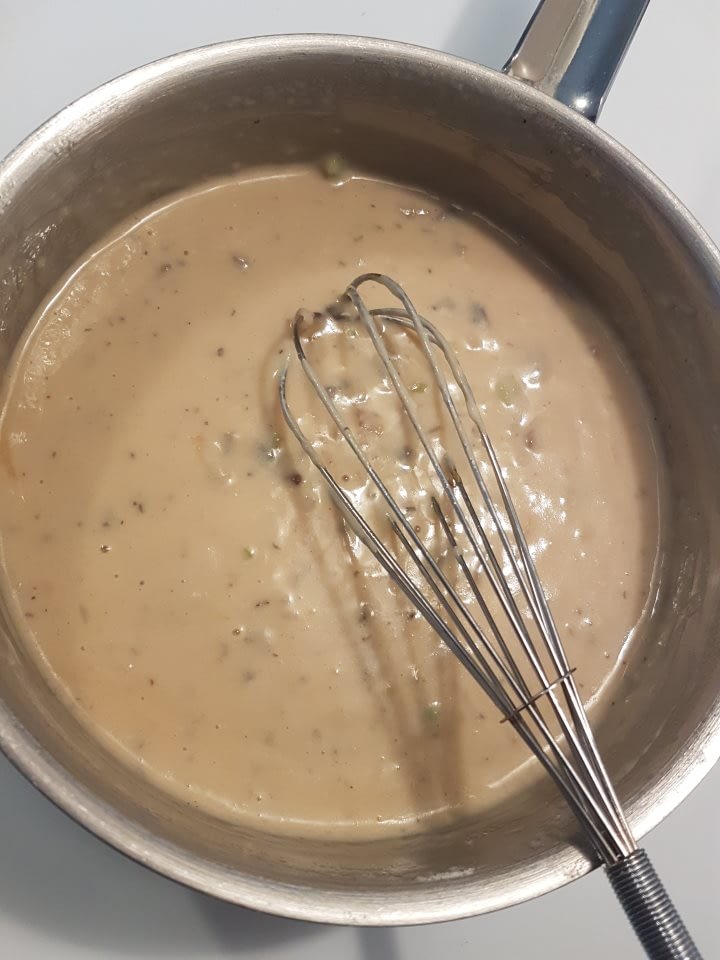 Chicken and Rice Creamy Mushroom Bake:
With this recipe any leftover chicken will work nicely as would pork chops or leftover sliced pork roast.
Preheat the oven to 350 degrees, and lightly grease an 11x8 baking dish with 1 Tblsp. Extra Virgin Olive Oil
3/4 cups Basmati Rice - cook as per directions
1/2 cup minced broccoli florets
1 small chopped zucchini - slice in half then chop into 1/2 inch pieces
Cream of Mushroom Soup - use full recipe above
1 cup shredded aged cheddar cheese
3 leftover roasted Chicken thighs or about 2-3 cups chopped cooked chicken
Method:
Cook the rice as per directions, remove from the heat and add in the minced broccoli florets and chopped zucchini, mixing well.  Put the lid on and let sit 10 minutes, then pour over the cream of mushroom soup (make sure to reheat) - mixing gently to combine and transfer to the baking dish.
Top with grated cheddar cheese then place the chicken on top.  Bake uncovered about 30 minutes to heat through, and melt the cheese.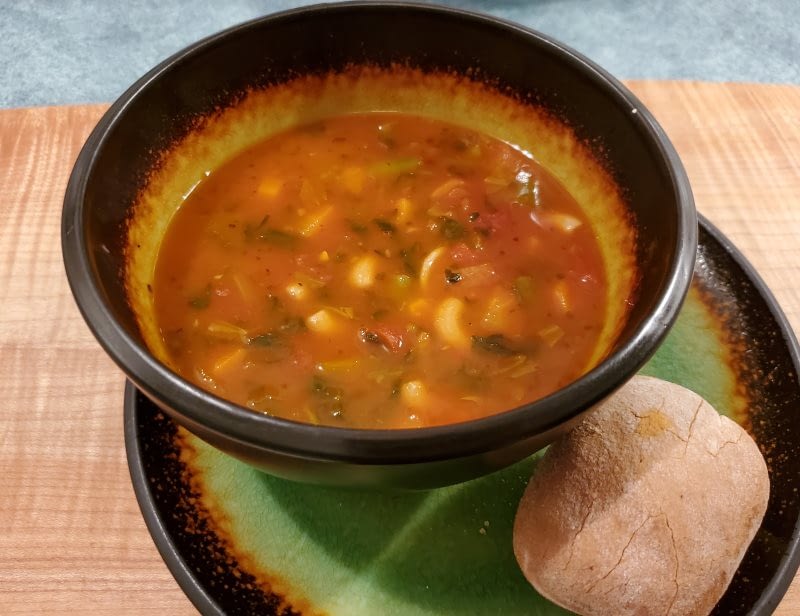 If you read my blog, you know I am a lover of all kinds of soups!  I could eat soup every day for sure.  This soup was so quick and easy, great for lunch or dinner served with grilled cheese, gluten free buns, or a simple salad.  When in a rush, or you don't feel like cooking, store bought tomato basil marinara and chicken bone broth work great in a pinch for time, plus, it is a good way to use up what is in the pantry/fridge/freezer.  This meal came together in about  35-40 min....these days that works for me.  If you wanted Vegan or Vegetarian, simply use Vegetable broth in place of Chicken Stock/Bone broth.
2 chopped carrots
1/2 an onion roughly sliced
1 chopped leek
1 chopped large celery stalk with leaves
1 Tblsp. Extra Virgin Olive Oil
3/4 c frozen organic spinach
2/3 cup frozen organic corn
2/3 cup frozen organic green beans
salt and fresh cracked pepper to taste
2 1/2 cups Tomato Basil Marinara Sauce (store bought or homemade)
5 cups chicken bone broth (store bought or homemade) (Vegetable stock for Vegan/Vegetarian)
1 rounded cup gluten free elbow macaroni pasta - cooked separately
Heat up a dutch oven with the EVOO on low heat.  Add in the carrots, onion, leek, celery, and season with salt and fresh cracked pepper.  Saute 5 min.
Pour in the Marinara sauce and bone broth stirring to combine.  Bring to a simmer, and cook 15 min.  Then add in all of the frozen vegetables. Continue to simmer for 10 minutes.  Meanwhile cook the elbow macaroni pasta separately according to directions, drain and add to the soup giving a good stir.  A warming soup for the soul.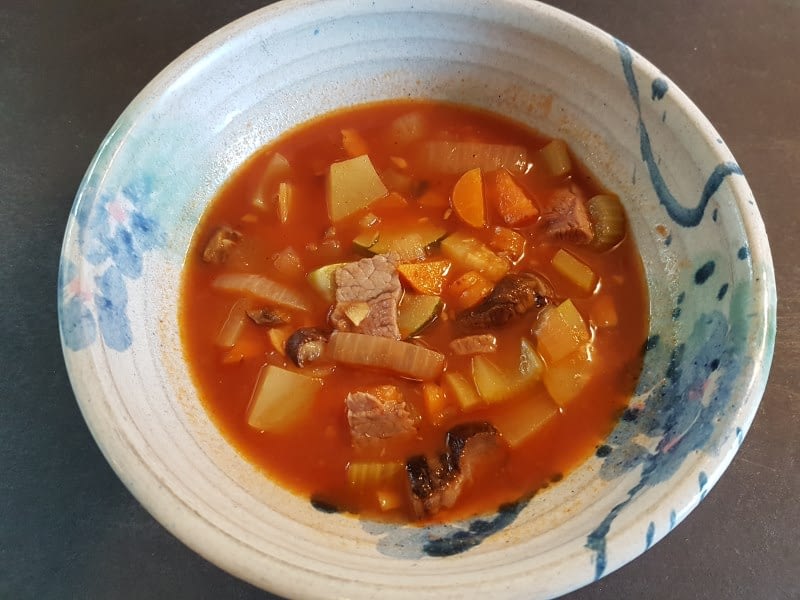 This was literally a "throw together" soup with anything you have on hand....and it was mighty tasty!  We had a few lovely days of warm spring weather here on the West Coast of British Columbia, Canada.  Then all of a sudden it disappeared right before our very eyes.  Yes, back to cold, drizzly, rainy weather - so typical of our West Coast weather at this time of year.  We are half tempted to start a fire in the fire place...at spring time for heaven's sake!
As usual, I gravitate to soup....soup of any kind makes me a happy girl.  Well, this soup started out with leftover roast beef and just went on from there.  You could use vegetable stock, chicken stock, beef stock, whatever you have on hand...also whatever veggies you have in the fridge that need to be used up.
My brother recently shared that he always makes curried beef soup with leftover roast beef.  I'm not sure why, but this is a soup I have never made before. So I asked "how do you make it"?  He said it is so easy, just use what you have on hand, add some good curry seasoning and then go from there.  Boy, did he get that right, so here it is:
3 1/2 cups stock:  veggie, beef, chicken - your choice (I did a combo of tomato veggie and chicken)
2 tblsp. Organic Extra Virgin Olive Oil
1 medium onion roughly chopped
2 large garlic cloves, roughly minced
2 large crimini mushrooms, chopped small
3/4 cups diced carrots
1 celery stalk, cut in half and chopped
1 1/4-1 1/2 cups cubed potatoes (cut small)
3/4 cup zucchini cut into 1/2 inch size pieces
1 1/2 cups leftover roast beef cut into 1/2 inch size pieces
1 tsp. good curry powder
1/2 tsp. garam masala
salt and pepper to taste
Heat up a medium sized dutch oven on low/medium heat with the EVOO.  Add in the mushrooms, garlic and onion sauteing to sweat out, about 4 min.  Then add in the carrots, celery, seasonings and saute another 5 min.  Pour in the stock, and bring to a simmer.  Simmer about 8 minutes, then add in the potato and simmer another 10 min.  Add in the zucchini and continue to simmer about 5 min.  Check the vegetables to see if they are done, and adjust any seasonings.  Add the roast beef just to heat through and serve with a side salad or some good gluten free bread.  Yummm, I will always think of leftover roast beef to make this soup from now on, regardless of the weather - super easy and a great way to use up any leftover veggies/stock in the fridge.  Delicious and economical at the same time. 🙂
If you read my blog you will know that while I love the idea and convenience of a crock pot/slow cooker - in terms of success we have really had minimal results - just the odd recipe turns out great.  Usually, we find the dish is lacking in flavor, and any meat is over cooked.   This has happened time and time again, even with lots of experimentation on cooking times, added seasonings etc.  Never one to give up on a challenge in the kitchen - I keep trying.  My sister has had the same issue.  She is convinced that her crock pot dishes used to be wonderful back in the day when she used her "old school" crock pot which she no longer has.  She believes the newer crock pots cook too "hot" hence the loss of flavor/overcooked meat.  They say each crock pot is different - how true.
So, when seeing various recipes for crock pot Chicken Rice Soup, I was surprised to read a number of different comments on the challenges of making this simple soup in a crock pot.  What?  I'm not the only one out there that has challenges with a crock pot?  What do you know!
Some of these comments were:  the rice was crunchy, the rice was mushy, there was not enough liquid, the vegetables were not cooked through, chicken was dry/overcooked.  Some say to cook on low for 6 hours other recipes say cook on low for 8 hours.  Having considered the various ideas and challenges - here is what I came up with:
I paid close attention so it did not over cook - mine was done in 5 1/2 hrs...hmm, maybe my sister is right. Thankfully the soup was delicious, the rice and vegetables were nicely cooked and the chicken was lovely and tender.
Oh and by the way, normally in a recipe I would say use 2 large carrots - however - my carrots are organically grown from the farm down the road so they come in various shapes and sizes - hence the measured ingredients.  This carrot had me taking a 2nd look!  Check this out:  I thought I was seeing things.  🙂  Is this hilarious or what?


RECIPE:
1 lb. organic chicken breast skin off, no bone, cut into 3/4 inch pieces
2 Tblsp. Extra Virgin Olive Oil
1 generous cup of chopped carrots
1 level cup chopped celery
1/4 cup chopped celery leaves
2 large shallots, chopped
1 large leek, sliced in half, and cut into 1/2 inch pieces
2 1/2 tsp. ground sage
2 tsp. garlic powder
1 tsp. thyme
1/2 tsp. poultry seasoning
1 bay leaf
salt and pepper to taste
1 Tblsp. Balsamic vinegar
1/2 cup wild rice blend (soak in cold water for 15 minutes before adding to the crock pot and drain well)
6 cups chicken stock (I used half homemade vegetable stock and half homemade chicken stock as that is what I had on hand)
Plug in your crock pot on low to start heating up and soak the rice.  To a large frying pan on low medium heat drizzle in the Extra Virgin Olive Oil.  Add the carrots, celery, shallots, leeks and saute about 8 minutes.  Transfer to a large (6 quart) crock pot and cover with the stock, seasonings, chicken pieces, celery leaves, the drained rice, and balsamic vinegar, stirring to combine.  Cook on low heat for 5 1/2 hrs.  Check for seasonings and adjust to taste.  Serve hot with some nice gluten free bread.  This is a soup that I will definitely be making again - so easy too.
This has to be one of my all time favorite soup recipes.  It was one of my first soup recipe posts from 2010 and one I make time and time again.
Back in the day....I am talking wayyy back in the day, as a teenager I loved the tomato rice soup that came in a can.  You know the one I am talking about?  Well, back then I could eat that soup every day - and just about did.  Then one day, it seemed we could no longer get it.  I was dumbfounded.  How could they stop making such a delicious soup my very naive self says?
Well, years later, we still did not see it on the shelves, but by then I was entrenched in the world of Celiac Disease.  This canned soup was loaded in wheat, msg and god knows what.  So, this recipe was born to replace the old version of canned Tomato Rice Soup.  And you know what?  It is 10000 better!  I have made no changes here - it is too good as it is.
By the way, the other day at the grocery store what did I see?  Canned Tomato Rice Soup and the ingredient list was frightening - no new news there I'm afraid.  This time there were no tears shed.  🙂
Yayyyyyy  for homemade soup!
TOMATO RICE SOUP
2 Tblsp. Olive oil
1 large onion – roughly chopped
4 minced garlic cloves
2 diced celery stalks with leaves
1 28 oz. Can whole tomatoes (with juice)
4 cups homemade chicken stock
1 tsp. Thyme
2  tsp. Fennel
3 bay leaves (mine were small to medium size)
salt and pepper
½ cup cooked long grain rice (or a little less)
Optional: handful of chopped spinach, or collard greens, or kale.
In a pot bring ½ cup rice to 1 cups water to a boil, reduce to a simmer, cover and cook about 15 min. or until rice has absorbed all the liquid. Once cooked remove from the heat and set aside.
Add olive oil to a pot, low to medium heat. Add onion, garlic and celery – sautéing to sweat out. Add the seasonings, and stir to blend. Then add the tomatoes with juice (break up the tomatoes with a spoon), chicken stock, and any greens. Bring to a boil, cover and reduce to a simmer, about 30 minutes.
Remove from heat – allow to cool about 10 minutes. Spoon all the veggies into a food processor and blend till smooth. Remove the bay leaves from the broth, add in the pureed vegetables, and the cooked rice stirring to blend. Return to a low heat to heat through – adjust any seasonings.
Served with grill cheese – perfect for lunch or dinner
Note: believe it or not, 2 good squirts of ketchup add some nice zing to this soup and fresh tomatoes would be lovely too.  Also, have you ever noticed, that whole canned tomatoes have more flavor than the diced ones??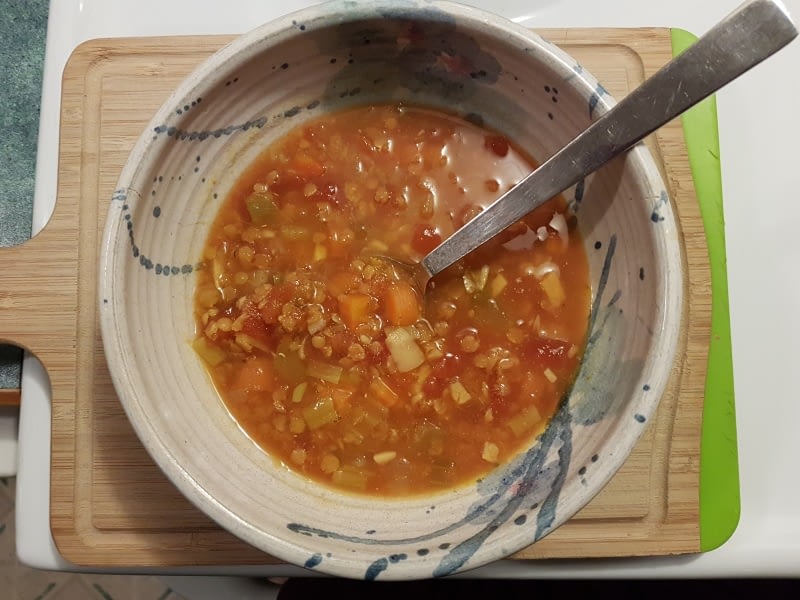 I love lentils cooked any way - especially in soup.  The other day was a particularly busy day and on my way home from town I had one more stop to make at our local health food store.  Once in the door, something smelled heavenly (I was starving too as it was lunch time).
Our local health food store is owned by a lovely Iranian gentleman and his wife.  I asked him what smelled so good, and he pointed to a crock pot on the counter that was filled with Lentil Soup.  So then I asked him if it was gluten free.  He said all of his food is gluten free and this soup was also vegetarian and vegan.  Yayyyy gluten free soup!  He said that it was simple, good food.  Groceries in the bag, a take out bowl of soup in my other hand, time to go home.  Once the groceries were put away, I eagerly sat down to have the soup.  It was delicious!  Very simple flavors, in fact, I'm not even sure what kind of spices he used.
So today's recipe was inspired by this lovely gentleman's Lentil soup.  One thing is for sure:  I will definitely be going back to his store for more!
3/4 cup red lentils
3 Tblsp. Extra Virgin Olive Oil
2 large shallots, chopped
3 large minced garlic cloves
2 Tblsp. finely chopped ginger
1 tsp. Curry Powder - I used my favorite - Cartwrites
1 bay leaf
salt to taste
1  28 oz. can whole tomatoes (place a sieve over an 8 cup glass measuring cup. slice up the tomatoes, give the sieve a good stir a few times and drain all the liquid into the measuring cup. This gave me 2 1/2 cups tomato liquid, then add enough water to reach the 7 cup level)  For a thicker soup, add 1/2 cup less water.
3/4 cup diced celery including leaves
1 cup diced carrots - about 1/2 inch in size
3 medium leeks, chopped
Heat up a frying pan on low medium heat with the EVOO.  Add the chopped shallots, garlic, and ginger.  Saute for 5 minutes, then add in the curry powder and continue to saute 1 more minute.  Season with salt.
Transfer to a med/large crock pot and add all of the remaining ingredients stirring well.  Cook on high for 1 hour, then turn to low and cook for 8 more hours.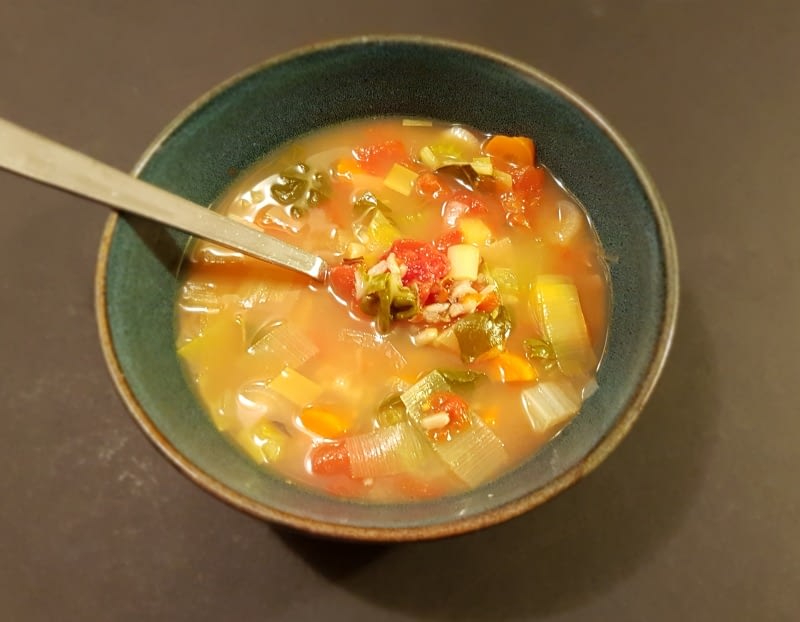 If there is one thing I love in this whole wide wide world that we live in- it is homemade soup.  Nothing soothes the soul more.  In winter time, soup will always be number 1 in this household, hence another soup recipe.
It seems to be all the rage these days to have homemade bone broth.  Many restaurants serve bone broth before your meal in my neck of the woods.  Bone broth?  I've been making it for years, only we always called it stock.  Whatever you want to call it - it is delicious and packs in a mighty bowl of nutrition which always puts a smile on my face.  There is nothing better on a cold winter night than a great bowl of soup.  There are a few posts on this blog about making stock/bone broth from scratch but will do a more detailed recap here.
We go to a local restaurant from time to time for a nutritious gluten free brunch (all organic using local farm fresh ingredients), and once in a while I will buy their frozen "made from scratch" chicken bone broth.  It is delicious.  They say they simmer their bone broth for 12 hours.  Interestingly enough, I usually simmer mine 6-8 hours and seem to get a "firmer" more gelatinous consistency with my soup compared to theirs.  Hmmm....wonder what the difference is?
I am diligent about saving roasted organic chicken carcasses to freeze. (my dear husband has said I am an anal freak when it comes to freezing chicken carcasses....and he is right!)  Usually there will always be 3 carcasses in the freezer at some point.  Today, there were 3 good size (not small) chicken carcasses, along with various bones from cooked chicken breasts, legs etc.  If there is left over chicken from the night before, the meat is cut off the bone and the bones go into the "chicken bone" bag in the freezer.
There are many recipes out there suggesting you make bone broth in a crock pot.  Sorry to say it, but it makes me cringe!  The reason being, is it is vital to skim the foam off the top of the soup - that is all of the impurities coming out of the bones.  Who wants to eat that?  It looks nasty and smells even worse.  I have not seen a crock pot recipe yet, that says to skim off the foam when using a crock pot. Perhaps there are some recipes out there and I've missed them?  In any event, with the end result you want a rich, CLEAR, very gelatinous broth and by skimming the foam off it will be beautiful bone broth. Many recipes also suggest to add a tablespoon or so of vinegar to bring out the nutrients of the bones - something I have never done before and yet we still end up with great tasting, rich gelatinous broth.
Some chefs say no aromatics.  No aromatics?  Not in my world - they add a depth and richness to the soup that in my humble opinion adds more flavor.  More flavor is always a good thing!
With 3 chicken carcasses and various other bones we ended up with 13 1/2 cups of rich broth.  6 1/2 cups went into the freezer (canning jars are great for this - just refrigerate over nite then freeze the next morning.)
CHICKEN BONE BROTH:
3-4 organic roasted chicken bone carcasses and various other bone parts
2 medium carrots, roughly chopped
bunch of fresh flat leaf Italian parsley
5 fresh sage leaves
2 large Bay leaves
5 roughly chopped shallots (leave the skin on, cut off the root - the skin also adds color)
2 celery stalks, leaves included
3 green leek tops, well rinsed (optional - they were in the fridge so in they went)
Add all of the ingredients to a large stock pot.  Cover with water.  Bring to a steady bubbling boil.  Using a flat large spoon (or something similar) begin removing the foam.  This should take a good 20-30 min. on and off skimming.  Discard that yuck!
Then turn down to a very low low heat.  The bone broth wants to just pop up with a few bubbles of simmer like a "glug glug" here and there throughout the soup.  Monitor the heat to maintain this level and continue to cook for 6-8 hours.  No worries - while the bone broth was on the stove I went grocery shopping, banking, did laundry - no need to monitor the broth the whole 6-8 hours.  (I love making soup on my day off - yay!)
Very Important:  after 6-8 hours strain off the broth.  I use a colander to strain the bones veggies etc. into a very large stainless steel bowl.  Then I place a fine sieve over an 8 cup measuring cup and strain the broth in batches.
CHICKEN BONE BROTH WILD RICE VEGETABLE SOUP:
7 cups chicken bone broth
1  28 oz. can whole tomatoes including liquid - chop up the tomatoes into chunks
4 small shallots, halved, then sliced
3 swiss chard leaves and stems, chopped small - spinach is lovely here too
2 celery stalks, chopped
3 carrots, chopped into 1/2 inch pieces
2 leeks, white part rinsed well, sliced in half and chopped
2/3 cup  rutabaga chop small
Cooked wild rice - cook just under 1/2 cup wild rice (or make 2/3 cup rice for a thicker soup) (we use Lundberg blend wild rice) cook as per directions
season with salt and fresh ground pepper to taste
Bring the bone broth and tomatoes plus their juice to a simmer.  Add the rutabaga.  10 minutes later, add in the rest of the vegetables.  Simmer until tender.  Add in the wild rice and serve piping hot with some great gluten free bread or buns. - Enjoy this nutritious, healthy and delicious soup - it will make you happy! 🙂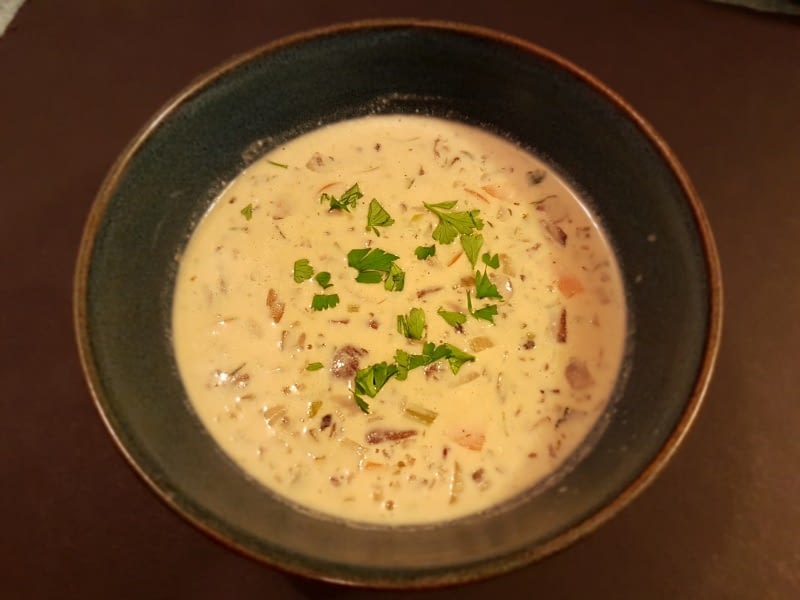 UPDATE:  we had this again the other day, but we had run out of wild rice so had it without....and it was even better!
Recently I had read an article on the health benefits of cashew nuts.  When cashew nuts are soaked and pureed into a luscious smooth mixture it is a perfect addition to soups of all kinds. Then I found this recipe from Sarah, of Making Thyme For Health.  Wow, this takes cream of mushroom soup to a whole new level - it was truly delicious.  No need for real cream - personally I think this is better.
I did change the method, made it gluten free, and used a couple of different ingredients so will do a recap here. (If using a bouillon cube or powdered stock seasoning double check that it is gluten free - there are many on the market that are not) For the original recipe please check out Sarah's lovely blog Making Thyme For Health.  Many thanks Sarah, your recipe is a winner!
For the cashews it is recommended to use a high powered blender, which always makes me think of a Vita Mix or a Blendtec - neither of which I have.  I used my old faithful Cuisinart and it worked like a charm.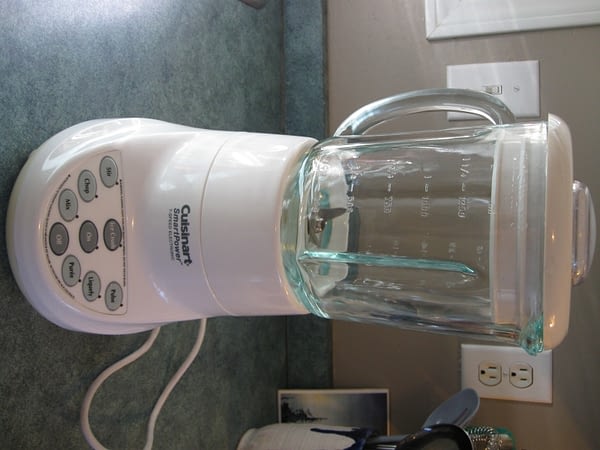 2/3 cup raw cashews
1/2 cup wild rice
2 Tblsp. Extra Virgin Olive Oil
2 large shallots, diced
3/4 cup diced carrots
1/2 cup diced celery with the leaves
4 minced garlic cloves
2 cups diced crimini mushrooms
1 tsp. salt
fresh cracked pepper
3 Tblsp. lite gluten free Tamari sauce
1 tsp. dried Thyme
2 tsp. fresh minced Sage
2 Tblsp. fresh minced Italian parsley
1 large Bay Leaf
2 cups unsweetened almond milk
2 Tblsp. nutritional yeast
1 Tblsp. arrowroot powder
1  1/2 cups homemade vegetable stock
If you did not want a Vegetarian/Vegan soup, organic chicken or beef stock would be lovely in this recipe too, just omit the nutritional yeast.  It would also make a great base for a seafood/clam chowder.
Cook the wild rice in 1 cup of water - on a low simmer, lid on for about 45 min.  Once cooked, and all the water is absorbed remove from the heat, lid on and set aside.
Add the cashew nuts to a medium sized heat proof bowl.  Cover with 2 1/2 cups boiling water and allow to soak 30-40 min.  Drain and add to your blender.  I added some of the almond milk a bit at a time and kept on liquefy until it was completely smooth (use a spatula to scrape down the sides of the blender with each blending process).  Once completely smooth, add in the rest of the almond milk, nutritional yeast, and arrowroot powder. Blend well, and transfer to a bowl and set aside.
Heat up a pot or dutch oven on low medium heat, and add in the EVOO.  Saute the mushrooms until nice and golden.  Season with the salt and fresh cracked pepper to taste. Add in the diced carrots, celery, shallot, garlic, thyme, fresh sage, fresh parsley and saute about 8 minutes.  Add in the homemade vegetable stock, tamari sauce and bay leaf, bring to a simmer, lid on and cook until the vegetables are tender - about 10-15 minutes.
Then add in the cashew/almond milk mixture, and the wild rice.  Stir well until combined and re-heat through - keep stirring as it will thicken.  Remove the bay leaf and serve piping hot with a sprinkle of fresh minced parsley.  Enjoy....we sure did!