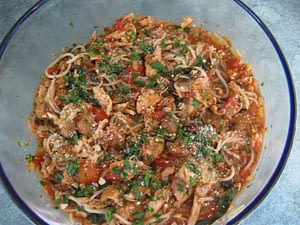 Oh wow....this was sooo good!  We were all about BBQ, then our intense heat turned to a cool down.  Sunny, but being right on the Westcoast - Fog.  It lowers the temperature by at least 10 degrees if not more.  So, Pasta it was, and oh, what a Pasta it was!
I have made this dish since High School – 15 years old – home economics class.  I made this dish completely different than any cacciatore I have made in the past. ...and I have no idea why...it just happened.   The results?  To die for.  Will definitely be making it this way from now on, so here are the happy step by step processes:
(I used free-range chicken)
4 chicken drumsticks (skin on)
1 large chicken breast cut in half – any bone in chicken pieces will work…the bones add flavor.   We want them bones!
few drizzles of olive oil
5 minced garlic cloves
½ large onion – diced
one  28 oz. Can whole tomatoes
2 Tblsp. Tomato paste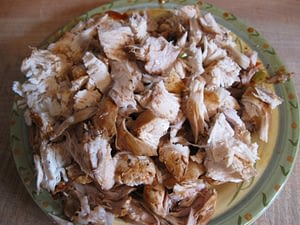 1/2  cup finely diced green pepper
12 – 14 sliced crimini organic mushrooms -sliced
3 Tblsp. fresh minced Basil or  1 Tblsp. dried
1 rounded tsp. Dried ground fennel seed
salt and pepper
2 large bay leaves
¼ cup fresh diced Flat Leaf Italian Parsley
½ cup dry white wine (optional, but remember after 30 min. simmer time the alcohol is cooked off so safe for kids).
2 Tblsp. Balsamic vinegar
1 Tblsp. Gluten free soy sauce
optional: 1 ½ cups diced collard or spinach greens ( as you may have  already noticed....I really need a green in any tomato pasta sauce...quirky I know)
1 package Tinkyada Rice Spaghetti noodles
Parmesan cheese
Heat a large dutch oven on medium high heat, with a few drizzles of olive oil added to the pan.  Add in the chicken pieces, then season with salt and pepper.  Once browned  - about 6-7 min. per side, remove to a plate and set aside. Meanwhile,   in a bowl add the canned tomatoes – I slice with a knife into small pieces, then add in the fennel, basil, soy sauce, balsamic vinegar – mix to combine.
I did drain some of the oil off, leaving enough in the pan to continue.  Add in the mushrooms, sauteing to brown.  Once browned, add in the onion, green pepper, garlic – sauteing to sweat out.  Add salt, pepper, and bay leaves.  Then add in the tomato mixture….scraping any brown bits off of the bottom of the pan. Optional:  add in the wine – mix to combine.  Return the chicken to the sauce, lid on, and on a low simmer, cook for 1  to 1 ½ hours – or until the chicken is falling off the bones.  Remove the chicken to a platter to cool.  Add in the tomato paste stirring to combine on a low simmer, lid off.  Add in the greens and mix to combine and continue to cook on a low simmer, so the sauce reduces a bit.
As sauce and greens are cooking, cook  Tinkyada pasta as per directions (I always find the pasta tastes better if stirred frequently).  Then shred the chicken pieces off of the bone and when sauce has cooked down, and greens are cooked, add the shredded chicken and a handful of diced flat leaf Italian Parsley, mixing well to combine.
Once Pasta is done, drain, and put into a large serving bowl.  Add the chicken and sauce on top, mix to combine and add a good sprinkling of Parmesan cheese.
Note: I think what made this dish, was the carmelization of the chicken - bone in, cooking it till it fell off the bone, shredding it and adding it back to the sauce.  As well,  continuing to cook the sauce, lid off, to thicken  the sauce and increase the flavors.  And the white wine…..what could be better?  My family was smiling tonight.