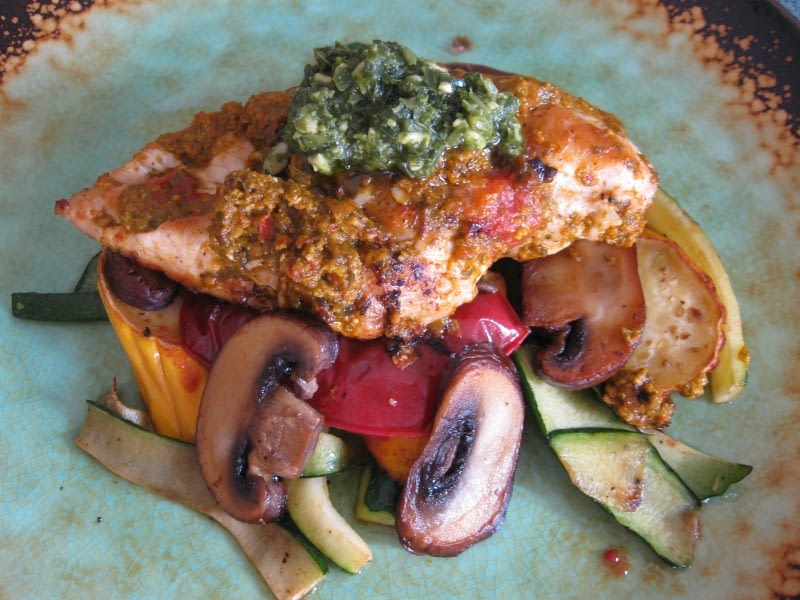 This was one yummy dinner - easy too.  I think it might even be "Paleo Friendly"...although, in all honesty I do not know too much about the Paleo diet.
UPDATE:  Shirley From Gluten Free Easily kindly let me know...this is not a meal that fits with the Paleo diet because of the cheese in the Pesto.  I love how we can learn new information on the web.  Thanks for sharing Shirley! 🙂
This dinner was a result of having an abundance of summer fresh vegetables in the fridge.  Plus my measly few additions from our very poor garden yield this year:  (better than nothing right?)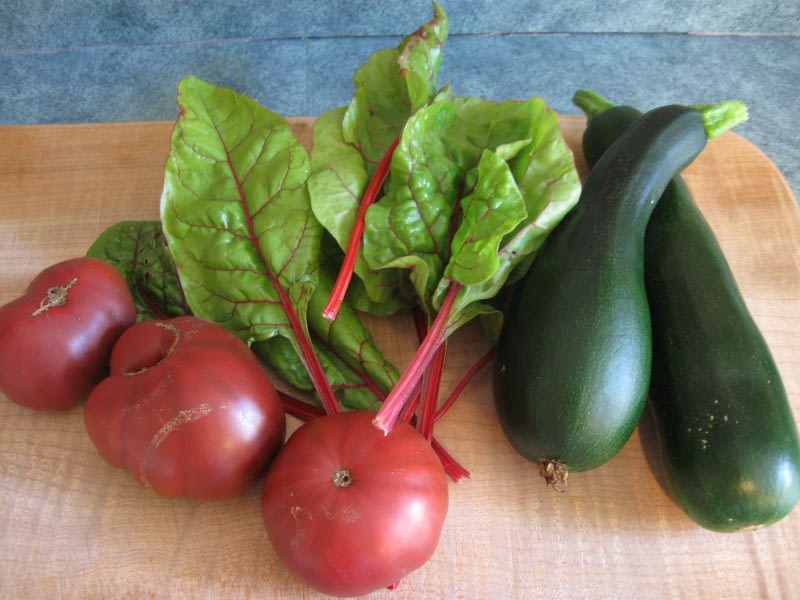 By the way, I meant to include the baby Swiss Chard in this dinner...and totally forgot.  Dang.  Well, it will do well tomorrow sauted under poached eggs for breakfast.
2 skinless boneless chicken breasts - mine were small in total about 3/4 lb.
TOMATO PESTO SAUCE:
3 chopped garlic cloves
10 cherry tomatoes
4 Tblsp. Pesto or store bought
VEGETABLES:
2 Tblsp. Extra Virgin Olive Oil and 1 Tblsp. butter
1 green zucchini thinly sliced lenghthwise, then sliced in half
8 slices of yellow zucchini -  slice on the diagonal about 1/4 of an inch
2 large crimini mushrooms, sliced
1 large Heirloom tomato thickly sliced
salt and pepper to taste
Extra Pesto Sauce for a garnish
SAUCE:
Slice up the garlic cloves, and quarter the cherry tomatoes.  Add to a blender with the Pesto sauce and puree until fine, then set aside.  Heat up a grill pan on medium high heat with a drizzle of EVOO.  Season the chicken breasts with salt and pepper.  Grill each side of the chicken breasts about 3 minutes per side just to get a few grill marks.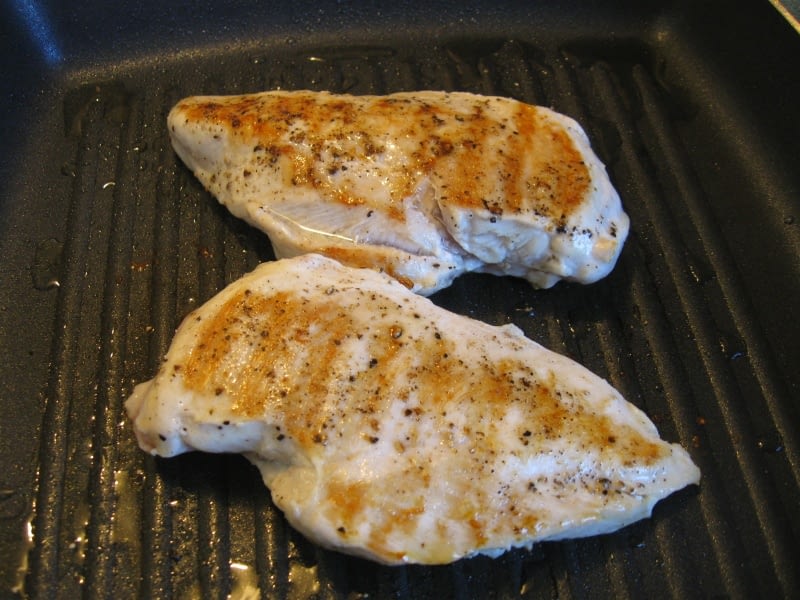 Add the renderings to another frying pan - for the vegetables.
To the grill pan, pour the sauce over the chicken and cover.  Turn the heat to a low simmer.  Cook another 20-25 minutes.
Meanwhile, heat up the other pan with the renderings and the butter.  Saute the mushrooms until golden, then set aside on a plate.  Add the sliced yellow zucchini and saute each side until golden.  About a minute or two.  Remove the yellow zucchini to the plate of mushrooms, and add in the sliced tomato.  Saute about 1 minute per side, then add to the plate of vegetables.  Then add in the sliced green zucchini.  Saute about 2-3 minutes, then add in the mushrooms and yellow zucchini - season well with salt and pepper.  Saute another minute or two to heat through.

Plating:
Add the sliced zucchini and yellow zucchini to the plate.  Then top with the tomato slices and mushrooms.  Place the chicken on top with some sauce and and extra dollop of Pesto.  Dive in and enjoy!