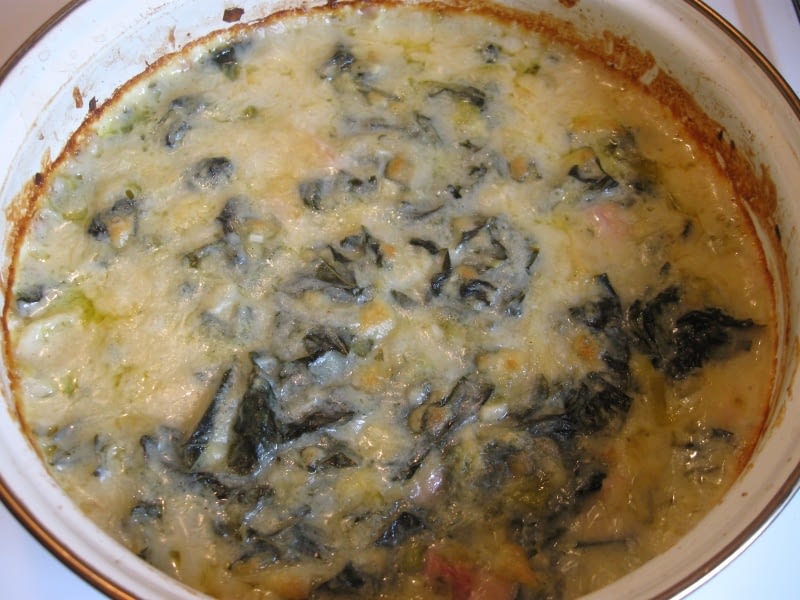 This may not look so tasty, but dang, it sure was.  By now, those that know me, know that I love rustic food.  I think that is also why I am such a huge Jamie Oliver fan...most of his food is comfy/rustic...just the way I like it! 🙂
Our fall plantings provided early spring harvesting of these delicious collard greens.  Such a treat to see all of this green coming from the garden.
Paring Collard Greens with Ham or Bacon gives the greens such a rich flavor.   This recipe was done in a few stages - but simple none the less.  Spinach or Swiss Chard would be lovely in this dish as well.
4 cups halved then sliced collard greens
2 bay leaves
salt and pepper
enough water to just cover
CREAMY SAGE SAUCE
1 1/2 cups soy milk
3 heaping Tblsp. butter
4 minced garlic cloves
1 big Tblsp. finely minced fresh Sage
Salt and Pepper
1 1/2 cups grated aged Cheddar Cheese
a generous half cup of grated Parmesan Cheese
2 Tblsp. Cornstarch
1/4 cup soy milk to make a cornstarch slurry
1/2 a large onion sliced
2 small leeks, chopped
1 1/2 cups chopped cooked ham - cut into 1/2 inch pieces
Remove the thick stems from the Collard Greens and discard.  Cut the big leaves in half lengthwise, the cut diagonally into one inch strips.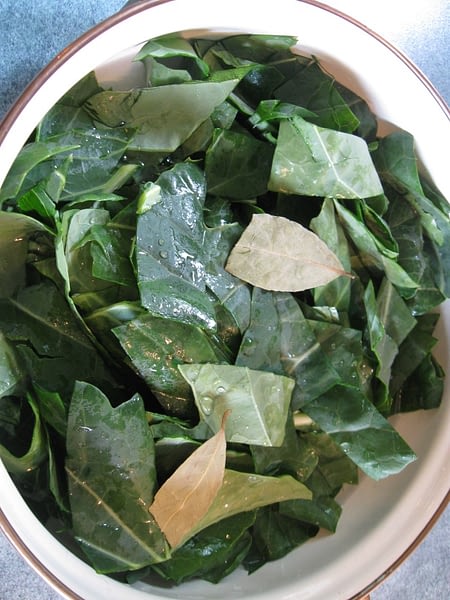 Add to a pot, with two bay leaves, salt and pepper, with just enough water to cover.  Bring to a boil, lid on, and then turn down to a simmer, for about 10-12 minutes.  Strain well and set aside.
Meanwhile, in a medium sauce pan, melt the butter - low medium heat.  Add in the garlic and gently simmer, turning down to low about 3 minutes.  Add in the minced Sage swirling the pot, about another minute or two until fragrant.  Pour in the milk, season with salt and pepper, turning the heat up to medium, until there is a gentle simmer.  Mix the cornstarch with a little soy milk to make a thick slurry.  Pour in the cornstarch slurry whisking to thicken.  Add in the grated Cheddar cheese, stirring until melted, remove from the heat and add the Parmesan cheese, again stirring until melted.  Check for seasonings and set aside.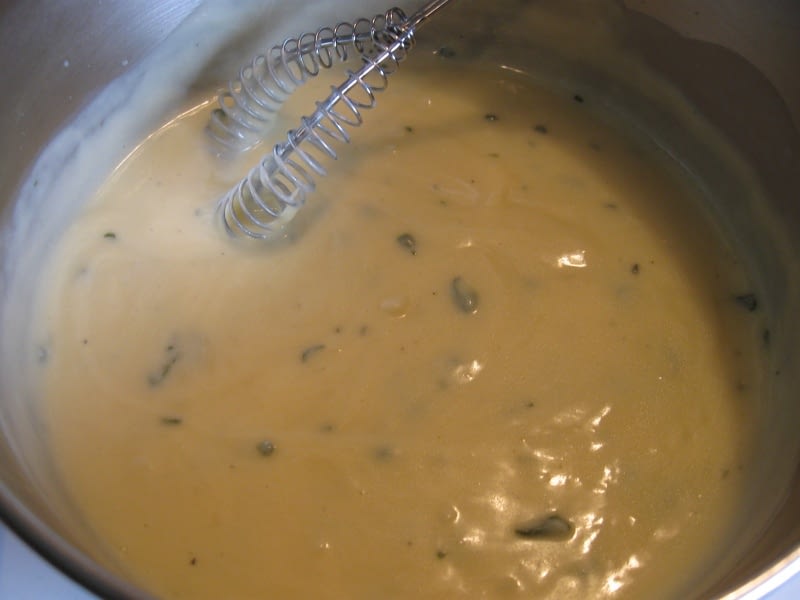 Heat up a saute pan on low medium heat, with 1 Tblsp. butter.  Preheat the oven to 350 degrees.
Add in the sliced onion and leeks, sauteing to sweat out, about five minutes.  Add in the ham, continuing to saute another five minutes.  Transfer the drained collard greens to the pan, and continue to saute about 8 minutes.

Pour in the cream sauce, mixing well.  Bring to a simmer, then transfer to the oven and bake for 30-40 minutes until the top is golden.
We had this served with steamed baby potatoes....yum!