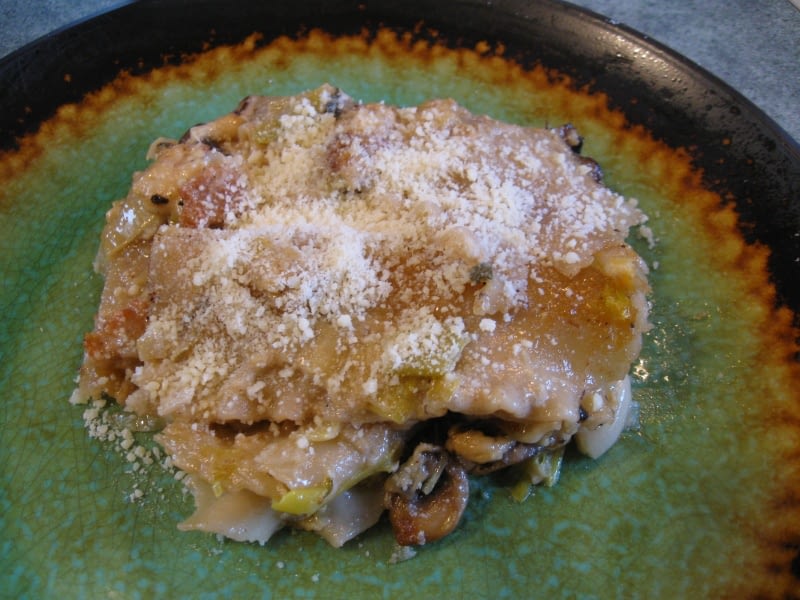 Well, for those of you counting calories...this one will be way over the top!  I do not count calories, however, I am careful of excess fats and sugar.  Once in a while I will make SCD Cream.  When I do, I make a one liter amount so there is whip cream for a dessert, and cream leftover for a savory dish.  This lasagna was most sinful indeed, mercy!  A once in a while decadent dish.
Normally, when I make Lasagna, I do not cook the noodles. However, in this dish I added the noddles to boiling water for five minutes, then drain and let cool.
3 cups of chopped leeks, slice the ends off then slice the white part in half and chop, rinse well
5 strips of bacon cut into 1/2 inch pieces
1 onion, halved, then sliced
10 crimini mushrooms, halved then sliced
3 minced garlic cloves
a 2 inch squeeze of Anchovie Paste - optional
Olive oil
2 Tblsp. finely minced fresh Sage
salt and pepper
1/2 cup of Chicken Stock
2 cups cream or SCD cream
3/4 cup Parmesan cheese
2 cups grated Swiss Gruyere Cheese
1/2 - 2/3 cup finely grated Asiago cheese
extra Parmesan Cheese
12 Tinkyada Brown Rice Lasagna Noodles (cook in boiling water for 5 minutes)
To get started - I forgot to include the bacon: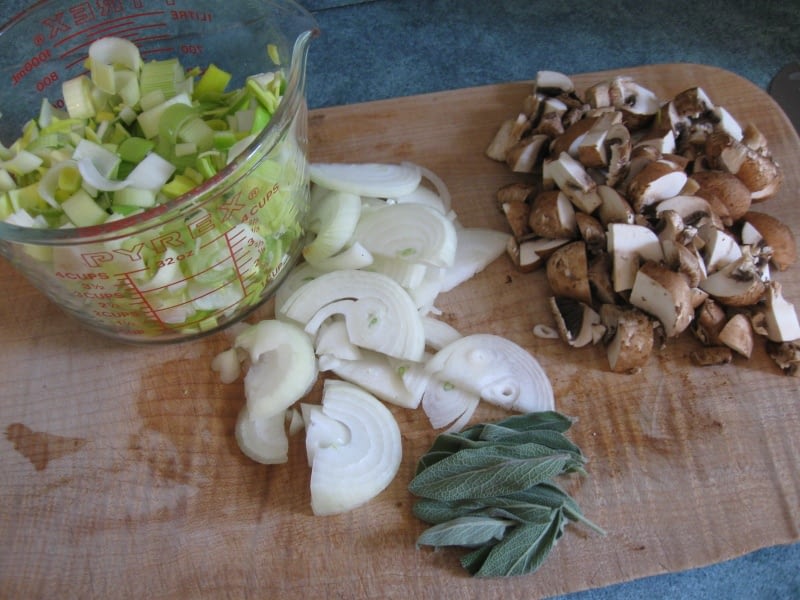 Heat up a frying pan on medium heat, and nicely brown the bacon.  Transfer the bacon to a dish and set aside.  Add the mushrooms to the pan, with a good drizzle of Olive oil.  Brown the mushrooms, then add in the sliced onions continuing to saute, about 5 minutes.  Once the onions begin to caramelize, add the Anchovie Paste, garlic and sage, sauteing until fragrant.  Then add in the chopped leeks, season with salt and pepper.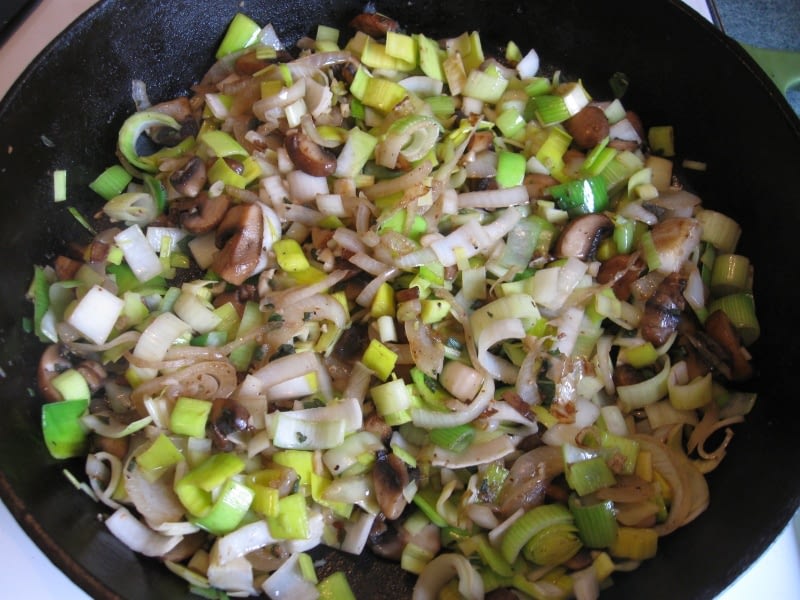 Turn down the heat to low medium, and saute about 8 minutes.  Pour in the chicken stock, continue to simmer, stirring occasionally for about 5 more minutes, until the leeks are tender.
Pour in the cream, season with salt and pepper, and simmer on low for 10 minutes, stirring occasionally.

Remove from the heat and stir in the cooked bacon, then the Parmesan cheese until the cheese has melted.
In a 9x13 inch pan, spread a layer of the leek cream sauce to the bottom of the pan.
Lay down 4 Lasagna Noodles on top of the sauce, then another layer of sauce.

Sprinkle a light layer of Parmesan cheese. Repeat, then add a layer of Swiss Gruyere Cheese, repeating this process finishing with sauce, Swiss Gruyere, then the grated Asiago cheese, and one more sprinkling of Parmesan cheese.


Cover with foil and bake in a 350 oven for 40-45 minutes or until the noodles are fork tender.  Let sit 5 minutes before slicing.