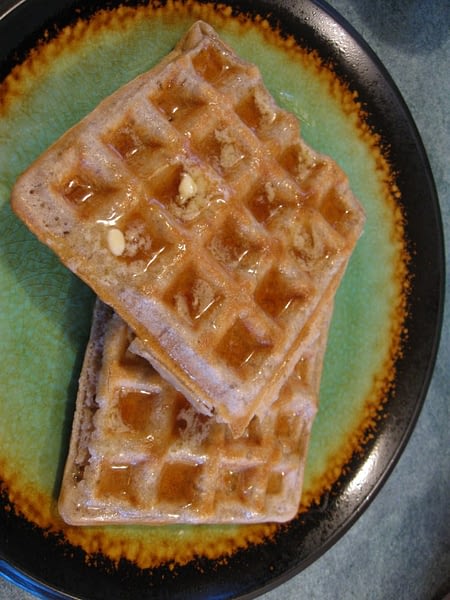 UPDATE:  When I first made these waffles, it does make quite a lot of batter.  So I cooked them all up, and wrapped individually to freeze.  Next day, I popped two in the toaster - I would not have thought this, but they were even better, really crisp and tasty.  I think I will always make these up to freeze and have on hand for breakfast when you need something quick and easy.  And sooo yummy too!
These waffles make a great holiday breakfast treat.  Crispy on the outside, soft and light on the inside.  I found this recipe on The Tasty Kitchen site from Sweetpea Nancy. For her original recipe, you can check here.
As I began converting this recipe to gluten free, at first I thought it was way too runny, so I added in more Sorghum flour.  The recipe said to fold in the egg whites.  Well, not going to happen with such a runny batter, so I used a whisk to incorporate the egg whites into the batter. After whisking, the batter was still runny, but with an effervescent look to it.  I was not sure what to expect, but the recipe worked!  These waffles were so yummy!
I use this Cuisinart waffle iron: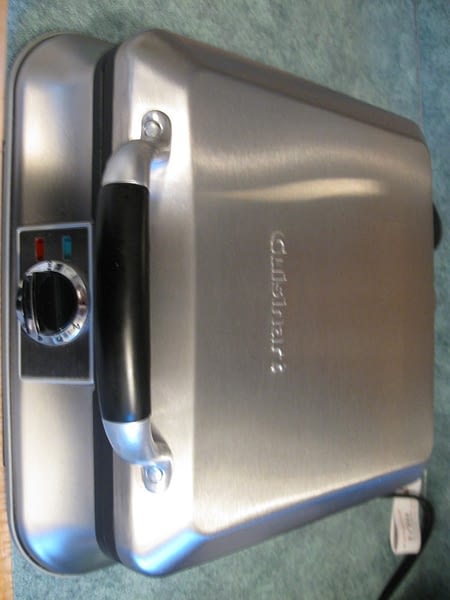 Usually, I turn the temperature dial quite high to number 5, this particular model will make four waffles.


Once the pre-heated waffle iron is ready a bell goes off. I swear, not just in my head.  Then I pour in the batter.  When done, my waffle maker sounds another bell to say it is ready.  I ended up cooking the waffles twice, until the next bell came on again, and it worked beautifully.  Depending on your waffle maker, you may only need to cook once.  Here is the recipe I converted to gluten free:
2 eggs, separated
2 cups milk (I used soy milk, with a Tablespoon of Apple Cider Vinegar)
1 cup Tapioca Starch
3/4 cup Potato Starch
3/4 cup Sorghum flour
1 Tblsp. gluten free Baking Powder
1/3 cup grapeseed oil
Mix up the dry ingredients in a large bowl with a whisk.
In another medium sized bowl, add the egg yolks, milk, and grapeseed oil, whisking to combine.
Whip up the egg whites until stiff.
Whisk the egg milk mixture with the dry ingredients, then whisk in the egg whites, just until combined.  Your batter is ready, cook as per your waffle iron instructions.