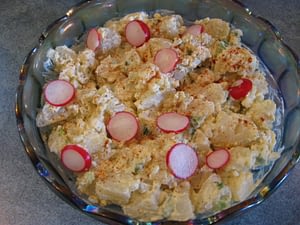 POTATO SALAD
This is actually another Marinated Chicken post...why, when I just did one?  Because it's raining outside...are you confused yet?  Let me explain:
I make the most basic of basic potato salads.  As I sit here, I am also pretending it is summer, because it is not, and it is raining!  Again! I have lost count but I think this is day 10? I can dream can't I?
Now on to the Potato Salad.  Usually, I like to use new potatoes, although Yukon Gold Potatoes are lovely too.
Now there is only two things, according to the Potato Salad Gods in this house, that may never be a part of Potato Salad.  The first is, no mashed potatoes!  They absolutely have to be cut into chunks.  And the second, heaven forbid, never ever use that nasty sweet white salad dressing!  My family would skin me alive, and hang me out to dry!  They insist on Real Mayonnaise only.  Once at a family gathering, one of my sisters, won't say which one, I will be kind, actually used that nasty sweet white stuff.  My daughter took one bite, turned her back, and spit it out into a napkin.  Then she proceeded to tell her Aunt that she needed her Mom's recipe.  Her Aunt said, "what do you mean?"  "I taught her to make potato salad".  Then being the oh so blunt girl that she is, my daughter replied: "This ain't my Mom's potato salad, and she would never use that you know what kind of dressing".  Only she added in a few curse words to make her point.  Needless to say, I now get stuck making the potato salad for each gathering.  We have a large family, so that is a lot of potato salad!
So with some good potatoes, real mayonnaise, Dijon mustard, diced green onions, diced celery, some mashed hard boiled eggs, salt, and pepper, and a good pinch of garlic powder – mixed up well – that is it.  Add a sprinkling of Paprika on top, with a few sliced radishes….and you have tasty, basic Potato Salad.  An absolute summer favorite…even if it is raining outside.
Now onto the main recipe: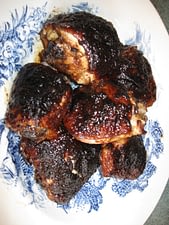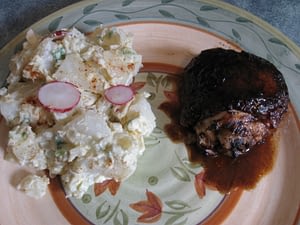 MARINADE SAUCE FOR CHICKEN THIGHS/DRUMSTICKS
I think everything but the kitchen sink went into this sauce!  Wow, I forgot how much Balsamic Vinegar can make the eyes smart, so be careful to stand back from the pot.  Now, at one point, I asked myself, self, what are you doing?  I was not entirely sure.  I just kept on going.  When the sauce was finished, I tasted it, and although it tasted good....I was not sure how the end result would turn out.  Well, we almost licked our plates clean!  Originally I was just going to discard the drippings, I could not resist.  Just remove as much of the excess grease as possible, simmer for 3-4 minutes, take off the heat, add a knob of butter, swirl the pan to melt, and pour over the chicken. To die for!
Seasonings:
1 Tblsp. Garlic powder
1 tsp. Oregano, and Paprika
¼ tsp. Ground Fennel, Cumin, Celery Seed
pinch of salt, fresh cracked pepper
1 large Bay Leaf
tiniest pinch of ground clove
½ finely minced onion
3 minced garlic cloves
1/3 cup Balsamic Vinegar
1 Tblsp. Agave Nectar
2 Tblsp. Gluten free Soy Sauce
1 Tblsp. Tomato Paste
1 inch sized anchovie paste
1 tsp. Dijon Mustard
2-3 inch sprig of Fresh Rosemary
4 Tblsp. Olive Oil
6-8 free range chicken thighs, or drum sticks, skin and bone on
Put all of the ingredients into a sauce pan, except the olive oil.  Whisk together, and bring to a simmer – about 10 minutes, stirring occasionally. Remove from heat, and strain through a fine sieve.  Then whisk in the olive oil to blend.
Preheat the oven to 350 degrees.  Rinse and pat dry the chicken thighs and legs.  Lay chicken onto a roasting pan, and brush on a good layer of sauce.  Bake the chicken for 45 minutes to 1 hour, basting with sauce until the sauce is used up.
Then using a spoon to scoop up the pan drippings, continue to baste the chicken pieces two or three more times during the cooking time.  Then make the sauce, using the directions above.
This is good with any salad, or potato salad.  Baked potatoes, and steamed veggies are good too. Lip smakin', finger licken good!