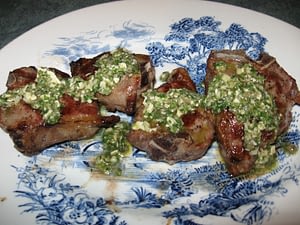 This was a quick, lovely meal. Wow, Jamie Oliver never ceases to amaze me, even when I don't have all of his ingredients.  I used small lamb chops that we seasoned well with pepper, and a quick high heat on the grill till cooked through.  The main star of this recipe is the Salsa Verde - inspired by Jamie Oliver's recipe found on page 50 of Jamie At Home.  So this is what I came up with, which was so yummy...Jamie never disappoints!
small handful of: fresh Basil, Flat Leaf Italian Parsley, Mint
1 garlic clove
1 tsp. capers, rinsed
1 1/2 inch squeeze of Anchovie Paste
2 Tblsp. Red Wine Vinegar
1 rounded tsp. Dijon Mustard
8 Tblsp. Extra Virgin Olive Oil
salt and pepper
about 3-4 tablespoons grated Feta Cheese
Finely mince the herbs, garlic, and capers.  Add to a bowl, with the Anchovie Paste, Red Wine Vinegar, Dijon mustard, and extra Virgin Olive Oil mixing well.  Add in the grated Feta and fresh cracked pepper, then taste to adjust for salt.  Spoon over grilled lamb chops.  Enjoy!