For the past year now I have wanted to make homemade gluten free pasta.  I had bought some at a market once, made mostly with potato starch - it was good, but expensive.  From that day onward, I knew I wanted to come up with my own recipe.  Once I had finished making the dough, I began to see some of the mistakes I had made - 3 batches ended up in the garbage.  The 4th batch was good.  I do not have a pasta attachment for my stand mixer, but I suspect this dough would be even nicer with a pasta machine.  The trick is to roll the dough out as thin as possible, using a heavy rolling pin would be best.  I just have a regular wooden rolling pin, so it ended up being a bit of a work out, and ideally, I would have liked the pasta to be a tad thinner.  The other thing I learned, is once the dough is rolled and sliced (I used a pizza slicer) lay the strips out onto a plate, and let it sit for 10-12 minutes, until the pasta has a drier texture.  Many recipes suggest a shorter cooking time.  This was not the case for this recipe - it took about 12 minutes to cook, but I suspect, because of the thickness of the noodles.  In any event, I wanted to share this recipe and process, which I may still tweak down the road. If you have any suggestions, or use a pasta machine, I would love to hear how your pasta turns out.
1/2 cup Tapioca Starch
1 cup Potato Starch
1/4 cup Corn Starch
1/4 cup Brown Rice Flour
2 rounded tsp. Xanthan Gum
1 big tsp. of salt
2 Tblsp. Olive Oil
3 eggs
1 Tblsp. water
Mix up the flours in a bowl, then create a well in the center, and add in the eggs, oil and water.

Mix the eggs, oil and water with a fork until combined then begin scooping in the flours.  Eventually, I just used my hands to mix and shape into a ball.  Cut the ball into four sections, and using parchment paper roll out the dough as thinly as possible.  I also use parchment paper on top of the dough when rolling, plus I kept turning the dough so I could get a more even shape. (I kept a clean damp cloth on top of the other pieces of dough, until I was ready to roll a new batch) Once the dough is nice and thin, cut into strips with a pizza slicer and lay onto a plate to dry about 10 minutes.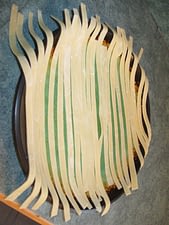 While the dough is drying a bit, bring a big pot of salted water to a boil.  Add in the pasta, cooking about 12-14 minutes, drain and serve with your favorite pasta sauce.