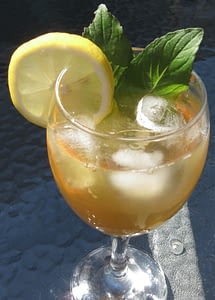 Years ago, I'm guessing 15-17, I had a small studio downtown.  There was a cafe next door that served, what I thought then, was the best Iced Tea I have ever had....yeah right....lemon juice from concentrate-yuck, ridiculous amounts of sugar, ohh no!  I asked them for the recipe, and after a short time, began having stomach aches.  Well, yeahh?...lemon concentrate, ridiculous amounts of sugar - I should think so.  But at the time, I thought it was good.  So good, I gave the recipe to my sister who has a Cafe.  It is still a big seller today.  I decided to take some pointers from this recipe....this was the result...Soooo delicious and refreshing, it will be the only way I make Iced Tea from now on. What a difference there is "Cooking Real", whether foods from scratch in your kitchen, or being able to grow your own foods in the garden. And such a lovely way to use Lemon Balm and Spearmint.  Using Earl Grey Tea was an added bonus, plus with Agave Nectar, you don't have to worry about blood sugar levels - just adjust sweetness to suit your taste.  If you have mint and lemon balm growing in your gardens, this will be a favorite all summer long!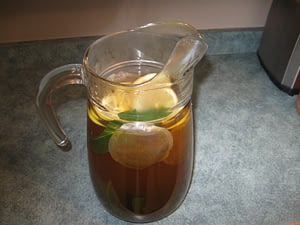 2 litres of boiling water, or 8 cups
4 Earl Grey Tea Bags
4 slices of fresh organic lemon
juice of 1  1/2  organic lemons
8-10 mint leaves
8 lemon balm leaves
8 big Tblsp. Agave Nectar – or to taste
Add all of the ingredients to a large pitcher, add in the boiling water, and stir to combine.  Let steep about 4-5 minutes, then remove the tea bags, leaving the rest.  After about 15 minutes, remove the lemon slices.  Once it has cooled, remove the mint and lemon balm leaves, then refrigerate to get good and cold.
Serve chilled in a glass of ice, add a lemon slice to the edge of the glass, and a fresh sprig of mint leaf for garnish. Deliciousness!