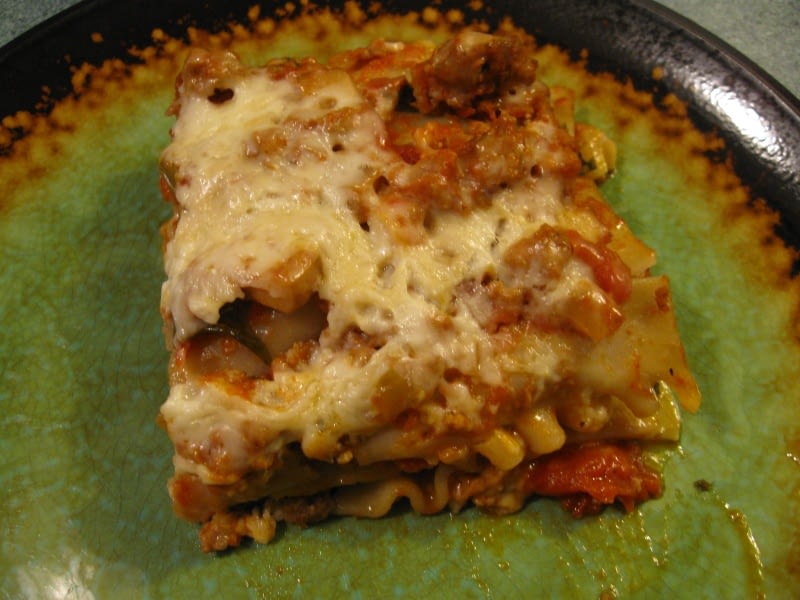 Lasagna is such comfort food.  What I also love about lasagna, is I make it in the morning and refrigerate until ready to cook for dinner, plus I do not cook the lasagna noodles which saves some time and clean up.  I always use the same yogurt cheese/spinach/parmesan cheese in place of cottage or ricotta cheese/spinach in all of my lasagna recipes.  It makes it easier to digest as it has less lactose in it - and a very tasty alternative.
This lasagna was a nice change as I used Gluten Free Italian Sausages instead of ground beef.  It also made a huge amount of lasagna - so great for a crowd or for leftovers the next day.
10 gluten free Italian Sausages - casing removed
1 pkg. Gluten Free Tinkyada Lasagna noodles plus 3 extra lasagna noodles
1 onion, chopped
3 large garlic cloves, minced
1/4 cup diced green pepper
4 crimini mushrooms - on the large size - roughly chopped
28 oz can of whole tomatoes (chop with a knife and save liquid)
5 1/2 oz. can tomato paste plus 1 can of water
2 tsp. Italian seasoning
1 Bay leaf
300 gr. package of frozen spinach
1 cup of yogurt cheese (drip at least 5 hours)
1/2 cup of Parmesan Cheese
28 gr. pkg of fresh Basil - chopped
Fresh cracked pepper
grated aged Cheddar cheese and Asiago cheese
Heat up a large saute pan on medium high heat.  Add the sausage meat to the pan and cook through.  With a slotted spoon remove the meat to a bowl, and drain out most of the renderings, leaving some behind to saute the vegetables.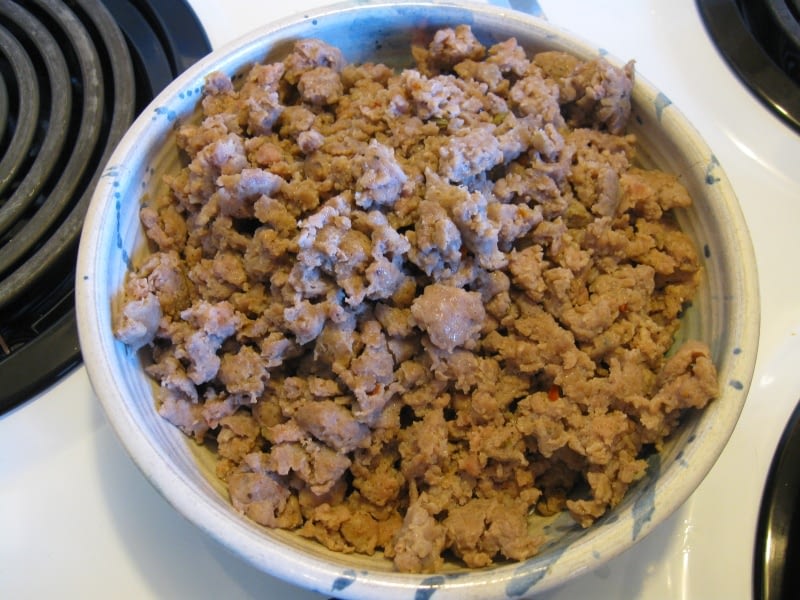 To the pan add in the sliced mushrooms.  Saute until golden, then add in the chopped onion, garlic and green pepper.  Continue to saute for about 4 minutes.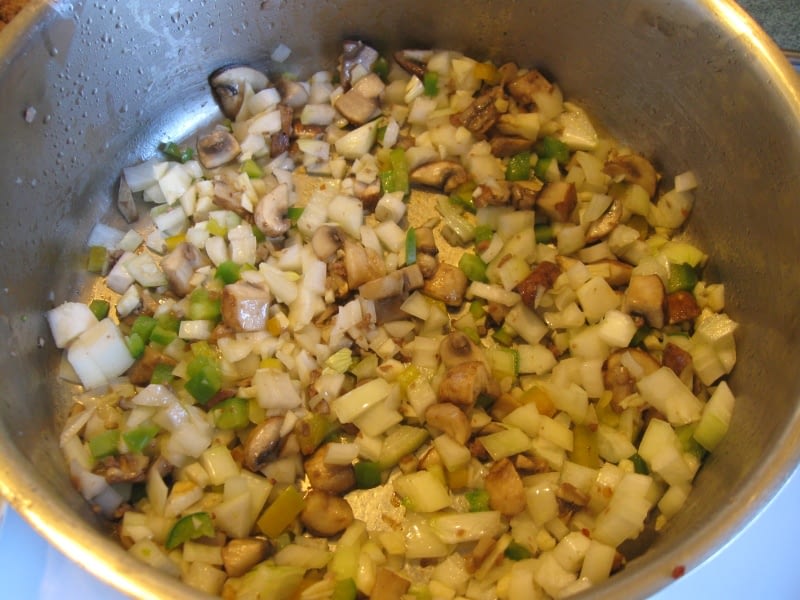 Add in the cooked sausage, sliced tomatoes and juice, tomato paste plus 1 can of water.  Mix well and add in the Italian seasoning and bay leaf.

Turn down the heat to a low simmer, stirring occasionally for 45 minutes.
Meanwhile, cook your spinach, line a colander with a clean kitchen towel and pour in the spinach.  Allow to cool, then wring up tight to remove all of the water.  Add the spinach to a bowl, with the yogurt cheese, parmesan  cheese and fresh cracked pepper.  Mix well and refrigerate.

Once the meat sauce has finished cooking remove from the heat, and add in the chopped fresh basil.
To a lasagna pan, add in some of the meat sauce on the bottom.  Top with a layer of lasagna noodles, and repeat.  Then add the spinach mixture over top spreading out evenly.

Top with another layer of lasagna noodles, meat sauce and a good sprinkling of parmesan cheese.  Finish with another layer of noodles, and top with sauce.  Add a generous sprinkling of grated cheddar and Asiago, and a lite sprinkling of parmesan cheese.
Cover with foil and bake for 1 hr. in a 350 degree oven.  Let rest for 5 minutes before serving.