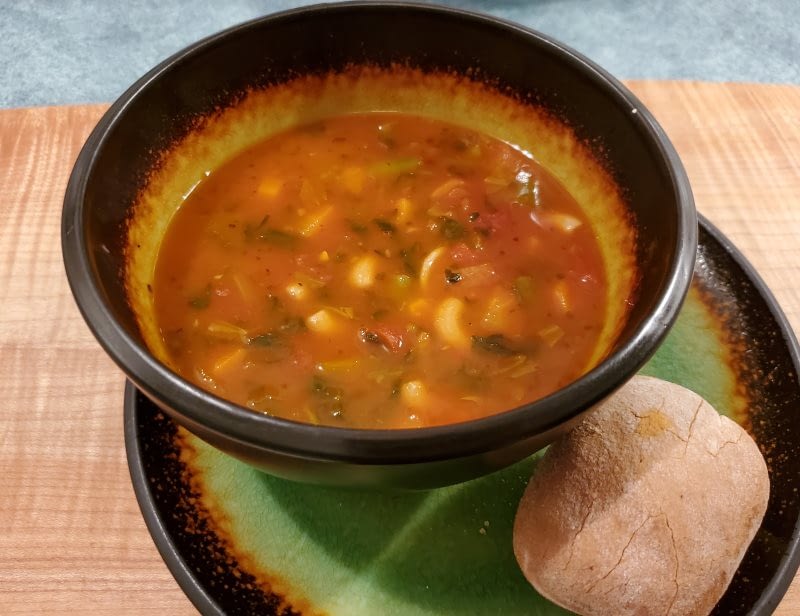 If you read my blog, you know I am a lover of all kinds of soups!  I could eat soup every day for sure.  This soup was so quick and easy, great for lunch or dinner served with grilled cheese, gluten free buns, or a simple salad.  When in a rush, or you don't feel like cooking, store bought tomato basil marinara and chicken bone broth work great in a pinch for time, plus, it is a good way to use up what is in the pantry/fridge/freezer.  This meal came together in about  35-40 min....these days that works for me.  If you wanted Vegan or Vegetarian, simply use Vegetable broth in place of Chicken Stock/Bone broth.
2 chopped carrots
1/2 an onion roughly sliced
1 chopped leek
1 chopped large celery stalk with leaves
1 Tblsp. Extra Virgin Olive Oil
3/4 c frozen organic spinach
2/3 cup frozen organic corn
2/3 cup frozen organic green beans
salt and fresh cracked pepper to taste
2 1/2 cups Tomato Basil Marinara Sauce (store bought or homemade)
5 cups chicken bone broth (store bought or homemade) (Vegetable stock for Vegan/Vegetarian)
1 rounded cup gluten free elbow macaroni pasta - cooked separately
Heat up a dutch oven with the EVOO on low heat.  Add in the carrots, onion, leek, celery, and season with salt and fresh cracked pepper.  Saute 5 min.
Pour in the Marinara sauce and bone broth stirring to combine.  Bring to a simmer, and cook 15 min.  Then add in all of the frozen vegetables. Continue to simmer for 10 minutes.  Meanwhile cook the elbow macaroni pasta separately according to directions, drain and add to the soup giving a good stir.  A warming soup for the soul.