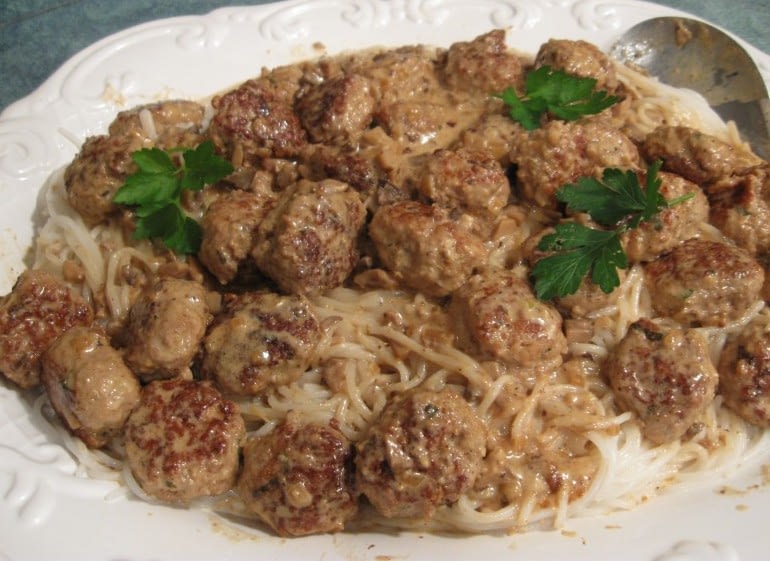 I think my hips might be crying, but lordy be, tummy is very happy.  This dinner was my daughter's birthday choice. It has always been a tradition in this household, when there is a birthday, they get to pick what dinner they want.  Many years ago, this was made with canned mushroom soup, which is now long gone history.  This was made from scratch, rendered bacon drippings, cheese, whole cream?  Well, once a year is not so bad is it?  Oh, and their was whipped SCD cream with dessert, we had  this Chocolate Decadence Desert, luckily the next birthday is not until March.  But then, Christmas is just around the corner isn't it?
1 Tblsp. rendered bacon drippings
1 lb. ground free range pork
1 lb. ground free range turkey
1/2 a large onion, finely diced
1 large garlic clove finely minced
1/2 cup gluten free bread crumbs
1 egg
salt and pepper
2 palm fulls grated Parmigiano Regiano cheese
1 Tblsp. finely diced Flat Leaf Italian Parsley
1 rounded tsp. diced fresh Thyme
2 shallots, finely diced
6 organic medium sized crimini mushrooms, diced quite small
3/4 cup chicken stock
2 1/4 cups cream (we use scd cream)
1 large bay leaf
salt and pepper
1 cup finely grated Parmigiano Regiano Cheese
1 1/2 packages Tynikiada Spaghetti Pasta
In a large bowl, combine the ground pork and ground turkey.  Add in the breadcrumbs, egg, fresh herbs, salt, pepper, Parmegiano Regiano cheese, minced onion, garlic and mix until combined.  Form into small meatballs, this amount gave me 30 meatballs.  Place on a plate, and preheat a pan on medium heat.  Add the rendered bacon drippings to melt, then place in the meatballs, about 10-12 at a time.  Cook meatballs about 3-4 minutes per side, just until browned. (they will continue to cook in the sauce)  Then remove the meatballs to a  bowl, and set aside.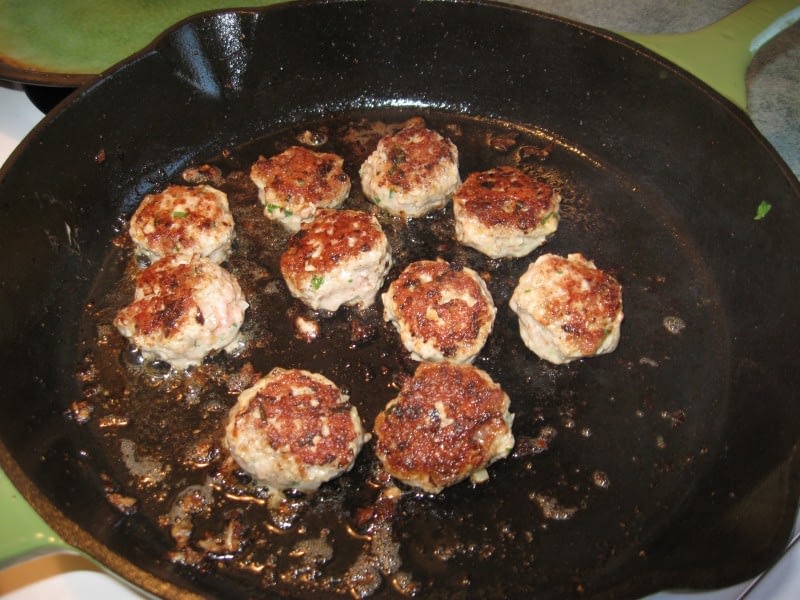 Add in the diced mushrooms, sauteing until golden.  Then add in the diced shallot, salt and pepper.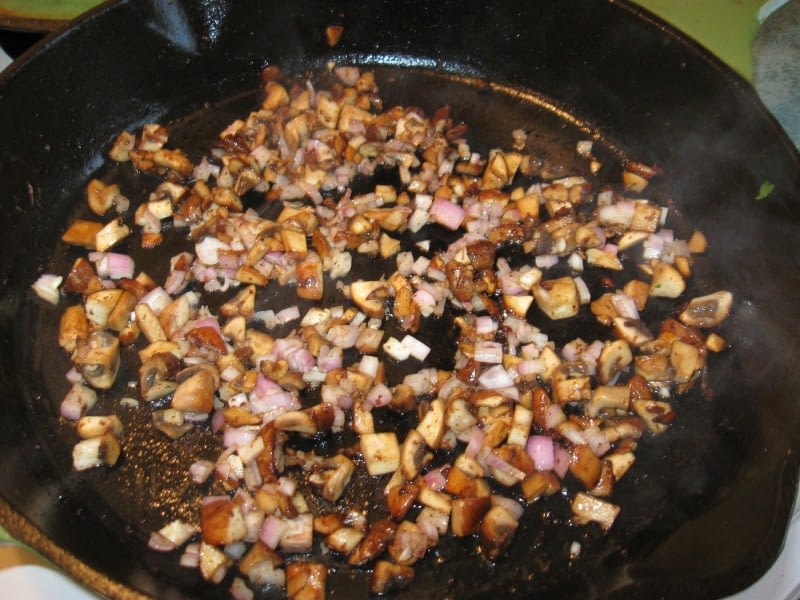 Saute about 4 more minutes, then pour in the chicken stock, adding in the bay leaf.  Bring to a good simmer, and simmer about 5 minutes, scraping up any brown bits.  Then add in the cream, stirring, and return the meatballs and any of their juices to the pan.  Simmer, lid off about 15 minutes.


At this point, remove the meatballs once again, to add in the grated Parmigiano Regiano cheese, stirring to melt, return the meatballs to the sauce, bring to a simmer.  Remove the bay leaf and keep on a low simmer, and meanwhile, cook the pasta as per directions.  Once pasta is cooked till eldente, drain, transfer to a platter, and pour over the Meatballs and Parmigiano Regiano cheese cream sauce to cover.  Sprinkle with extra finely minced Flat Leaf Italian Parsley, and extra grated Parmigiano Regiano cheese.  This was enough for five, with not leftovers!