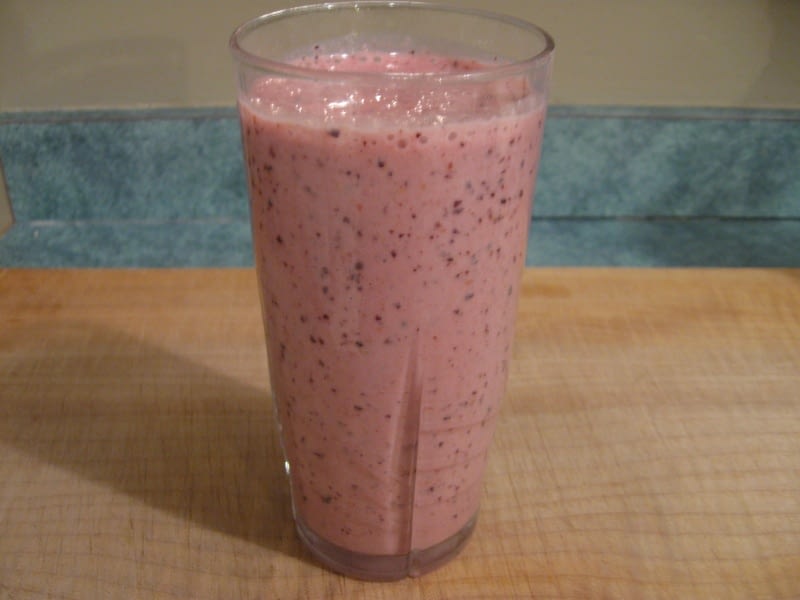 Just a quick post today...life is still crazy busy!  I am sorely missing the kitchen these days...but the good news is we have had the most beautiful warm/hot summer.  Wouldn't you know it, the first time in 8 years, and I do not have time to do a garden...DANG!
In the meantime with life being so busy, DH has been doing most of the cooking on the BBQ - steak, chicken, pork chops, fresh wild salmon, and the very best of fresh new potatoes, steamed green beans and carrots, fresh salads...so delicious.  Despite the busy work schedule we have been eating like Kings!  Oh how I live for summer.
And speaking of fresh...we love starting our days with a delicious smoothie - and this one did not disappoint.  Blueberries, Nectarines or Peaches is such a winning combination.  Add in some fresh ginger and it will help get your day started.  Each year we so look forward to fresh organic blueberries and any other fresh fruit we can get our hands on. (I always buy an abundance of fresh organic Blueberries to freeze for the winter months to have for hot cereal, pancakes or fresh smoothies)
With all of the Smoothies I make, we use Kefir Milk, but use your favorite milk, dairy or not it will still taste great.
1 large nectarine cut into chunks (cut over the blender as it will capture all of those fresh juices)
1-2 cups of fresh blueberries
1 cup Kefir milk - or milk of your choice
3 big Tblsp. Organic plain yogurt
1 Tblsp. finely minced ginger
Agave Nectar to taste
Blend everything in your blender to a nice smooth consistency and enjoy!