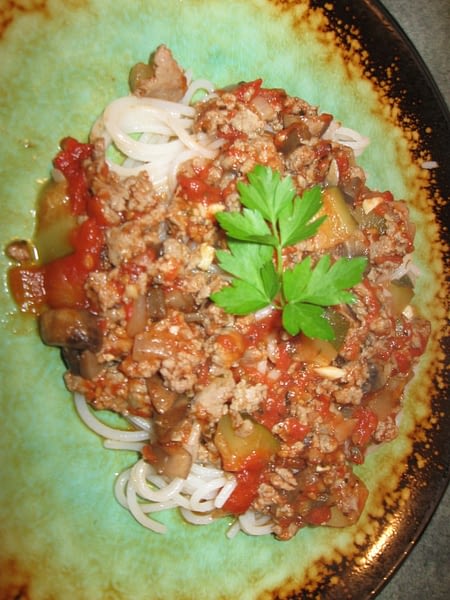 This was a good way to use Italian Sausages.  And what is not to love about Parmigiano Regiano Cheese.  I may have mentioned in previous posts, we have a lovely market that sells delicious Gluten Free Sausages, of all kinds.  What I did do, was to remove the meat from the casings.  A nice change from ground Beef or Turkey.  This would also be good with Spaghetti Squash, or instead of chopped Zucchini, shredded Zucchini in place of pasta.
1 Pkg. Tynkiada Spaghetti style pasta
grated Parmigiano Regiano Cheese
8 Gluten Free Italian Pork Sausages
Olive oil
1/2 of a large onion, diced
6 minced garlic cloves
8-10 crimini  mushrooms, chopped
1 small zucchini, chopped to 1/2 inch pieces
1 large Bay leaf
3-4 Tblsp. diced fresh Flat Leaf Italian Parsley
One 28 oz. can of whole tomatoes, sliced to 1 inch pieces, juice included
1 small can tomato paste
1 Bay Leaf
season to taste: salt and pepper, Italian Seasonings, Basil, Oregano
Begin by heating up a dutch oven, medium heat with a good drizzle of olive oil.  Saute the mushrooms until a nice golden brown.  Add in the onions, sauteing about 8 minutes.  Then add in the sausage meat.  I used a potato masher to break up the meat, cooking until lightly browned - about 7-8 minutes.  Add in the garlic, seasonings and Bay Leaf.  Pour in the tomatoes and juice, then the tomato paste, mixing well to combine.  Simmer with the lid off, for about 15 minutes, then add in the chopped zucchini to cook through. In total, the sauce simmered about 40 minutes.  Meanwhile, put on a large pot of salted water to boil, and cook pasta as per directions.
Stir the pasta sauce occasionally,and when the pasta is cooked, drain and plate. Add in the minced Parsley to the Pasta Sauce, remove from heat.  Serve over hot pasta, with a good sprinkling of Parmigiano Regiano Cheese.