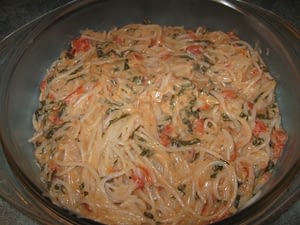 Lately, when I make SCD whip cream, (please check Heal Balance Live for the recipe) I have started making bigger batches, using 1 liter of cream, instead of half.  (More recipes are on the way).  Normally, I make it for desserts.  For those of us that are Lactose Intolerant, this is amazing.  I had forgotten how wonderful cream is in sauces, soups and pasta.  For us, this is a once in a while treat.  For those of you not Lactose Intolerant, just use regular cream.  But, what I love about SCD cream, is the slight tartness. My whole family likes it better than regular cream.  And for savory dishes, of course, omit sweetener. We had leftovers the next day, even better!
1 pkg. Tinkyada Spaghetti style pasta
half of a 28 oz. can of whole tomatoes, diced
1 Tblsp. tomato paste
1 tsp. ground fennel, and basil
1 Bay leaf
salt and pepper
1/2 cup SCD cream
Olive oil
1 inch squeeze from a tube of Anchovie paste
2 finely diced shallots
3 minced garlic cloves
1 cup finely minced fresh Kale
Parmiagiano Regiano grated cheese
Begin by heating a saucepan on low heat with a good drizzle of Olive Oil.  Add in the shallot and garlic, anchovie paste, salt and pepper, sauteing to sweat out.  Pour in the tomatoes with juice, seasonings, and Bay Leaf .  Bring to a simmer, adding in the minced Kale, and simmer for about 15 minutes, lid off. Add in the tomato paste, stirring to combine, then pour in 1/2 a cup of SCD cream, stirring well.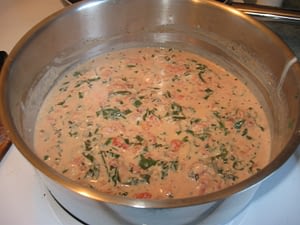 Meanwhile, cook Pasta, as per directions, and grate about 1 cup of Parmigiano/Regiano Cheese.  In total, the sauce will simmer about 30-40 minutes.
Drain pasta, and add to the sauce, with a generous handful of Parmigiano/Regiano cheese, tossing to coat all of the pasta.  Serve with extra cheese on top.