I had a huge craving today.  Usually, that means comfort food, usually equating to pasta, at least for me.  But I was also craving greens.  What did I have to fit the bill?  Swiss Chard, Leeks, Peas, homemade Pesto (from the summer) then add some Bacon, Pasta, Parmesan cheese...I was a happy girl.  There was also a couple of other happy girls in our house today. This is our sweet Tara girl. Hard not to fall in love with this sweet gentle face.  I say she is 11.  Dh says she is 10, in any event she is finally slowing down, and our dear girl is turning gray: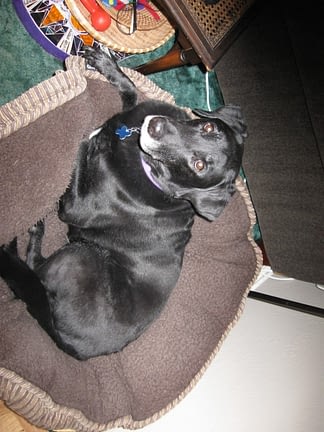 Ohhh how I wish I could sleep like this: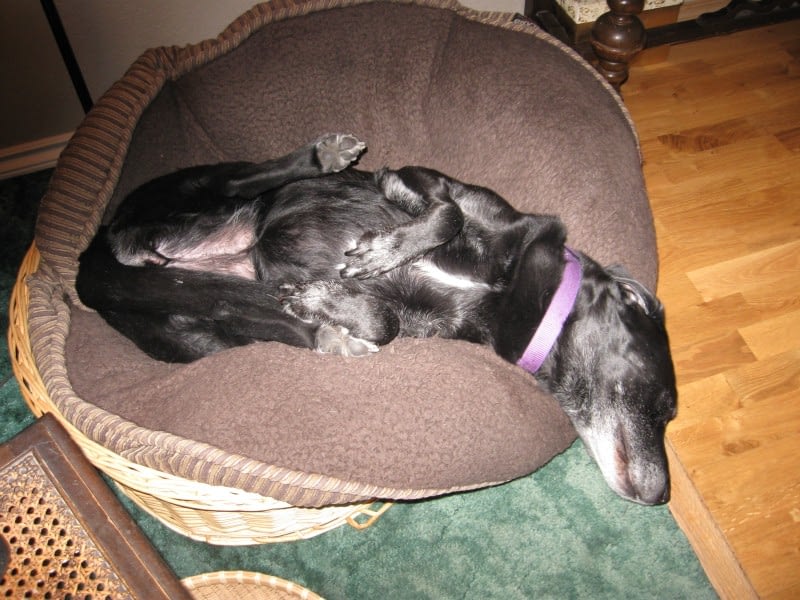 Our Tara girl is getting older. She still gets full of puppy energy when there is a Frisbee around, and don't dare talk about swimming.  Lord have mercy.  She knows the word swimming - she lives for it.  When she has had a full day, this is the result.  How I wish I could sleep this soundly!
Then there is this little girl, how do you not love this sweet face?

I recently bought a new bathroom mat. At the moment, our Miss Lily thinks her catnip filled donut toy is going to attack her...or maybe it is the other way around. Despite her play she is slowly in the process of shredding my new bathroom mat:

We have some happy girls in this house today...can't forget DH, he is happy too, doing what he loves best - playing music.  It has been a happy day!
1 Package of Tinkyada Spiral Brown Rice Pasta
4 slices of bacon, diced, and browned till golden
3 cups sliced, cleaned leeks
2 cups diced Swiss Chard, Kale would be good too
3/4 cup Pesto
4 minced garlic cloves
1 cup of frozen peas
Salt and Pepper
Parmesan Cheese
Begin by putting on the pasta to cook as per package directions.  Then heat up a pan on medium heat, and brown the diced bacon.  Once browned, remove to a bowl and set aside.  Add in the leeks, sauteing for 5 minutes.  Then add in the Swiss Chard, and minced garlic.  Saute another 5 minutes.


Add in the cup of peas, turning down to low, season with salt and pepper, stirring occasionally.

Once the pasta is cooked, drain and add to the pan with about 1/2 a cup of Parmesan cheese, and Pesto stirring to combine.

Serve hot, with extra Parmesan cheese and a sprinkling of the cooked bacon.
What is a happy day in your house?