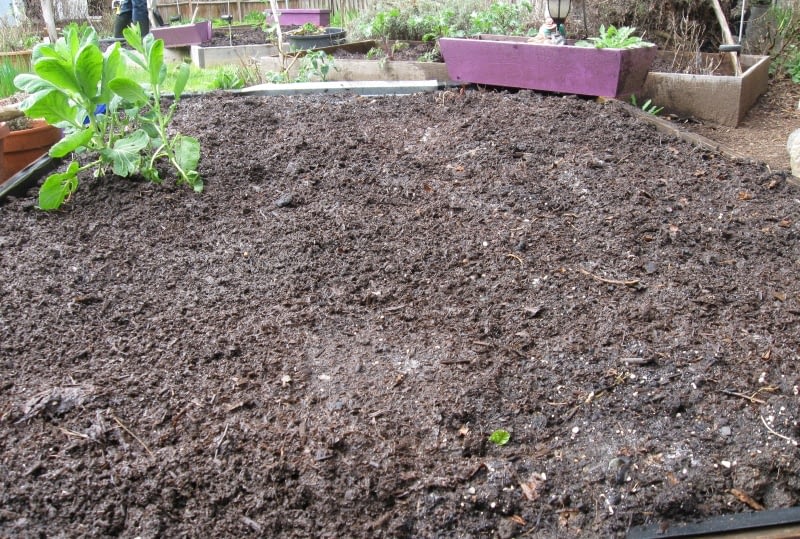 We have finally had a reprieve from the intense rain.  So this weekend we turned over the soil in the raised vegetable beds. (We have four fairly good sized raised beds, just for vegetables)
Each year, I have watched a slow decline to the vegetable beds.  I knew part of it was a late start to the summers, but I did not know what else was wrong.  So I spoke to a lovely lady at our garden centre - I think I have it figured out.  Normally we will till the soil with compost, and a composted manure - usually Mushroom Manure.  This year, I bought extra composted steer manure to try.  The other vital piece of information I learned was, our area tends to be very acidic - due to all of our fir, and cedar trees.  I was told to add a layer of lime to each of the beds, once the manure and compost had gone in.  It will be interesting to see if this makes a difference.
The other area of issue, a rather big issue, is the mass quantity of slugs we fight each year.  I have finally succumbed.  Each year I have used saucers of beer, egg shells, copper wiring around the beds - pricey, all to no avail.  I am tired of fighting these buggers!  I bought a product called Eco Slug Bait.  It is safe, harmless to the environment and more importantly safe to animals.  The directions say to spread out a good layer on damp soil.  The slug eats the bait, then is no longer hungry, crawls away, usually under a rock or some other moist area, falls asleep, and does not wake up.  Also, whatever does not get eaten degrades into the soil.  Because of the high phosphorus count, it is actually good for your soil.  Bonus!
This blog has been such a great way to keep a journal of what we learn each year in the garden.  My fingers are crossed, I can't wait to see how our preparations have worked.  Are you in the garden yet?