I love quiche.  So simple, easy, versatile.  If you don't have gluten free pastry on hand, you can always make a lovely rice crust, which is delicious and wholesome too.  In this case, I had frozen pastry in the fridge, after making my Families Favorite Pie a few weeks ago, using Bette Hagman's Dream Pastry….the recipe makes 2 crusts, so I always freeze one knowing Quiche is down the road.
NOW THE STORY - My daughter flies in the door every once in a while and says,  "Hi Mom, whats for dinner?"  I say Quiche!  She says "Bummer".  She has never eaten my quiche -  I think she had Quiche  at a restaurant once, and it was a soggy mess.  So, what does she do?  Heads out for cheap fast food NASTINESS, then comes back, and says, "that was yummy".  Then 20 min. later, she says "mom, I don't feel so good".  I quietly think…. Umhummm, yup, don't I know it.  I give her another 30-40 minutes. then I say "how do you feel now?"  Oh, I feel better.   With that I say, "take one bite,… just one bite". She takes a mouthful, closes her eyes and says,  "Oh, that is good!"  I gently say, "from now on will you eat Quiche?"   Her reply was "oh yes, how could I not like this?".  She made her Mama  happy.
The one thing I have learned with kids, when they get older, they seem more receptive to foods, but then once they love your food, they don't want anything else!  Time for cooking lessons or else you are to be forever cooking for your kids - not that I mind, I love it but eventually they do need to figure it out for themselves - and sharing in the cooking process is so much fun.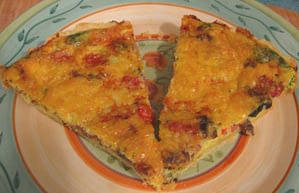 This Quiche was all about Carmelization.   And what leftovers I had in the fridge at the time. For a Vegetarian Quiche, add in broccoli, sweet peppers, and omit the ham.
2 Tblsp. Olive oil
¼ of a large red onion, sliced then chopped into 1 inch lengths
2 minced garlic cloves
handful of crimini mushrooms – roughly chopped
about 1 cup diced ham
15 grape tomatoes, sliced in half
handfull of minced flat leaf parsley  (I always have to have some green….its an obsession)
4 large organic eggs
¾ cup soy milk (or any milk you like)
salt, pepper, dried basil, Mrs. Dash seasoning
Parmesan cheese
Aged cheddar cheese
Heat a frying pan on medium heat, with the olive oil.  Add in the chopped red onion – sautéing until lightly browned.  Then add in the mushrooms.  Saute until the mushrooms are golden, by now, the onions should be nicely caramelized.  Add in the seasonings, then the diced ham, and sliced tomatoes.
Meanwhile, mix up the egg, milk, salt and pepper – whisking till frothy.
Grate cheddar cheese – I probably used 1 to 1 ½ cups grated cheddar.
Once the ham and tomatoes have caramelized, add in the minced garlic, stirring until just fragrant then remove from heat to cool for a bit.
Line a pie plate with either a rice crust or your favorite gluten free pie crust.  Poke holes throughout the pie crust if using a pastry crust.  Preheat the oven at 350 degrees.
Sprinkle the pie crust with Parmesan cheese and the diced flat leaf parsley.  Then add in the cooled tomato, ham, mushroom, onion mixture – spread out evenly.  Pour in the egg mixture – should cover well.  Then top with the grated aged cheddar cheese.
Bake for 40- 45 minutes, when done, allow to rest 5-10 minutes before serving.
So good for breakfast, lunch, or dinner…..maybe a midnight snack?