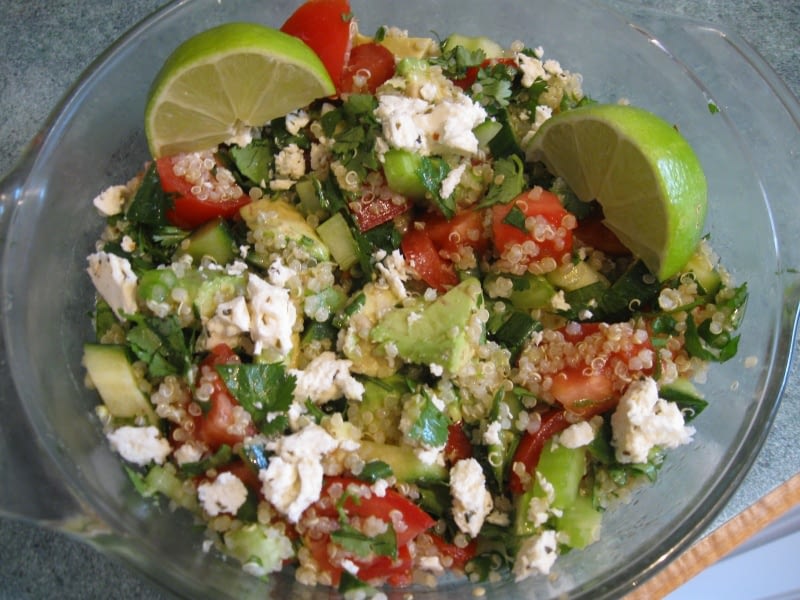 Wow.  I think I might just live on this salad for the rest of my life.  Hearty, flavorful, with lots of healthy goodness included.
I met someone recently, who abhors avocado, cilantro, and especially, feta cheese.  Three of some of my favorite ingredients.  To not like avocado?  The other two, I can see - it seems people either love Cilantro, or hate it.  Sometimes feta cheese can be hit and miss too.  But avocado?  Poor soul, she does not know what she is missing is all I can say!
1 cup of cooked Quinoa
4 inch slice of an English cucumber, deseeded, quartered and chopped
1/2 a large Avocado, cut into chunks
1/2 cup finely minced Fresh Cilantro
3 small green onions, chopped
1/2 a celery stalk, halved and sliced
2 Roma Tomatoes, chopped
salt and pepper
3 Tblsp. Organic Extra Virgin Olive Oil
juice of 1/2 a fresh Lime
Feta Cheese - crumbled
Place all the ingredients in a bowl, tossing well, then add the crumbled Feta Cheese on top.
I'm going back for seconds....