I am not too happy with the Weather Gods in these neck of the woods!  We have had one of the worst summers I can ever remember.  We have only had two days of hot weather....as of July 20th!  That being said, we have had some lovely broccoli, lettuces, radishes from the garden.  Whether or not we will see one green bean, or one zucchini is another matter all together. 
Our mini greenhouse is doing ok....tomatoes and basil....but there still has not been enough sun.  We have had many days of fog, overcast skies, and in particular, unusual strong, cold, winds.  This is unlike any summer I have ever seen.   As a gardener, albeit an amateur one - we want sunny, hot weather!  Oh well, we will have to hope for next year.
We had one lovely Collard Green plant left from last fall that looked fantastic....so in our cool weather I created this dish.  If you guys are hot....oh how I am envious....this would be a good recipe for the fall.
8 gluten free Turkey Sausages - removed from casings, any flavor is good
olive oil, butter
1/2 of a large roughly chopped onion
5-6 minced garlic cloves
14 Collard Leaves - middle stem removed
1/2 cup of rice/1 cup water, cooked till tender (I used Basmati, so it took maybe 12 minutes or so)
8-10 fairly large, roughly chopped crimini mushrooms
1 finely diced carrot
1 finely diced celery stalk
1 Tblsp. GF Tamari Sauce
Freshly cracked pepper
1/4 cup fresh minced Flat Leaf Italian Parsley
SAUCE:
One 28 once can of whole tomatoes
1 Tblsp. Tomato Paste
1 Tblsp. Balsamic Vinegar
1 Tblsp. GF Tamari Sauce
1 rounded tsp. ground Sage
1 inch Anchovie Paste
Fresh cracked Pepper
Heat up a frying pan, with olive oil and a knob of butter, medium heat.  Add the onions, stirring occasionally until caramelized.  Then move the onions to a corner, and add in the chopped mushrooms, sauteing until brown.  You may need a bit more olive oil at this point.  Add in the carrots, celery, and minced garlic, sauteing to sweat out - about 5 minutes.  Add the 1 cup of cooked rice, stirring to combine, put into a bowl and set aside.  Using a bit more olive oil, add the sausage meat.  I used a potato masher to mince up the meat - lightly brown. Once browned, add to the rice veggie mixture, stirring to combine.   Meanwhile, make up the sauce.
Using a 4 cup measuring cup, slice the tomatoes into 1/2 inch pieces, then add in the Balsamic Vinegar, Tamari Sauce, Sage Anchovie Paste, pepper, and enough of the leftover tomato juice to reach the 3 1/2 cup level.  Mix well, adjust for seasonings. Save the last bit of tomato juice, to use if necessary during the baking time.
Assembly:


Cut out the tough woody stem of the Collard Green.  Add a big scoop of sausage/rice mixture to the middle of the Collard Green - just about the cut mark, then overlap the edges, the roll up.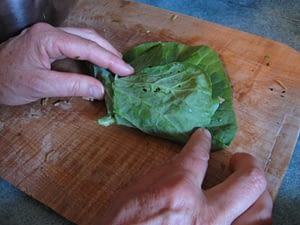 Place the rolled Collard Greens into a casserole dish - 9X12 and cover with the tomato sauce.  Save the rest of the juice to add to the sauce if necessary, during the cooking period.


Cover with tin foil and bake at 350 degrees for 45 min. - 1 hour.  Half way through, remove tin foil, and if necessary, add remaining canned tomato juice.