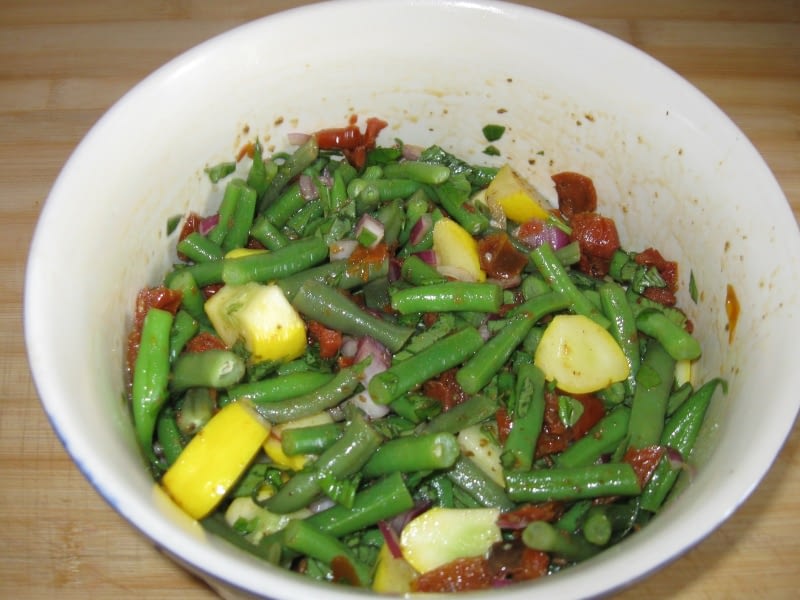 Hi all!  I have not disappeared from the face of the earth....just been super busy with work....which I love!  I still hope from time to time to offer new recipes (have a couple up my sleeve) so will keep posting when time and inspiration allows.  We have had an amazing summer weather wise.  It is probably the best summer we have had on our West Coast in 12 years!  Lots of sun shine..record temperatures in the 80-90's so any chance we have had, we head to our local fresh water pot holes for a swim.
This is an easy recipe inspired by all of the fresh produce we have been getting from our local farmers market, it has been a stellar summer season.  We had a surplus of green beans...time for salad.  This salad would be lovely with crumbled feta cheese - which I did not have - either way still yummy.
We also recently discovered:  Organic oven roasted/herb roma tomatoes at Costco - so so good.  I have been using these in pasta dishes, salads, for brushetta ...the world is your oyster with these babies.  With this recipe, sun dried tomatoes in olive oil would be tasty too.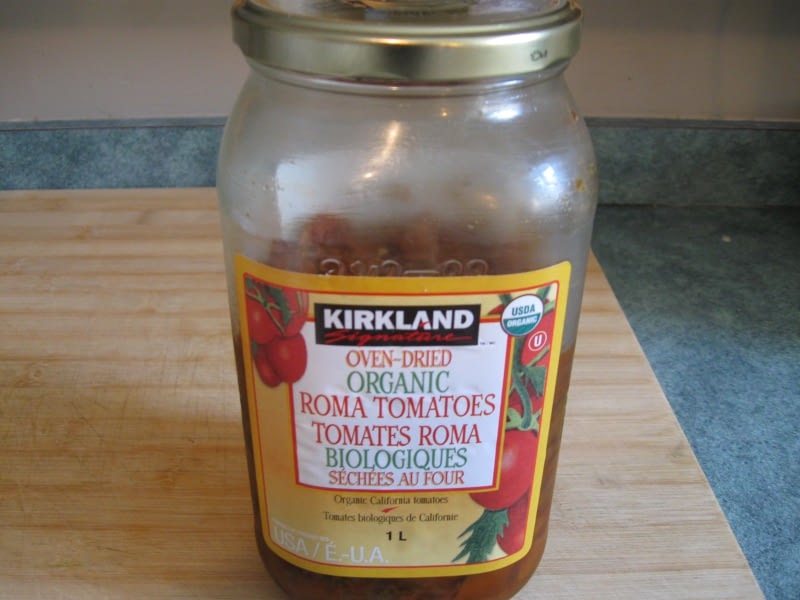 2-3 cups fresh green beans cut into 1 inch pieces - or a mix of yellow and green beans would be lovely
3 patti-pan summer squashes, halved, then cut into chunks
1/2 cup oven roasted herb roma tomatoes - or sun dried tomatoes including oil
2-3 Tblsp. chopped red onion
1 minced garlic clove
big handful of fresh minced basil
juice of 1/2 a fresh lemon
salt and pepper to taste.
Bring a medium sized pot with water to the boil. (have an ice cold water bath in a bowl on hand).  Cook the patti-pan squash for 1 minute, remove with a slotted spoon and add to the water bath.  Add the chopped green beans, and cook 1.5 minutes, drain and add to another ice cold water bath to cool.
Use a paper towel to pat dry the squash and green beans, then add to a bowl.  Add in the chopped tomatoes with oil, juice of 1/2 lemon, red onion and salt and pepper to taste.  Then mix in the minced basil.  I did not need to use any extra EVOO, but check in case you do.  Let refrigerate, 2 hours, then toss to mix and serve.