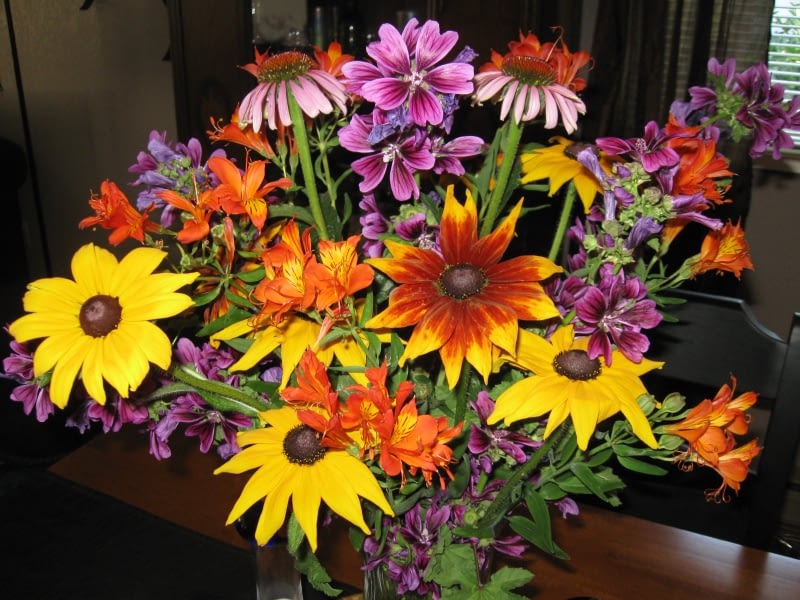 When we got back from our weekend getaway, it seemed the garden took off in a bloom of color and a growth spirt!  The first few days back home were crazy busy at work.  Meanwhile, the garden really needed tending too.  After three days, I finally got out there to pick fresh lettuce greens, beets, collard greens and I had to pick some fresh flowers too.  Today I have a lot of pictures to share!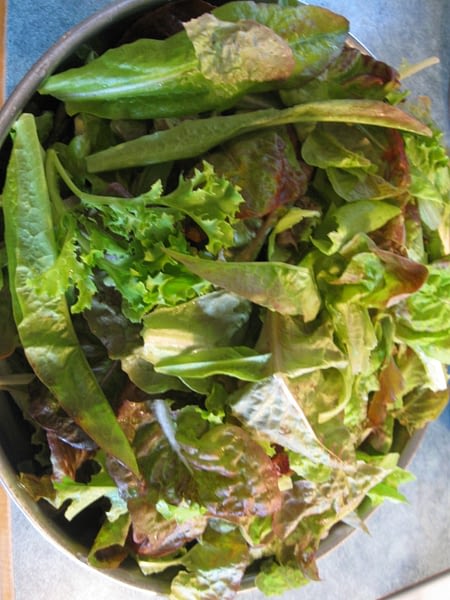 The lettuce in particular thrived - this is a huge bowl full.  The beets on the other hand, have been a learning curve: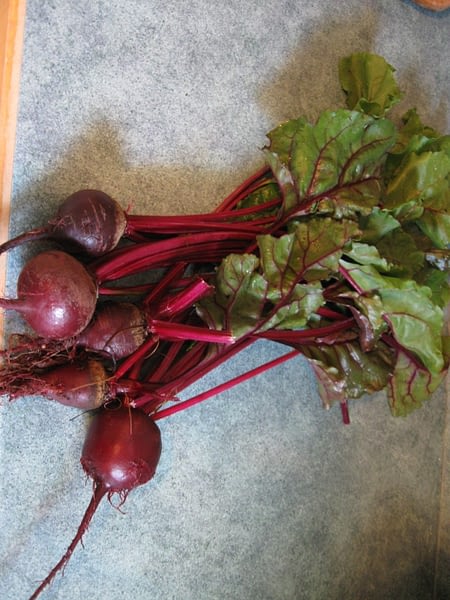 What I discovered, when planting beets, is to plant a lot of seeds.  Then thin them out when small and add the pulled ones to fresh garden greens.  They really add a deliciousness to a salad, while giving the other beets room to grow.
The next day I found some more, although smaller in size, plus the first zucchini:

There was also fresh broccoli ready to be picked as well.  I guess there are a few pluses to having a cooler summer.
The collard greens were abundant, so I decided to freeze them for the winter months.  I did them in two batches.  For the smaller leaves I chopped them up, and blanched in boiling water for one minute.

Then, I strained them and ran them under cold water, laying the greens on a clean towel to dry up most of the moisture.  Add to a freezer bag - and they are ready for the freezer.

For the second batch, the leaves were fairly large, so I blanched them whole after removing the stem first.  These blanched for 3 minutes, and again I ran them under cold water, and placed onto a clean towel to dry up any extra moisture.  I got 3 freezer bags of 12 collard leaves each - great for stuffing.  I also have an abundance of Lambs Quarter that needs picking - so will freeze them for the winter months too.  Lambs Quarter is wonderful in soups, or used in any cooked dish that would call for spinach....I am thinking Quiche would be lovely.

Now continuing in the garden:
Here is the lavender in full bloom:

There are also splashes of gorgeous color from the Rhudebekia growing throughout the gardens.  One of my favorite summer flowers.

This has also been a good year for the lovely Echinacea (not sure of the spelling)

I love, love summer - farmer's markets, garden fresh vegetables, fresh fruit and berries, and absolutely all the beautiful flowers in bloom.  My favorite time of year. What is your favorite time of year?  🙂