Before commencing with today's recipe I thought it fitting to make mention of our recent "Royal" visit.


Our fair city has been a whirl wind of activity for the past week. We have just finished our "Royal" visit with the Duke and Duchess of Cambridge to Victoria B.C.  They spent the week touring throughout a number of areas in B.C., but their "home" base was here.

Work had no sooner slowed down then all of a sudden went crazy once again.  Although we did not see them, we sure saw the crowds and crowds of people welcoming them throughout the city.  What a lovely couple they are - truly gracious and humble.  Their visit brought huge numbers of people from all areas and internationally too.  The Royal visit is now over, although for many Victorians it is a visit that will long be remembered and cherished.  Bless their hearts for the work they do, for the humble way in which they reach out to all people.
I suppose with the Royal visit I should have created a typically English dish such as the famous "Eton Mess".  However, we are still inundated with farm fresh vegetables.
So a vegetable side dish it is.  Wow....did this ever take green beans to a whole new level.  With really bright and tasty flavors these simple ingredients really went well with green beans.  It is hard to believe we are in the first week of October and we can still get green beans at our farmers market.  It has been the start to a lovely fall in our neck of the woods.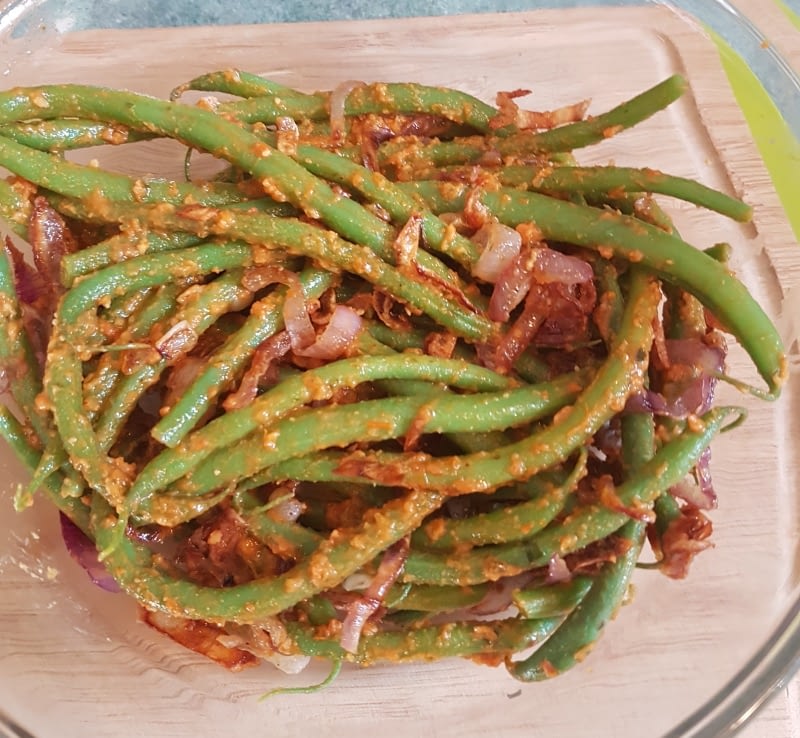 Last year I remember practically crying because I did not stock up on enough fresh organic shallots - I have done so this year - my favorite over a regular onion any day!
You can find the sun dried tomato pesto recipe here.  Or use your favorite kind - regular pesto would be delicious here too.
1/4 lb. fresh green beans, end trimmed
1 large shallot, halved then thinly sliced
2 Tblsp. sun dried tomato pesto
juice of 1/2  a small lemon or less to taste
1-2 Tblsp. of reserved green bean water from blanching
Extra Virgin Olive Oil
salt and pepper to taste
Heat up a frying pan on low medium heat with a good drizzle of EVOO.  Add the sliced shallots, season with salt and pepper and saute until lightly golden - about 8-10 min.  Meanwhile bring a pot of water to the boil, and blanch the green beans for 2 minutes.  Reserve 2 Tblsp. of green bean water.  Drain the green beans and immediately submerge in an ice bath to stop the cooking.
Remove the green beans to a clean towel and pat dry setting aside.  Once the shallots are golden, remove to a dish.  Add the pesto and green bean water, 1 Tblsp. at a time (you may only need 1 Tblsp.) to the frying pan - stirring well.  Then add the green beans, lemon juice, and check for seasonings to coat.  Toss well to evenly coat the green beans.
Serve hot alongside any main dish.