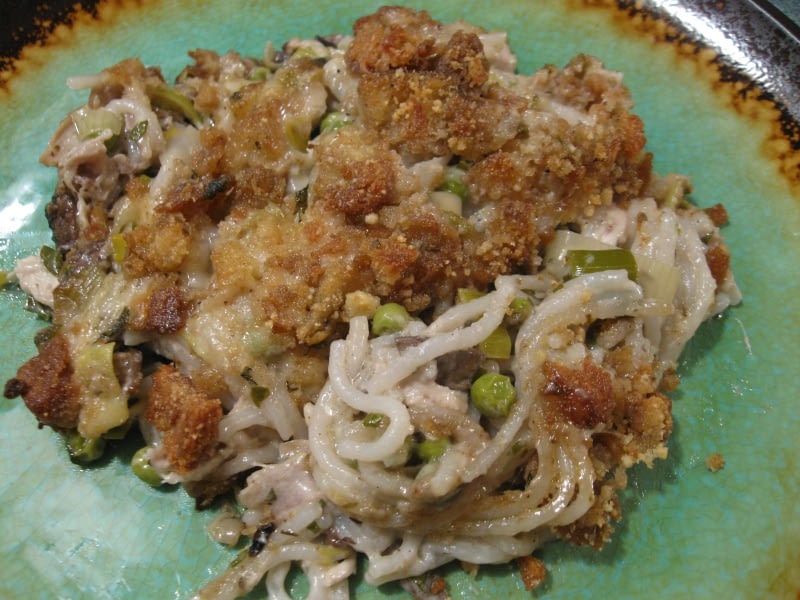 This may well become a Christmas Turkey Leftover Tradition each year in this house....wow, so good!
There are many wonderful Tetrazzini recipes out there.  After looking at different recipes, I took a few ideas from here and there, then added in my own ideas too.  If you have 2-3 cups of leftover Turkey, 1 cup of leftover Stuffing, this is a great way to finish off the holiday fixins!
This would also taste great with plain gluten free bread crumbs and the Parmesan cheese, if you don't have leftover stuffing.  I used Thyme and Nutmeg in this recipe because I did have leftover stuffing, however, next year, I will try the plain bread crumbs and Curry Seasoning - should be fabulous!
1 pkg. Tinkyada Spaghetti Pasta, broken in half
1 cup leftover stuffing
1/2 cup gluten free bread crumbs
1/2 cup of Parmesan Cheese
2 Tblsp. butter
7-8 crimini mushrooms, roughly chopped
4 minced garlic cloves
1 large leek, sliced, rinsed well in a colander
1 1/2 cups cream - we use SCD Cream
1 tsp. fresh chopped Thyme
2 good pinches of Nutmeg
1/4 cup chicken stock
1/2 cup of dry white wine
2-3 cups roughly chopped leftover turkey
2/3 cup frozen peas
1 1/2 cups shredded Swiss Gruyere cheese - put aside 1/2 a cup
1/2 cup of Parmesan Cheese
salt and pepper to taste
1/4 cup fresh minced Flat Leaf Italian Parsley
In a dutch oven, on low/medium heat, melt the butter.  Add the chopped mushrooms, sauteing until golden.  Then add the sliced leeks, and minced garlic sauteing for five minutes.  Season with salt and pepper, Thyme, Nutmeg, and add in the 1/2 cup of dry white wine and chicken stock.  Simmer for another five minutes.  Add in the cream, stirring well to combine.  Keep on a low, low simmer.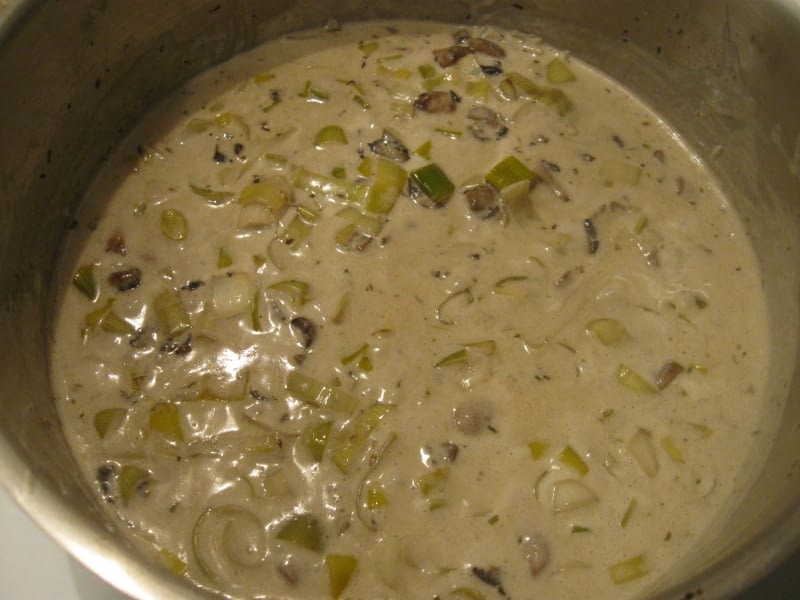 Put the pasta on to boil.  If you snap the pasta in half, cook no longer than 12 minutes, otherwise follow the package directions for cooking.  Preheat the oven to 350 degrees.
Meanwhile, in a medium bowl, add the leftover stuffing, bread crumbs, and Parmesan Cheese, stirring to mix well, then set aside.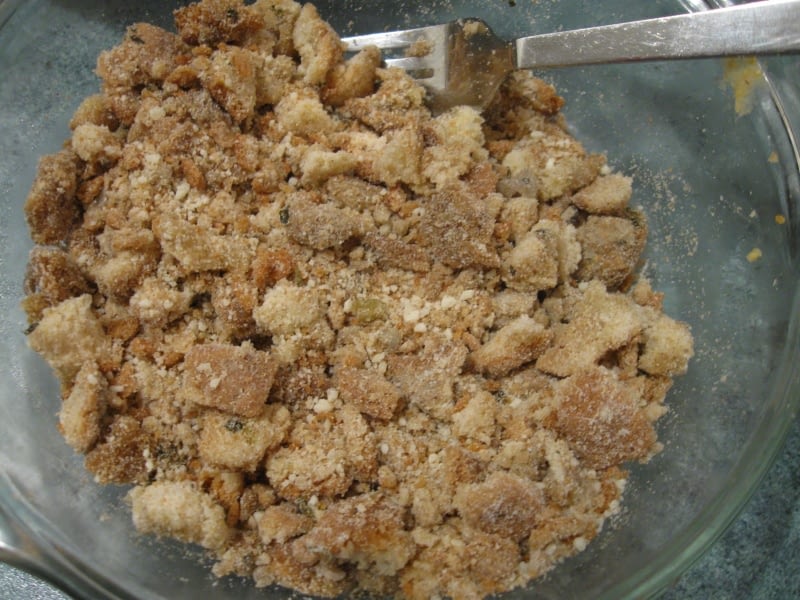 Once the pasta is done cooking, drain well and add to the leek mushroom sauce, mixing well to combine.  Add in the 1/2 cup of Parmesan cheese, and 1/2 cup of Swiss Gruyere cheese, turkey, and peas then the minced Flat Leaf Italian Parsley, again mixing well.  Adjust for any seasonings.
Transfer to a casserole dish, spreading out evenly.

Sprinkle with the remaining Swiss Gruyere Cheese, then top evenly with the Stuffing/breadcrumb mixture.
Bake in the oven for 40 minutes until bubbly and golden.  Enjoy!