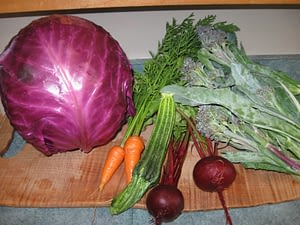 Well, it is a beginning!  We finally have a few veggies from the garden.  I kind of forgot about the red cabbage..which just kept getting bigger.  Pickled red cabbage will be down the road, as well as coleslaw. For lunch today, I had a simple tuna salad, then steamed beets and beet greens - we ate the carrots raw.  I so love summer.   In the mean time, more sauted prawns for dinner as DH is away playing music this weekend.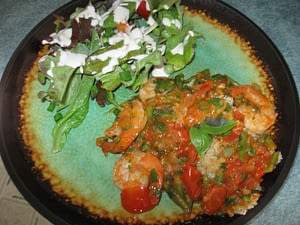 Another quick easy meal for one, or just increase if feeding more people.  Also, with the leftover Quinoa, it is great for salads, or My Favorite Pancakes which I am looking forward to for breakfast tomorrow.
1/2 cup Quinoa in 1 cup of boiling water, cover, reduce to a minimum simmer for 15 minutes, or until all the water is absorbed.
Olive oil
Salt and Pepper to taste
1/2 a medium sized onion, diced
3 minced garlic cloves
12 cherry tomatoes, quartered
8 fresh green bean, cut into 1 1/2 inch pieces
1 Tblsp. tomato paste
1/2 c. white wine
handful of minced fresh Basil
2 Tblsp. minced Flat Leaf Italian Parsley
1 Bay Leaf
12-15 prawns de-viened, skin and tail off - mine still had the tail - a bit messy but still yummy!
Heat up a frying pan on medium heat with a drizzle of olive oil.  Saute the onions, Bayleaf,  to sweat out and become translucent.   Then add in the white wine, allow to simmer a few minutes.   Add salt, pepper, tomatoes, green beans and minced garlic. Turn the heat to a low simmer,and saute about 5 more minutes, then add in the tomato paste, stirring to combine.  Rinse and pat dry the prawns, and add to the tomato sauce.  Continue to simmer, my prawns took about 4 minutes until cooked through.  Remove from heat, remove Bay Leaf, and add in the minced Basil and Parsley, adjust salt and pepper, serve over cooked Quinoa.