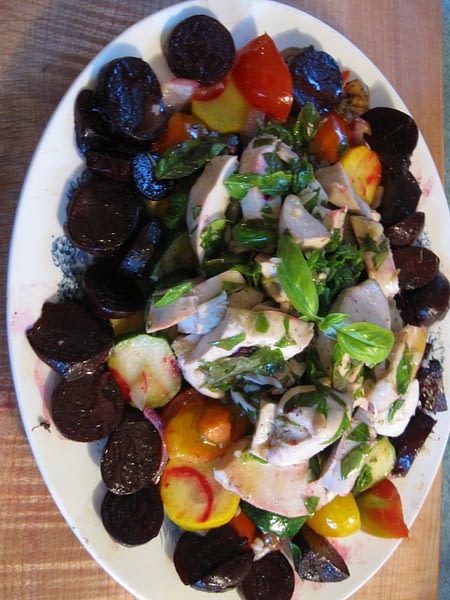 Phew...it has been a few crazy, busy days...in fact, it has been a "whirlwind couple of days".  Sometimes you just have to go with the flow, and having an easy chicken salad worked for me this night.  I had previously made the dressing, and roasted the beets which made this dinner quick to put together.
There will only be two more Saturdays for our farmer's market, so we have been taking advantage of the last of the summer vegetables.  Check out these gorgeous zucchini and this amazingly sweet red pepper: (this was the sweetest red pepper we have ever tasted!)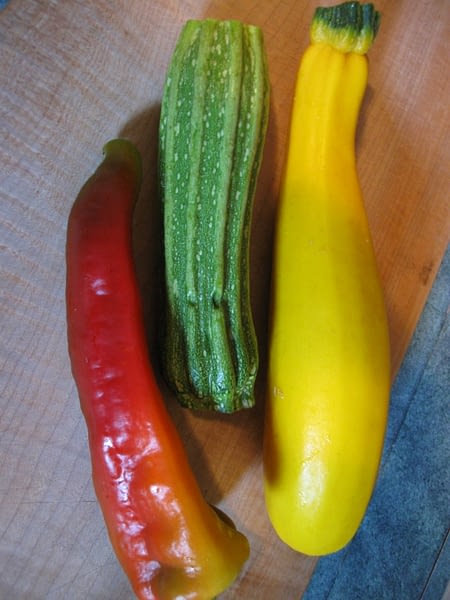 2 skinless, boneless chicken breasts
1/4 of an onion sliced
2 bay leaves
1 tsp. dried rubbed sage, and rosemary
2 smashed garlic cloves
enough water to just cover the chicken breasts
Olive oil, butter
1/2 a medium sized green, and yellow zucchini, sliced to 1/4 inch thickness
6-8 sliced crimini mushrooms
4 minced garlic cloves
1/2 a red onion roughly chopped
7-8 small roasted beets, sliced
5 smallish tomatoes - I used red, yellow and orange, quartered
1/4 cup of fresh diced  red pepper
2 Tsp. fresh minced Rosemary
a handful of fresh minced Basil
salt and pepper
Red Wine Dijon Dressing
Shredded lettuce
Parmesan or Feta Cheese
In a medium sauce pan, add the chicken breasts, onion, bay leaves, rubbed sage, rosemary, salt and pepper.  Cover with water, lid on and bring to a simmer.  These chicken breast took 8-10 minutes to cook through.  Remove the chicken to a plate to cool.  (strain and save the liquid to add to stock for making soup)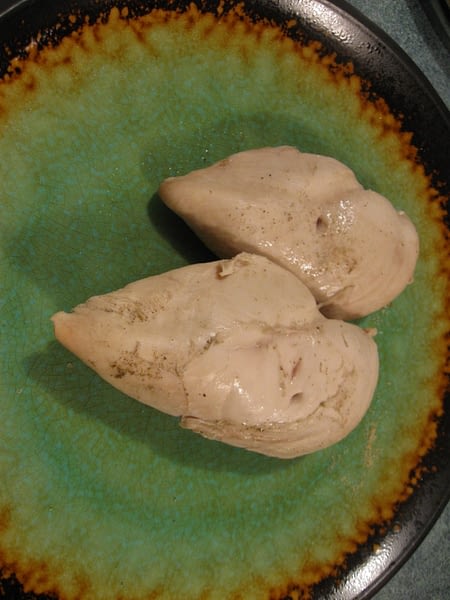 For the beets, place them onto a sheet of tinfoil, seal up and place on a baking sheet.  Bake in a 350 degree oven for about 1 hour, or until cooked through.  Remove from oven, allow to cool, then pull off the skin, slice and set aside.
Heat up a frying pan on medium heat, with a drizzle of olive oil, and a tblsp. of butter.  Saute the sliced mushrooms until golden, then add the red pepper and onion to the pan, continuing to saute, about 3 minutes.
Add in the sliced zucchini, garlic, and minced Rosemary.  Saute for another 3-5 minutes, then add in the tomatoes, and saute for another 3 minutes.  Pour in 3 Tblsp. of the Red Wine Dijon Dressing, and season with salt and pepper, stirring to combine.  Remove the vegetables to a platter.  To the pan add another drizzle of olive oil, and the sliced beets, sauteing to heat through.  Distribute the beets around the outside edges of the vegetable platter.

Wipe out the pan, add another drizzle of olive oil, and add the chicken, sauteing just to heat through - a minute or two.  Turn off the heat, and add the minced Basil, tossing to coat.  Pile the chicken and basil on top of the vegetables, and pour over another 3 Tblsp. of Red Wine Dijon Dressing over the entire platter.  Serve over shredded lettuce, with extra dressing, top with Parmesan or Feta cheese.