We had a lovey getaway, on Salt Spring Island.  It was quick, and busy as DH was playing music two nights, back to back.  But I love it there - any chance to go and I grab it!  The first night, we ate dinner at the outdoor seaside Restaurant where the guys played.  I ate a delicious, grilled prawn skewer with brown rice, and a lovely salad.  This is where things began to drastically change.
My second to last bite, I had this searing pain on the inside of my bottom lip.  I knew instantly, that it was a blister...cross contamination.  Here is the weird part.  Immediately, I felt disorientated - like really disorientated.  Probably the worst I have experienced to date.  It was unbelievable.
This "brain fog" lasted about 24 hours.  I knew the inevitable was coming - that within hours, I would not be leaving the bathroom.  The next morning, I was still in a brain fog.  And I was angry.  Really angry.  With this brain fog, came an unexplainable, extreme anxiety which just made me feel like crying.  I am not a crier - but when this happens, it feels unbearable. I had to keep telling myself, it would pass, I just had to get through it.
That day I barely ate anything, yogurt, water, and some soup broth.   Finally, by the evening things improved a little bit, however, I did not venture out to hear the guys play.  I was weak, exhausted, and still had some brain fog.  I went to sleep at 8:30 pm - and slept almost 9 hours.  Unheard of for me.  But when I awoke, now day 2,  I knew I was starting to get better.  The brain fog was lifting, the anxiety was gone,  the blister in my mouth was on the mend, and the intestinal pain was gone.
Finally.  I have eaten at this Restaurant for years - without a problem, but now, never again.  Cross contamination is just too great a risk.  Either we will eat at our cottage or B&B, or we will eat at a Restaurant that has a gluten free menu.  Hence, there are no pictures of our Lakeside cottage.  I was too out of it!
Now for the good news... I have now found two new Restaurants that offer gluten free food.    We had a lovely lunch at the Salt Spring Island Inn, a delicious baked tomato soup, with chive butter on toasted gluten free English Muffins, as well as a lovely crab dip with corn chips.  There was a lot to choose from on the menu:  chicken tenders, muffins, soup, halibut and chicken burgers, sandwiches on gluten free bread and much much more.  Happy Days!
The 2nd cafe is a place called Cafe Talia.  They too have gluten free soups, salads and sandwich buns.  As well as a number of desserts.  This was such a relief, to know I can travel to this lovely Island and eat at a Restaurant that has gluten free food.  Now onto our last night there - thank the heavens for organic rib eye steak - by now I was starving!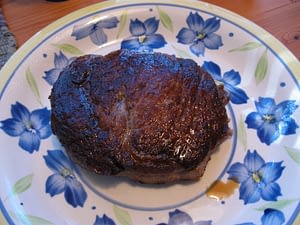 This was one thick steak that DH and I shared.  Wow.  The flavor, texture, tenderness was unbelievable.  I cooked it in a brown butter garlic sauce - in this gorgeous pan:

This cast iron pan I am thinking is about 30 years old....it had the best finish on it, that was a real pleasure to cook with.  I set it on a medium heat with a few huge dollops of butter, and some sliced organic garlic cloves.  Let it simmer, just until it started to get golden, then watched it carefully, and once I saw a slight browning of the butter, took it off the heat and poured the butter and garlic over these lovely steamed farm fresh veggies: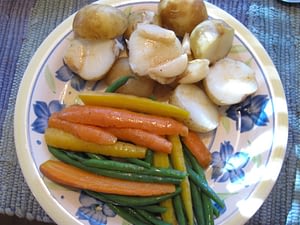 Although it was not fun suffering from cross contamination...in the process, I did find two new Restaurants that offer a Gluten Free Menu.  Happy, happy days....there is more and more awareness out there in the world, and best of all....it is slowly becoming a safer place for those of us that can not have gluten.