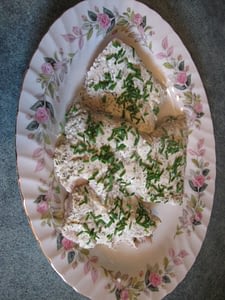 Living on the Westcoast gives us the opportunity to have seafood through out the year.  I try to cook at least one fish or seafood dish each week.  Of course, saving Fresh Wild Salmon for the summer months.  This is an easy, quick,  light, dish, and any white fish would work well.
4-5 snapper fillets washed and pat dry (mine were large, so cut in half)
½ cup yogurt or yogurt cheese
¼ cup mayonnaise
2 tsp. dill (I used dry, but fresh would be lovely)
1 tsp. dijon mustard
Salt and pepper to taste
chopped chives
Mix ingredients.  Lay fillets in glass casserole dish and pour over yogurt sauce.
Cover with lid or tight foil, bake at 400 - about 20 min.  When finished baking, garnish with chopped chives.